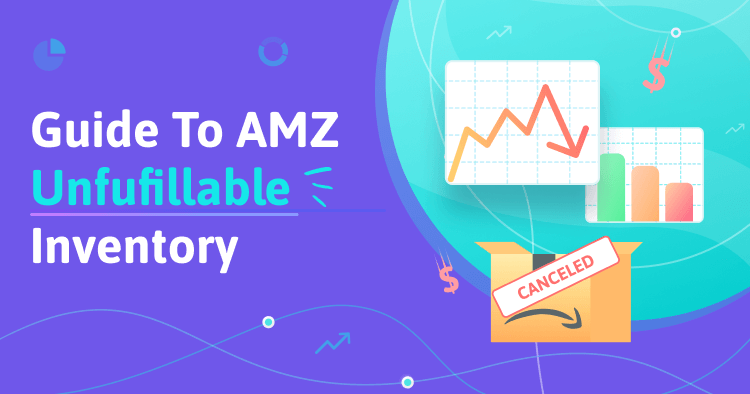 6 Causes of Amazon Unfulfillable Inventory and How to Fix Them
Have you ever looked at your FBA inventory and wondered why there were items marked as unfulfillable?
When those items are unfulfillable, it means they are unavailable for purchase, and that's bad for your business. Worse, if you forget to create a removal order for your unfulfillable inventory within 30 days of Amazon notifying you of its required removal, it will be automatically disposed of.
Imagine losing hundreds, if not thousands, of dollars in inventory because you didn't check your email notifications from Amazon regarding removal orders, which could have given you the opportunity to have those items returned to you and possibly refurbish them so you could sell them again later.
Amazon may flag your inventory inactive or unfulfillable for various reasons. Lucky for you, there are sometimes ways to fix them.
In this post, we'll walk you through everything you need to know about unfulfillable inventory and provide some best tips for when you should remove or dispose of it.
In this amazon unfulfillable inventory guide, we'll take a look at:
What is Amazon Unfulfillable Inventory?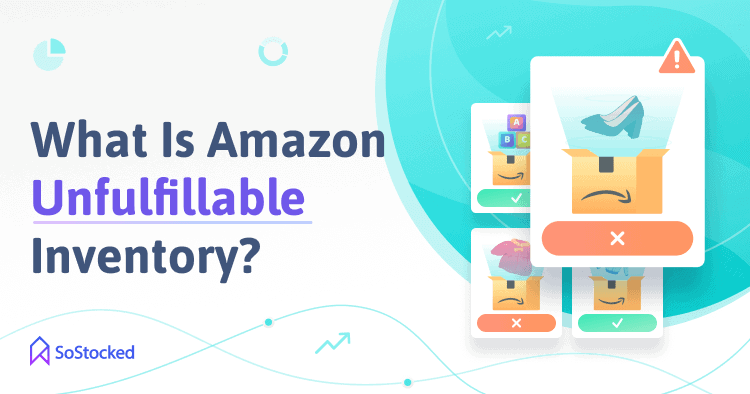 Unfulfillable inventory simply means unsellable inventory. When FBA shipments are shipped to Amazon fulfillment centers (FCs), each unit in your shipment will be inspected by Amazon associates to ensure they came in sellable condition and in the correct quantity.
If an item arrived in poor condition (e.g., packaging is no longer intact, item requires repair, has passed the expiration date, or there are signs of mold or corrosion), Amazon will deem it unfit for sale, hence, "Unfulfillable." They will then set it aside for removal.
Once an item is marked as unsellable, Amazon will notify you of its required removal from their fulfillment network. You must then create a removal order within 30 days of being notified.
6 Reasons Why Your Items Are Unfulfillable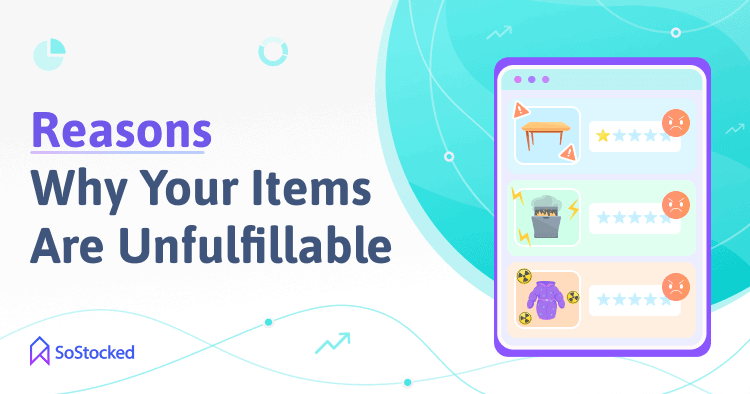 If you have any unfulfillable products, there will be a number in the Unfulfillable column within your Seller Account to indicate how many items are unavailable for purchase. Click on that number to pull up a secondary window showing why those items are being listed as unfulfillable.
Read on to learn more why some units within your inventory become unfulfillable and what you can do to fix them.
Defective
An item may be flagged "defective" when the customer sends it back to Amazon because it has a defect (e.g., not visibly damaged but doesn't work as intended) and is potentially part of a recall. A product may be deemed faulty due to any of the following:
Design Defect
A design defect occurs when the product design itself is faulty. For example, a children's toy contains choking hazards, a helmet breaks upon minor impact, or a table collapses due to poor construction. A design defect could indicate that the manufacturer failed to test their product properly before shipping them out to retailers. It could also mean that the manufacturer ignored the design defect. This is why design defects usually affect every single unit manufactured now or in the future, rather than a single batch or unit being found defective.
Manufacturing Defect
In comparison to product design defects, manufacturing defects don't affect every unit within an ASIN. A certain batch or unit may contain some manufacturing defect due to contamination or human error that normally happens during the production stage. Common causes of this type of defect include incorrectly attached parts, incorrect fasteners or bolts, improperly manufactured raw materials, incorrectly installed electrical circuits, or foreign, undissolved material contaminating pharmaceutical products.
Marketing or Labeling Defect
When a product doesn't have all the necessary warning labels or instructions, it could cause serious injury, and even death, when used or consumed. Not marketing a product with consumer health safety in mind is considered a marketing defect. Examples include false claims, incorrect user instructions, ads that encourage improper use of the product, and failure to list all possible adverse side effects (e.g., medications that conflict with a health supplement).
Unfortunately, Amazon does not accept responsibility and will not reimburse sellers for returned products that are clearly damaged by a customer, defective, subject to product recall, or in violation of its policies.
Alternatively, you can request to have the faulty unit returned to you. The unit may really be defective or the buyer may have only told Amazon that it had a manufacturing defect to get free shipping upon returning the product, when in reality, they just did not like it or changed their mind. The only way to know for sure is to have the unit returned to you so you can inspect it yourself.
Related: Amazon Overhauls its A-to-Z Guarantee Policies to Streamline Damages Claims
Customer Damaged
This happens when a buyer sends back an item, and the item has either been opened or damaged by the customer upon return to FBA, so it cannot be sold again as new.
Again, Amazon does not accept responsibility nor reimburse for items damaged by a customer. So, if a lot of your customers are sending back expensive orders to FBA, that might put a huge dent in your profits. Try to recover some money you lost by submitting a removal order to have the customer-damaged unit returned to you and see what to do with it.
If the item has been opened but isn't actually damaged, you can relist it on Amazon as Used – Like New or Open Box. This condition means that the item still works perfectly fine and the original primary packaging is fairly intact, possibly with minor damage. However, the original protective cover (e.g., original box or bubble wrap) may be missing.
Note that if sending back and re-introducing customer-damaged units to the market is more expensive than just getting rid of them, consider requesting a disposal order instead.
You could also try to contact Seller Support and request for a reimbursement if the product was returned as a change of mind. Make sure to provide all the necessary documents, such as photos of the damaged unit (before delivery and after it was returned), order ID, product information, reason for return or anything that will help you to prove that the returned unit wasn't in the same condition in which you sent it.
Pro tip: Read Amazon's Product Condition Guidelines before re-listing a customer-damaged item.
Warehouse Damaged
Amazon associates handle tons of products every day. So, products are bound to get damaged or even get lost while at these FCs.
"Warehouse Damaged" is used when an item has been damaged at FBA due to mishandling issues. The best course of action is to file a Fulfillment Center Operations Claim so you can get reimbursed for the damaged unit.
Just make sure that your warehouse-damaged meets the following eligibility requirements:
Must be checked in at the time it is lost or damaged.
Was not disposed of at your request or does have any pending disposal request.
Free of defects and not damaged by a customer.
Ensure your selling account is in normal status when you request reimbursement for any missing or damaged item.
Check out Amazon's Inventory Reimbursement Policy for more information.
Carrier Damaged
"Carrier Damaged" refers to unfulfillable inventory that was damaged by a carrier during receiving at FBA, while in transit to the buyer, or while in transit back to an FC due to a return request. The carrier takes responsibility for mishandling your inventory during the shipping process and Amazon will reimburse you in accordance with their Inventory Reimbursement Policy. If Amazon has not reimbursed you yet, you can manually file a reimbursement claim.
Distributor Damaged
This classification is used when your product was received by Amazon in damaged condition to the extent that it is unfit for sale. The product was most likely damaged by the merchant or distributor (improper packaging/sorting or mishandling during storage or transportation).
And because the damage wasn't caused by Amazon or its partner carrier, they will not take responsibility for it. This means there's no automatic reimbursement, as there would be in carrier- or warehouse-damaged cases. Therefore, the unit is set aside as unfulfillable, awaiting disposal.
If you're not using Amazon Partner Carrier, you will have to go to your carrier for reimbursement or to your insurance company if you are covered. You can also ask Amazon to return the unit to you so you can inspect it personally to see whether or not it's still in sellable condition.
If it's still in good condition, you could perhaps try to sell it by another method (e.g., liquidation). Note that careful assessment is important, as having it sent back to you and then selling it at a discount price may cost you more than just letting Amazon get rid of it for you. But in some cases, this added step of personal investigation can be vital if you are facing recurring damage issues and are trying to resolve them so that they stop happening.
Expired
Products within 50 days of the expiration date at the time of arrival at FBA will be flagged unfulfillable and cannot be shipped back to you. Expiration-dated products commonly include grocery items and topical and consumable goods, including supplements.
According to Amazon's expired product guidelines, your expiration-dated goods should allow enough time to be consumed in full plus an additional three months in order to be checked into FBA and then sold through. Let's say your protein shake product has 30 servings and your customers normally consume 1 serving per day. In that case, the shortest time it should be on Amazon shelves must be 120 days (90 days + 30 days) in order for FBA to check it in. So, if your protein shakes don't sell fast enough, it may be marked as an expired product or unfulfillable and then disposed of.
Consider keeping a spreadsheet of expiration dates for your expiration-dated inventory. It's also best to set up reminders to put your products on sale so you can sell them more quickly when they inch closer to Amazon's expiration cut-off.
Related: Types of Inventory Amazon Sellers Should Know About
How Unfulfillable Inventory Affects Your Business
It's crucial to keep an eye on your unfulfillable inventory because it negatively affects your net income (profit after expenses).
In accounting, inventory shrinkage due to damage, spoilage, or theft is considered an expense and it will be listed as such under your Cost of Goods Sold account (expenses deducted from revenue to determine gross profit). So, the more items you lose to shrinkage, the less money you'll make, which is not good for your business.
Unfortunately, most online sellers don't have sophisticated accounting systems that allow them to recognize damage or spoilage losses as they happen, so actual expenses due to shrinkage are not properly accounted for. This creates a problem in that the same issues could continue to occur without being properly handled because what you aren't measuring, you don't tend to have your mind on and then don't do anything about it.
An abnormally high Cost of Goods Sold to revenue ratio means you're carrying a product that may be costing you more to produce and sell than you're making money off from. So, effective inventory management is essential in order to minimize the costs associated with inventory shrinkage. More on that later.
Related: Amazon Cost of Goods Sold Formula
How to Calculate Your Inventory Shrinkage Percentage?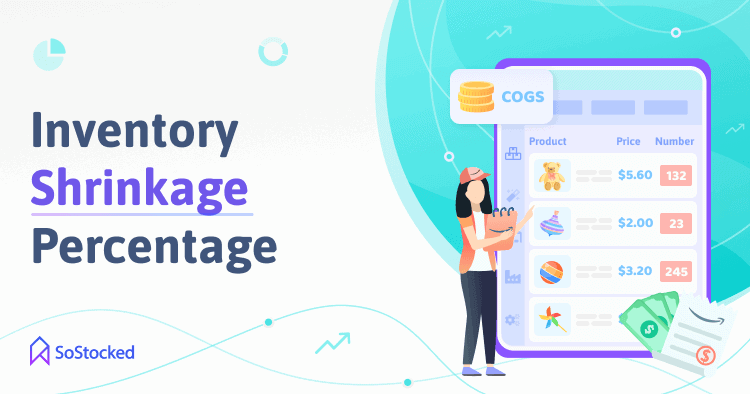 You can determine your company's inventory shrinkage percentage by following the steps below:
Determine what accounting period you are calculating for inventory shrinkage (e.g., weekly, monthly, quarterly, or yearly).
Calculate your recorded inventory value for a specific accounting period by using the formula below:
Beginning Inventory – Ending Inventory = Recorded Inventory
Pro tip: You can find the data you'll need for calculating beginning and ending inventory in your accounting records. If you don't have any previous record, you can take a deep dive into Amazon Cost of Goods Sold here.
3. Find your Actual Inventory by taking a physical (or digital through online inventory management software) inventory count.
4. Get your inventory shrinkage in total number of units:
Recorded Inventory – Actual Inventory = Inventory Shrinkage in Units
5. Or, get your inventory shrinkage percentage:
(Recorded Inventory – Actual Inventory) ÷ Recorded Inventory * 100 = Inventory Shrinkage Percentage
Example:
Let's assume that your company owns 150,000 units of inventory for the first quarter of 2022. If you perform a stock count and find that your inventory on-hand to be 140,000, the amount of inventory shrinkage is 10,000 (150,000 – 140,000).
Then, your company's inventory shrinkage percentage for the first quarter of 2022 would be 6.7% [ (10,000/150,000) x 100].
If there is a major discrepancy, you might want to do a deep dive and would need to do this same analysis for every ASIN separately on a more granular level. This would help you to locate which product may have the highest rate of shrinkage to then be able to resolve those issues.
Looking at Unfulfillable Inventory Reports may also be an even faster approach to locating problem ASINs, but this is only going to catch FBA issues. If the shrinkage is happening elsewhere across the supply chain, try the above approach.
Another way to assess this might be to calculate this in units. This may be a good option when you have less control over your inventory account, as you often do when using a combination of Amazon FBA and 3PLs, would be to calculate the Expected Ending Inventory against the Recorded Inventory.
Beginning Inventory in Units – Sales in Units = Expected Ending Inventory
Once you have calculated your Expected Ending Inventory, you will subtract your Recorded Inventory from Expected Ending Inventory and you will find your Inventory Shrinkage in Units.
Expected Ending Inventory – Recorded Inventory = Inventory Shrinkage in Units
Example:
You start with 15,000 units. You sell 5,000 units for the month and expect to have 10,000 units left at the end of the month. This would be your Expected Ending Inventory.
Then, let's say your Recorded Inventory is actually 9,982. You would subtract 9,982 from 10,000 to get an Inventory Shrinkage of 18 units.
Taking this a step further, you could take the Inventory Shrinkage in Units and subtract the total number of units found in the Unfulfillable Inventory Reports to isolate how many Inventory Shrinkage Units came from non-Amazon 3PLs.
What's the Acceptable Inventory Shrinkage Percentage?
There is no hard-and-fast rule for what should be an acceptable stock shrinkage rate for businesses. However, you'll want to keep the shrinkage rate at your eComm stores to be as low as possible.
To give you some benchmark comparisons, the National Retail Federation reports that in 2018, the average inventory shrinkage percentage was 1.38% across all retail sectors. If your rate is higher than that or increasing steadily, that's not a good sign. Read on to learn how to minimize unsellable inventory, which contributes to inventory shrinkage.
How to Manage Unfulfillable Inventory on Amazon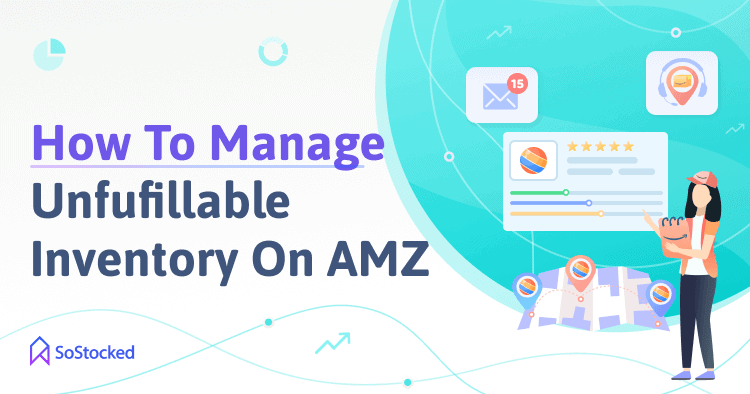 Install a Good Inventory Tracking System
Track your products as they move through the supply chain using an inventory tracker. When a dozen units go missing or are marked as carrier/warehouse damaged, you can quickly request a reimbursement from Amazon. If it's distributor-damaged, try to open a case with your carrier. This way, when Amazon or your carrier loses your shipment, you'll be able to recover some of your capital and re-inject that money into your business.
Related: 11 Ways Amazon Inventory Trackers Improve Inventory Management
Regularly Check your Inventory Adjustment Report for Status Changes
Spot inventory discrepancies before they get worse by making it a habit to read Amazon's disposal order email and Inventory Adjustment Report within your Seller Account. Amazon may also send out removal order notifications on a weekly basis with an email titled "Required removals: First notification" and this "Automated unfulfillable removal notification."
Additionally, make sure to always keep your FBA inventory list clean of items that are damaged or expired by setting up automatic removals for your unfulfillable inventory.
Educate Your Staff
When your inventory team is operating in step with your Standard Operating Procedures (SOPs), it significantly reduces inventory shrinkage. SOPs are usually designed to keep your business running regularly.
For example, SOPs designed to help your staff understand how your inventory management system should be running and their role in it can help them work efficiently, i.e., avoid committing errors and track inventory movements more carefully (from in production to en route to arrival at Amazon or 3PL warehouse). When such risks are kept at bay, profits go up.
Read my Amazon Inventory Management Training Guide to get started.
Work with a 3PL Company
Third-party logistics (3PL) is a service that lets you outsource warehousing and pack-and-ship tasks to professional fulfillment companies. A 3PL provider is perfect for sellers who don't have the real estate and resources to pack and ship orders in-house.
3PL companies can help minimize unfulfillable inventory by taking all the necessary precautions to keep your products safe and secure from damage and warehouse theft. It's common for 3PLs to provide their clients with transparent reporting and technology, allowing them excellent control over their inventory levels and inventory shrinkage.
Related: 3PL Backup for Amazon
Get Rid of Amazon Unsellable Inventory
To make room for new products or additional inventory for your best-sellers, remove your unsellable inventory by submitting a removal order.
When creating a removal order, you'll be asked to choose to have your unfulfillable items refurbished, liquidated, or returned to you automatically by turning on the auto-removal service in your seller account. To do this, follow the steps below:
Click Enable.
Select one or more of the following value-recovery services for your unfulfillable inventory:

Refurbishment to have unsellable items refurbished for sale. However, note that Amazon historically has not been the best at this. We have had Amazon resell items of ours that had food stuck in the blades and a friend horribly had a swim diaper resold by Amazon that had poop in it upon delivery! So, proceed with caution and visit FBA repackaging and refurbishment services for more details.
Liquidate to have unsellable items liquidated via FBA Liquidations. Alternatively, consider checking out Back-Track.com. They have a profit recovery program that has already helped online sellers get back $2M of their lost profits. Back-Track's main service features inspecting and testing overstock inventory or customer returns to see if they can be repaired, rebuilt, or renewed, eligible products that are made ready for sale are then shipped back to Amazon FBA or sold on other channels where sales profits are split between Back-Track and you, the seller.

Select one of the following inventory removal options:

None (available only if the automated removal setting isn't turned on when you signed up for Refurbishment).
Return to have unfulfillable inventory sent back to you.
Dispose to have Amazon dispose of your unfulfillable inventory.
Pro tip: It's best to return inventory to you or your 3PL as Disposed items have often been simply sold to others and then ended up back on your own listing being sold against you by those who bought from Amazon at pennies on the dollar.
5. If you chose Return or Dispose, select your preferred schedule:
Weekly (on the 8th, 15th, 22nd and 28th)
Twice a month (on the 5th and 20th)
Once a month (on the 1st)
6. Provide your preferred email address, address, and phone number for the delivery destination.
7. Click Update.
In most cases, removal orders are completed in 14 working days. However, during peak removal or holiday sale periods, removal order processing may take 30 working days or more. Removal orders will show in Reserved Inventory as they are being processed so keep an eye on reserved inventory during this time.
FBA Removal Order Fees
Fees are charged on a per-item basis. Amazon uses your product's shipping weight and its corresponding size tier as values to calculate your removal order fee. Take a look at the table below to determine which rate applies to your unsellable units.
Size Tier
Shipping Weight
Removal fee per unit
Standard size
0 to 0.5 lb
$0.52
0.5+ to 1 lb
$0.75
1+ to 2 lbs
$1.14
More than 2 lbs
$1.51 + $0.63/lb above 2 lbs
Oversize and special handling items
may include apparel, shoes, watches, jewelry, and dangerous goods
0 to 1 lb
$1.50
1+ to 2 lbs
$1.96
2+ to 4 lbs
$2.89
4+ to 10 lbs
$5.05
More than 10 lbs
$7.25 + $0.63/lb above 10 lbs
Automate Inventory Tracking with SoStocked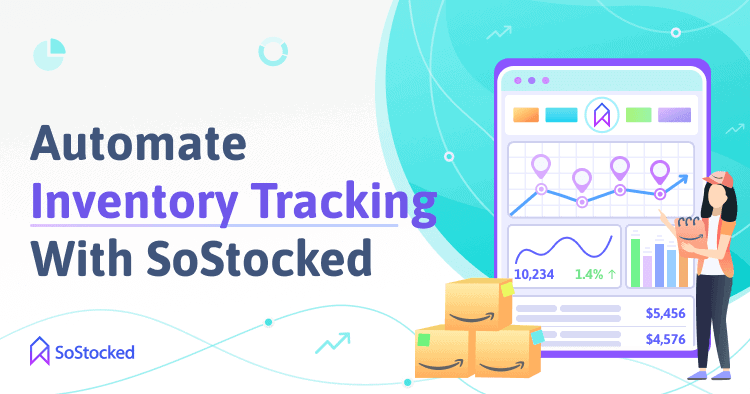 Shipments get lost or damaged all the time. But that doesn't mean you can't minimize the impact they have on your profit margins. Increase inventory visibility by automating your inventory tracking process using SoStocked. This way, you and your staff can easily monitor the progress of your inventory from production through shipping, allowing you to detect and address issues early.
Customizable Seller Dashboards
Use our default Amazon seller dashboards or create and customize your own so you can track key inventory metrics the way your team needs to see them. Examples of dashboards include:
Forecasting Dashboards
View how much inventory you need to order from your supplier or transfer from warehouse to FBA within the next 30 days.
Inventory On-Hand Dashboard
Track your inventory levels at FBA, warehouse, and supplier with our inventory dashboards. These dashboards also include information about your Restock Limits and Max Ship Quantity per SKU.
Inventory Valuation Dashboard
This dashboard lets you view the total monetary value or Cost of Goods Sold (COGS) of the inventory you have in stock.
Note: Read 15 Amazon Seller Dashboards to Organize Your Business for more information.
Advanced Purchase Order and Work Order System
Create a Purchase Order template for each of your suppliers and then assign lead times, which allow you to track POs through our Order Tracker dashboard. Using a cloud-based PO system reduces or eliminates inefficient processes like manually entering data into spreadsheets and placing purchase orders via email, phone call, or text messaging.
Want to efficiently track inventory that's en route FBA? Use our Work Order system, a secondary order management system that works in tandem with our POs. Instead of supplier lead times, our WO system utilizes transfer times to track your inventory from your 3PL warehouse or prep center to FBA FCs.
You can also attach a set of instructions to your WOs to instruct your 3PL on what to do with existing and incoming inventory (e.g., store it, create multi-packs or product bundles, or transfer to Amazon).
Order Tracker
When you assign a lead time to your PO/WO, it enables you to track your shipment through our Amazon inventory order tracker dashboard. This provides you increased visibility into your inventory, from In Production > Shipping > Arrival at FBA or your 3PL.
Min/Max Restocking
Avoid over- and under-ordering by setting a range for your minimum (buffer stock) and maximum days of stock for 3PL and Amazon. You can set your Min-Max in units or in days. I recommend setting it in In Days as demand will fluctuate with your inventory level depending on seasonality.
Track Inventory Accurately to Minimize Inventory Losses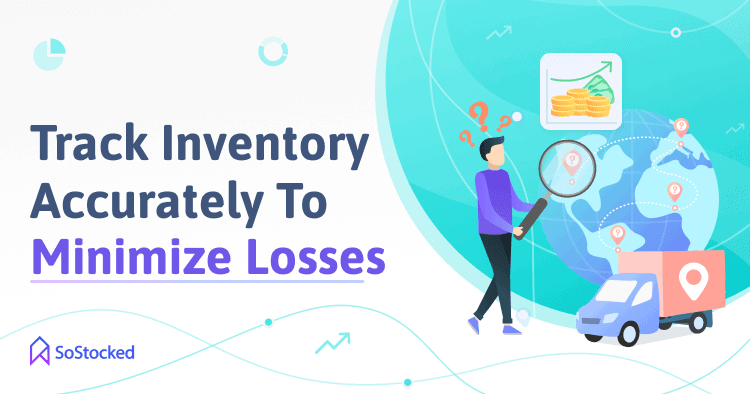 Inventory shrinkage, whether due to damage, spoilage, or theft, can happen when you don't track and handle your inventory correctly.
Without proper visibility into your inventory, it's hard to know where problems are occurring within your supply chain network. Is your inventory still with your supplier? Customs? Or 3PL? Did it arrive in good condition and in the correct quantity? And when you're not aware that problems are occurring, you're likely to miss Amazon's or your carrier's filing window for reimbursement for lost or damaged inventory. So, you risk losing more money than you have to.
To minimize unfulfillable inventory, or shrinkage in general, you need accurate data, which you can achieve by tracking inventory accurately. And the most effective way to make sure that happens is to automate it using advanced Amazon inventory management software like SoStocked.
Try For Free
1,000+ Customers. Free Data Migration. 1-on-1 Onboarding.
Need more information?
Send Message: We typically reply within 2 hours during office hours.
Schedule Demo: Dive deeper into the nuances of our software with Chelsea.
Join Live Upcoming Webinar: New to Amazon inventory management? Learn three inventory techniques you can implement right away.