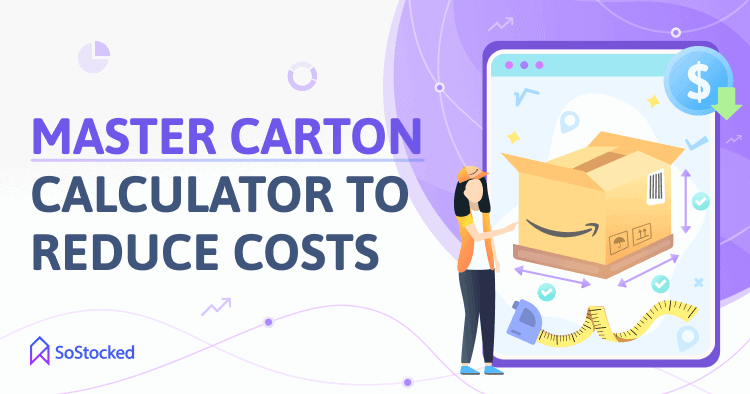 It's common practice among sellers to pack smaller boxes into a master carton, as this allows them to ship multiple items while keeping costs low by achieving the smallest dimensional weight possible. Dimensional weight is the amount of space a shipment occupies in relation to its actual weight. More on that later.
However, if you don't know how to choose the correct carton size for your products or how to pack them correctly, it quickly can lead to costly errors.
A good example of a costly packing error is additional shipping charges. A box that is unnecessarily large due to excess packaging may be subject to an additional handling surcharge on top of other applicable fees because the bulky box may require special handling or equipment in order to be loaded into a truck properly. Plus, the box would take up more space that the carrier could use for other packages so they have to be compensated for that, too.
Weight-related oversize charges may also apply if your package exceeds the maximum weight limit (usually over 70lbs). This is because the carrier cannot fill a trailer when heavier shipments prevent them from loading more items when the truck's max loading capacity is reached.
The rates for handling oversize packages vary by carrier. Let's take FedEx's additional charges as an example. Additional oversize handling fees, ranging from $16 to $25 per package as of 2021, apply to oversize packages that exceed 48″ on the longest side, 30″ on its second-longest side, or 105″ in length and girth combined. An oversize charge of $105 also applies to packages that exceed 96″ in length or 130″ in length and girth combined.
In addition, you could potentially be charged fees all along the way for those oversize packages – from ocean/air shipping to ground freight to Amazon – each carrier could charge you an additional fee and all that would really start adding up to some significant financial damage.
With Amazon, shipping unnecessarily large boxes can be even more punitive than with other vendors. According to their strictly enforced box dimension policy, boxes that contain several standard-size or oversized items must not exceed 25 inches on any side. A box may only go over the 25-inch limit if it contains oversize products that measure longer than 25 inches. Boxes that are excessively large relative to the oversize units may lead to additional fees, restriction of shipping privileges, or refusal at an Amazon FC.
So, unless you're actually selling oversized products, it's critical to stay off Amazon's (and your carrier's) oversize categorization as much as possible to minimize shipping costs and avoid ​​blocking of future shipments.
In this post, I'll walk you through everything you need to know about master cartons, including some tips for optimizing your packaging to reduce shipping costs.