Amazon Seller News: Seller Facts, Melting Points, Product HTML, New Tools from Amazon, and More...
In this Amazon Seller News update, we'll be covering:
Amazon 2021 MCF Fees and Features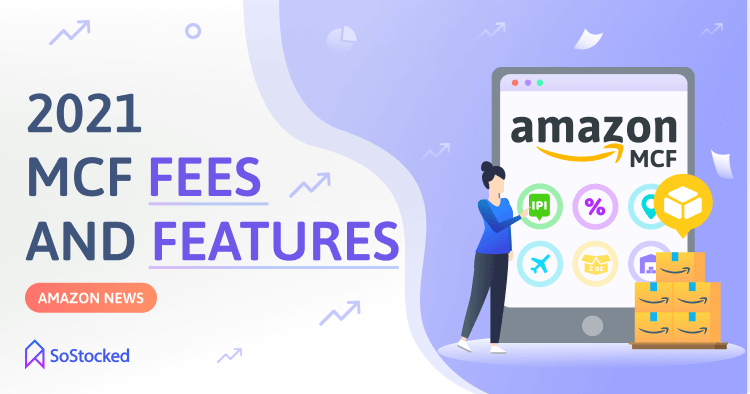 In response to the economic effects of the COVID-19 pandemic and what was undoubtedly a challenging year for most, Amazon decided to lend its sellers a hand in December 2020 by postponing its annual fee adjustments. Additionally, Amazon absorbed certain costs to support sellers through a challenging winter and help them get back on their feet after a few tricky and uncertain quarters.
At long last, it seems like there is a glimmer of light at the end of the COVID tunnel. With what looks like a path to normality now set before us, Amazon has concluded that the time is right to announce its next US Multi-Channel Fulfillment (MCF) fee adjustment, due to take place on June 1, 2021.
What are the Key Changes for 2021?
The 2021 US Multi-Channel Fulfillment fee changes include measured increases in fulfillment fees, in line with the industry average of about 3%, to reflect changing fulfillment, transportation, and storage costs.
Furthermore, Amazon has given sellers the option to block orders from being shipped by Amazon Logistics for a 5% surcharge. This change results from the fact that sales channels like eBay and Walmart prohibit Amazon Logistics, so sellers will be able to block this shipping method at the account level within the FBA settings or on individual orders.
Starting in June, most MCF product size tiers will be aligned to the Fulfillment by Amazon tiers, and there will be a new Small standard size for products weighing 2 oz or less. Also, Amazon plans to remove expedited and priority shipping speeds on large oversize and special oversize products.
Amazon to add Sellers' Top-Requested MCF Features
Firstly, Amazon claims to have improved on-time shipping for customer orders, although shouldn't they have already done that? The company says standard-speed orders for in-stock inventory are now shipped out within two business days of order creation and expedited. Priority-speed orders are shipped out within one business day, so hopefully, this will improve MCF shipping overall.
Secondly, sellers will have the ability to track through AfterShip, to ensure Amazon Logistics shipments are trackable on popular channels such as Etsy and Wish. Any MCF tracking number can be used to search on Swiship.com as well. These tracking numbers can be accessed via the Seller Central order details pages or Amazon's tracking API. Moreover, sellers will have the choice to have the number sent to the customer automatically, so long as an email address is provided when the order is submitted.
Thirdly, Amazon will use sellers' MCF volume when calculating their Inventory Performance Index (IPI) score, which may help qualify for unlimited storage. If you don't know your current IPI score, then head over to the Inventory Performance dashboard.
The final significant update for sellers is the ability to sign up to be put on the waiting list for the beta test of the unbranded packaging and international shipping features.
Do you think these updates are beneficial to your selling abilities? You can always let Amazon know what you think by dropping them some feedback at us-mcf-fee-announce-feedback@amazon.com, and if you need any further information about the 2021 MCF updates, check out the MCF help page.
2021 Amazon Restock Limits Update
In the official news bulletin, Amazon announced: "Effective April 22, 2021, FBA products will no longer be subject to ASIN-level quantity limits. Instead, restock limits will be set at the storage-type level, offering you more flexibility in managing your shipments."
Learn some pro tips on how to handle this update in-depth article Amazon Restock Limits.
CBP Announces New Customs Requirements For Low-Value Shipments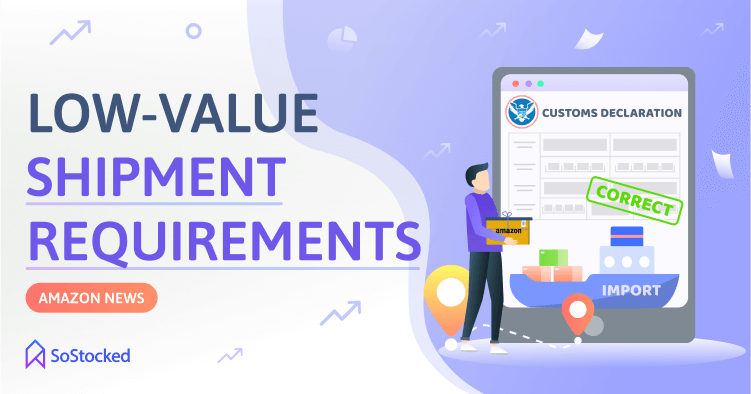 In what seems to be a bid to curb Importer of Record (IOR) risks, the US Customs and Border Protection (CBP) has announced new guidelines for correctly shipping your inventory to Amazon fulfillment centers in the US. It has also been speculated by Amazon forum members that the new measures aim at reducing the number of counterfeit goods on Amazon, most of which originate in China.
An IOR is a standard requirement for shipments of inventory that enter the United States from another country. However, Amazon, including its fulfillment centers, will not act as an IOR for any shipment of FBA inventory. This rule applies to all shipments of any size or value, regardless of origin and product. It's essential not to leave this field blank on the customs entry form, as doing so may result in the shipment being refused and returned.
Since the IOR is the entity or person in the destination country responsible for ensuring compliance requirements are completed and met, they become liable for any goods that pass through CBP. The IOR is accountable for customs clearance, product classification, and the payment of duties and taxes. They are also the entity liable for all risk associated with clearing the goods.
Giving the correct information in the appropriate format ensures that goods imported to the US have a smooth transition through CBP. Additionally, merchandise owners who wish to take advantage of duty-free (Section 321 21) entry into the US need to supply information about their identity, such as their first and last name, or their company name, to CBP through the shipping manifest or customs entry form.
To assist sellers, Amazon suggests that you use this format on all import documentation:
If you'd like to learn more about how to properly format information about the merchandise owner in your customs documentation, we recommend reviewing CBP's rules. Amazon has also stated that you should consult with your carrier or customs broker for further guidance about your shipments if you are in any doubt.
There's also a lot of helpful information to be found over at Amazon's Guide to Delivering Imports.
All ASINs Now Require Melting Temperature Attribute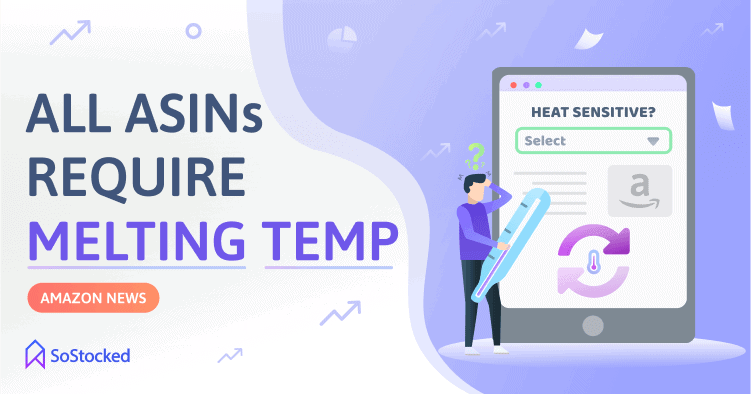 Yep, you heard that right. ALL products now require this. 🤦‍♀️
Amazon announced on April 13th that ASINs require a melting temperature attribute regardless of whether they are sold via FBA or MFN.
I'm sure the last thing any of us want to do is manually update every one of our ASINs. It's not like we all sell candles, chocolate, and lip balm.
It seems laughable to add melting points to things like shoes. What a Croc, eh? 😉
Especially when customers could care less about melting points.
I'm assuming Amazon must have a good logistical or storage reason for this. 🤷‍♀️
The good news sellers only have to do this for NEW ASINs and any ASINs that they update moving forward.
If your product isn't heat-sensitive, you can select "No" from the drop-down.
If you're the unlucky few who have to select "YES"… get those Googling fingers ready. Hopefully, Wikipedia or the periodic table has the quick answer you're looking for. 🤞
Amazon Product Description HTML
Amazon announced that it would no longer display HTML tags on product detail pages after June 8th, 2021. Get the details plus a free tool to convert things to the new format for Amazon Product Description HTML.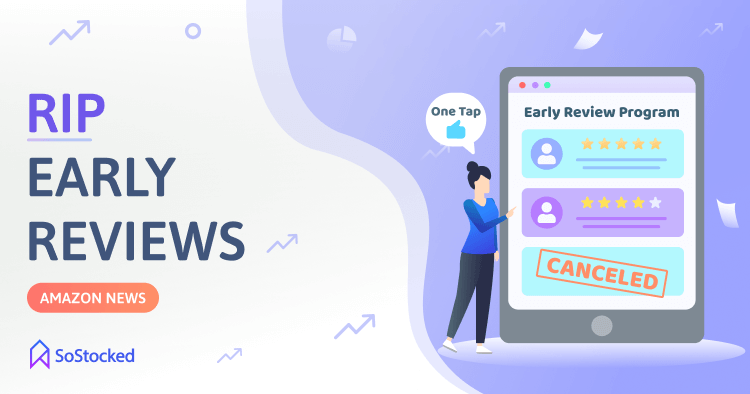 Next up, it's time to say "rest in peace" to the Early Review Program. The enrollment for this program has been closed, and the program has been canceled.
Amazon believes that it has come up with other, more successful ways of getting reviews such as the "One Tap" reviews system. Using One Tap reviews, a buyer can only leave a star rating without actually writing a review. This system allows for more star ratings to occur without buyers having to fill out additional details like the review title and review text that was previously required.
Then we also have Global Review Sharing. If you've got reviews in the UK, you'll be able to share those reviews across multiple platforms so that all of the reviews across all Amazon platforms will benefit all of your marketplaces.
One of the downsides of the Early Review Program's cancellation is for those sellers launching new products. It may be more challenging to get those first reviews. If you find yourself in this position, I recommend still keeping your current review policies and systems in place, especially things like using the Request Review button. This will help to increase those reviews and the sales-to-reviews conversion ratio.
Some seller tools have a Chrome Bulk Request Review extension. I would try this if you've got a lot of products or a lot of sales, and it's going to take you a long time to work your way through all of those reviews. As long as they're not giving you any trouble, keep any email follow-up sequences that you have in place to request reviews per terms of service.
VAT Services Even When Outside EU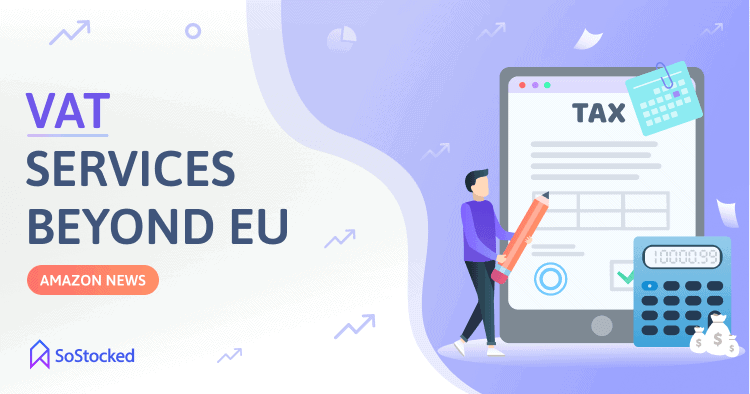 Amazon wants more sellers in the European Union (EU). To help support this goal, Amazon has launched a new program for Value Added Tax services (VAT – similar to sales tax in the US). If you are a business outside of the EU, you can now tap into the VAT services available for partners on Amazon.
"Value Added Tax" is a tax on any goods that you're selling on Amazon. VAT filings can be confusing if you're unsure which countries you should be filing and paying taxes to.
Because it can be so difficult to navigate these legalities and so expensive to move into new markets like the EU, many sellers haven't made the leap from the US to the EU. Amazon is trying to bridge that gap by launching this free program with many perks to lessen the financial blow. This new program is free for the first year; I imagine it's going to be a paid service after that.
If you're interested, move quickly because this free offer is only available through April 30th, 2021. If you're considering getting into the EU, it would be a good idea to take action now before that window closes. This free program includes:
Within this program, you will also get a free European Union "EORI," which is an "Economic Operations, Registration, and Identification number." The EORI is the number assigned to your specific VAT situation. You can for the program register here.
This VAT service might save you some money! Also, check out our FBA new selection program blog post to learn more about another program that incentivizes sellers by saving on fees.
Unsuitable Inventory Policy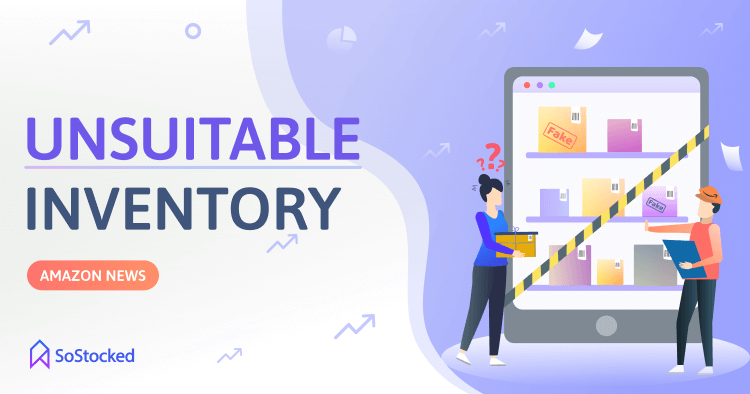 The unsuitable inventory investigations policy is a brand-new policy that allows Amazon to request information from sellers to determine whether goods are counterfeit or illegal. Amazon will be asking for documentation from sellers on these products. If they find the documentation to be unsuitable or not presented at all, they could dispose of that inventory. In some circumstances, they could simply make it available for you to remove yourself.
I can see some good and some bad in this. It's a good thing that Amazon is cleaning up the marketplace and making it more trustworthy. Amazon buyers should feel more comfortable and safe, knowing that they're not going to be buying a counterfeit product. It will also potentially protect us as sellers from the fraudulent hijackers that come onto our listings and say that they're selling our product when they are not.
The only potential downside I see to this is that Amazon has been prone to shoot first, ask questions never, and has also tended to get it wrong sometimes (i.e., the pesticide policy).
Just a heads up, if you have a suspension that occurs for no good reason and Amazon is requesting documentation, this might be why. You can learn more here.
Amazon's New Automated Pricing Tool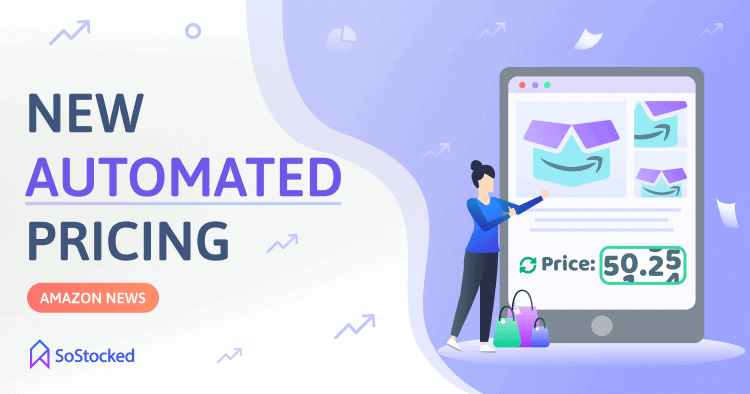 Amazon is now instituting automated pricing. If you are a retail arbitrage or wholesale seller, this could potentially be excellent news for you.
Some sellers use external repricing tools, which raise or lower your price based on the prices of others selling the same product, usually someone you're sharing the BuyBox with, as well as other parameters you've pre-set. A repricer are a beneficial tool and can help to:
Amazon has now built its own tool, potentially allowing you to stop using and paying for your current Repricers, canceling some of those software fees. I recommend testing it out first. You want to make sure that it works the way you think it's going to work before you cancel those services.
For those who don't know, here's a little primer on how reprices generally work: you will start by building out "rules" around how high or low you are willing to go with your pricing and what your sales objective is, such as whether you want to focus on higher profit, for example, or more sales with lower profit, etc. If you're using pricing tools, you're familiar with pricing rules.
One of the benefits of this tool is that if you're using the Build International Listing tool, it will allow you to create pricing rules across multiple marketplaces. For example, if you sell in Mexico, Canada, and the US, and your pricing needs to be different for each country based on your profitability, you can create rules for each individual marketplace.
Again, test it out. Amazon's tools have tended to show bugs or faulty logic in the past, especially during early stages, so I'll emphasize again that you want to make sure that Amazon's automated pricing tool is working the way that you think it should work before you convert over. I would recommend doing a test to compare Amazon's repricer tool to your current repricer tool and see if it's working to your standards.
A/B Testing Product Images Available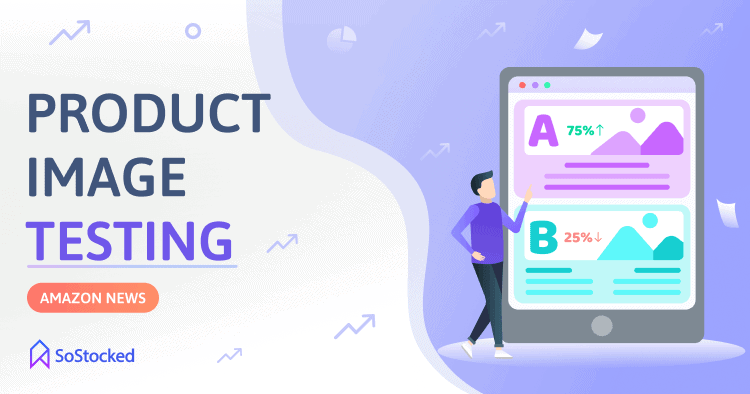 The next thing I want to bring up is the new A/B testing tool within Amazon. Under the Manage Experiments section in the New Brands tab in Seller Central, you can do split testing or A/B testing of certain elements of your listings. You can test titles, product images, and A+ content to discover what changes will earn you more conversion and sales.
For sellers who have done this testing in the past, it has been crucial to test over one full week for accurate results because sales on a Tuesday can't compare very well to sales on a Sunday, for example. Typically you'll have higher sales one day of the week than another.
For this new tool, however, that could be a thing of the past. Amazon has built their A/B tester by sending traffic to both tests equally within the same timeframe. What it is doing is sending 50% of the traffic to one side of the test and 50% to the other side, Amazon can then internally see what gets more conversion and better results.
This way you can take a Tuesday and split the sales on a Tuesday, around the same time. Given this, you could potentially do split tests a lot more quickly because you're splitting that traffic equally on the day of the same week and time of day so that you have more accuracy in regards to comparisons and you don't have to do such long split tests to get accurate data. That's pretty cool!
In running successful split tests, start by changing just one thing. If you change a whole bunch of things at once, you won't be able to tell what actually contributed to the increase or decrease that you get. For example, if you change the title and change the images at the same time, you won't know which one produced the impact.
Always change one thing before moving on, decide which one is the winner, and stick with it. Then move on to testing something else, and in this way, streamline your process as you identify which elements are going to be most successful for your brand.
New Shipping Data Requirements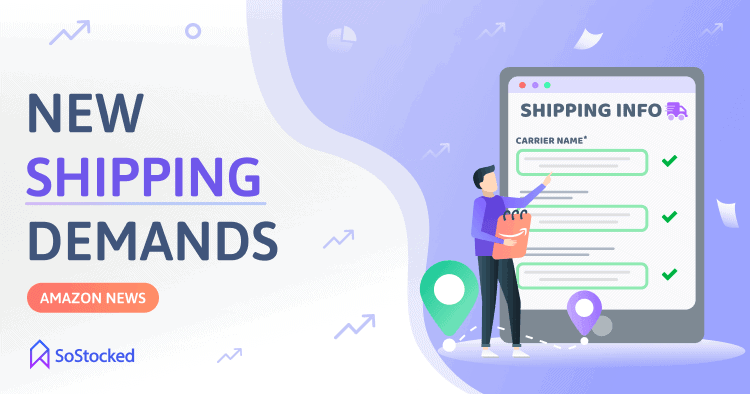 The last thing I want to talk about is shipping. There is a new requirement that when you ship seller-fulfilled inventory that you now have to provide the carrier name. For instance, UPS, FedEx, USPS, or any other provider that you're using for shipping out your seller-fulfilled inventory. Amazon will also soon be validating your tracking details.
When you're fulfilling an order, Amazon will look at the tracking information and make sure it's valid and will show a warning if it gets an invalid tracking detail.
There has previously been a loophole allowing you to put in tracking information that was not valid. Sellers might have done this if they weren't getting their orders out within the timeframe Amazon requires. If you put some sort of tracking information in, you could trick Amazon into thinking you were sending orders faster than you were, which would allow you to avoid the bad marks you might get from Amazon for slow delivery. That loophole seems to now be being closed with this new requirement.
Amazon, more times than not, eventually closes the loopholes. We want to take advantage of the good loopholes when we can, but a loophole like this is dangerous territory as it also affects the end buyer.
Amazon Storage Limit Updates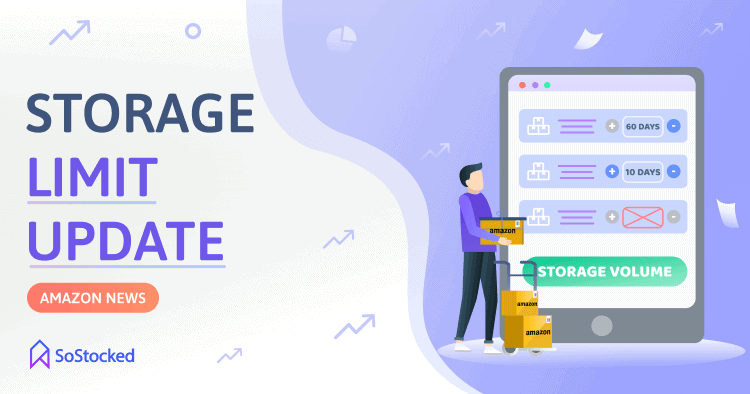 You may have recently received an email similar to the one I did stating that if your score is 450 or above, you will no longer be subject to storage limitations. This means you won't have storage limitations for standard-sized products, oversized, clothing, or footwear starting January 1st, 2021. Restock quantity limits are still going to be restricted.
In my opinion, not much is changing for most sellers. Sellers with oversized products could experience considerable relief but most other sellers won't notice much. That said, we do have to pay attention to what is happening. We are starting to see restrictive quantity limits go up incrementally.
In the fall of 2020, we all had relatively decent limitations and could send in 3+ months' worth of inventory. In December, we saw that cut-down, at times as low as five weeks or lower. I've already seen it start to climb back up in my account to over 60 days of stock, so it is beginning to move in the right direction, but you still might encounter these limitations.
If you're interested in finding out whether you have an IPI score of 450 or above, you can find it on your Seller Central dashboard under the Inventory Performance Dashboard. You can also review your storage limitations there at the bottom of the page. Just click "Storage Volume" to expand it upward and see how much you're using in each of the different storage segments.
If you have storage restrictions, this may significantly affect you, especially if you have oversized items. However, if you have standard-sized products, it may not be that substantial of a change. We are starting to see the quantity restrictions move back up in a positive direction.
Hopefully, we'll see that continue to improve and become less restrictive. Even so, I don't think it's going to go back to the way it was before. I think Amazon is more interested in being a distribution center than a storage center and wants Amazon sellers to improve their inventory management and take more responsibility for that side of their business.
If you want to improve inventory management, join me on a live webinar, I host twice a month discussing things like Restock Limits, NARF, Brexit, inventory planning, etc. Whether you're using SoStocked or a spreadsheet, the techniques we discuss are essentially the same.
Amazon "Review Commenting" Updates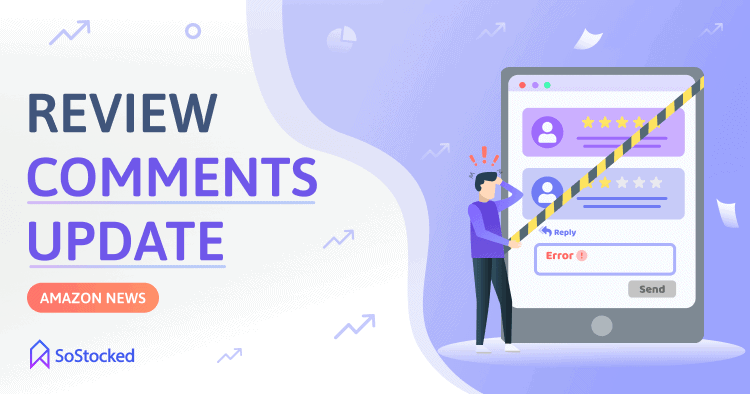 As of December 16th, 2020, review comments have been removed. This means that when customers write reviews, sellers and other Amazon buyers cannot comment on these reviews. I think this is a disservice to customers and sellers alike.
This new rule makes it difficult for us to contact our customers to address various issues if something goes wrong. Sometimes the only place we're able to find unhappy customers is in the negative reviews. We can then contact them, apologize for the problem and offer to send a replacement or make things right somehow. It's no longer possible to handle those issues through the comments section of your products.
This is very unfortunate. It is worth a try for us to contact Amazon Seller Central with our opinion. We need to let them know that, at the very least, they should allow sellers to comment on these reviews. I can understand why Amazon wouldn't want random customers commenting, but we need to show that we are taking care of our customers through our comments and interactions. Other customers will see those comments and be able to understand that there is someone there for them if anything goes wrong.
Viral Launch published a brief article on this topic and gave some excellent tips about using your copywriting to either avoid a bad review or mitigate those types of damages. For example, there might be something in your copy that you have not adequately explained. If you're not sufficiently explaining the product, customers may have a misconception about your product's capability. Therefore, you may be giving them a wrong impression and be causing those negative reviews.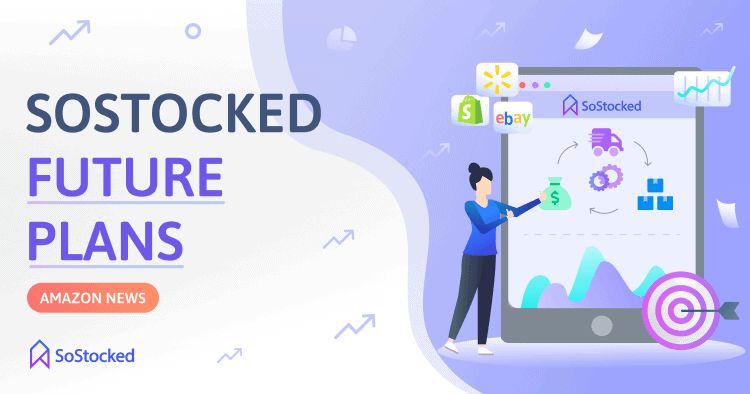 The last thing I want to bring to your attention is that we raised our prices after January 1st, 2020. Although prices went up, we still offer one UNLIMITED plan with unlimited features, SKUs, and Orders.
Sometime this year, we'll be raising our prices again and limiting features, SKUs, and Orders based on pricing plans. So lock-in the unlimited plan while it's still available. We have big plans for 2021, and we want to invest more resources into building out valuable features for Amazon sellers like you.
First, we will implement specific features like FBA shipments and integrations with Shopify, Walmart, and eBay. Moving in this direction requires us to invest more money and time into building out great software, hence the price changes. This change will not affect any current sellers who are using the software. If you are an existing user, your price is locked in and will be for your account's life.
Another feature we want to add mid-year is cash flow modeling. Cash flow modeling will show how your "forecast" will affect cash flow and help you answer questions like:
Towards the end of 2021, our goal is to add logistics modeling. Everything comes full circle here: inventory, cash flow, and logistics.
Logistics modeling will show you the additional piece of how your storage fees, labor cost, labeling, and any other related expenses add up. For example, if your supplier is going to give you a five percent discount on bulk orders, logistics modeling will allow you to see whether it is beneficial to buy six months worth of inventory by asking these questions:
You'll be able to do this logistics modeling and then make informed decisions on the most cost-effective ways to do manage your logistics. We want to get the SoStocked software to the point where you can holistically view how inventory and logistics affect your cash flow so that your bottom line and your profit are as streamlined as possible. You can know that you're making the right decisions based on math, numbers, and bottom-line profit.
We want to be a logistics problem solver, not just an inventory management software. We want you to have a tool that makes you feel confident about the logistical decisions you are making, not only by avoiding stock-outs but also by increasing your profit from a logistics perspective.