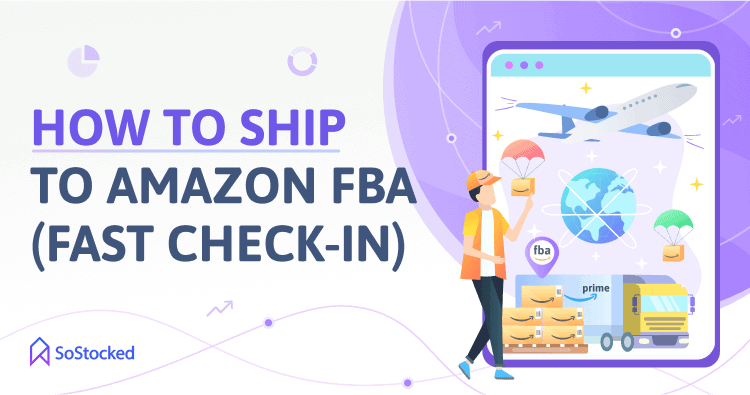 How To Ship To Amazon FBA (And Speed Up Check-In Times)
Best Practices For A Competitive Edge
There are multiple ways sellers can ship their inventory into Amazon FBA. These include air, ocean, and ground freight. And each has its own process.
In sea freight, goods are shipped either via Full Container Load (FCL) or Less than Container Load (LCL). FCL shippers lease an entire 20ft or 40ft container for their cargo, whereas LCL shippers share a container with others and only pay for the amount of space their packages take up.
When we are talking about ground freight, there are a few ways goods are commonly transported. Often goods are loaded on pallets and then into trucks as Full Truck Load (FTL) or Less than Truck Load (LTL). Smaller shipments of unpalletized cartons, or cases (weighing less than 150lbs) can be shipped into FBA via Small Parcel Delivery (SPD). Everything, except SPD, needs to be palletized and is usually a slower but cheaper option.
Being provided with multiple shipping options helps sellers ensure they get their inventory checked-in on time at a decent price, but Amazon's shipping ecosystem isn't always perfect. The amount of inventory that goes in and out of Amazon sometimes creates problems. When a fulfillment center (FC) is overwhelmed due to backlogs, it could take weeks before Amazon can process your inventory for check-in.
And as you have probably noticed, many sellers have been frustrated by consistent delays in Amazon's check-in process over the past many months. And these delays have led to lost sales due to stockout issues.
Imagine spending valuable time and money creating demand for your product on Amazon, only to end up stocking out on your best seller because your inventory doesn't get checked in, or worse, your shipment is lost. Every day without products to sell hurts your rankings, your bottom line and your restock limits.
We are starting to see that Amazon's shipping ecosystem is unreliable and wondering whether our inventory will be checked in on time or not. The good news is, there are options that you can use that help to speed up your FBA check-in times!
In this post, I'll help you to navigate Amazon's shipping methods to ensure you know your options and the pros and cons of each. I'll also discuss some best shipping practices to give you a competitive edge, especially during key selling dates like Black Friday.
In this How To Ship To Amazon FBA guide, we'll take a look at:
How Amazon's Shipping Ecosystem Works And Why It's Important To Know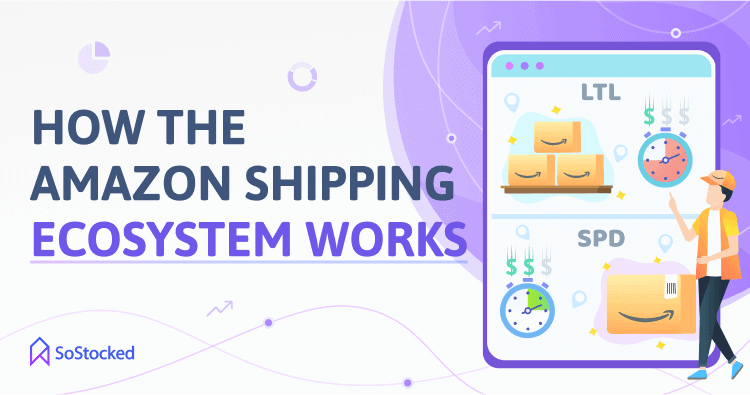 To know why FBA check-in delays happen, it's important to understand Amazon's shipping ecosystem.
First, let's tackle the inbound shipping process. How do you ship to Amazon FBA?
You can send your inventory to Amazon by creating a shipping plan, packing your items, and then sending them to the fulfillment centers that Amazon assigns to your plan.
Sending your inventory to a designated FC helps Amazon to distribute and store it closer to your customers, which reduces delivery time for your customer orders. However, Amazon prohibits sellers from dropping off their shipments at FCs directly. So, you would have to ship them through an Amazon Partnered Carrier or non-partnered carrier.
Once a carrier is selected, that same carrier makes the delivery appointments with Amazon FCs on your behalf.
2 FBA Shipping Methods that Sellers Commonly Use
Sellers most commonly use Amazon's LTL and SPD Partner Carriers to ship products from the port or their third-party warehouse into FBA at discounted rates.
LTL is much cheaper and you can get a lot more inventory into FBA at once, but it's also slower. When your palletized inventory arrives at its designated FC, the warehouse staff will first need to unload it from the truck, move it, and break down the pallets to stock your inventory on their FBA shelves. So, checking them in often takes a few days.
The extra time it takes to move and handle palletized shipments, however, is usually nominal. The biggest delays in check-in stem from Amazon FCs becoming understaffed and backlogged. Inventory piles up when it doesn't get processed right away. These kinds of problems contribute to the consistent delays that we have been experiencing lately.
Exacerbating the problem is one of Amazon's key shipping arrangements with their trucking partners. The eCommerce giant has different contracts depending on their relationship with various shipping companies and within these contracts, the truckers either have to:
Drop off their trailers in Amazon's lot and let the FBA staff take care of the unloading process within their own convenient timetable, which as we all know, isn't as fast as it used to be, thereby causing check-in delays even though the shipment is marked "Delivered." And sometimes, shipments don't get checked in for weeks or even months! This type of contract is what Amazon Partner Carriers and Amazon Freight truckers typically have to agree to, making it a more risky choice as far as check-in times. More on these programs later.
The other contract is one in which the trucking company will only bring a shipment when the trucker can back his truck up to the loading dock and unload the inventory straight into the warehouse himself. In this arrangement, the trucker will not drop his trailer but will empty it directly into the FC and leave. Non-partner carriers tend to utilize this delivery method.
It's frustrating when you face check-in delays with your LTL shipments. Because remember, Amazon counts your inbound inventory toward your max inventory limit. So, if Amazon is unable to process your inventory immediately, it affects your ability to send in more, increasing your risk of stocking out.
In contrast, SPD is faster to check-in, albeit more expensive. You're not palletizing your inventory, but putting them into individual boxes, or cartons. SPD shipments generally get checked-in within 3-5 days from the day of delivery and they don't require the need for a special delivery appointment the same way LTL needs one.
However, you can only send up to 200 SPD boxes per partner carrier or 500 per non-partner carrier so making the most out of your SPD limit is extremely crucial, i.e., prioritize top sellers to keep them in stock.
The takeaway is that knowing the difference between various delivery methods could mean the difference between your inventory being checked in before or after Christmas or the difference between stocking out or not.
If faster check-in time is your top priority (over cost), select the method that has a shorter net check-in time.
What's net check-in time?
This term refers to the total check-in time after every stage of the FBA shipping process has been completed. It doesn't matter if your inventory was delivered more quickly. If it is not actually checked in, it won't be available for sale on Amazon.
So when you're comparing different shipping methods, consider each method's net check-in time. It's all that matters for FBA right now. Delivery time can contribute to a faster net check-in time, but which method will actually get your product live and available for sale on Amazon the soonest?
Below, I will share more information on which shipping methods are more likely to immediately unload shipments and which are not.
Amazon's Three Main Shipping Programs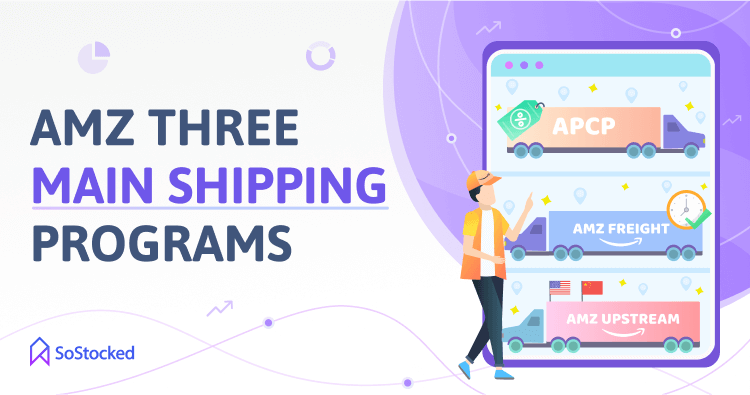 Amazon's shipping ecosystem is made up of three main shipping programs: Amazon Partnered Carrier Program, Amazon Freight, and Amazon Upstream Program.
Amazon Partnered Carrier Program (APCP)
The Amazon Partnered Carrier Program offers discounted rates for sending FTL, LTL, and SPD shipments to FBA fulfillment centers. This program introduces sellers to a vast network of Amazon-partnered carriers, giving them the flexibility to use their preferred carrier within the Amazon shipping network at a much lower price than non-partner carriers.
The money-saving aspect of APCP is what attracts many sellers to it. Another benefit is that those who use this program are often eligible for Amazon's In-Stock Head Start program, which may make inventory available for sale even before it arrives and check into Amazon's FCs.
However, as discussed earlier, the partner carrier program has become less reliable over the recent years due to FBA warehouse backlogs and supply chain bottlenecks. Plus, the aforementioned trailer drop shipping arrangement between trucking companies and Amazon that used to work relatively well now fails miserably because of the logjams at the loading docks and truck driver shortages. This is seen as the biggest cause for check-in delays within this program. SPD is excluded from this and SPD via Amazon Partner Carrier still seems to be a decent option
If truckers just leave their trailers at overwhelmed FCs, or wait until a loading dock becomes available, things pile up, resulting in longer wait times — think 3 to 4 weeks of delay or longer from delivery to check-in.
Therefore, while partner carriers are cheaper and likely to get faster delivery appointments with Amazon, your shipments may not get checked in as quickly as you would like. This has exceedingly become an inferior option. That is something which may change in the future as Amazon sorts out all of the challenges it currently faces but for now, it is proving to be a less than a reliable option.
Amazon Freight
Launched in 2018, the Amazon Freight program offers you instant quotes on the packages you want to send to fulfillment centers.
Here's how it works:
To provide sellers with affordable ground freight services, Amazon owns and maintains a large fleet of trucking trailers. Truckers and trucking companies then team up with Amazon to use those trailers to deliver goods to fulfillment centers across the country.
As mentioned above, part of their partnership agreement with Amazon is to drop off the trailers at their designated locations. That way, truckers don't have to wait for an open dock and the warehouse staff can unpack those storage trailers at more convenient times. Finally, the truckers pick up empty trailers that have been unpacked previously.
In a nutshell, Amazon Freight program allows Amazon to efficiently manage all FTL and LTL shipments that come in and go out of their FCs, as they're able to control the trailers and unloading times. Sounds like an efficient system, right?
But here's the rub:
When too many trailers get left at Amazon because nobody's available to unload them quickly enough, truckers and trucking companies will have fewer trailers to use to deliver goods between FCs, adding to the truck and trailer shortage issue we already face.
Meanwhile, of course, your inventory is sitting in one of those essentially abandoned trailers while you stock out and lose sales.
That's why using Amazon Freight can become a bad option during peak seasons. Partner truckers drop your shipment and it's too often stuck in a trailer for an extended period of time.
Amazon Upstream Storage Program
Amazon Upstream is a new Amazon program that is currently in beta for some sellers and should be rolling out more broadly in the new year. It is a low-cost bulk storage solution for shipping and storing FCL (full container) shipments to an upstream storage facility and then automatically moves units to Prime-ready FCs for replenishment as needed. Currently, this program is only available for Standard Ocean shipments from China to the U.S.
Other benefits of the Amazon Upstream Program are:
No restock or storage limits. Units stored in an upstream storage facility will not be counted against your current restock, inbound and storage limits.
Save a lot of money. On average, upstream storage fees are 47% to 63% lower storage than those of fulfillment centers. The auto-replenishment service also comes free of charge and there are no overage fees!
Integrated Amazon transportation. Amazon handles the delivery of your replenishment units from their upstream storage facilities to FCs, with lead times between 1-7 days.
The monthly storage fees will be based on your daily usage. However, we don't really know what exactly that means and as of this writing, we're still waiting for the fee page to be released.
While the benefits from using this program sound promising, there are a few pain points you must overcome:
Getting approved for an account on Amazon Global Logistics (AGL) so you can send your inventory to an upstream storage facility.
Wiring money to pay for shipments
Creating shipping plans using their web interface and spreadsheet
Pro tip: Proceed with caution. Amazon Upstream is a new and potentially risky program as you're turning over an entire container's worth of inventory to Amazon. And we've seen the mess that Amazon can make with that, which is why I always tell people to not put all their eggs in one basket. But some sellers are willing to take that gamble, and we have our fingers crossed that this program will become more streamlined over time.
6 Drawbacks of Using Amazon's Shipping Infrastructure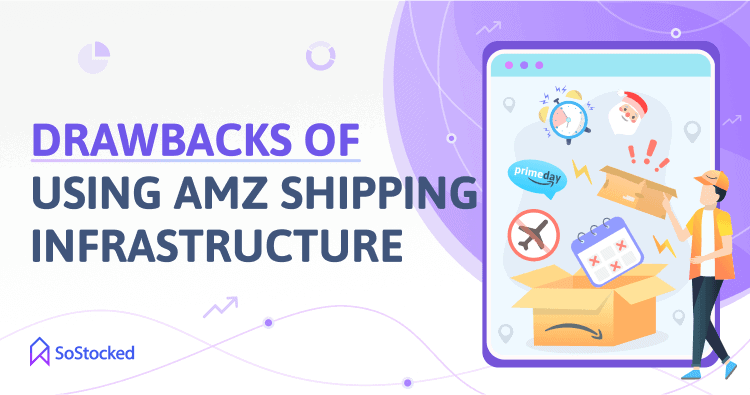 While Amazon's shipping programs are helpful, they can also hurt your FBA business when things go wrong. It is important to understand Amazon's shipping infrastructure and the state of shipping in general in order to create the flexibility your business needs to weather any challenges that come your way.
Below are the reasons why you should have a backup plan and continue to educate yourself about the state of freight and how it affects your business..
Not always seamless
The Amazon Partnered Carrier Program is undoubtedly one of the least expensive ways to ship to FBA. However, it doesn't always work seamlessly, especially during key selling dates, such as Prime Day, Black Friday, Cyber Monday, and Christmas.
In the lead-up to these dates, you're likely to encounter shipping delays in various stages of the process, including when waiting for a partner carrier to pick up your inventory from your warehouse and deliver it to FBA. For instance, some sellers are facing as many as two weeks pickup delay, without any option for canceling or speeding up shipments. This puts products at added risk of stockout and makes pre-planning more difficult.
Not to mention, truckers just dropping off their trailers and not checking them into FBA right away. And depending on the amount of inflow into Amazon's fulfillment centers, check-in delays can quickly lead up to several weeks.
In addition, partner carriers can only ship inventory within the US mainland and cannot be used to deliver dangerous items and hazmat suits to Amazon, which can be a challenge for some sellers.
Not a good option in congested times
Both partner carrier and freight programs help Amazon manage its vast network of carriers. However, they don't seem to be faring well against the warehouse labor and trucking shortages that have been running rampant throughout the supply chain industry since the pandemic.
More than 70 container ships in Los Angeles and Long Beach are unable to unload goods because there's no space to put the containers in due, in part, to a shortage of trucks, creating a massive container backlog.
In a series of eyewitness reports by Ryan Petersen, CEO of Flexport, the port gates are now open 24/7, but on most nights, only 50 trucks show up to pick up the containers. No trucks are even coming in after midnight, which is supposed to be a good time for trucking companies because there's no line. These ports in California also have had nights with 0 trucks!
What's making the backlog situation worse is the high no-show rates. Port employees plan the yard based on these appointments, but if truckers are not showing up as expected, it makes container yard planning even more difficult.
If these things are happening in California alone, which has 2 of the top US ports, it's not hard to imagine what is happening to the rest of the ports across the country.
All that backlog has a ripple effect and influences the rest of the journey to getting your products to Amazon. Trucking issues and warehouse labor shortages within Amazon itself are struggling enough in slower times; the strain leads to breaking points when the holiday rush pushes these programs to their limit.
Amazon's shipping infrastructure seems to work out decently enough outside of holiday sale seasons but in chaotic times like this, it's turning disastrous now. Having a backup plan and a backup plan for your backup plan are proving crucial.
USPS is getting slower and more expensive
USPS has recently announced that they will be using much fewer planes to ship mail and use more trucks instead. This shift allows the postal service company to move a larger volume of mail and packages for less money. However, that also means longer delivery times, as transporting packages by trucks could take up to five days to arrive, two days longer than the previous 1 to 3 days.
While this move may not affect Amazon directly, the trucking shortage is squeezed further as USPS pulls resources away from trucking companies that Amazon hires for its own shipping network or even from your preferred non-Amazon carrier's fleet. And that could mean even more prolonged shipping and FBA check-in delays in the future.
Shipments may get lost or damaged
We've all been there. You ship several cartons to a fulfillment center, and FBA comes up short after receiving them.
With all the chaos happening, it's easy to forget that Amazon is a huge distribution company that's trying to coordinate an enormous amount of shipments. For instance, they may skip over your trailer and leave it sitting amongst a small sea of trailers for months.
Another plausible scenario is when Amazon mistakenly swaps two trailers with different destination addresses. While not as common, it does happen. Our own 3PL owner shared an instance where one trailer was supposed to go to Nevada but went to California instead. This of course caused issues that took time and foresight to resolve. When your inventory is placed at the wrong FCs, it can have an impact on your shipping and delivery times.
The point is, when you're using Amazon Freight, it is not uncommon for your inventory to be mixed up or lost at some point.
Unfortunately, Amazon's support isn't exactly the most reliable when it comes to finding lost shipments. You can chat, email, and call their contact center, but there is no "hurry up" button to resolve these issues quickly.
Amazon also has this tendency to claim such cases as investigated and conclude that you simply did not send the shipment in. They put the burden of proof upon you as the seller and you find yourself having to contest the conclusion and reopen the investigation.
While some lost shipments do get found, it usually takes several weeks for that to happen. Amazon may tell you they need 2 days, or 5 more days, or 7 more days, and on and on.
Take my case as an example.
In Q4 2015, my own inventory went missing for over a month in December and was deemed "lost". Then, of course, it was found a few weeks after Christmas.
Pro tip: After booking a carrier, write down your trailer's number and save the Bill of Lading (BoL) information. This way, when it goes missing, your carrier and Amazon can more easily track and locate it when needed.
If Amazon admits that they have indeed lost your inventory, they will reimburse you the sale price of each unit that got lost minus the Amazon fees. So, suppose you were selling your product for $24 after Amazon fees and Amazon lost 250 units. In that case, you should receive $6,000.
What happens if Amazon miraculously finds the missing units one day? They can reverse the $6,000 repayment by taking it out of your next deposit. BUT, they will also add your inventory back to your account so you can actually sell it.
Longer net check-in times
As I've explained earlier, net check-in time is the total amount of time it takes for your inventory to be checked in and become available for sale on Amazon. It doesn't matter if your carrier gets faster delivery appointments. If they take 5 weeks to get your inventory checked in, you're going to stock out and that same stuck inventory will block you from sending more inventory in.
So although Amazon Freight and Amazon Partner Carriers are cheaper, often with faster delivery appointments, they're also likely to have much longer net check-in times than non-partner carriers and based on their contract.
Remember what I said about Amazon's standing agreement with their partner carriers and truckers? They drop off their trailers at Amazon's lot and let the warehouse staff do the rest. Once unloaded, they pick up the empty trailers.
But when more trailers are coming in than being unloaded, suddenly, trucking companies are delivering fully-loaded trailers and leaving with no trailers. Unloaded trailers start to accumulate, making our trailer shortage issue worse than it already is.
Imagine missing the Christmas sale period because your inventory isn't getting checked in on time! It's literally sitting in an Amazon trailer lot and there go your holiday sales. Not only will you lose profit on the product, but also end up with excess inventory that could be much more difficult to move in your off-season. Hello, storage fees!
Luckily, there are other third-party trucking companies, such as that you can use as an alternative shipping method. Your 3PL rep should know the best solutions that are working now and should be able to provide you with up-to-date information that will be invaluable to your business. Currently, as mentioned, non-partner carriers seem to be faster and more effective than Amazon Partner Carriers in terms of net check-in times because they don't have this drop-off-and-leave agreement.
Net check-in time is what is most important. The shipping practices that get your inventory delivered and checked in faster are generally the better option.
More expensive to only send SPDs
The two-year eCommerce boom fueled by the pandemic forced major SPD carriers to implement new and higher fees, while simultaneously limiting package volumes to keep the onslaught of deliveries under control.
UPS and FedEx, in particular, have cut off deliveries from some retailers, sending the overflow of packages to the USPS. This has resulted in more pileups for the country's postal service and more delivery delays for customers.
Thus, if 2020 taught us anything, it's critical to pay attention to SPD carriers. Stay up-to-date on their latest announcements and business moves (e.g. USPS shifting from air to ground freight). Then, be sure to factor that information into your overall FBA shipping plan to minimize the impact of sudden changes in SPD rates and volume limits, especially during the holiday season.
For instance, retailers capable of distributing their small parcels across UPS, FedEx, DHL, USPS, and other carriers (versus using only one provider) actually did well during the 2020 holiday rush. Additionally, the same idea should be considered for sellers shipping their inventory into FBA via SPD.
Although SPDs are easier to handle and transport, it can get more expensive (and risky) to only ship by small parcel over time, as carriers are also vulnerable to supply chain issues. Remember our golden rule: don't let anyone have all your stuff.
Consider only using SPD when you need to get small amounts of inventory checked in quickly for fear of majorly delayed check-ins or running out of stock. Ship most inventory via LTL and use SPD as your just-in-case, just-in-time inventory shipping option. This way, you can keep your inventory in stock and avoid the costs associated with SPD shipping unless absolutely necessary.
Related: Amazon Freight Forwarder Tips to Avoid Stock Outs and Reduce Costs
How to Ship to Amazon FBA via Alternative Options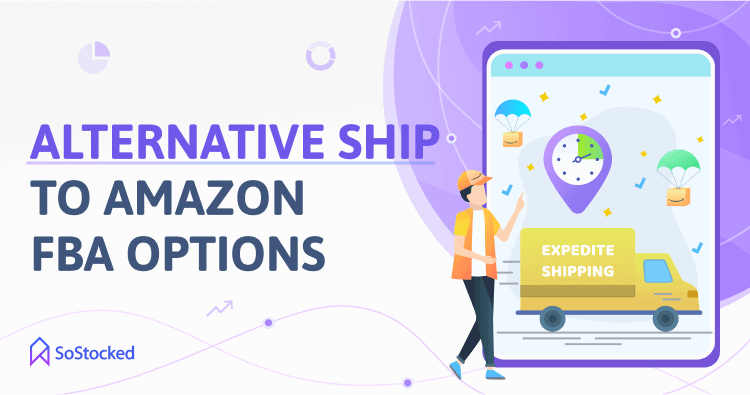 Select and Use Your Preferred Carrier
Talk to your 3PLs about other faster shipping options beyond Amazon's shipping network. Based on those options, consider third-party service providers with the right balance of speed and cost.
One of the best things about sending goods via your preferred carrier is the shorter pickup lead times. Sellers can arrange the pickup of their shipment from their warehouses and opt to expedite shipping, giving them more control over their shipping process.
Non-partner carriers can be a good option when Amazon Partner Carriers are experiencing delays and are unable to pick up your goods on time. And although your shipment is still subject to receiving delays at fulfillment centers during peak season, you will often find, at least at the time of this writing, that it will be unloaded and checked in faster than partner carriers.
And of course, as mentioned, non-partner carriers can drive straight into Amazon FBA and unload the trailers when loading docks are available. This may make booking delivery appointments a bit longer since they have to wait for unavailable docks to become available, but having your inventory sitting in a trailer and not check-in for weeks isn't exactly the ideal option, either.
So what you should really care about are your shipping method's net check-in times. Knowing how Amazon Freight and other trucking service providers operate presently will help you make informed decisions about the best ways to get your products checked in and this information most reliably comes from 3PL managers and freight forwarding reps who are in the trenches with this stuff all day every day.
Incorporate a Fulfilled By Merchant (FBM) System
With increasing storage restrictions and worsening supply chain problems, more and more sellers are using a hybrid fulfillment system – FBA and FBM to prevent stockouts. If they stockout, they can quickly switch over to FBM to continue processing customer orders outside of FBA. Having a third-party fulfillment center helps them to avoid any significant disruption in their operations.
That's also why you don't ever send all your shipments to Amazon! You still need to be able to make sales and deliver to your customers even if Amazon doesn't receive your inventory on schedule. Therefore, they should not be your only distribution channel, even if they are your only sales channel and you're not selling through any other platform.
Plus, Amazon counts your FBM sales toward your sell-through rate, which is a major influencing factor for determining restock limits. Your sales may be lower with FBM than with FBA because you won't have Prime shipping, but you'll still keep your restock limits within good range instead of letting them plummet because you stocked out and had no other way of taking on sales.
Related: Factor Your Restock Limits into Your Inventory Forecast Calculations
Utilize 3PL as a Backup Warehouse
During these chaotic times, it's not advisable to only rely on Amazon for all your storage and shipping needs.
Teaming up with a 3PL will help you stay in stock and remain flexible no matter what happens. Store inventory at your 3PL and drip feed it into Amazon as your restock limits allow.
You can also use 3PLs for storing your buffer stock. If Amazon fails to check in your LTL shipment on time, you'll still have some units back at your warehouse that you can either send into FBA via SPD (for faster check-in times) or sell through FBM (if you've hit the end of your restock limits or face other stocking challenges).
Related: 3PL Logistics Backup for Amazon
Ask Your Supplier to Hold Some of Your Inventory
Making contingency plans should always be part of any seller's inventory management game plan, especially now. And one way to prepare for the worst is by holding back a portion of your shipment with your supplier so that in the event of emergencies (your cargo is stuck at sea for weeks), you can quickly ship some units by air.
Not only will this contingency plan help to prevent stockouts, but also avoids too many expensive express air transports, as the reserve stock is only there if you absolutely need it. You won't air-ship it if your ocean inventory arrives without incident and will simply put it on the next boat when needed.
How to Speed Up FBA Check-in Times
Team Up with Non-Partner Carriers
Partner Carriers used to be faster, yes, but with Amazon Freight causing so many problems and unloading times falling way behind, this makes non-partner carriers with faster net check-in time more ideal for shipping inventory into FBA at the moment.
You may complain about non-partner carriers having higher rates, but you get your stock in or you don't. Assess your priorities and consider other alternatives because Amazon's shipping system isn't always the answer.
When it fails because of backlogs or trucking shortages, and you don't have a backup plan, a stockout is likely to happen. So when creating your yearly inventory plans, be sure to create a strategy around faster "net check-in times" to prepare for any potential receiving delays at FBA, especially during key sales events.
Lastly, check with your 3PLs to ensure they are using the best and fastest modes of ground freight to keep you in stock.
Provide Carrier and Tracking Information
Amazon has recently updated its policy about carrier and tracking information. Effective 1st November 2021, FBA sellers who create non-partnered carrier shipments will be required to provide Amazon with a carrier name and tracking information.
This move is part of Amazon's initiative to receive your inventory quickly and make it available for sale faster. This might also mean that Amazon may begin to give In-Stock Head Start access to non-partnered carrier shipments.
Note, however, that this requirement does not apply to those who use the Amazon Partnered Carrier program or Amazon Global Logistics, because Amazon generates the tracking details for those shipments.
Drip-Feed SPDs into FBA
During busy months, consider splitting your FTL or LTL into smaller parcels to ensure faster net check-in times! This method also prevents you from maxing out your restock limits quickly and improves your turnover ratio.
The quicker you turn your inventory over, the better. Having a monthly turnover (versus quarterly) is a good indication of excellent inventory management and sales performance.
If you decide to send SPDs more frequently this Q4, make sure to keep a firm eye on your inventory levels to avoid transferring too late. Calculate and set your reorder point within SoStocked so you'll know when to replenish your FBA inventory.
Related: How to Calculate Amazon Reorder Point for Accurate Restocking
Track the Inbound Shipping Progress of Your Inventory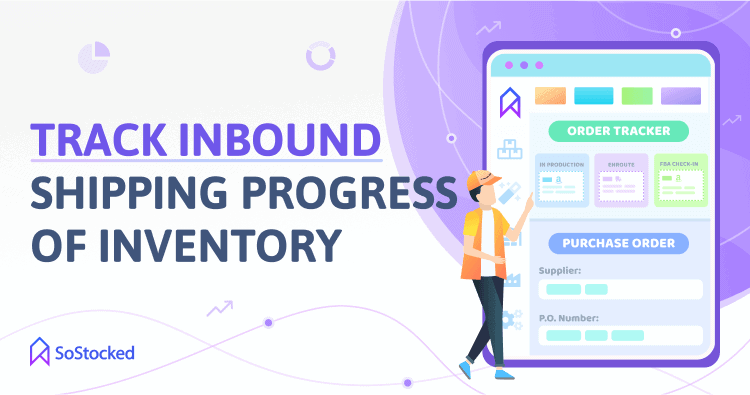 Here are some inventory management tools that you might find helpful when shipping to Amazon FBA.
Purchase Order (PO) System with Lead Times
Streamline your order and transfer processes with a system that lets you generate purchase orders and assign lead times to each of your POs!
SoStocked has a built-in PO system for new inventory orders from your suppliers. You can also use our PO system in tandem with our secondary order management system called Work Orders (WO). This WO system allows you to set transfer times for processing and shipping goods from your 3PL warehouse or prep center to FBA. Assigning lead times to your POs or WOs also makes tracking your shipments within SoStocked easier.

Order Tracker
Track the progress of your new inventory orders, from the time the PO is sent to your supplier through production to shipping it to its final destination. This tool uses a neat Kanban board that automatically moves orders and shipments from In Production to En Route to 3PL warehouse/FBA based on your assigned and customizable lead times.

Inventory Tracking Dashboards
Our Inventory Tracking dashboards are especially useful in tracking incoming shipments and monitoring inventory on-hand levels at FBA and 3PL.
Use the Inbound Shipments dashboard to determine what POs/WOs are in production and where they are going, whether 3PL or FBA.
Alternatively, go to our Inventory On-Hand Dashboards to view all of your on-order and en-route inventory and available stock at FBA FCs and 3PL warehouses, including reserved inventory.
Bonus: Learn more about Amazon's storage-type inventory restrictions and logistics strategies for Q4 and 2022! Sign up for our free webinar here!
Use Non-Partner Carriers in Tandem with Amazon Partner Carriers and SPDs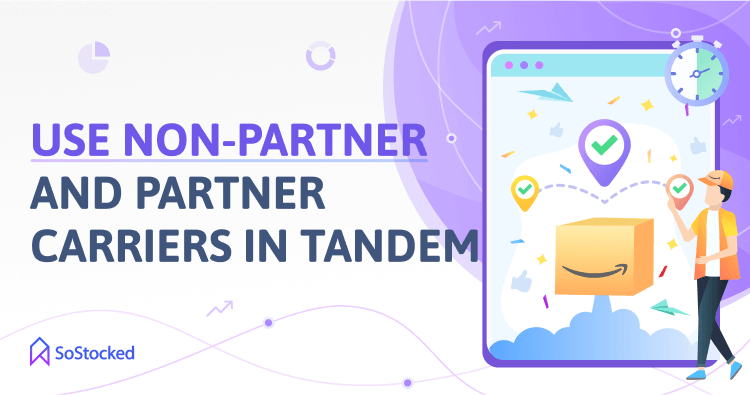 As we approach the most exciting and busiest time of year, it's essential that you have a sound logistics strategy in place for getting your inventory checked in early. You can use a multi-pronged approach:
Use non-partner carriers to ensure your LTL/FTL shipment is checked in more quickly upon delivery. Non-partner carriers are more expensive than Partner Carriers so weight time and cost when isolating your best path forward.
Splitting your LTL/FTL shipment into multiple SPDs for even faster net check-in times. This method is more expensive than LTL, so plan carefully to only utilize this as needed.
If you're willing to gamble and endure 3 to 4 weeks or more worth of check-in delay, use the Amazon Partner Carrier Program. It's obviously not a good option for shipping products into FBA during Q4, but might work well during off-peak months. You can get delivery appointments quickly, but overall it has a longer net check-in time, at least for now. The cost savings make it worth it for those who plan accordingly.
As always, the goal is to keep you in stock. Remaining flexible, knowing your FBA shipping options, when to use each, and how to keep track of your shipments can help you to protect your business against unforeseen inventory and logistics issues, allowing you to maximize your sales this holiday season.
Try For Free
1,000+ Customers. Free Data Migration. 1-on-1 Onboarding.
Need more information?
Send Message: We typically reply within 2 hours during office hours.
Schedule Demo: Dive deeper into the nuances of our software with Chelsea.
Join Live Upcoming Webinar: New to Amazon inventory management? Learn three inventory techniques you can implement right away.