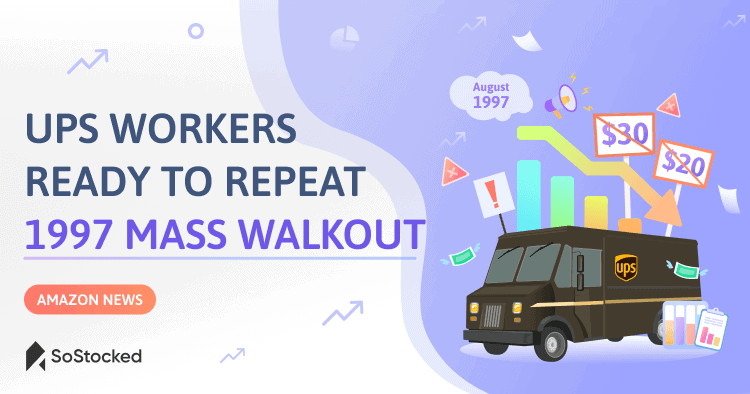 UPDATED: UPS Workers Ready to Repeat 1997 Mass Walkout Over Pay, Work Conditions
UPDATE 07/25/2023: 💪UPS and Teamsters have just set a higher labor standard for the logistics industry after reaching an agreement.
Described as "historic" and "overwhelmingly lucrative" by the union, the five-year tentative contract includes pay raises for all 340,000 workers, additional full-time positions, and several workplace safety improvements.
Each UPS union worker is set to enjoy a $2.75 per hour salary hike during the present year, followed by a series of gradual wage increases totalling $7.50/hour over the subsequent five years. These increases will push UPS's average top rate for its unionized full-time drivers to $49 per hour, making them the highest paid delivery drivers in the US.
Part-time employees, comprising half of the workforce, will see their starting wage rise to $21 per hour, marking a significant improvement from the current starting hourly rate of $16.20, albeit lower than the $25 an hour advocated by a group of part-timers. But through general wage increments, plus longevity bonuses of up to $1.50 per hour, part-timers may still be able to reach their desired hourly rate over the next five years.
Another significant win was claimed by UPS and Teamsters with:
The establishment of 7,500 new full-time positions, which will provide part-timers with more opportunities to transition to full-time jobs.
The addition of Martin Luther King Day as a paid holiday and putting an end to forced overtime on off days.
Removal of the two-tier wage system. All second-class drivers, or 22.4s drivers (see article below), would be reclassified to Regular Package Car Drivers and promoted based on seniority.
Enhanced working conditions for UPS drivers. Starting from January 1, 2024, UPS will be installing air-conditioning units in all of its new delivery vehicles. Moreover, to guarantee optimal ventilation within the cargo compartments, UPS will also install two fans and air induction vents in all of its vehicles.
According to Teamsters, over 60 total changes and improvements were made to the National Master Agreement.
"UPS has put $30 billion in new money on the table as a direct result of these negotiations. We've changed the game, battling it out day and night to make sure our members won an agreement that pays strong wages, rewards their labor, and doesn't require a single concession. This contract sets a new standard in the labor movement and raises the bar for all workers," said union President Sean O'Brien.
On July 31, representatives of the UPS Teamsters locals will meet to review and recommend the tentative offer. The endorsed agreement will then be put to a vote by the union members from August 3 to 22.
UPDATE 07/19/2023: A UPS protest on August 1 remains possible, as no agreement has yet been reached between the carrier and Teamsters. 
On July 5, contract talks collapsed, with both parties accusing each other of walking out of the bargaining table.
Teamsters reportedly refused to take UPS's "unacceptable offer," while the logistics giant denied it ended the negotiations.
According to the union, "UPS refused to give the Teamsters a last, best, and final offer, telling the union the company had nothing more to give," adding it has "repeatedly made clear that UPS members will not work beyond the expiration of the current contract."
Two weeks after talks broke down, UPS announced it will re-engage in negotiations with Teamsters, presenting an improved offer. The primary objective behind this move is to prevent the looming threat of a potentially detrimental strike scheduled for August 1st.
"We are prepared to increase our industry-leading pay and benefits, but need to work quickly to finalize a fair deal that provides certainty for our customers, our employees and businesses across the country," UPS said in a statement.
UPS accounts for nearly a quarter of all parcel shipments within the US. That makes the company second only to USPS with 32% and ahead of Amazon with 23%, according to global shipping and mailing firm Pitney Bowes.
This means any widespread disruption to its operations may not only delay UPS deliveries in the country but also overwhelm other carriers left to pick up the slack.
A huge financial loss may also result. A new report from the Anderson Economic Group shows that a 10-day strike at UPS could cost the US economy over $7 billion, with customers and small businesses themselves losing roughly $4 billion.
If that happens, it would be the costliest work disruption in a century, and the largest protest (over 340,000 workers) against an employer in the country's history, the economic group found.
But amid disagreements and roadblocks, many transportation analysts remain optimistic that a deal will be struck between UPS and Teamsters well before the deadline. The underlying reason for this positive outlook is the interdependence that exists between both sides.
"Both sides are going to suffer if there is a strike and there is no revenue flowing to the company and no wages to the workers. They're both going to lose in the end, because some shippers will shift to other carriers and not come back. And there will be other challenges to disappointing your customers that rely on you," Paul Bingham, Director of Transportation Consulting at S&P Global Market Intelligence, told Transport Topics.
Amazon Taking Measures Ahead of the Potential UPS Strike
In a statement to USA Today, Amazon rep Steve Kelly said the company has been working to streamline its logistics network.
Amazon has recently installed same-day sites in major cities and is actively recruiting local businesses in rural areas as delivery partners for improved Prime delivery speeds. This could help minimize the impact of the looming strike on their logistics operations.
However, there could be some delays for sellers and customers in areas that heavily depend on UPS, experts warn.
"Amazon's delivery service providers, the Amazon vans, those are more for denser urban areas where you have a lot more package density," supply chain expert Jason Miller explained.
"So your Amazon shoppers in rural areas, and just in general areas that have less customer density, they're the ones that are most likely to be affected."
Amazon sellers that handle their own fulfillment and delivery "could also take more time since there's a good chance that they could be using UPS."
In that case, consider discussing your other options with your 3PL. For instance, you may want to implement backup carriers to stay flexible during supply chain disruptions.
🪧 In August 1997, around 185,000 UPS employees staged a 16-day long protest over pay and job security, causing a nationwide service disruption that cost America's largest courier $780 million in losses.
The aftermath of the strike also left a lasting concern among customers that it could occur again, a warning that may soon proved prophetic if UPS fails to reach a deal with its unionized workers by July 31, 2023.
Teamsters Prepare for Contract Talks with UPS
The existing five-year contract between UPS and Teamsters, a labor union representing 350,000 UPS workers, is set to expire by the end of July. Negotiations over the new work terms and conditions will start in April.
Currently, the union's UPS National Screening Committee is reviewing thousands of proposals for contract terms they should include in the Master Agreement.
Key issues that Teamsters aim to address include:
Pay gap between regular drivers and second-tier delivery drivers, known as 22.4 drivers after contract Article 22.4. In 2017, UPS rolled out Saturday Delivery to keep up with Amazon, FedEx, USPS, and gig workers that make weekend deliveries. To offer this service, the company hired second-class drivers whose rate ranges between $20.50/hour and $30.64/hour, whereas regular drivers' can reach up to $40/hour. That's a huge pay gap issue that Teamsters General President Sean O'Brien and some senior drivers aim to close by removing 22.4 employee classification or UPS's two-tier wage system and expanding the number of full-time offers.
Part-time salary increase. O'Brien will push for a $20 starting rate (from $15.50) for part-timers (drivers and warehouse workers) and urge UPS to reward those who have been holding a long-term part-time position. Part-timers should also be given an opportunity to convert to full time.
Excessive overtime. A report from More Perfect Union reveals UPS forcing some of its drivers to take 12-hour shifts and constant overtime on the weekend, thereby ruining several marriages and families.

In an interview with Insider, O'Brien said that the union is "open to finding a solution to the seven-day week delivery."

For instance, FedEx has been offering weekend deliveries for a couple of years, but has recently reduced Sundays in an effort to cut costs amid slowing eCommerce demand.

UPS may follow suit but that could also mean laying off numerous employees or hiring more seasonal workers.

The stakes are higher at UPS, however, as the job cuts could impact 350,000 unionized workers responsible for handling and shipping the courier's 21.1 million US daily package volume, which Teamsters could use as leverage. A mass walkout might force UPS to stop its operations until an agreement is reached.
Personal Vehicle Drivers (PVDs) or subcontractors. PVDs are temporary drivers hired to help full-timers deliver items while using their own vehicles.

Based on the existing contract, UPS can outsource jobs to seasonal drivers as long as the company gives priority to union workers. That means independent contractors may not be entitled to some benefits or incentives.

Teamsters aim to eliminate "outsourcing" to ensure every UPS worker is "classified, treated, and paid as an actual employee, protected by a Teamster contract," a spokesperson told Insider.
Related: California Truckers Protest AB5
Surveillance cameras. UPS has reportedly installed front-facing and driver-facing cameras inside their trucks that act as motion detectors to alert drivers when they don't fasten their seatbelts or they're using mobile devices while driving.

However, for O'Brien, the inward-facing cameras are an "invasion of privacy," and therefore, must be removed.

"That's just another tool to increase productivity and hold our members hostage," he added.
Heat protection. 24-year-old UPS trucker, Esteban Chavez, Jr., died from heatstroke after finishing his last delivery in July 2022. This incident has prompted union members to demand UPS to put in place better heat-related safety initiatives like getting a fan installed in their vans or not giving them 12- to 15-hour routes during the hotter months.
If no agreement is reached on time, hundreds of thousands of UPS workers may hit the pavement in August to demand higher pay and better working conditions.
In a statement to CNN in 2022, O'Brien said that the union will make use of its $350 million protest fund to get every advantage they need to win the contracts they want. The contract negotiations will also serve as an example for other workforces that have yet to unionize.
"Striking is a last resort, but if a company is not negotiating in good faith, we're going to get what our members deserve."
In other words, if Teamsters end up launching a protest this summer, it's UPS's fault. And given the fact that UPS handles more than 6% of the country's gross domestic product (the only company to do so), the strike could create a massive void that the other courier service providers may not be able to fill, putting thousands of small businesses in a vulnerable position.
Consumers will most likely also have to endure delivery delays. 😫
UPS CEO Addresses Labor Issues
During the company's Q4 2022 earnings call, UPS CEO Carol Tome assured analysts that a "win-win-win" agreement would be reached by July 31st.
"I would submit that a win, win, win is very achievable because we are not far apart on the issues. And let me make this real for you by giving you a few examples. First, both Teamsters and UPS agree that a healthy and growing UPS is good, good for Teamsters, good for our people, and good for our customers. In fact, we've added more than 70,000 Teamster jobs since 2018. So, we're aligned that a growing and healthy UPS is good. To be growing and healthy, we need to be competitive and make sure that our offerings meet the needs of our customers."
Tome also thinks that resolving these labor issues will only require "just a few tweaks" to the company's existing contract with Teamsters. 🤔
These tweaks might include:
Implementing "new technology and hydration measures" to keep drivers and warehouse staff safe in sweltering heat.
Drivers, specifically 22.4 drivers, may opt not to work 6 days a week to reduce pressure on the workforce with weekend operations.
The company remains vague about raising pay rates, though. Moreover, Teamsters's O'Brien also refused to disclose what the bottom line is for launching a strike.
The 1997 protest was won by getting UPS to agree to:
Increase pensions by up to 50%
Give hourly rate increases: $3.10 for full-time workers and $4.10 for part-timers over the next five years, the biggest salary increases at the time
Offer full-time positions to the company's 110,000 part-timers
If union members go on strike this year, UPS reportedly has contingencies in place to reduce the event's impact on its network.
According to sources interviewed by Freight Waves, UPS has requested its managers "not to schedule any paid time off during July and August in case parcels are required to be moved," indicating the company's desire to stay operational if Teamsters push through with its plans to walkout en-masse.
Other Things You Can Do
💪 Consider the following actionable tips when building your own contingencies in preparation for the potential Teamsters protest in August.
Discuss logistics strategies with your 3PL partner so you can stay flexible during disruptive protests.
If not working with a 3PL, consider splitting your shipments between UPS and other carriers like FedEx.
If using FBA, book delivery appointments ahead of time.
Make sure you have enough inventory stored in Amazon, 3PL, and/or supplier's warehouse to avoid stocking out due to inbound delivery delays caused by the mass walkout.
Related: Amazon UK Workers to Launch Historic Strike in Early 2023, How to Ship to Amazon FBA (And Speed Up Check-In Times), Amazon Inventory Risks + 5 Tips to Mitigate Them, Bad Actors Book Multiple Inbound Amazon Delivery Dates to Create Scarcity
Try For Free
1,000+ Customers. Free Data Migration. 1-on-1 Onboarding.
Need more information?
Send Message: We typically reply within 2 hours during office hours.
Schedule Demo: Dive deeper into the nuances of our software with Chelsea.
Join Live Upcoming Webinar: New to Amazon inventory management? Learn three inventory techniques you can implement right away.