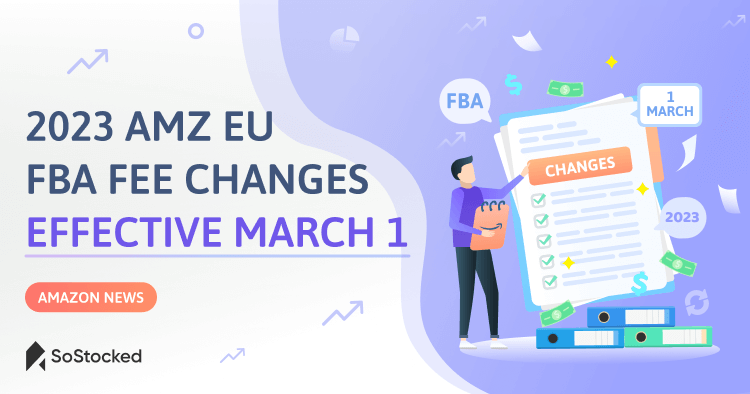 Prepare for These 6 Major Changes to 2023 Amazon UK & EU FBA Fees
Like US sellers, UK and European marketplaces will welcome the new year with updated Aamzon FBA fees, the eComm giant announced on January 19th.
Amazon cited the current macroeconomic factors affecting the company's operations as the primary reason for the upcoming changes. These include significant updates to the cost of fulfillment, storage, and return and disposal services starting March 1st, 2023.
The tech giant also announced it will introduce new fee promotions and reductions this year and improved benefits for products in the FBA New Selection Program, in what may be an attempt to keep sellers from opting out of FBA due to fee increases.
Read on to learn how these updates will impact your business in 2023 and what you can do to get ahead of mounting Amazon fees.
6 Major FBA Fee Updates for 2023
FBA Fulfillment Fee Changes
This year's FBA fulfillment fee changes include:
Applying dimensional (DIM) weight calculations to all standard and oversize products. Previously, DIM weight pricing was only applied to oversize units. But that will change on March 1st, when Amazon starts using the greater of the unit weight and dimensional weight as the billable weight for standard parcels (and oversize items), which could potentially increase your per unit shipping cost. Amazon subtly slips into the announcement that DIM will also be applied to customer returns processing fees.
DIM Weight Sample calculation
| | | | | | |
| --- | --- | --- | --- | --- | --- |
| Item unit weight | Item dimension (cm) | Item DIM weight | Greater of unit weight or DIM weight | Size and weight tier before March 1, 2023 | Size and weight tier on and after March 1, 2023 |
| 900g | 35 x 25 x 12 | (35 x 25 x 12)/5,000 = 2.1 kg | DIM weight is 2.1 kg | Standard parcel ≤ 900g | Standard parcel ≤ 3.90 kg |
Assuming you're shipping within the UK, here's how much it would cost you to fulfill a standard parcel across the country from March 1st:
| | |
| --- | --- |
| Standard Parcel | 2023 Fulfillment Rates |
| Standard parcel ≤ 150g | £2.81 |
| Standard parcel ≤ 400g | £2.92 |
| Standard parcel ≤ 900g | £3.15 |
| Standard parcel ≤ 1.40 kg | £3.36 |
| Standard parcel ≤ 1.90 kg | £3.68 |
| Standard parcel ≤ 2.90 kg | £5.38 |
| Standard parcel ≤ 3.90 kg | £5.68 |
Based on DIM weight pricing, you may find yourself falling into a much higher weight tier than what your actual unit weight suggests and receive a massive per unit fulfillment fee increase for your large but lightweight products!
Pro tip: Parcels can get bulky due to excess air inside the packaging or using an excessive amount of bubble wrap or foam fillers. To reduce shipping fees, try to keep your products compact by implementing packaging optimization practices like using lightweight or condensed packaging materials or removing excess air or water from your primary packaging. Additionally, use our Master Carton Calculator to determine your optimal carton and pallet load capacity per shipment for additional savings to offset Amazon's fees.
Making Fuel & Inflation Surcharge permanent. Amazon introduced this surcharge in 2022 to temporarily account for rising price levels during that period. However, "as economic conditions have progressed, these cost increases appear to be more permanent," requiring the retail giant to adjust this year's FBA fees to include these additional costs permanently. These fee changes are reflected in the rates published here.

In general, this year's fees are significantly higher with at least £0.17 per unit increases in many cases for the UK and €0.11 for EU.
Introducing new weight tiers in FBA fulfilment rates for Special Oversize items. Starting March 1st, Amazon will add 30 kg and 50 kg weight tiers to Special Oversize category to "better align fees" with its current fulfillment costs.
FBA Monthly Storage Fee Updates
Expect to pay:
Higher monthly storage fees for all Standard-Size units. Effective March 1, 2023, monthly storage fees for your standard-size inventory will increase by around £0.04-£0.10 per cubic foot depending on product category and storage month. Fees for storing dangerous goods and oversize products in FBA will remain unchanged.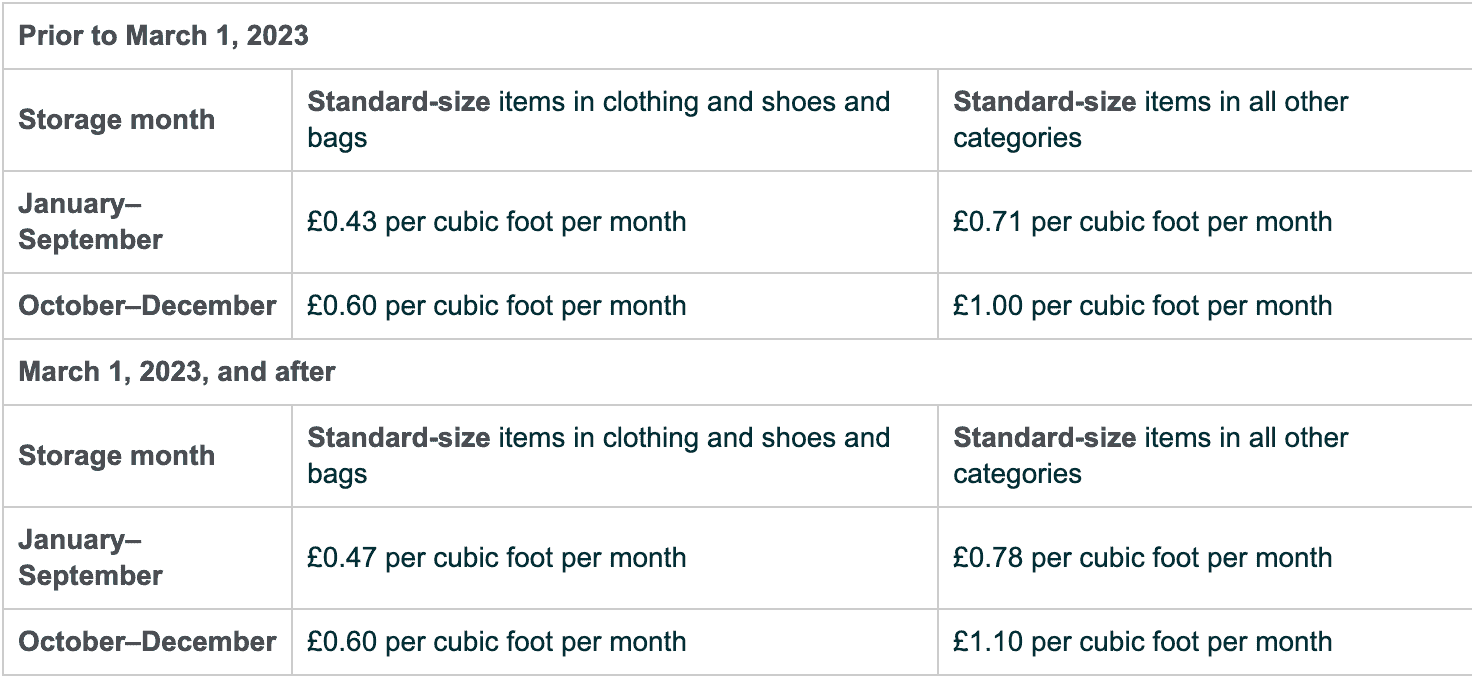 Storage utilisation surcharge starting May 1st, if you meet the criteria. This additional fee (stacked on top of your monthly storage fee) will be based on the ratio of your average daily inventory volume (in cubic ft) and average daily shipped volume (cubic ft) over the trailing 13 weeks.

Rates will vary depending on your utilisation ratio, season, and product size tier level.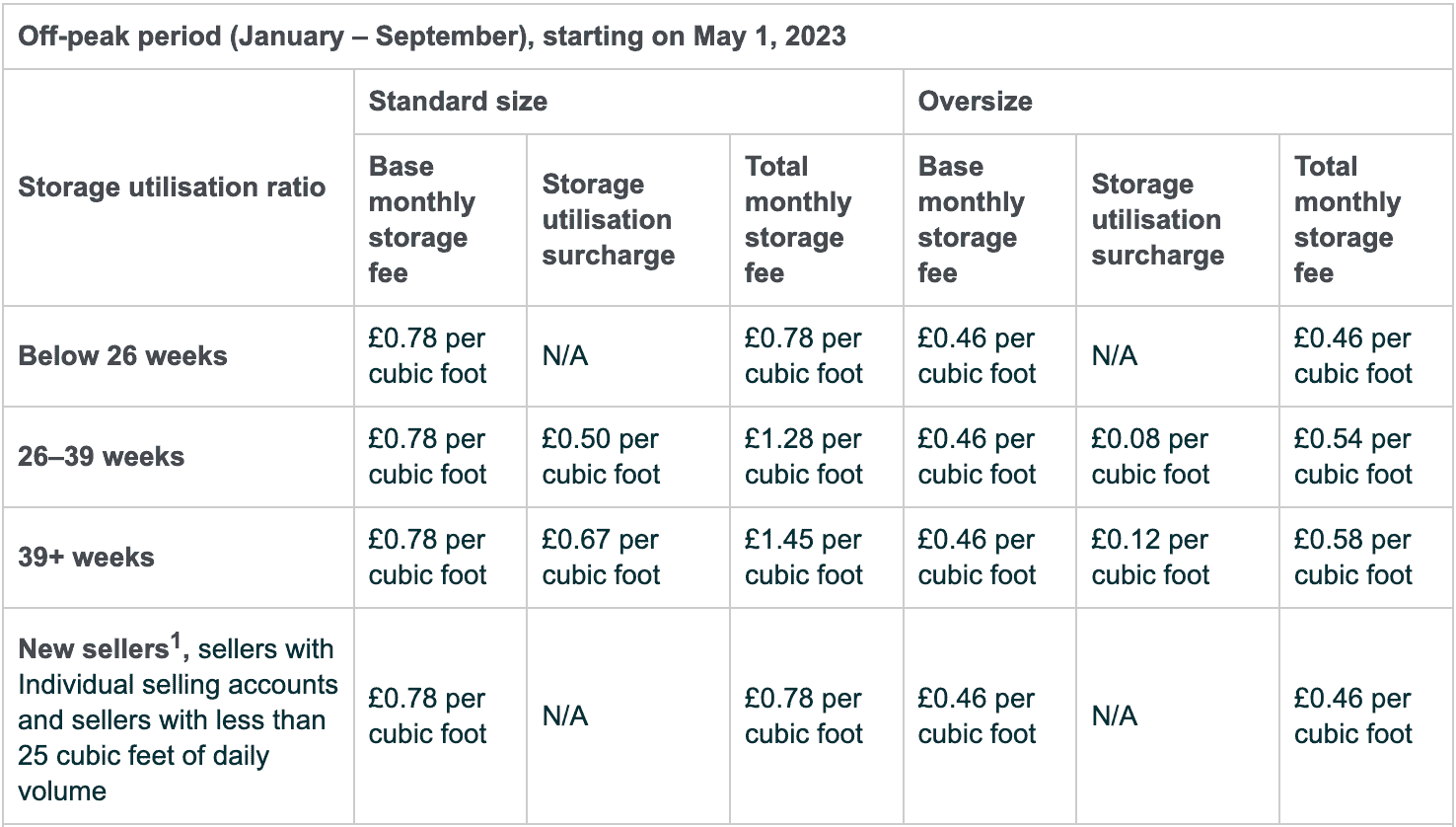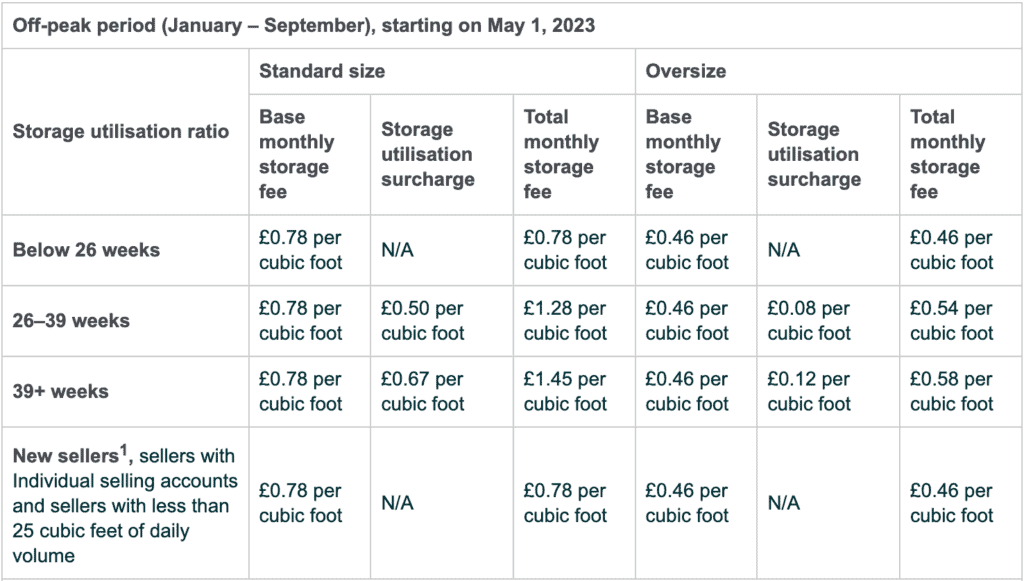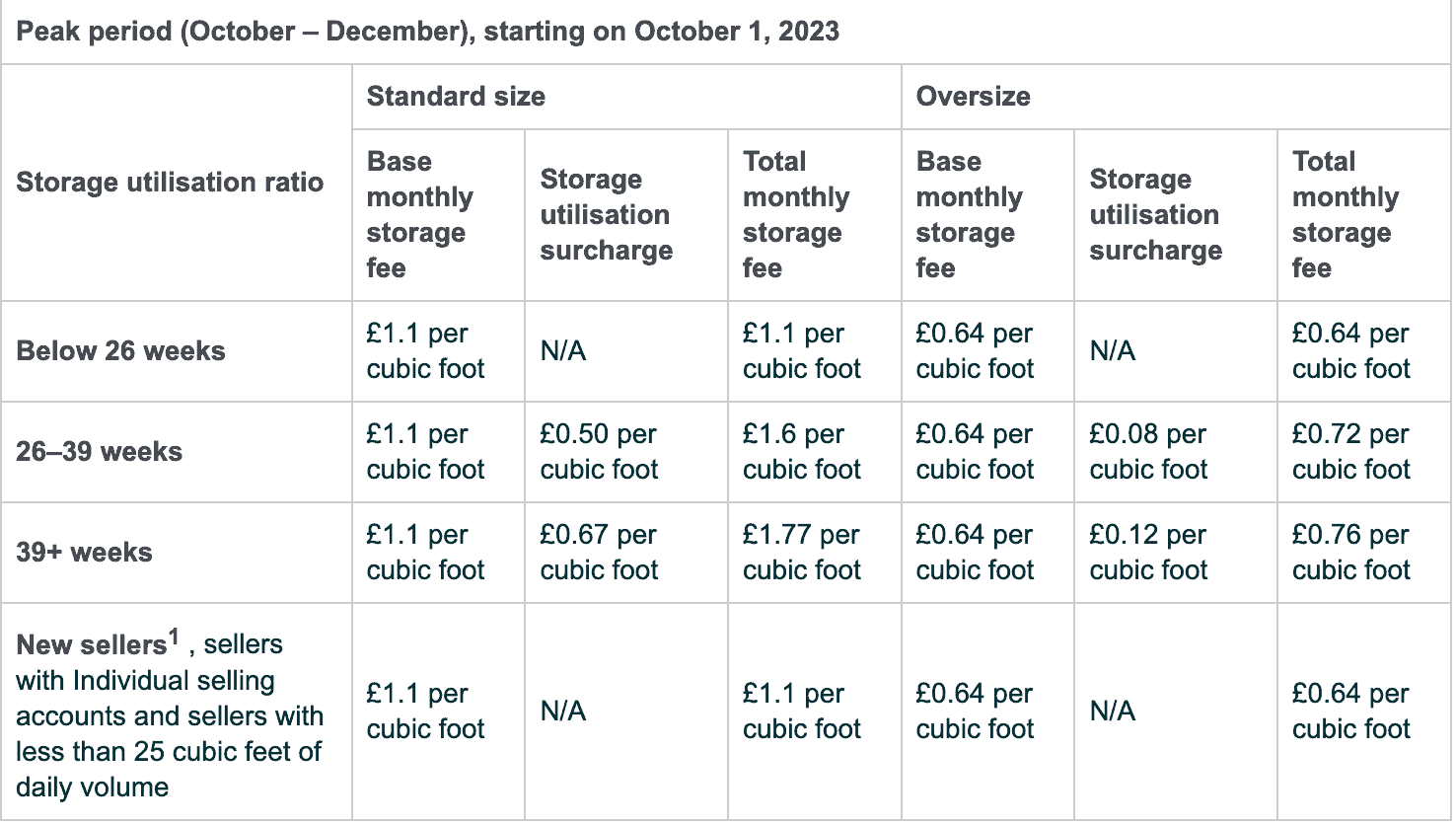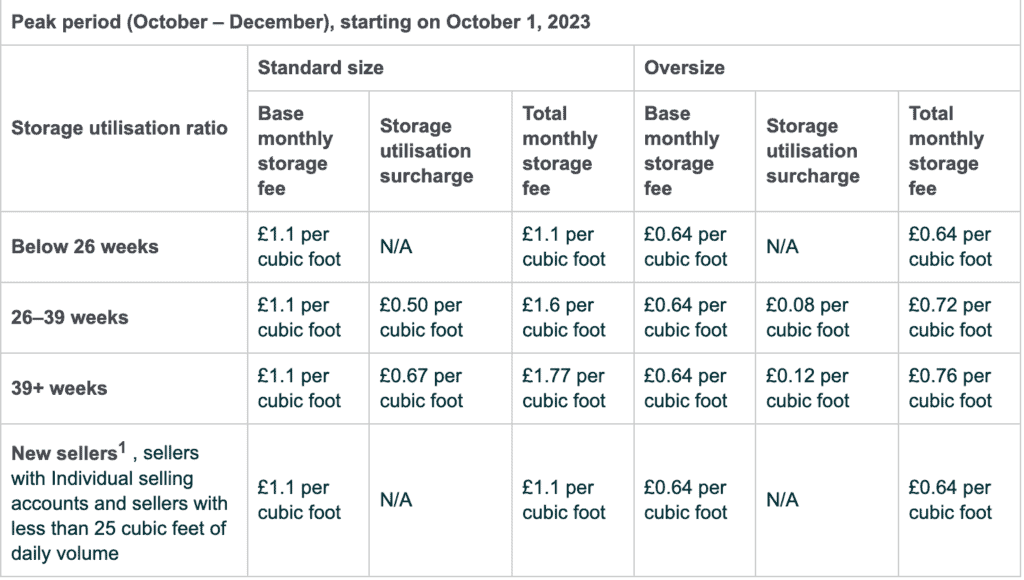 Quick sample
(Daily inventory volume over trailing 13 weeks / Daily shipped volume over trailing 13 weeks) / (7 days in a week) = Storage Utilisation Ratio (in weeks)
Or for example:
30,000 cubic feet / 140 cubic feet) / 7 = 30.61 weeks
Base monthly storage fee (off-peak standard size rate): £0.78 per cubic foot
Storage utilisation surcharge: £0.50 per cubic foot
Total storage fees: £0.78 per cubic foot + £0.50 per cubic foot = £1.28 per cubic foot
To reduce your utilisation ratio, consider deleting unused shipping plans, eliminating excess inventory, fixing stranded inventory, and improving your Amazon reserved inventory levels. Doing these things may also help increase your FBA capacity limits as storage utilisation is tied to your IPI score, which is one of the metrics that Amazon uses to calculate your inventory limits.
In addition, Amazon will charge a single storage utilisation fee for inventory kept in an Amazon fulfillment center in Spain, France, Italy, and Germany and a separate surcharge for your UK inventory. This means that your catalog sell-through will be analyzed separately for these marketplaces. If you sell both in Spain and UK, for instance, you could be charged two different storage utilisation fees.
Higher aged inventory surcharges. Effective May 15, 2023, all product categories will be subject to the following aged inventory fees.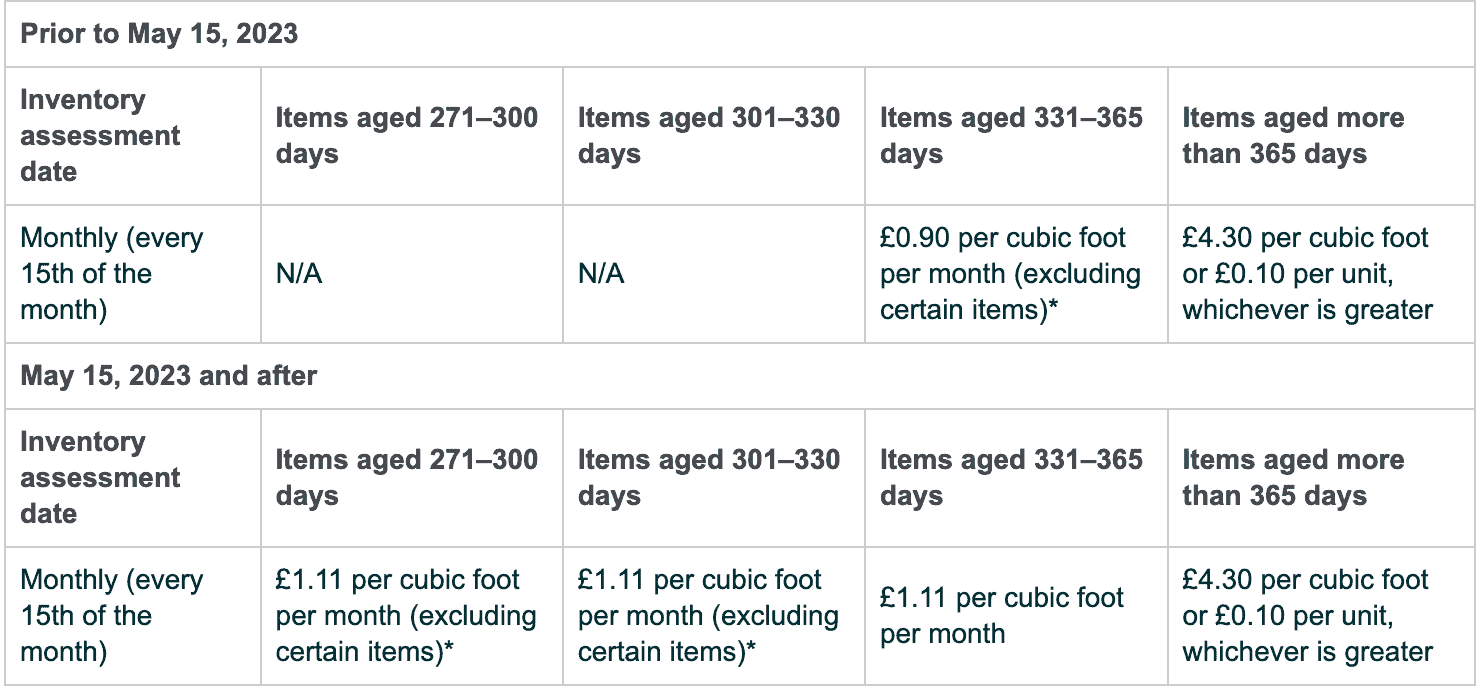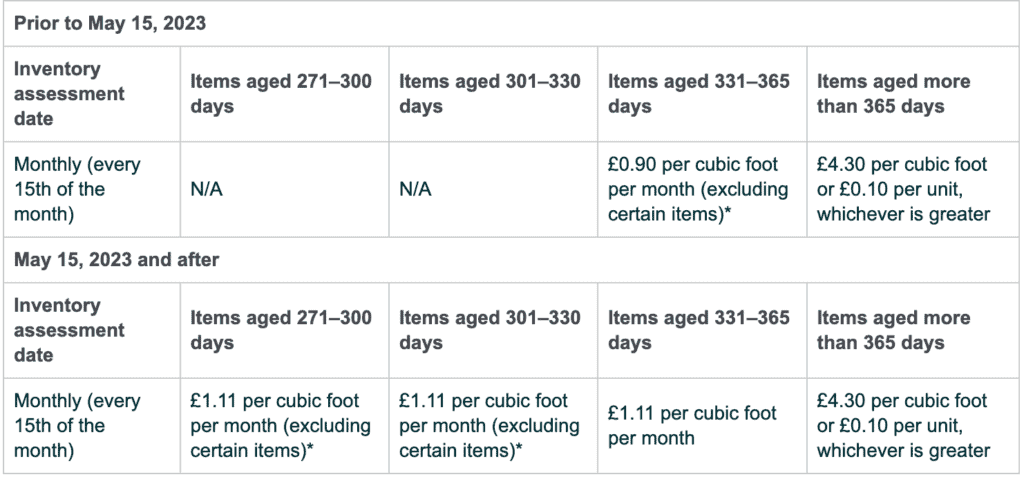 Aged inventory fees replace the fee structure that was previously referred to as long-term storage fees and significantly shortens the amount of time inventory can be held before these surcharges kick in.

As you can see from the above chart, items aged between 331 and 365 days will increase from £0.90 to £1.11/cubic foot per month.
Amazon will also add new tiers to begin the aged inventory surcharge for products that remain unsold between 271 and 300 days, excluding Clothing, Shoes, Bags, Luggage, Jewelry and Watches. At the 9th month, you could be charged an additional £1.11/cubic foot on top of your standard monthly storage fee.
Related: Amazon Automatic Aging Inventory Removal Starts April 15, Attack of the Fee Stack: How Sellers Can Maximize Profitability Despite Amazon's 2023 FBA Fee Increases
FBA Return and Disposal Fee Changes
Return and disposal order fees will get more expensive for sellers starting March 1, 2023, while liquidation order fees will remain the same. Either way, this means carrying overstock inventory and getting rid of it will result in additional costs that could shrink your margins, so make sure to follow the best inventory management practices to avoid ending up with a lot of unsold products.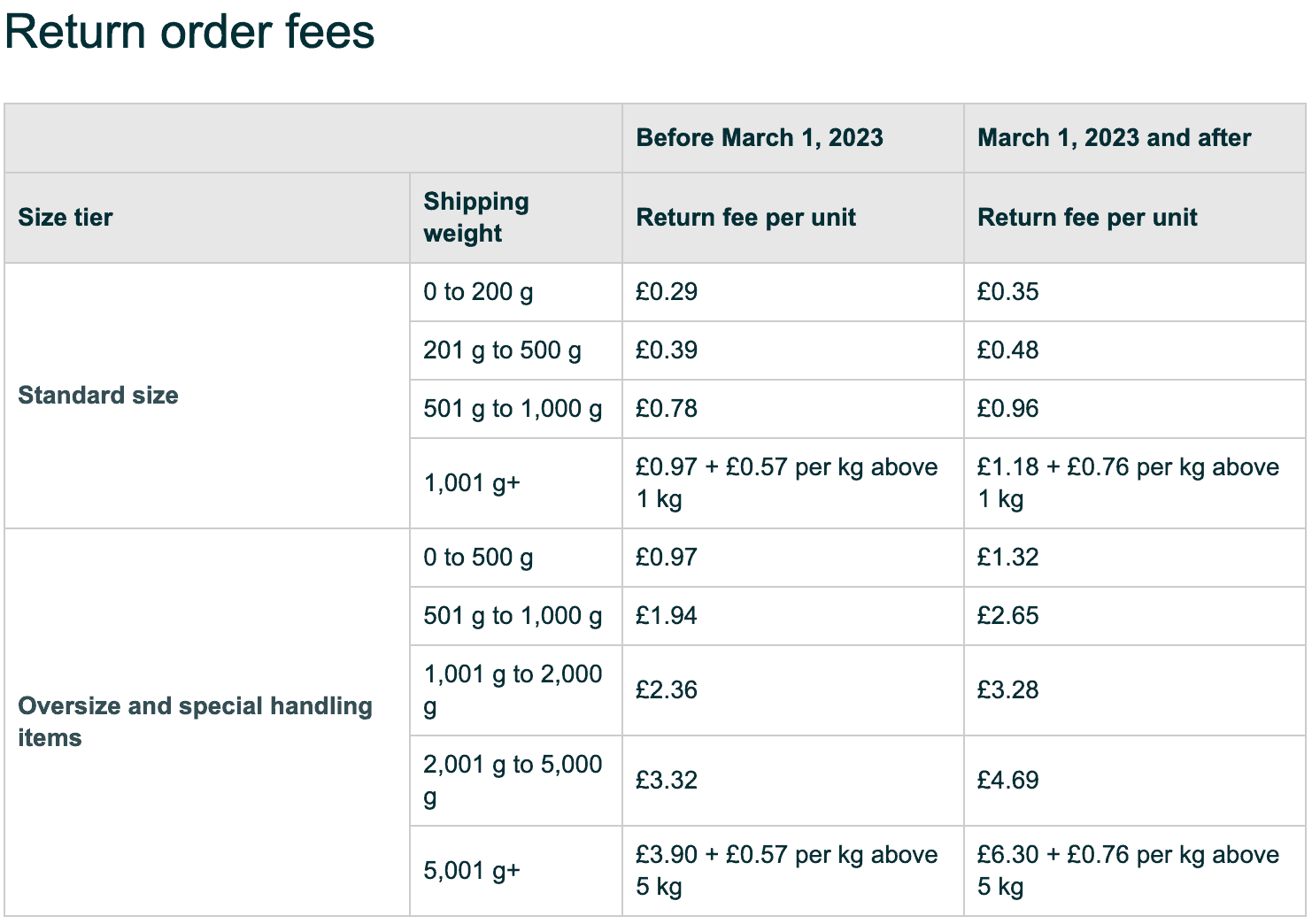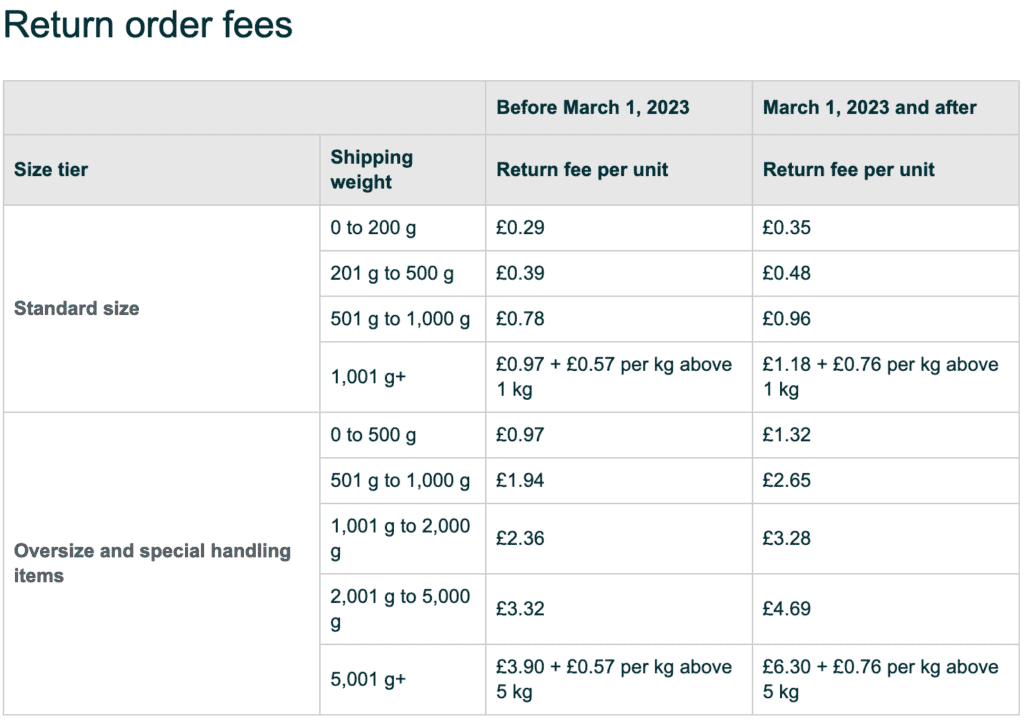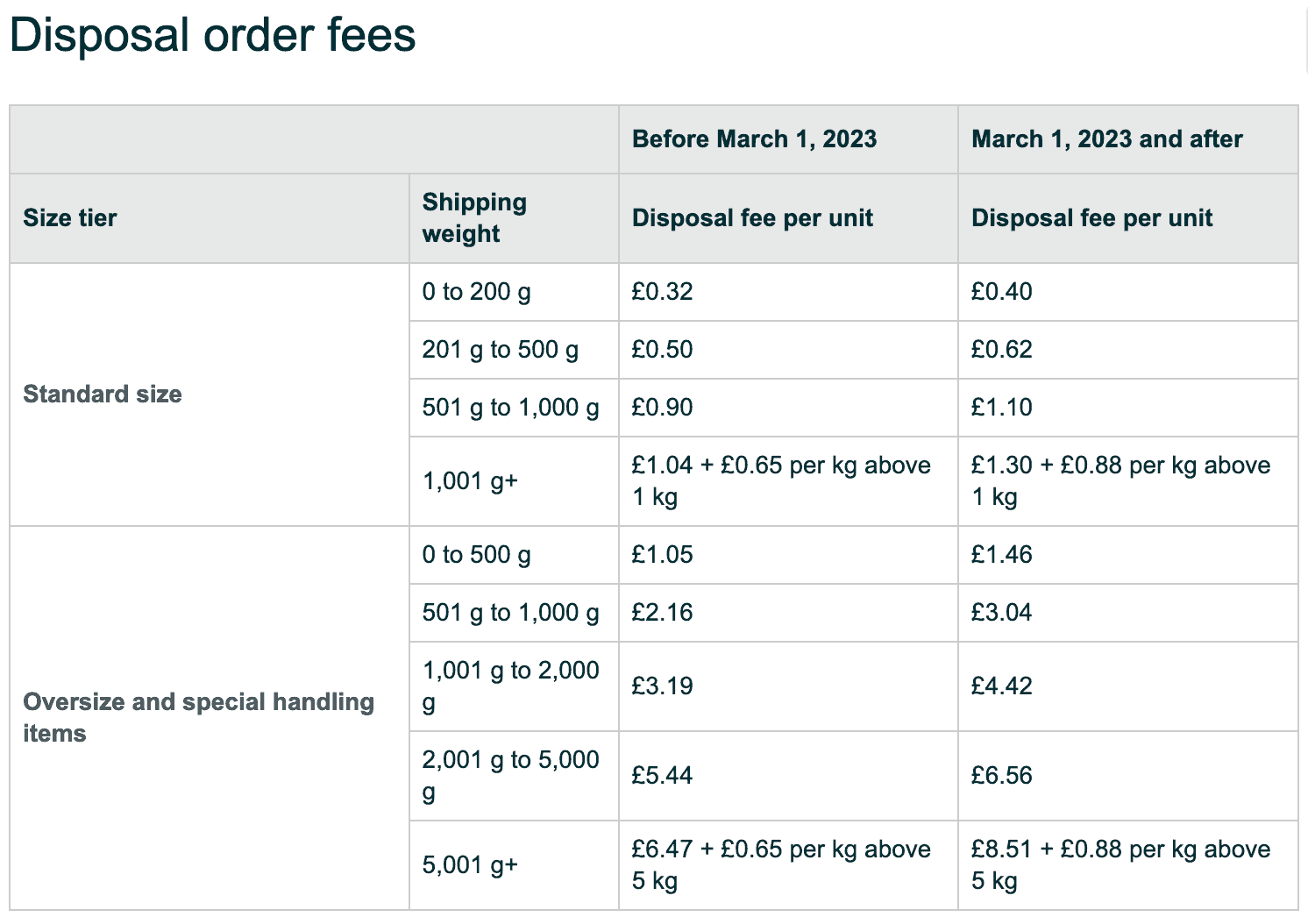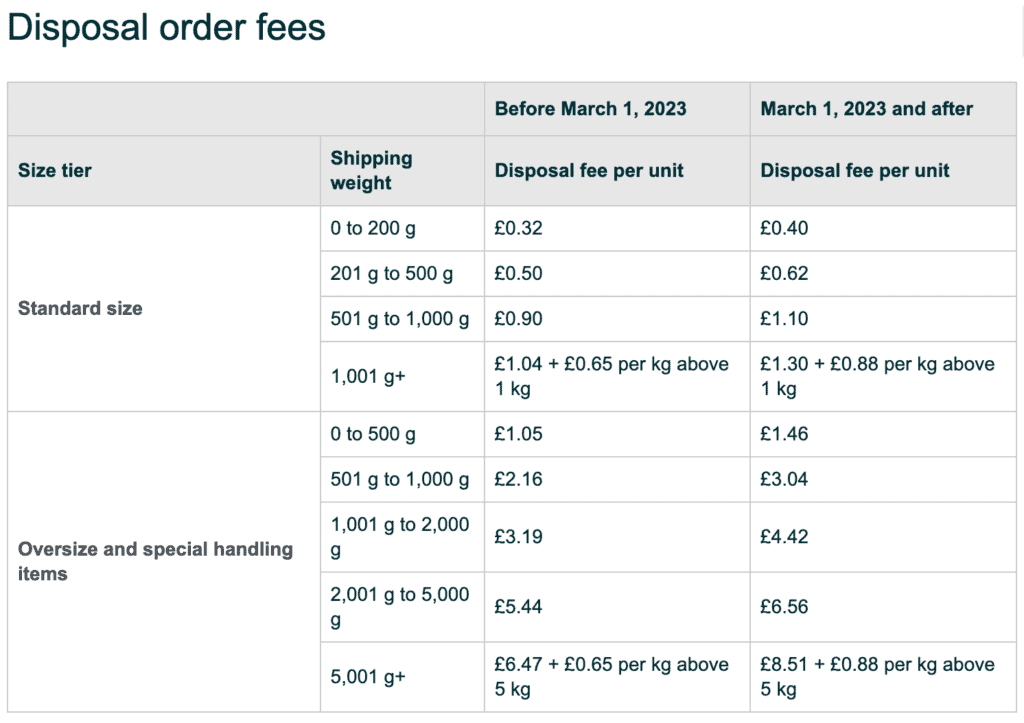 FBA Small and Light Changes
Amazon's making some good changes to its FBA Small and Light (SnL) program in Europe this year.
Beginning March 1st, sellers will see an increase in price eligibility threshold of SnL items in:
UK (from £9 to £10)
France (from €11 to €12)
Germany (from €10 to €11)
Amazon will also introduce new size and weight tiers (460g in standard enveloped and 960g max weight limit for L and XL envelopes) to make SnL more affordable than its standard FBA fulfillment service, potentially making it a good alternative for those products that qualify.
However, be aware that the company will also start applying DIM weight pricing to SnL items effective March 1st. Additionally, you must be enrolled in the Small and Light program or the discounted rates will not apply even if you meet the weight and price thresholds.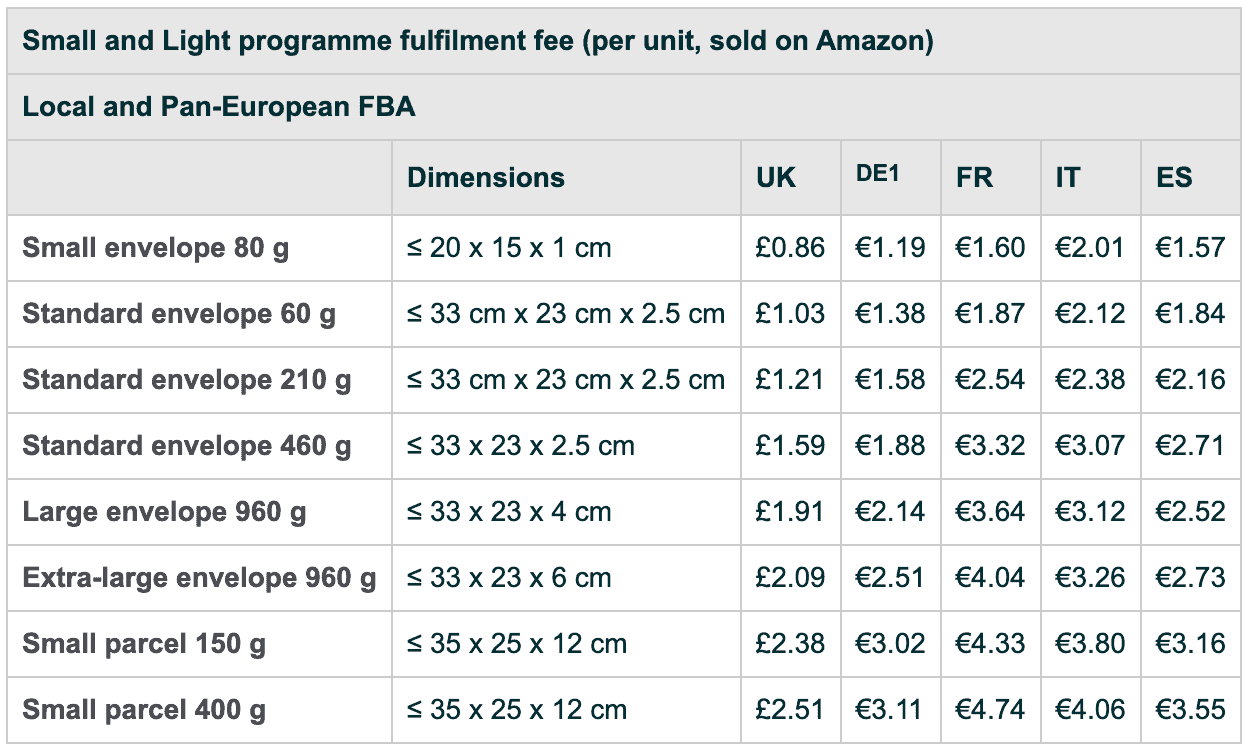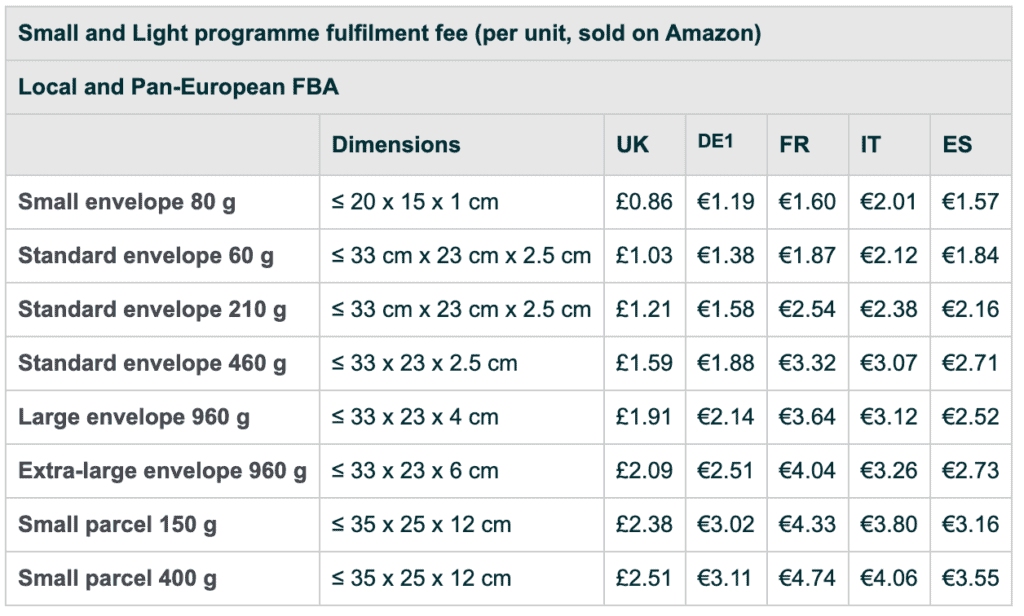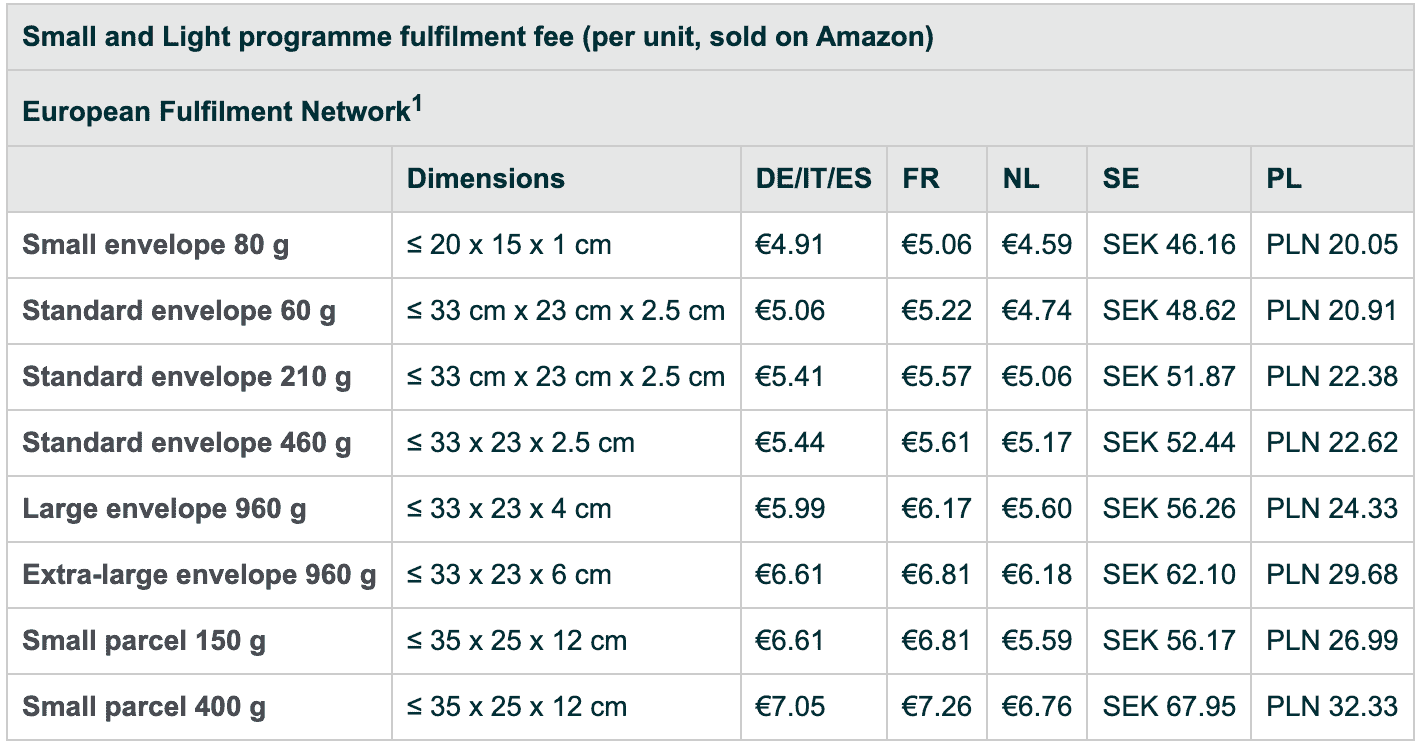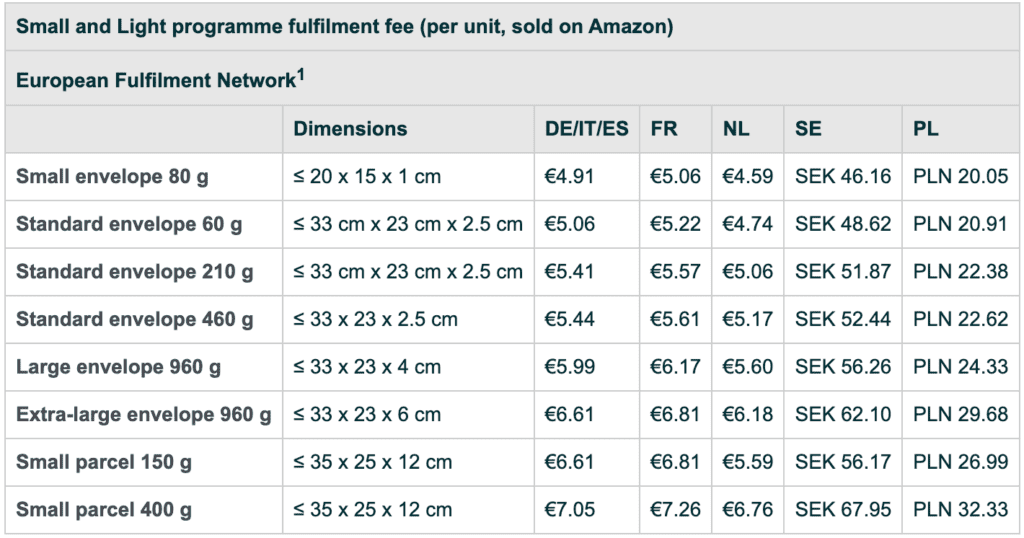 Selling Fee Reductions and Promotions
Various fee decreases and promotions may help offset the cost increases that will be dropping throughout Q1 2023. These include:
Offering a 17.5% discount on EU fulfillment network fees (from EU to the UK and vice versa) starting from April 1, 2023. Click here to view the applicable promo fees.
Reducing the referral fee, from 15.3% to 7.14%, for products that fall under Clothing and Accessories. Eligibility requirements apply.
Extending the referral fee promo in Amazon Poland from March 31, 2023 to March 1, 2024.
FBA New Selection Program Changes
To help you save a little bit of money, Amazon will implement the following updates for standard-size products eligible for FBA New Selection Program:
Increased free storage, removal, and rebate benefits on up to 100 units per parent ASIN (clothing and shoes not included).
Extending free storage and rebate offer from 90 days to up to 120 days per parent ASIN (clothing and shoes not included).
Increasing rebates from 5% to up to 10%.
These changes are set to take effect in March 2023.
How to Prepare
With a little over 5 weeks to prepare, it would be best to start taking action now.
Fortunately, most of the upcoming additional FBA fees can be offset or avoided altogether (e.g., storage-related surcharges) with good inventory management.
Good inventory management practices include:
These are just some of the best inventory management practices that you can implement in your business to protect your margins.
👌 For a more in-depth guide, download our Attack of the Fee Stack White Paper or join our upcoming live Q&A webinar, where industry experts and white paper authors Vanessa Hung and our very own Chelsea Cohen will answer questions about Amazon's relentless fee hikes and how to ease their pressure on your profits.
Related: Amazon Hikes US FBA Fees Again, Protecting Your Profitability Webinar, How to Increase Profits for Amazon Sellers
Try For Free
1,000+ Customers. Free Data Migration. 1-on-1 Onboarding.
Need more information?
Send Message: We typically reply within 2 hours during office hours.
Schedule Demo: Dive deeper into the nuances of our software with Chelsea.
Join Live Upcoming Webinar: New to Amazon inventory management? Learn three inventory techniques you can implement right away.