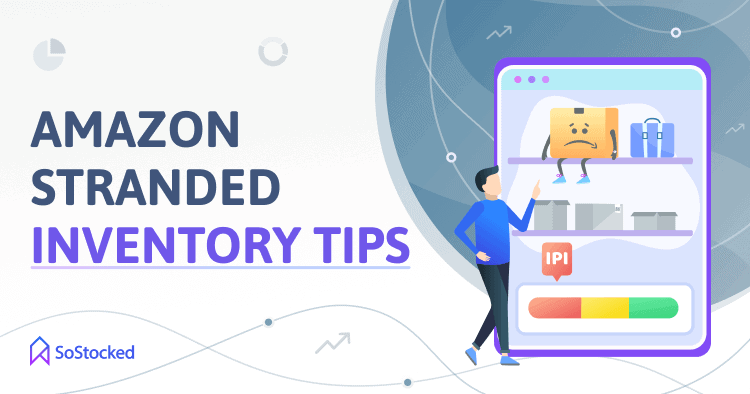 How To Fix Amazon Stranded Inventory
Amazon Stranded Inventory Management Tips
Amazon stranded inventory is one of the four influencing IPI factors that affect your FBA inventory performance. It refers to any inventory that incurs storage costs and takes up shelf space at Amazon without the possibility of getting sold soon because the listing for that inventory is inactive, missing, or incomplete. If you don't fix it as quickly as possible, it may cause a lower IPI score, which may also hurt your storage volume limits.
That's why it's crucial to keep track of your inventory at all times and move it through Amazon's warehouses as quickly as possible.
To help you gain complete control over your stranded inventory, I'll discuss how FBA products end up getting stuck in your warehouse in the first place and recommend some actions you can take to fix this problem.
In this Amazon Stranded Inventory guide, we'll take a look at:
What is Stranded Inventory?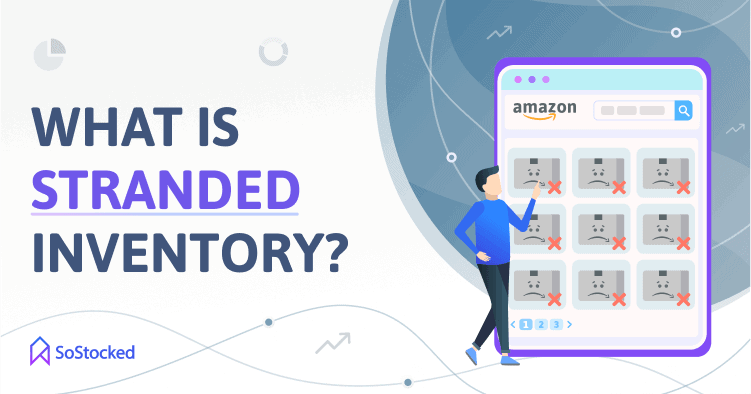 Amazon FBA operates on an automated system. When an FBA warehouse receives your shipment, it must have an active listing along with complete details to be processed. If you forgot to make that listing active or the details don't match up, you might receive a stranded inventory notification from Amazon.
A stranded alert means your inventory is stuck in a warehouse unable to be sold for various reasons, hence the term "stranded".
When a product is stranded, potential customers will not be able to find or buy them on Amazon. That's because the listing is inactive, incomplete, missing, or there's something wrong within Amazon's system.
Regardless, it's up to you to solve the problem. Because the longer your inventory remains stranded in an FBA warehouse, the higher the storage fees and the more likely it is to ding your account's Inventory Health.
Stranded Inventory versus Unfulfillable Inventory
Do you often mistake stranded inventory for unfulfillable inventory? I get it. They're both similar in concept, in that when an item is stranded or unsellable, customers won't be able to purchase it. Thus, the order is unfulfillable.
But that's where their similarities end. You can tell these two types of inventory apart by listing status.
Here are a few tips to help you distinguish them.
An inventory is unfulfillable when the offer is active, but it can't be shipped or sold. Products become unfulfillable because they're misplaced, damaged, or some parts are missing due to poor storage or transit practices. Other reasons include discrepancies in shipments, wrong package labeling, and listing errors. When you have unfulfillable FBA inventory, Amazon still charges you a storage fee on this inventory after each inventory cleanup until you take action.
On the other hand, stranded inventory is inventory received and stored at your FBA warehouse. However, the listing for that shipment is inactive, missing, or incomplete.
The major difference is that stranded inventory is inventory that has no live listing and so all inventory for that ASIN becomes stranded, or unable to be sold for that reason.
Unfulfillable inventory is attached to a live listing and is usually only a portion of the inventory for that ASIN, usually a small amount, that is not able to be sold for various reasons including damaged or returned inventory.
So even though your inventory is unsellable either as stranded inventory or unfulfillable, your FBA center continues to keep it and charges you for their storage service.
Either way, you could end up paying multiple Amazon fees until you fix stranded or unfulfillable inventory problems. These fees typically include:
Monthly Storage Fees
Long-Term Storage Fees
Overage Fees
Top Reasons to Avoid Amazon Stranded Inventory
As mentioned earlier, ignoring stranded inventory can lead to additional storage fees. But that's not the only reason why you should keep your listings active and ensure your inventory is available for purchase at all times.
Other reasons are:
Stranded products are unavailable to customers.
Amazon may remove stranded inventory from FBA.
Stranded inventory can affect your Amazon IPI score.
Amazon does notify sellers with stranded inventory and gives them 30 days to take action to either list the product properly or remove the inventory. If no action is taken within the deadline, Amazon may remove or return any stranded units to the supplier.
The biggest lesson we can take away from this is that Amazon doesn't want to identify as a storage business. They want to be first and last a distribution and fulfillment center. That's why you'll want to turn your inventory into sales as quickly as possible to minimize the risk of getting stuck with stranded and excess stock.
Pro Tip: Pay close attention to your Stranded Inventory page on Seller Central and deal with stranded listings immediately to keep your costs low and maintain a good IPI score. Read this related article for more tips: Improve Your Amazon IPI Score.
Why Does Inventory Get Stranded on Amazon?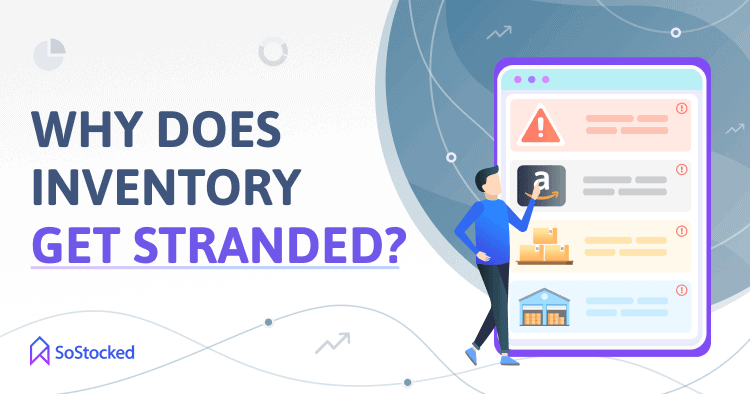 Your inventory can become stranded on Amazon for many reasons, such as:
Amazon listing error
Listing errors occur when your inventory isn't connected to any active ASIN. Sometimes a listing can be deleted by mistake or by a competitor, causing the error. In that case, simply relist your product to reconnect the inventory. If this easy fix doesn't solve the issue, call Seller Support.
Closed listing
Closing a listing puts your inventory in inactive status, which means you are just removing it from sale and not permanently deleting it from Amazon. So, customers won't be able to purchase your products even though you have inventory at Amazon. When this happens, Amazon deems it stranded.
Incomplete listing information
Missing listing information often leads to the deactivation of your listing offer on Amazon. Usually this happens when Amazon decides to add a new mandatory section to the required listing information. To fix, edit the listing and add the missing details. Of course, with everything, if this doesn't fix it, you may need to contact Seller Central.
Pricing error
This error can happen when you adjust your prices without checking the Minimum Advertised Prices (MAPs) or lower your pricing to significantly less or more than your previous pricing or the pricing of similar products in the market. If Amazon detects that your price is much lower or higher than expected, they may suspend your listing and call it a pricing error. One way to fix this problem is to place a minimum and maximum price in your Seller Central's "Manage Inventory" section. Another is simply to set your pricing back to the more normal range.
Suspended listing
Amazon may suspend any listing with incomplete information, such as images, age requirements, bullet points, among many others. It may also suspend due to violations of Amazon terms of service such as a high number of customer returns or use of restricted terms or claims.
Amazon tags products as out of stock
In some cases, Amazon tags certain products as out of stock even though you still have available stock in your FBA warehouse. Luckily, you can fix this by relisting your inventory. More on this later.
Restricted ASINs
ASINs may be called "restricted" due to poor quality, intellectual property violations, or because they require extra safety testing. Since reasons vary, it's best to contact Seller Support to help you fix the problem.
Oftentimes, the Amazon seller community can also help to advise on these situations as other sellers may have experienced what you are experiencing and can give you insights on how they fixed them in their own businesses. However, not all seller advice is good so be sure to only take advice from those you trust.
Expired product
Products that have expired will be tagged as stranded by Amazon. In that case, it's best to remove them from the fulfillment center.
Expired product guidelines require that the product allow enough time to be consumed plus an additional 90 days in order to be checked into FBA facilities.
For example, if a product has 30 servings, the total shelf life must be 90 days + 30 days total, or 120 days, in order for Amazon to check it in. Therefore, if your product does not sell quickly enough, it may be label as an expired product and then stranded.
Helpful Tips: Managing Inventory to Maximize Profits
Item needs brand approval
If your product needs to be approved by a brand or authorized distributor, apply for approval via Amazon's approval system. There is plenty of training across the web about how to do this.
Sometimes you receive approval from the brand via Amazon, send your products into FBA and that approval is later revoked, stranding your products. You can appeal the decision, but if it is still denied, you may have to remove the inventory from FBA.
Setting FBA items as MFN
Setting your FBA products as merchant-fulfilled can cause stranded inventory. To fix this, simply change MFN to FBA on your listing information page.
Software bugs in Amazon's system
When a system crashes due to bugs or downtime, your listing may appear inactive, although there's nothing wrong with it. I recommend calling Seller Support to help you relist your inventory on Amazon.
You ship more boxes into FBA than your restock limits allow
Generally Amazon does not make this possible for you to do, but every so often a seller will find that their restock limits are at a certain level one day. The seller creates and ships in inventory. While the inventory is in transit, Amazon then lowers the restock limits and the seller suddenly finds himself sending in inventory that puts him over his restock limits.
When this happens, Amazon may receive your shipment and check it in or may just send it back to where it came from, which can mean lost sales and increased shipping & handling fees!
Even if Amazon decides not to return your shipment to you, it might end up stuck in their warehouse and not being checked in. This particular issue usually is not exactly flagged as stranded inventory most times, but in essence acts as stranded inventory, not being checked in and not able to be sold. In these cases, there is nothing you can do but wait and I always advise you create backup channels for shipping and for fulfillment to customers.
Consider teaming up with a 3rd-party logistics company to whom you can send any additional inventory that Amazon might otherwise reject.
A backup warehouse allows you to plan your FBA shipments better to avoid exceeding your restock limits.
You've checked in your inventory too early for product launch
Your products go live as soon as they're checked in. So if you've checked them in too early for launch, you lose a lot of steam needed to market them successfully. This mistake forces you to delete or close that listing to prevent your listing from going live too soon. In that case, you are deliberately stranding your inventory. Your next action is to prepare for launch as soon as possible and then relist your product.
Related: 3PL Logistics Backup For Amazon
How to Fix Stranded Inventory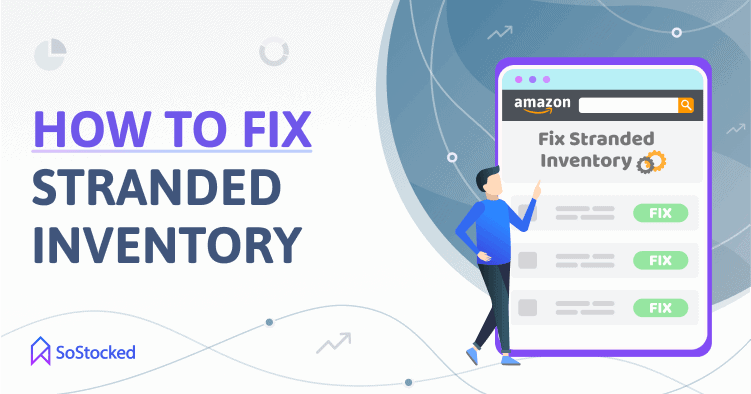 The first step to fixing stranded inventory is to go over your Stranded Inventory Report, which shows why each listing is stranded. To do this, follow the steps below:
Log in to your Seller Central account and go to Inventory > Manage Inventory > Inventory Dashboard > Fix Stranded Inventory.
You will see all your stranded ASINs and information on when and why they are stranded. For example, one of your listings has been marked "stranded" due to a listing error or suspension.
Once you've determined which listings have an inactive offer, you can take the next step.
Relisting Your Stranded Units
Amazon has recently rolled out an advanced feature that allows you to automatically fix or automatically remove stranded inventory.
Suppose a listing error led to the deactivation of your offer and the recommended fix is to relist it. In that case, go to the "Fix Stranded Inventory" page on your Seller account and click on the "Edit Automatic Action Settings" button. It will trigger a popup dialog box on your screen, where you can set the number of days (1 to 30) Amazon has to relist your inventory automatically.
Creating a Removal Order
Get rid of expired products or inventory from deleted listings (e.g., discontinued or obsolete items) by creating a removal order using your Seller Central account. Submitting a removal order for those products means you're authorizing Amazon to return them to you.
You've probably come across Amazon's limited-time waived removal fee offers such as in the third quarter in preparation for the holiday sales season. However, I advise you to proceed with caution with these because the cons might outweigh the pros. While a removal fee waiver helps lower holding costs, you might not be able to send more stock into Amazon for that SKU for months.
Related: Amazon Excess Inventory: Why It's Bad and How to Reduce It
Manage Stranded Inventory With SoStocked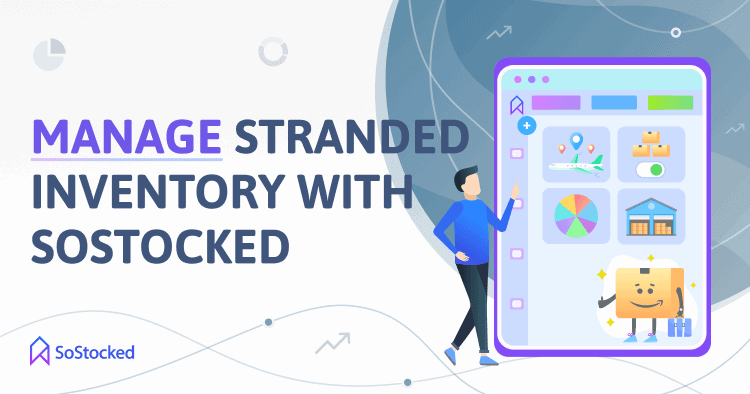 Easily prevent stranded inventory by keeping an eye on your inventory with the following tools and features:
Inventory Timeline. Plot out your sales and inventory patterns for an entire rolling year into the future, which is essential in planning and building your inventory management strategies.
Customizable Seller Dashboards. Create dashboards where you can organize and quickly view your data the way you want to see it. In SoStocked, you can create dozens of dashboards. Get inspired with these 15 different types of dashboards we've created, such as Forecasting, Inbound Shipment, Missing FBA Inventory, Warehouse, Overstock, Stockout Risks, and more.
Min-Max Restocking System. Use this feature to determine how much stock to order and when. Simply set the minimum and maximum stock (in days or units) for your third-party warehouse and FBA inventory, and our software will always ensure you stay within the optimal range.
Update Lead Times and Transfer Times. Update your transfer times (from your supplier or your warehouse) to get notified when it's time to place a new order or to ship replenishment stock to Amazon. This way, you can avoid overstocks or stockouts by sending products too early or too late. Don't forget to consider potential shipment delays when setting your lead times & transfer times.
Advanced Forecasting. Avoid sending too much inventory into your FBA warehouse by removing non-recurring past sales spikes from your forecast data. For example, getting featured unexpectedly on a morning talk show creates a sudden increase in demand that only lasts for a short time. Including that spike in your next month's reorder calculation can lead to over-ordering when the demand has already subsided.
Bonus: Download our free Amazon FBA Inventory Spreadsheet to get started with inventory planning.
Take Control Of Your Stranded Inventory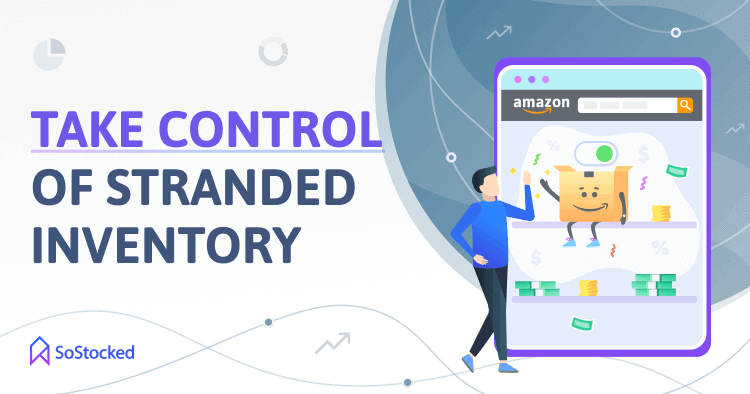 As a distribution center, Amazon likes to keep things moving with utmost efficiency. It isn't the best place to store products with listing status problems. And they've made that clear by imposing ever higher storage fees as time goes on.
Plus, stranded inventory can lower your IPI score, which could mean difficulty getting the storage space you need in the future. Fortunately, you can remedy this problem by relisting delisted items to get that inventory selling again, or creating an Amazon removal order if relisting proves unsuccessful.
To prevent stranded inventory, regularly check your Stranded Inventory Report to ensure inactive offers don't stay unsellable for too long. Take action immediately and gain complete control over your inventory.
Try For Free
1,000+ Customers. Free Data Migration. 1-on-1 Onboarding.
Need more information?
Send Message: We typically reply within 2 hours during office hours.
Schedule Demo: Dive deeper into the nuances of our software with Chelsea.
Join Live Upcoming Webinar: New to Amazon inventory management? Learn three inventory techniques you can implement right away.