Checklist for Holiday Inventory and Logistics Planning
With all the delays in the supply chain, warehouse labor shortages, and new restock limits, you have probably started planning for what's to come in Q4. But as you may have noticed, planning is extra challenging this year because of those uncertainties.
So, if you're having a difficult time selecting which actions to prioritize and need someone to steer you in the right direction, you've come to the right place.
Below, I will share some critical strategies for prepping your inventory for key shopping events like Black Friday and Christmas, calculating lead times to work out shipping deadlines, avoiding stockouts, incorporating trends into your plan, improving your restock limits for Q4, and more.
Holiday Sales & What To Expect This Season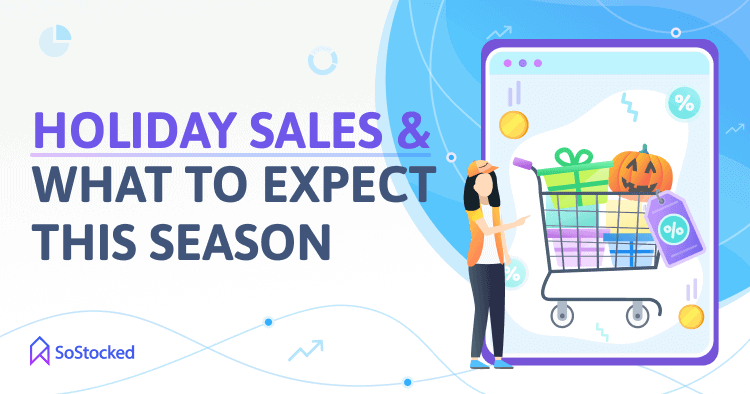 This year's holiday season is expected to look like the mirror image of 2020. Consumers are still eager to get some sense of normalcy back, but at the same time, the pandemic has permanently altered the way they discover, browse, and buy products. And based on 2021 holiday shopping predictions, this shopping behavior and trend will continue to persist.
EMarketer estimates that the total US eCommerce sales through online retail platforms around Q4 will increase by 11.3%, which means we will have another record-breaking Q4. Additionally, this growth rate will result in a total value of $206.88 billion and represent 18.9% of total holiday retail sales.
Overall, many shoppers would still prefer to shop online over in-store locations during the holiday sale period. And you don't want to disappoint them with stockouts or delayed shipping.
That's why you must ensure you have enough stock at the right time to take advantage of post-pandemic opportunities during this holiday season, especially if you have a low restock limit or carry plenty of old stock that you need to reintroduce to the market. This 3-month sales extravaganza is the perfect opportunity to move excess inventory and improve your sell-through, which is an important element in earning higher Amazon restock limits.
Ready to dominate Q4? Here's my 14-step Amazon holiday inventory planning guide for 2021!
How to Prepare for Amazon Q4 2021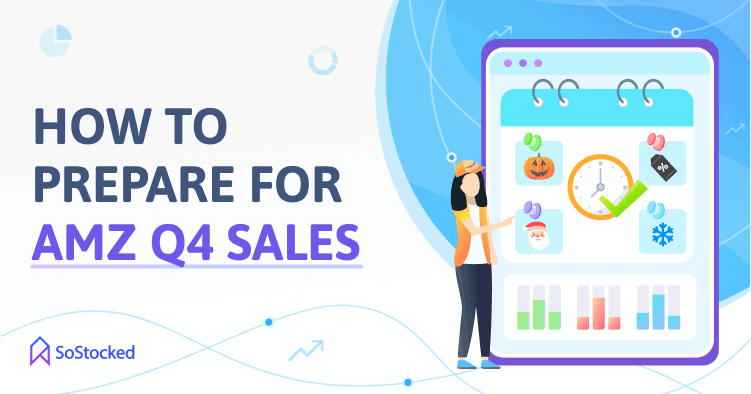 Create a Calendar with 2021 FBA Holiday Selling Dates
Create a calendar to stay up-to-date on US national holidays and seasons, including Blackout Dates that can impact your Amazon business. You can use our Blackout Days Calendar to plan for these long breaks and sales events.
Important holiday dates to take note of are:
Mark these dates on your calendar along with your shipping deadlines to make sure your shipments arrive at Amazon on time.
While Amazon seems not to have released their shipping deadlines for 2021 yet, we can look at last year's dates to help us to predict what might happen this year.
Amazon Shipping Deadlines Last Year
Another reason to avoid shipping January inventory into fulfillment centers too early is that Amazon increases storage fees from October through December up to triple what they charge the rest of the year, so sending in inventory that is not going to sell in that timeframe will not only clog FBA warehouses and decrease your sell-through, it will also be quite costly to you in terms of Amazon storage fees, reducing your profits.
If your Halloween product has a 30-day lead time, you don't want to order exactly 30 days before October 31. You must also factor in the time it takes to transfer your inventory from your warehouse to Amazon FBA. Knowing your transfer times is part of understanding your lead times fully and will help you avoid checking in inventory too late.
Determine What Products You'll be Marketing Heavily this Season
Look at your current catalog and determine what sales campaigns to run in advance. When deciding which Amazon holiday inventory to sell, consider the following metrics:
Clean up Your Product and Forecasting Data for Accurate Ordering
Double-check all of your data before plugging the numbers into your inventory forecasting software.
For product data, be sure to:
For accurate forecasting, consider:
Decide When to Order and Ship into Amazon
When do you need to ship your Black Friday inventory? How soon are products for NYE needed at Amazon?
Deciding when to order generally depends on two factors:
Where your inventory is coming from: Are you sourcing from overseas or domestically?
Type of Amazon business model: Are you sourcing private label or wholesale?
Sourcing from overseas generally takes a long time, especially if you're using sea freight to transport, especially since 2020, and especially during fourth quarter. So, if you're sourcing from China, you most likely placed orders in July.
If you find yourself in the position of still having orders to place, try to get your orders in before mid-September. Though at this point, you'll need to develop a game plan for air shipping your overseas cargo. Air shipping is faster and increases your chances of getting your inventory to Amazon on time, but expect to pay a hefty price for it.
Additionally, inventory for 2022 should be checked into Amazon warehouses around the mid-December. So, you should include this in your year-end planning as well.
Talk to Your Suppliers and Freight Forwarders
Touch base with your suppliers and freight forwarders to ensure all parties are on the same page for your Amazon holiday inventory needs. Topics you should discuss include:
Secure Funding for Your Purchase Orders
Once you've determined what items you need and when to place orders, the next step is to decide when to pay your suppliers.
Ask about your supplier's payment terms, as this will help you manage your cash flow better. Make sure you have sufficient funding for your holiday inventory orders by looking at your estimated revenue for 2021:
If you're short on cash, consider securing additional funding from lenders that specialize in funding for eCommerce sellers. These funding companies can usually access your Amazon sales data via your API and better understand your business model. You can also take advantage of Amazon's financing options for FBA sellers.
Negotiate a Better Lead Time
Try to reduce long lead times to avoid check-in delays, which could lead to a stockout, which means losing out on potential holiday sales.
Longer lead times mean more inventory you'll need to hold in your warehouse to prevent a potential stockout. In addition, extensive lead times also make shipping more unpredictable due to circumstances beyond our control, like supply chain accidents and natural disasters.
So, it's crucial not to run too low before reordering. That's also why it's best to set aside some extra stock to account for unexpected shipping delays.
Here's how to calculate your lead time:
Once you've calculated your lead time, if you find it's longer than what you wanted, ask your supplier if it's possible to speed up your order in any way. The supplier may charge you extra for faster production times, so be sure to set aside some budget for that. You can also re-evaluate your shipping options to potentially shorten lead times.
Place Orders According to Lead Time and Track Them Diligently
Finally, place your purchase orders according to lead time to set things in motion. But remember that tracking your shipments is just as important.
An Amazon inventory tracking tool allows you to watch your inventory as it moves through the supply chain network – from China to the US. It helps you to predict when your inventory should be ready to ship from your supplier, when it should arrive to your 3PL and when it should be available at Amazon if all goes to plan. Details such as which orders are still in production, en route, where each order is coming from and going should also be included, as well as how they will arrive (by ground, sea, or air).
Set Your Reorder Point (ROP)
Want to know how much stock you have and when to send in your next Amazon holiday inventory shipment? Calculate and set a reorder or transfer point. Once your inventory level is nearing the reorder or transfer point, it means you should order or transfer your next shipment immediately to reduce your stockout risk.
As you can see, there's a couple of variables that go into calculating reorder points. I'm going to explain what these variables mean below:
There you have it; the steps to calculating your ROP. Remember to set a reorder point for each product, as each will have different lead times, sales velocities, and buffer stock levels. So, if you're doing things manually, it will likely take you a lot of time.
Fortunately, when you set your buffer stock and lead time in SoStocked, the software automatically calculates your Reorder Point, increasing your reordering efficiency.
Use a 3PL as Backup for Amazon
Having a backup warehouse will not only help you stay in stock but also avoid issues associated with Amazon's ever-changing restocking policies. In fact, Amazon promises more changes to its restock limits in December 2021.
If that plan pushes through, it wouldn't be the first time Amazon has updated its restock limits.
Here's a quick recap:
If you exceed your restock limits, you won't be able to create new shipping plans. Worse still, if you have en-route shipments and suddenly maxed out your inventory capacity due to Amazon imposing lower restock limits without prior warning, you could end up paying extra for the return if your shipments are canceled or rejected, though Amazon has been known to also accept stock even when overlimit at times, too.
If you don't have a backup warehouse where you can transfer and store your rejected shipments right away, you may find yourself in a chaotic situation. Consider lining up a 3PL before you get yourself into a chaotic situation like this, especially in the high sales season. Think of 3PL as your backup storage space for any FBA inventory that Amazon refuses to accept due to restocking restrictions. The restock restrictions have made it necessary for nearly all sellers to need a backup 3PL, especially if you are selling private label using overseas suppliers.
Once your FBA utilization percentage goes back to within range of your current restock limits and you're allowed to send more inventory to Amazon again, you can quickly ship some from your 3PL warehouse. It's not advisable to send large quantities of inventory into FBA right away because it will work against your utilization, which directly impacts your sell-through. Low sell-through means lower restock limits.
I will emphasize again that Amazon tends to impose new restock limitations without prior warning, sometimes dropping them shockingly low unexpectedly. So, immediate action is necessary to ensure your inventory limit issues won't cascade into stockouts or other issues that could lead to low holiday sales. Looking into 3PL options is pretty much a must now for Amazon sellers now that everyone is facing restock limitations.
Add Third-Party Fulfillment Centers to Your Backup Plan
Don't let restock limits stop you from capitalizing on post-pandemic opportunities!
If you can't send in more inventory, consider switching to FBM and using a third-party fulfillment center that will process, pack, and ship orders directly to customers on your behalf.
Although the profit margins are often slimmer than FBA due to Amazon's buying power to negotiate insanely low rates with carriers, it will allow you to keep selling even if you are having trouble with staying in stock due to restock limits. Beyond that and just as importantly, the FBM sales you make will help you to prevent a restock limits crash during the stockout. Because each time you make a sale, it contributes to your sales velocity, which helps to boost your sell-through. The bottom line is, instead of becoming a victim of restock limits constraints, take control through proper planning and adjust with alternatives by using third-party fulfillment to continue fulfilling orders and driving sales.
Third-party fulfillment is ideal for sellers who don't have the storage space and time to fulfill orders themselves. And since a logistics provider carries out fulfillment, sellers can focus on other important things like marketing.
Update and Polish Your Listings
Done creating your shipping plans? The next step is to go through all your holiday product listings and make sure you're adding seasonal keywords, such as "Christmas," "Black Friday," "Thanksgiving," and so on, to target the right keywords.
As we get closer to the holiday season, update your listings with more holiday-themed descriptions and images to start setting yourself apart from the competition. Of course, run A/B testing to determine which listing version works best for you.
Don't forget to use the latest HTML formatting elements in your copy to ensure the text shows up properly on Amazon. The eCommerce giant had recently banned HTML tags on product detail pages for enhanced security and compatibility with non-HTML devices.
Planning your promotions for the major sales events is the best way to make sure you capitalize on the holiday rush with an excellent year-end revenue boost. While creating your promos, you must keep your margins in mind. Think creatively such as creating virtual holiday bundles via Amazon's virtual bundling, coupon discounts, and more.
Bundling your old stock or slow sellers with your top sellers is another way to turn your excess into sales and boost your sell-through. But don't wait until the last moment to launch your bundles. Plan and release your bundle deals a few weeks before the critical holiday selling dates to give them time to gain some momentum.
Prepare for Post-Holiday Buying Period
There are three kinds of customers during the post-holiday sale buying period. They are:
So, it's essential to prepare for this specific buying period as well to keep sales high post-Christmas. Consider starting another sale to move any remaining excess winter inventory out of Amazon's warehouse, especially if it tends to be particularly seasonal.
3 Trends to Consider While Planning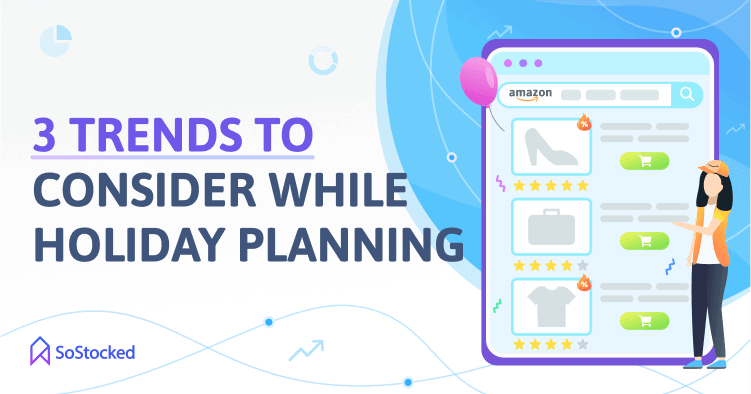 Make the most of Q4 by considering these three trends with superb growth potential. Understanding these trends will also make planning for the future better and easier for you.
Another Dominating Season for eCommerce
2020 was a period of uncertainty for retailers and supply chain networks. City-wide lockdowns forced retailers to start releasing promos online as early as October, prompting many consumers to shop before Black Friday.
This trend persisted through December, especially on Amazon, resulting in a whopping 47% increase in online retail sales during the traditional holiday season. Many of those online orders took place on mobile. For instance, Adobe discovered that more than 50% of online Christmas sales last year came from smartphones.
With no signs of slowing down, expect to see another extended, eCommerce-driven holiday sale period in 2021. The build-up of demand for goods may also lead to earlier shopping activity, so sellers should now prepare for an earlier kick off to their holiday efforts across Amazon and other online sales channels.
Online and Offline Hybrid Shopping Solutions
Since the pandemic restricted our ability to shop in person, in-store shopping became more transactional and intent-based. Many retailers turned to curbside pickup and buy online pick-up in-store solutions to provide customers with a more convenient (and safer) alternative to in-store shopping.
On the other hand, online shopping has evolved into a more engaging and interactive experience with customers looking to duplicate much of the mall shopping experience at home. We've seen the rise of Facebook Live Shopping, Augmented Reality (AR) try-on or "see it in your space" visualizations, live fashion shows, instant messaging with the store staff, and AI-driven personalized recommendations.
This new hybrid reality tells us that now's the right time to create seamless, convenient, and omnichannel offerings to find new ways to bring the in-store experience online. Consider looking into utilizing Amazon Posts and Amazon Lives to create new ways for potential customers to discover and interact with your brand and products.
Social Commerce is the New Way to Discover and Buy Products
According to AdWeek, 50% of all shoppers they polled struggle with figuring out what to buy for other people. This poll shows there's a great need for discovery aides, specifically during the holiday season.
Online discovery has been here for a while, but the way it is unfolding is changing – from Google display ads to curated recommendations and personalized inspiration on social apps like Pinterest and Facebook. AdWeek reported that almost eight in ten people used at least one Facebook service or app for product discovery last holiday sale.
Aside from product discovery, consumers are also using social apps to buy products as well. Grand View Research forecasted that social commerce accounted for 11% of the world's eCommerce sales last year, generating $474 billion. The growing popularity of social commerce will surely benefit the early movers in this area.
Snapchat has recently teamed up with Amazon to make any product searchable with just a single photo. Called "Visual Search," "Scan," or "Screenshop," this feature allows Snapchat users to point their phone camera at their friends' clothes, and it will automatically find products similar to what they are wearing.
A pop-up card will then appear within Snapchat, showing the product information it pulled up from Amazon. Users can click on the card to buy the item or search more.
With this new social commerce trend, it may be the right time to consider bulking up your social media marketing to make your products more organically discoverable and easy-to-buy from the most popular social media platforms such as Facebook, Pinterest, and Instagram.
Plan Your Amazon Holiday Inventory with SoStocked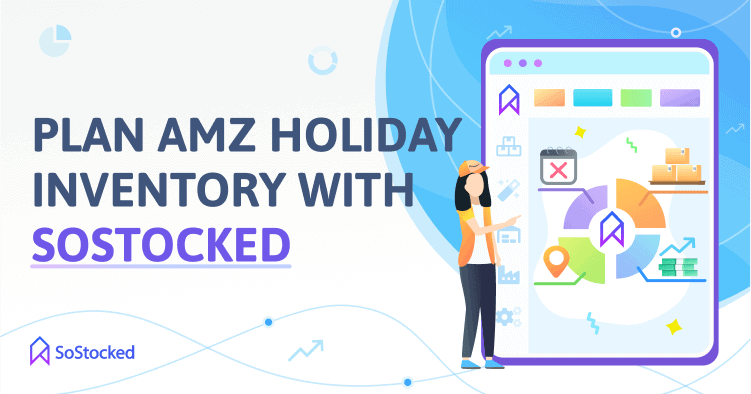 Use inventory management, forecasting, and tracking software to plan and organize your Amazon holiday inventory efficiently.
Some of the top features you can use are:
Monitor changes to your inventory across time. You can also use this timeline to plan out marketing for your seasonal products and see how it affects your inventory levels.
Inventory Forecasting Tools
 Improve the accuracy of your forecasts by using:
Use the Amazon Restock Limits Tool to factor restock limits by storage-type into your forecasting through SoStocked. Simply choose a specific marketplace you want to calculate forecasts for, plug in your current restock limits for that marketplace, and hit update to recalculate your forecasts automatically based on restock limits. SoStocked will calculate the optimal per SKU inventory shipments to send into FBA based on your catalog-wide sales velocities and max ship quantities. Watch this quick tutorial for more information.
Set minimum (buffer stock) and maximum stock quantity on both your 3PL warehouse and FBA center to automate restocking and simplify transfers to FBA.
SoStocked's order tracking feature shows you:
You can also use the "Landing in 30 Days" and "Arrived 15 Days Ago" inventory tracking dashboards to pull up all information on shipments scheduled to arrive in the US in the next 30 days or those that have already arrived within the past 15 days. These dashboards help you monitor what's coming in or leaving your warehouse or supplier, thereby increasing visibility over your inventory.
Lead Time Management Tools
Set up the default lead time for each of your suppliers or even per SKU and the express lead time for express air shipping to help you work out shipping schedules and deadlines. When you assign a lead time to a supplier, the software automatically applies the same lead time for the products from the same supplier unless you choose to override it. And suppose your product is selling in multiple marketplaces. In that case, SoStocked will also automatically assign the same lead time to each marketplace for that product. You can change these settings anytime you want to per SKU, supplier or marketplace with a couple of button clicks.
Put Your Amazon Holiday Inventory Plan Into Action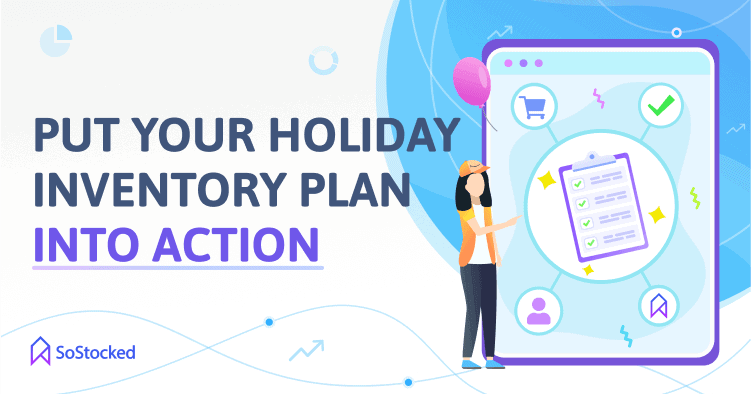 It can be hard to prepare for Q4 when you don't know how long shipping uncertainties and restocking limitations will last or when they will surprisingly and drastically change. But you can overcome these obstacles by setting your priorities, tracking your progress, being extremely flexible, adjusting your plan as needed, and leveraging technology.
Follow my 14-step guide to know which actions to prioritize by when and what your next steps should be as we move closer to the holiday sale season. Use inventory forecasting software to predict your Q4 sales, shipping and transfer patterns and target deadlines. Fine-tune your marketing strategies to push not only your top sellers but also any excess inventory you want to clear out before year-end.
Lastly, factoring in restock limits is also now a crucial part of inventory planning. Getting your forecasting right and calculating shipping plans based on product demand and restock limit allocations can help you to avoid ordering or sending in too much inventory so you can keep all SKUs in stock and selling at all times.
1,000+ Customers. Free Data Migration. 1-on-1 Onboarding.