Sellers Cry Foul Following Amazon's Decision to End FBA Small and Light
Amazon just found more pennies to squeeze out of sellers! 💰
On June 29, 2023, the etailer announced they will be replacing US FBA Small and Light (SnL) with a new program that will, in some ways, be similar to the current SnL program and in other ways much different. 
The first strange thing to note about this change is this, back in January, the SnL price cap for eligible products increased from $10 to $12. Now, 7 months later Amazon will be sunsetting SnL and shifting to this new program called Low-Price FBA, effective from August 29, 2023.
This change, however, sets the price threshold back to $10. That means although the new rates may still offer financial advantages to qualified items, they, for the most part, do not match the substantial benefits that the new 2023 SnL provided.
Per Amazon, general estimates suggest that: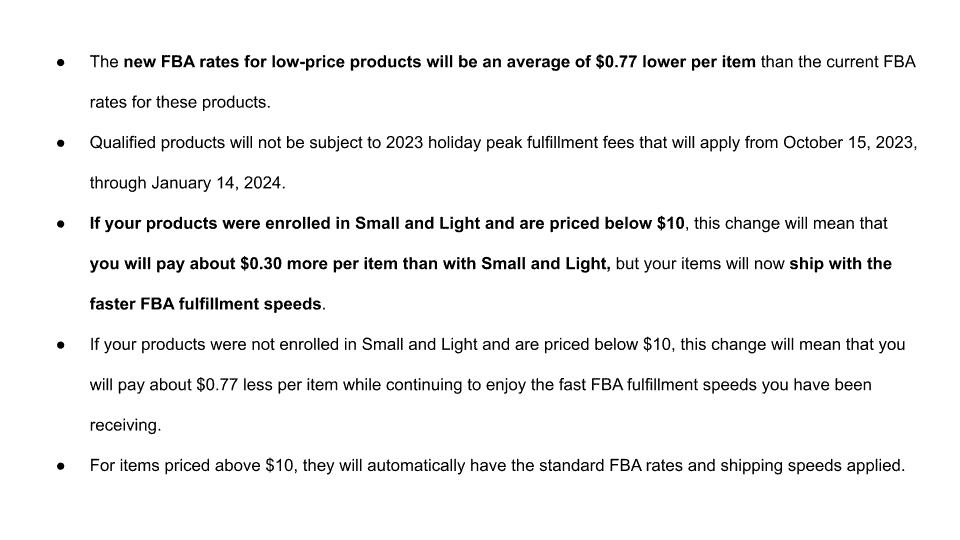 The above messaging is a bit of Amazon sleight-of-hand. They lead with the benefit to sellers not currently enrolled and boast an average $0.77 savings on these products. However, these products should already have been getting this savings anyway but if they were not enrolled, they missed out.

And while it is true that Low-Price qualified products will save significantly over standard rates, a majority of those currently enrolled in the SnL program will actually see their fees increase and by an average $0.30 per unit by Amazon's estimation, a significant impact to the under $10 product segment with already razor thin margins.
Others in the $10 – $11.99 range will be fully priced out of their current discounted rate starting August 29th.
Check out the table below to see the price changes in detail (SnL vs Low-Price FBA vs Standard FBA) and their potential impact on your margins.
Size Tier
Shipping Weight
SnL Rates (as of January 17, 2023)
Low-Price FBA Rates excluding apparel (Starting August 29, 2023)
Standard FBA Fulfillment Rates (2023)
Small standard
4 oz or less
$2.47
$2.45
$3.22
4+ to 8 oz
$2.54
$2.63
$3.40
8+ to 12 oz
$2.61
$2.81
$3.58
12+ to 16 oz
$3.15
$3.00
$3.77
Large standard
4 oz or less
$2.66
$3.09
$3.86
4+ to 8 oz
$2.77
$3.31
$4.08
8+ to 12 oz
$2.94
$3.47
$4.24
12+ to 16 oz
$3.77
$3.98
$4.75
16+ oz to 1.5 lb
$4.42
$4.63
$5.40
2+ to 2.5 lb
$5.19
$5.33
$6.10
2.5+ to 3 lb
$5.40
$5.62
$6.39
3+ to 20 lb
$6.40 + $0.16/half-lb above first 3 lb
$7.17 + $0.16/half-lb above first 3 lb
Small oversize
70 lb or less
$8.96 + $0.42/lb above first lb
$9.73 + $0.42/lb above first lb
Medium oversize
150 lb or less
$18.28 + $0.42/lb above first lb
$19.05 + $0.42/lb above first lb
Large oversize
150 lb or less
$89.21 + $0.83/lb above first 90 lb
$89.98 + $0.83/lb above first 90 lb
Special oversize
Over 150 lb
$157.72 + $0.83/lb above first 90 lb
$158.49 + $0.83/lb above first 90 lb
While it appears that Low-Price FBA is indeed cheaper than standard FBA, it generally still has higher rates than Small and Light. 🤔
Suppose you have an SnL product that weighs 1.5 lbs and retails for $11.99. Under SnL, shipping would only cost you $4.42 per unit, but once Low-Price takes effect, your per unit FBA fee would move to standard rates, jumping to $5.40. That's a $0.98/item increase – enough to potentially make products under $11.99 unprofitable.
The other strange thing is that, while, with SnL, eligibility capped at 3 lbs or less, Amazon has eliminated the weight and size restrictions from the Low-Price FBA program which allows both Large Standard products over 3 lbs as well as oversize products.

The joke here is that those heavier products have to be priced at under $10. So, while the product types newly included in this program can technically qualify, the fees almost certainly guarantee that the product, after Amazon fees, will be losing money.
For a bit of solace in the face of this change, what makes up for the higher fees, according to the retailer, is the faster fulfillment speed which "customers love."
SnL may have the lowest fees, but the program also provides slower shipping times than standard FBA. And given how the last-mile battle among eComm giants has been heating up lately, Amazon getting rid of SnL to offer customers faster delivery speeds across all product types and sizes might be one way to maintain edge – to say nothing about increasing their bottom line.
For some sellers, the trade-off may be worth it, but for those who make just enough money or are struggling to stay afloat amid rising inflation, losing SnL may result in a substantial change to their business economics.
As previously mentioned, Low-Price FBA only applies to products under $10. Without SnL, ineligible sellers might be forced to:
Absorb the fee increase and consequently, operate with thinner margins
Resize product packaging to achieve a lower size tier and to be able to ship as many units per carton/pallet as possible, thereby reducing shipping and storage costs
Implement a price hike
Reduce their prices to meet the new Low-Price threshold
Stop selling small and light products that don't meet the new price limit
Ditch Amazon for a more affordable sales channel
What's worse is that SnL sellers only have a little over a month left to prepare for this (unwelcome) change. Those who have inventory that's scheduled to arrive after August may have to adjust their strategy now to account for the potential fee increases.
What Sellers Are Saying
Amazon's decision to decrease the cap from $12 to $10 was understandably met with dissatisfaction among sellers, who expressed their discontent.
A comment by one seller emphasized the importance of reevaluating the products falling within the $10-$12 price range.
Another seller said that this change is "another example of Amazon taking a bite out of 3rd party sellers profit. If anything the price should have increased from $11.99 to 12.99, not gone backwards. Many customers do not care about delivery times like they used to obsess over it."
One suggests "If Amazon brought it up to $20, I would lower my prices to under $20 and I think the volume increase would be a triple win – Amazon, customers and our business."
In summary, this news may catch sellers with products enrolled in SnL off-guard, as Low-Price FBA could have a significant adverse effect on a substantial number of customers, causing negative repercussions for everyone involved, including Amazon itself. Most items under $12 will likely see a retail price increase of up to $5 due to this change, further reinforcing the association of Amazon with higher prices.
As what many sellers suggest, it would be best for Amazon to reconsider and either maintain the $12 threshold or, better yet, raise it to a more favorable price point. Otherwise, the upcoming SnL replacement and the noticeable increase in prices may drive many Amazon customers towards competing eComm platforms and social commerce sites.
Related: 2023 Amazon FBA Increases, Pallet Calculator to Optimize Load Capacity, Master Carton Calculator to Reduce Costs
Try For Free
1,000+ Customers. Free Data Migration. 1-on-1 Onboarding.
Need more information?
Send Message: We typically reply within 2 hours during office hours.
Schedule Demo: Dive deeper into the nuances of our software with Chelsea.
Join Live Upcoming Webinar: New to Amazon inventory management? Learn three inventory techniques you can implement right away.