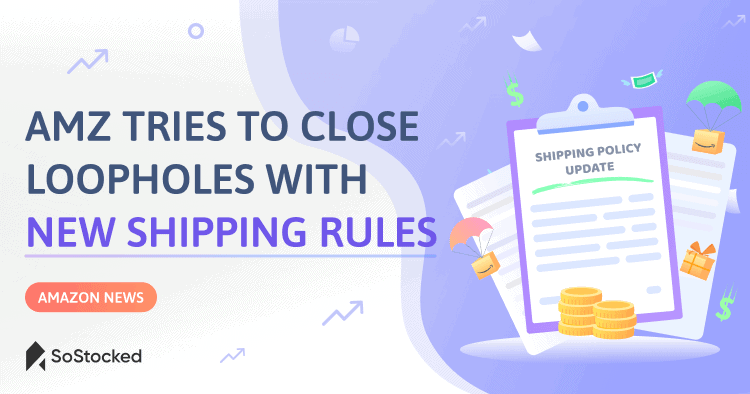 Amazon Attempts to Close Loopholes with New Shipping Policy
📢 Amazon has announced yet another change to their shipping policy, which could be perceived as an attempt to address and eliminate any potential loopholes.
As of March 31, 2023, shipping discounts will only be applied to compliant inbound FBA units in the Multi Destinations program. It may be news to you that this program even exists! Sellers enrolled in this program will save $0.05 per unit on fulfillment fees for Small Standard products and $0.09 for Large Standard. No small savings for sellers feeling the squeeze of recent 2023 fee increases.
While this program is invitation only to FBA sellers, accounts are auto-enrolled so sellers may be participating in this program without realizing it.
This policy change seems to specifically resolve issues around sellers who try to cheat the system and at the same time see discounts applied to their units – a double whammy.
For instance, some sellers create and cancel their shipments, but still send them in anyway knowing that FBA associates may still accept them. This dirty tactic essentially allows the bad actors to get around their capacity limits.
There are also others who, after approving a multi-destination shipping plan, will try to send the shipment along a different route (most likely to a single warehouse or somewhere closest) to reduce cost. That's probably because despite getting discounts on their inbound units, they may still end up paying higher shipping fees if they're shipping inventory to multiple warehouses across long distances.
⚠️ With the updated shipping policy, non-compliant sellers enrolled in the Multi Destination Shipping Program will not only be ineligible to receive discounts on the violating units, their shipments may also get rejected, or worse, they may lose their ability to ship more units.
Amazon requires sellers found in violation of its Shipment Policy to send a plan of action stating that future shipping plans will be compliant.
If you need to update any information or remove an item from your approved shipping plan, be sure to follow these steps and act in accordance to Amazon's change shipment policy to do it properly.
In addition, read "Amazon Closing Shipping Loopholes May Wreak Chaos for Some Sellers" to learn more about the retail giant's inbound shipping policies.
Related: Pros and Cons of Amazon Inventory Placement Service
Try For Free
1,000+ Customers. Free Data Migration. 1-on-1 Onboarding.
Need more information?
Send Message: We typically reply within 2 hours during office hours.
Schedule Demo: Dive deeper into the nuances of our software with Chelsea.
Join Live Upcoming Webinar: New to Amazon inventory management? Learn three inventory techniques you can implement right away.