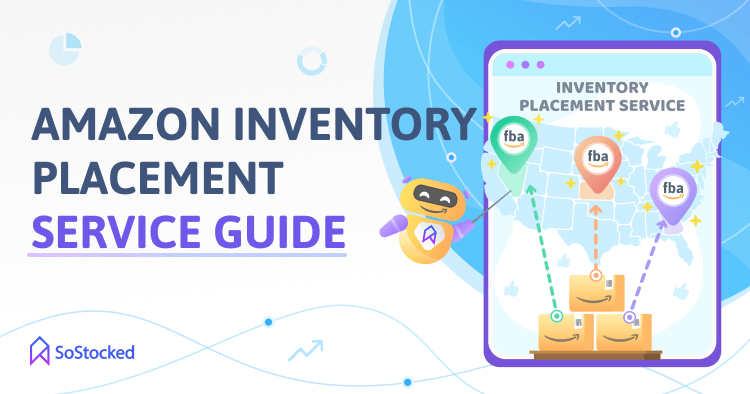 Pros and Cons of Amazon Inventory Placement Service (IPS)
Understand IPS to See if It's Worth It or Not
When sellers create a shipping plan on Amazon, the default distribution setting is the Distributed Inventory Placement. Under this program, sellers can send their inventory to one or more receiving centers or fulfillment centers (FCs).
Let's say you have 100 men's sweatshirts to sell. In that case, Amazon may require you to send 35 units to New York, 25 to Texas, 40 to California to spread them out for maximum efficiency. Splitting your inventory this way benefits buyers most especially, because sending it to three locations and then distributing it across multiple FCs allows Amazon to get your products closer to customers while also saving time when transferring.
If you send everything from Texas to California and then have to transfer inventory all the way to New York, that takes a lot of time versus shipping from, let's say, Texas to New Jersey then to New York.
However, shipping several boxes to multiple FCs can be expensive for sellers, especially when Amazon requires you to send just a few boxes to distant FCs.
Luckily, Amazon offers another option–the Amazon Inventory Placement Service (IPS). This service lets you send all of your units to just one FC. Once your inventory arrives at the initial FC, Amazon associates will divide it into multiple boxes and send them to other FCs for you. The only caveat is that Amazon determines which fulfillment center you must initially send your inventory to and charges a per-unit fee for this service.
So, is Inventory Placement Service worth it for your business? Let's examine the pros and cons.
In this Amazon Inventory Placement Service guide, we'll take a look at:
What is Amazon Inventory Placement Service?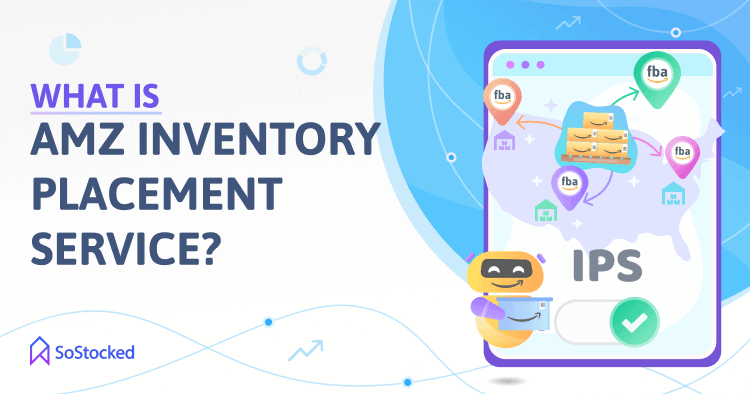 Amazon Inventory Placement Service is a paid service that allows you to ship your inventory to just one FBA fulfillment center instead of sending it to multiple locations.
Once your shipment arrives at the initial receiving center or FC, Amazon will split it up into multiple boxes and distribute the boxes across multiple FCs as they see fit. They may also send multiple boxes to the same location.
Transferring your items from one FBA warehouse to another usually takes one to five days depending on the distance between locations. But in some cases, transferring could take up to 30 days due to delivery and check-in delays. This may result in your inventory taking longer to become available to fulfill. When this happens, your listing may show your inventory as "Ships on…" some future date instead of available for immediate 2-day Prime shipping, which could discourage buyers from purchasing your product. So, you might want to ship your items earlier than usual, especially during peak season, to minimize delays.
Related: How to Ship to Amazon FBA (And Speed Up Check-In Times)
Pros and Cons of Amazon IPS
Find out whether IPS is good for your business by weighing the pros and cons.
Pros
1. Single Shipment Destination

In comparison to Distributed Inventory Placement, which requires you to send inventory to, commonly, 3 locations, IPS only assigns you one FBA warehouse to ship inventory to. The FC is usually selected based on the product you're shipping and where you're sending it from. This can significantly reduce shipping costs, as you no longer have to worry about getting your boxes to more distant locations across the US.
Remember, major carriers factor in shipping zones (a geographical region to which carriers deliver packages) when calculating rates for their zoned services. For example, USPS uses shipping zones to determine rates for Priority Mail Express, Priority Mail, Parcel Select Ground, and USPS Retail Ground (except Flat Rate, which doesn't factor in the distance).
If you're shipping Small Parcel Delivery (SPD) boxes to a warehouse 1,000 miles away from you, that could be very expensive. Here's why:
In the US, there are 8 shipping zones and major carriers identify these zones based on the distance from where the package is shipped to its destination. The nearest geographical region to ship to is represented by Zone 1 (the least expensive) while the furthest is Zone 8, and thus the most expensive.
Use the table below to estimate your shipping zone:
| Shipping Zone | Mile Radius from Point of Origin |
| --- | --- |
| Zone 1 | 50 miles |
| Zone 2 | 51 – 150 miles |
| Zone 3 | 151 – 300 miles |
| Zone 4 | 301 – 600 miles |
| Zone 5 | 601 – 1000 miles |
| Zone 6 | 1001 – 1400 miles |
| Zone 7 | 1401 – 1800 miles |
| Zone 8 | 1801+ miles |
Local deliveries within a 50-mile radius are classified as Zone 1 and are usually the fastest and cheapest.
Suppose you want to send one 20-pound package through USPS Retail Ground from Long Beach, LA to Santa Monica, LA and the distance is 30.4 miles. In that case, this would be a Zone 1 shipment. With USPS Retail Ground, shipping within Los Angeles county usually arrives in 1 to 2 days.
How much will it cost you to ship that 20-pound package within your county? It depends on the mail services you choose. Of course, faster services are more expensive. Using this calculator, here's the rate USPS rate for our example:

However, if you were to ship from Los Angeles, CA to NYC, NY, with an approximate 2,445-mile distance, the shipping zone would be Zone 8. Not only will this shipment be way more expensive, but also much slower due to the greater distance. Here's the USPS rate for Long Beach, LA to NY Zone 8 shipment:

Overall, the greater the distance between you and your destination FC, the higher the shipping zone and, thus, the higher the freight costs. Using Amazon IPS could eliminate some of the higher zones on your shipping plan, allowing you to keep shipping fees down.
2. Amazon Distributes Your Inventory for You
Although you're shipping inventory to just one FBA location, Amazon will still transfer your inventory to other FCs so that they can fulfill orders from warehouses that are closer to your customers, allowing you to offer not only faster delivery times, but also lower shipping rates.
3. Good for Sending Only One or Two Boxes
IPS may be a good option if you're only sending one or two boxes to just one warehouse. This means you don't have to split up a shipment into multiple boxes. This is especially true for retail arbitrage and wholesale sellers who more often ship individual-packed versus case-packed products. Let's say you have 10 items to ship and Amazon is requiring you to send them to 3 different locations so you would have to split them up, when you would like to send them all in the same box.
Otherwise, consider using Distributed Inventory if shipping several boxes to the same warehouse to save on IPS fees.
Cons
Fees
A per-unit fee applies when using the Inventory Placement Service, which can add up quickly if you have hundreds of items to ship.
The Inventory Placement Service fee is typically calculated based on unit weight per item. The rates are as follows:
Standard Size

$0.30 for items that are 1 lb or less
$0.40 for items that are 1 to 2 lbs.
$0.40 for items over 2 lbs plus $0.10/lb. above the first 2 lbs.

Oversize

$1.30 for items that are 5 lbs or less
$1.30 for items over 5 lbs plus $0.20/lb above the first 5 lbs.
Note: Rates may change, so it's best to review them on Amazon's IPS information page every once in a while.
These fees might discourage you the first time you see them, but try to take a closer look. If you're selling a lot of profitable or popular items, it could be quite easy to absorb the cost, especially if you save on shipping costs, which could help to offset the expense. Conversely, if you're selling items with a slimmer profit margin, then IPS may not be the best option for your business. You simply don't want the added IPS fees to eat into your already low margin.
When creating a shipping plan, look at the total cost of 3 shipments versus the cost of 1 shipment plus IPS fees to see which is more profitable.
2. Longer Wait Times
It could take longer for your inventory to become available to buy as your products are often sent to a distribution center (aka transit hub and does not ship directly to customers) rather than a fulfillment center (where items are stored and prepared for delivery).
This means that Amazon must move your shipment to numerous FC locations across the country where they will be processed for delivery to customers. For example, from your 3PL in Texas to the single New Jersey distribution center location assigned to you, and finally transferring your boxes to New York, California, back to Texas, Florida and many other locations.
So, there can be some delay from when your items arrive and when they become available to be shipped out to customers. This also is likely why Amazon has the added fee because they are doing the shipping and handling versus you doing the shipping to the other locations.
3. Inventory Placement Exceptions
While most standard-size items will be sent to a single FC or receiving center, certain items in the following categories may be routed through a different receiving center or FC even if you're using IPS most likely due to the prep done or the conditions under which they need to be handled or stored:
Apparel
Jewelry
Shoes
Media
Stickerless, commingled inventory
Oversize items
Amazon prep required
Amazon labeling required
Hazardous materials
If your product needs to be set aside at the receiving center for additional FC processing requirements (e.g., verify authenticity) or sent to two different locations (e.g., one for your jewelry and the other for everything else that doesn't have an IPS exception), you could be surprised by having more than one shipping location even under IPS.
4. Reduced Ability to Choose an FBA FC
While Amazon never allows its sellers to choose the destination receiving center or fulfillment center, using the Distributed Inventory program usually results in at least one FCs pretty close to the seller's proximity.
That's why some sellers take advantage of this feature by utilizing their 3PL's warehouse or port of discharge as the address for their origin point. This gives them a better chance of getting assigned to an FC that's within manageable distance.
However, for Inventory Placement Service, the algorithm for determining the destination FC or receiving center works differently. There's a chance that you'll have to send your inventory to a warehouse some distance from you or some other location that may be more expensive than you'd like.
Related: Amazon Freight Forwarder Tips to Avoid Stockouts and Reduce Costs
How to Use Inventory Placement FBA?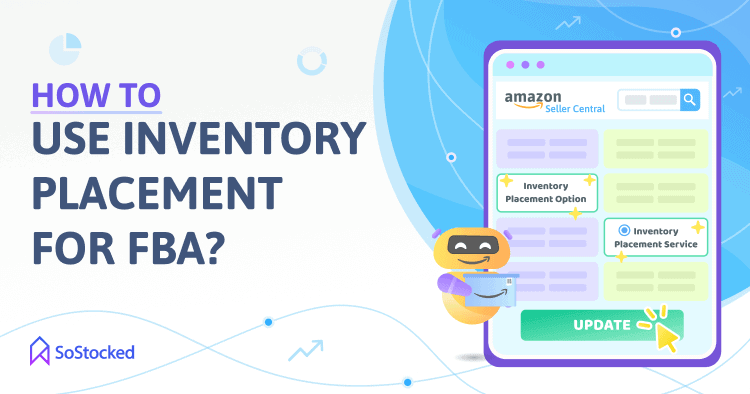 If you're interested in using IPS, signing up is easy. Simply log in to Seller Central and change your inventory placement settings by following the steps below:
Go to Settings and select Fulfillment by Amazon.
Under Inbound Settings, click Edit.
Under Inventory Placement Option, select Inventory Placement Service.
Click Update.
Streamline Your 3PL-to-FBA Transfer Process with SoStocked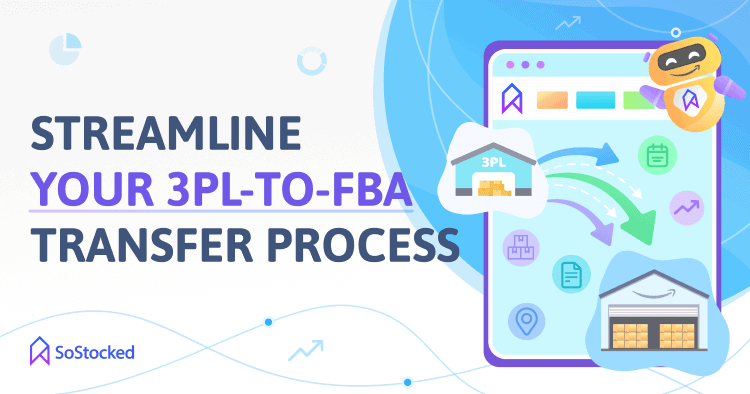 Make it easy for you and your team to prepare and transfer inventory from your warehouse to FBA using the following software features.
Create Work Orders (WO)
Our secondary order management system that works alongside our Purchase Orders (POs) is our Work Order system. Instead of supplier lead times, this system uses transfer times to track your shipments from a 3PL warehouse or prep center to FBA. You can also include a set of instructions to let your warehouse staff know what to do with your existing or incoming inventory, such as:
Store your inventory
Transfer inventory to FBA
Bundle multiple items into a single pack (also known as kitting)
Prepare inventory for commingling
A combination of any of the above requests
Split a Shipment
Split a shipment within the same PO to send your inventory to two or more different locations or via multiple modes of shipping (air, sea, truck, rail, etc).
You might want to use this feature when your inventory level at FBA is running low, and you need to send in additional stock from 3PL or factory by air express or small parcel delivery versus LTL (which normally has longer transit and check-in times) to prevent a stockout.
Instead of creating two separate POs or WOs, simply split the shipment within the same PO or WO. Then, send a portion of your shipment by one shipping method and the rest by another.
Order Tracker
Designed to work perfectly with our PO and Work Order systems, the Order Tracker helps you track the progress of your inventory order from the moment the PO is placed through production to shipping to its final destination.
This dashboard features a Kanban board that automatically moves orders and shipments from In Production to En Route to 3PL warehouse and FBA based on your custom set lead times.
Min/Max Restocking
Set minimum and maximum stock quantities on both your 3PL warehouses and FBA fulfillment centers. Once set, SoStocked will automatically alert you when you need to place a new order or transfer and for how many units. You can set your Min-Max in days or in units. However, I recommend choosing In Days as the number of units needed will fluctuate with your stock level depending on seasonality.
Restock Limits Tool
Make sure you don't send too much inventory into FBA by factoring your Amazon Restock Limits by storage-type into your inventory data.
To do that in SoStocked, choose a specific marketplace you want to calculate forecasts for, enter your current restock limits for that marketplace, and click Update to recalculate your forecasts automatically based on your restock limits.
The calculations will show you the optimal unit quantity per SKU that you should ship to FBA, so you don't max out your restock limits with slow-movers blocking best-sellers.
Inventory On-Hand Dashboard
This dashboard lets you view up-to-date information on all your on-order inventory and available units at your 3PL and Amazon FBA, including items in reserved status.
Do the Math and See if IPS Makes Sense For You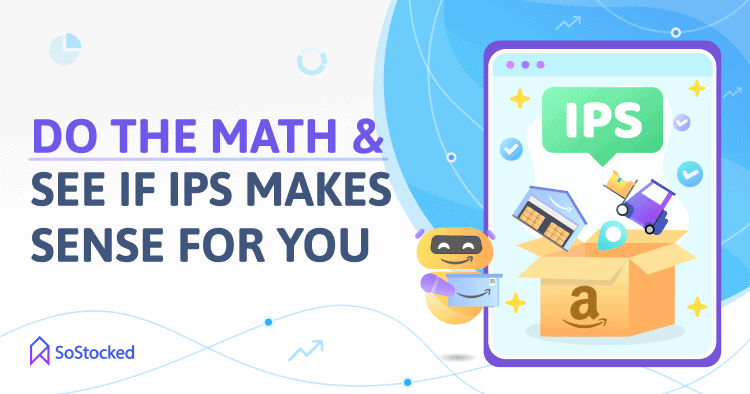 Inventory Placement Service makes the most sense when it will actually save you money (versus using Distributed Inventory program). This is especially true for items with high profit margins that aren't oversized, as the per-unit fee is cheaper and won't significantly eat into your profits.
However, with so many variables to consider (transit time, IPS fee, shipping fee, check-in times, and inventory placement exceptions), there are only a few scenarios in which IPS will save you money:
If you're selling a lot of highly profitable items
If you have a small number of items to ship
Otherwise, consider using Distributed Inventory and working with a reliable freight forwarding company who can help you save on shipping by leveraging their influence and shipping network to reduce LTL rates.
Finally, avoid transferring your inventory too late by getting real-time updates on your inventory levels at FBA or 3PL, automating your reordering and transfer process, and creating work orders to instruct your warehouse staff on when to send your inventory.
Try For Free
1,000+ Customers. Free Data Migration. 1-on-1 Onboarding.
Need more information?
Send Message: We typically reply within 2 hours during office hours.
Schedule Demo: Dive deeper into the nuances of our software with Chelsea.
Join Live Upcoming Webinar: New to Amazon inventory management? Learn three inventory techniques you can implement right away.