25% Growth Rate: Euro B2B Opportunities Expand on Amazon
Amazon B2B continues to grow, with no signs of slowing down. 🚀
As the pandemic accelerated the shift towards online shopping, Amazon experienced a surge in office supply sales in Europe.
The tech giant is now looking to capitalize on this trend by expanding its Amazon Business to more countries.
In an interview with Reuters, Amazon Business VP Alexandre Gagnon stated that the division recorded a 25% compound annual growth rate in Europe during the two-year pandemic.
The business initially launched in Germany in 2016, then expanded to the UK, France, Spain, and Italy. However, Amazon refused to reveal which countries it would expand to.
Gagnon also mentioned that Amazon is investing in logistics to simplify the process for EU companies to procure bulk office, IT and healthcare equipment, and school supplies. By doing so, Amazon aims to secure contracts to procure these items for their clients.
Putting More Focus on Profitable Businesses
According to Reuters, Amazon's B2B has higher margins than its B2C arm since it is cheaper to make bulk deliveries than individual small parcels.
"Because businesses buy in larger quantities, the fulfillment economics are more advantageous," Gagnon said.
As we've reported, Amazon is currently facing slowing consumer demand and rising costs. In fact, the B2B expansion plan comes as Amazon announced it will be closing all 68 Amazon Books locations, pop-up chains, and 4-star stores in the UK and US. Workforce reduction impacting 27,000 employees globally is also underway in an effort to lower operating costs.
Therefore, Amazon may be trying to focus more on B2B to stimulate growth.
The 2022 European Retail eCommerce Consumer Forecast found that the total value of goods sold online in Europe is expected to reach $1.8 trillion by 2025, a consistent increase in online sales for B2B businesses operating in the region.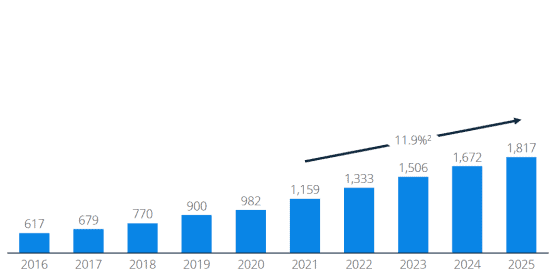 The report explains that the surge in B2B online consumption in the EU can be attributed to the heightened market demand for a wide range of products and services, such as spare machine parts, business and digital services, as well as packaged and bulk products.
If you're planning on joining Amazon Business, now's the time to do it while demand is projected to increase at 11.9% through 2025. 
To grow your catalog with high-demand, no-competition B2B products, use Amazon's ASINs Recommendations tool. It provides a list of items that many companies are looking for, but are presently unavailable on Amazon.
The tool also offers tailored suggestions based on the product category of your store so that you can incorporate new items that align with your brand or introduce new variations of existing products.
It's important to note, however, that since ASINs Recommendations is primarily designed for B2B applications, not all categories may be included. You may also need to overcome certain restrictions imposed by Amazon before selling, including brand approval for gated products and compliance requirements.
Related: Walmart Launches B2B eComm Site to Rival Amazon and Shopify, Amazon Continues to Dominate B2B While Shopify Plays Catch-Up
Try For Free
1,000+ Customers. Free Data Migration. 1-on-1 Onboarding.
Need more information?
Send Message: We typically reply within 2 hours during office hours.
Schedule Demo: Dive deeper into the nuances of our software with Chelsea.
Join Live Upcoming Webinar: New to Amazon inventory management? Learn three inventory techniques you can implement right away.