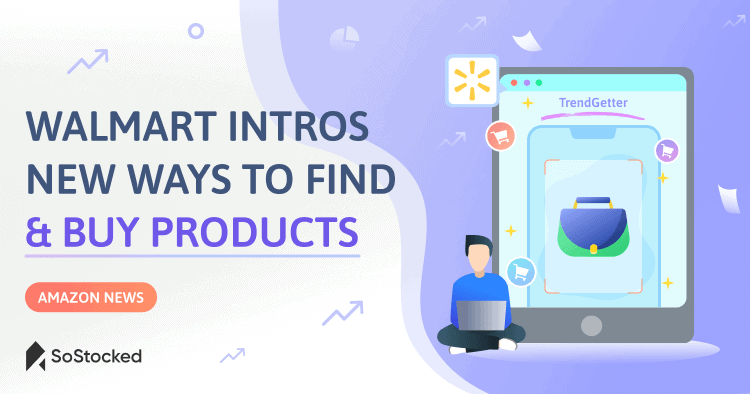 Walmart Launches New Ways to Find and Buy Products
🙌 Amazon may be the undisputed eCommerce leader, but Walmart is catching up by introducing two new ways to find and shop products online.
TrendGetter
Announced on December 8, TrendGetter is a platform equipped with image recognition technology that lets you:
Upload or take a picture of an item you want to buy.
Often, shoppers browse through their TikTok or Instagram feed and find trending products that don't have shoppable links or come with a hefty price tag. Luckily, they can now go to TrendGetter to add photos of their must-haves and then let the platform's visual AI tech offer an exact match or similar items at affordable prices on Walmart.com.
Select and buy products in seconds.
Once a product is found, buying is as quick as a few button clicks.
While Walmart just released this unique way of shopping online, the technology has been around  for some time. In 2020, Amazon launched StyleSnap, where customers can upload a picture of the product they're looking for in order to find and buy it in just a few clicks instead of scouring Google search for information. 
Then in 2022, Amazon Fashion and Snap took things a step further by offering an AR-powered shopping experience on Snapchat through AR lenses that allow people to virtually try on sunglasses.
Given how ahead Amazon is in transforming eComm with artificial intelligence, it's not surprising to find Walmart launching AI-powered features to change the way customers shop on their website in an attempt to level the playing field.
"We know our customers are searching for what they love at can't-miss prices. Now, whenever you find a product you love, you can easily search for a similar item at Walmart's everyday low prices and purchase as soon as inspiration strikes," Walmart said in a statement.
Text to Shop
Walmart has also recently added a text-to-shop functionality to their eComm site and app so that customers can "shop as easily as texting."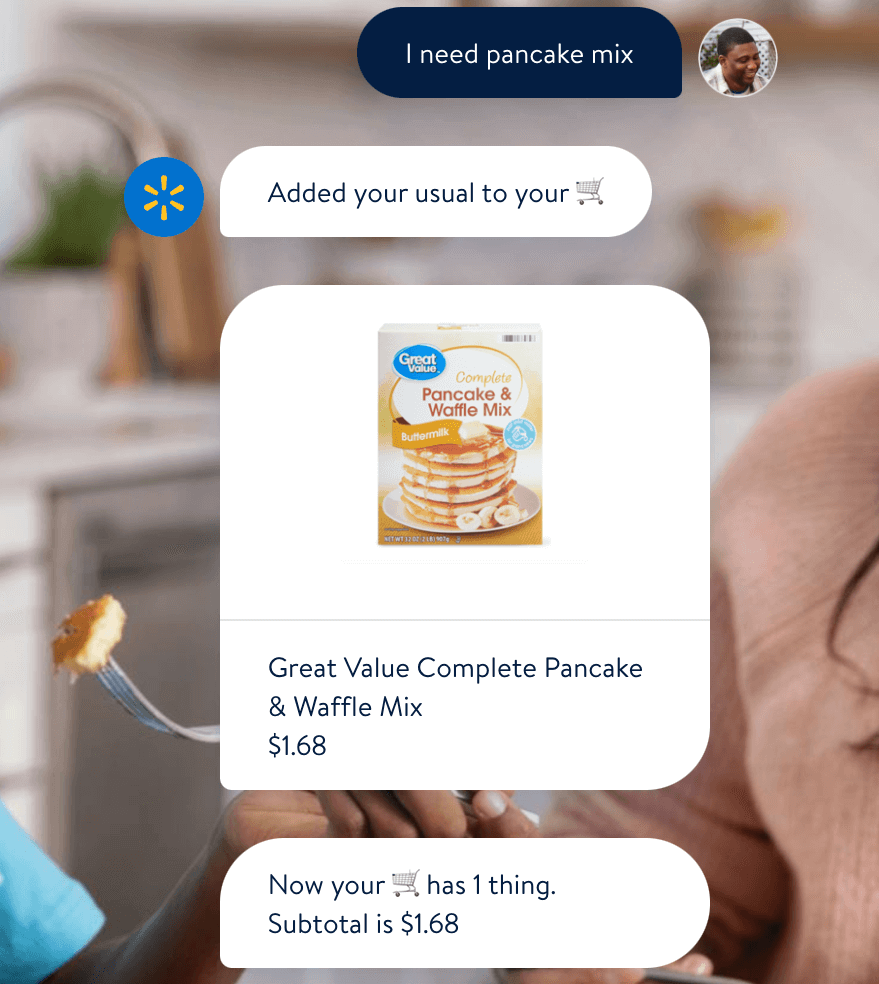 New users with an Apple or Android device can sign up for an account to get started. Existing eComm shoppers can simply log in to their Walmart account and follow the instructions to get their phone set up with Text to Shop.
Once you're all set, you can start adding items to your cart with a text or voice text. The AI shopping assistant will then give you the most relevant search results so you can find the best match(es) easily.
Text To Shop was also designed to remember your previous buys so you can quickly update your cart with your favorite products with a text message. This allows for faster and smarter reorders, helping you save time.
"Between balancing your busy schedule, performing at work, managing your household, preparing meals — and ensuring you've got everything you need, when you need it — you've got a lot going on," Walmart's VP of Conversational Commerce, Dominique Essig, said in a statement.
"At Walmart, we know that keeping track of your household shopping list is often a mental task you manage as you go about your day. That's why Walmart is excited to offer our customers a new and convenient way to shop — by simply texting us." 
Enhanced Version of Alexa
Walmart's Text to Shop is similar to Amazon's Alexa in that both AI assistants let you create shopping lists, but the similarities end there.
Walmart took a step further by making Text to Shop capable of remembering and offering items you'll want to buy next based on your shopping history, and allowing you to set a time for home delivery or store pickup rather than just creating a list.
When grocery shopping with Alexa, for instance, it just helps you make a list, but it doesn't know the brand names you usually purchase. Unless you specifically said "add Quaker Instant Oatmeal to the list," it'd just add oatmeal.
Text to Shop, however, will already know what you usually buy, including serving size (e.g., 40 oz oatmeal bag), and suggest Quaker when you text for oatmeal.
And if you're looking for something you haven't purchased before, simply text Walmart the product name or information (in as little as one word) and the app will provide you with a few options to select from.
Overall, these advanced AI features may help narrow the gap between Walmart and Amazon. Customers who lead a very busy life may find Walmart the most convenient way to shop online – either by adding a photo of the product they're looking for to TrendGetter or sending Walmart a text message via Text to Shop.
Related: Walmart and Amazon Battle for Dominance Intensifies, Should You Be Selling on These New Channels?
Try For Free
1,000+ Customers. Free Data Migration. 1-on-1 Onboarding.
Need more information?
Send Message: We typically reply within 2 hours during office hours.
Schedule Demo: Dive deeper into the nuances of our software with Chelsea.
Join Live Upcoming Webinar: New to Amazon inventory management? Learn three inventory techniques you can implement right away.