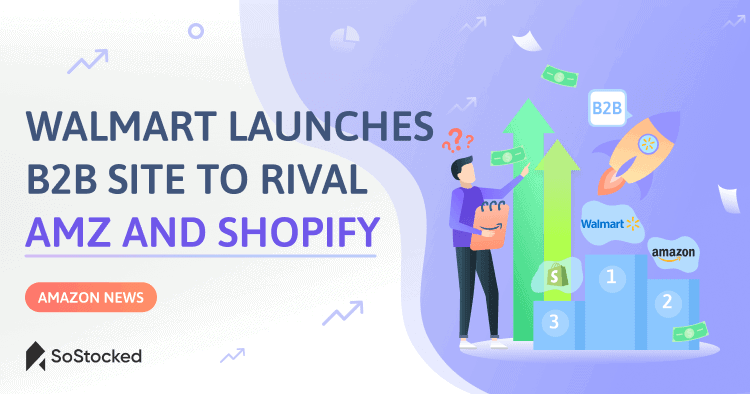 Walmart Launches B2B eCommerce Site to Rival Amazon and Shopify
Amazon, Walmart, and Shopify are taking their rivalry to a new arena: the fast-growing Business-to-Business (B2B) eCommerce industry.
The Rise of B2B eCommerce
As US consumer spending weakens, B2B is growing at a rapid pace, prompting eComm companies to put more focus on B2B.
According to DigitalCommerce360, US B2B online sales grew from $1.39 trillion in 2020 to $1.63 trillion in 2021. B2B eComm is also estimated to reach a compound annual growth rate of 20.49% from 2022 through 2028, representing a huge growth opportunity for eComm players to tap into. Capturing this untapped market may provide some revenue boost that could help them offset Business-to-Consumer (B2C) sales slowdown.
Buyers going digital during the pandemic is one of the contributing factors to the rapid growth of online B2B.
In response to COVID-19 lockdowns in 2020, many businesses moved their B2B transactions from offline to online, and never looked back. Approximately 80% of B2B executives now prefer online self-service or remote human interactions over in-person sales primarily due to safety concerns, ease of scheduling, and savings on travel expenses, McKinsey reports. 
Among US B2B eComm companies, Amazon appears to be the most dominant player, having operated its own B2B arm, Amazon Business, since 2015 versus top competitors that have only been in the market for several months – Shopify since June 2022 and Walmart since January 2023.
Sales-wise, Amazon Business represented 1.4% of all B2B sales on eComm sites in the US in 2021. Moreover, by 2025, the company's market share is estimated to grow by 2.4%. For context, Insider Intelligence forecasts B2B sales on eComm platforms to reach $2.3 trillion within the next two years. 
In an attempt to carve out a good proportion of this trillion-dollar market size for themselves, Walmart recently launched their own B2B eCommerce site. 🚀
Walmart Business for Small and Medium-Sized Enterprises (SMEs)
Announced on January 20, 2023, Walmart Business is an online procurement hub for SMEs and non-profit organizations looking to:
Simplify B2B purchases. Walmart removes the complexities of procurement by offering SMEs a curated list of over 100,000 products. They can easily shop for office supplies, furniture, bathroom items, food and beverage, electronics, or classroom and faculty needs all in one place. Buyers can then group their purchases by category to streamline their restocking process. Depending on a company's organizational needs, one may select categories including administrative support (printing, stationary, or mailing items) or information technology (hardware or software).
Lower costs. Reduce travel expenses by eliminating face-to-face interactions with suppliers and opting for digital self-service orders or remote human engagement instead.
Leverage Walmart's fulfillment network. Receive orders fast with the retail chain's scheduling system, convenient store pickup locations, and 2-day delivery program.
Track and share spending information with multiple users. Add up to 5 users to a single account and track spending trends by sharing purchase history across members. Qualified buyers can also register in Walmart Tax-Exemption Program to enable automatic removal of eligible taxes during checkout.
SMEs can also upgrade to a Walmart Business+ account for $98 per year to enjoy the following additional benefits:
No minimum order required to qualify for free shipping
Free pickup and delivery from Walmart stores with a $35 minimum order
2% rewards on orders $250 and above
5% savings on eligible products set to subscription
Why Go After SMEs?
Like B2B eCommerce, the US small business market is a growth area with 33.2 million SMEs. This accounts for 99.9% of all American businesses, and is expected to grow by 36,000 by 2025.
Of the 33.2 million, 27 million do not hire any staff, while 5.4 million have under 20 team members and only 650,000 have fewer than 500 employees, according to Oberlo.
Therefore, tailoring Walmart Business to the needs of SMEs may help the retail giant win more sales while keeping existing customers from switching over to Amazon or Shopify, ultimately allowing them to grab a big piece of the B2B pie.
For sellers trying to lessen their reliance on Amazon, this could be an opportunity to branch out into Walmart. 🤔
It's too early to say whether or not Walmart Business will make a dent in Amazon's B2B sales, but it will surely bring new challenges to Amazon. 💪 Expect the eComm giant to try to forestall Walmart's attempt to encroach on its market with new B2B tools and features in the near future.
Related: Walmart and Amazon Battle for Dominance Intensifies, Shopify Acquires Deliverr and Takes Aim at Amazon's Buy with Prime, Amazon Makes Play Toward Offering Prime for Non-Amazon Orders
Try For Free
1,000+ Customers. Free Data Migration. 1-on-1 Onboarding.
Need more information?
Send Message: We typically reply within 2 hours during office hours.
Schedule Demo: Dive deeper into the nuances of our software with Chelsea.
Join Live Upcoming Webinar: New to Amazon inventory management? Learn three inventory techniques you can implement right away.