A Purge Could Be Coming for Fake Reviews on Amazon
🚨 Amazon has quietly removed hundreds of thousands of customer reviews from some of its own Amazon Basics listings, indicating a new round of reviews purges may be soon at hand.
In April, a few Amazon Basics products saw a huge decrease in review count following Amazon's heightened efforts to combat fake review brokers and counterfeiters on its platform.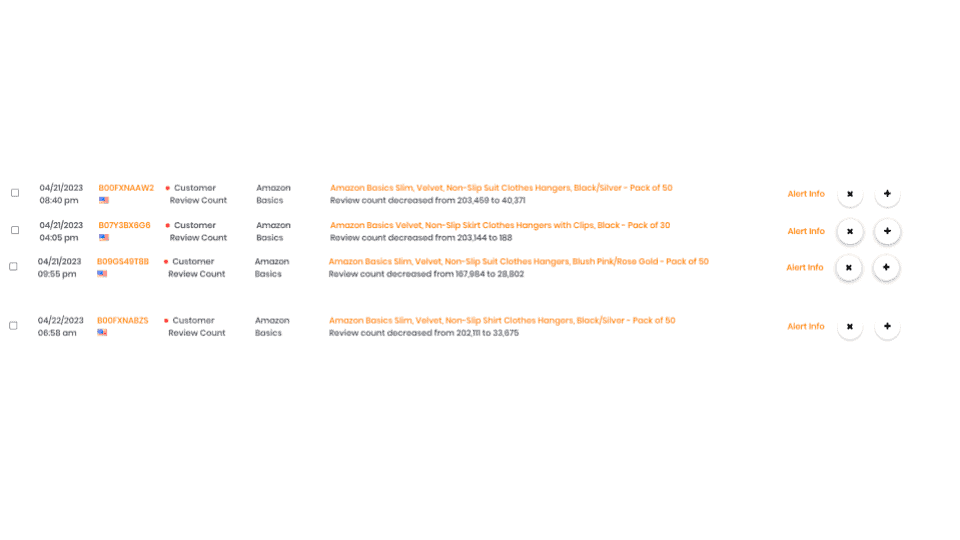 As shown above, the review count for Amazon's Pack of 50 Slim, Velvet, Non-Slip Hangers went down by 75% on average and around 98% for the Pack of 30 variant.
Given the company's ongoing war on fake reviews, it is likely that most, if not all, of the reviews that have been taken down came from fraudulent sources.
However, it is unclear whether or not the listings had bogus positive reviews and if they did, were they also included in the removal process? 🤔
If the purge did include misleading positive reviews, it somehow implicates Amazon in the very fake review schemes they've been trying to eradicate for years (2016, 2018, 2020, 2021, 2022, 2023).
Now, that doesn't necessarily mean Amazon is the culprit behind the dubious positive reviews. For instance, a nefarious seller may have hijacked the Pack of 30 Hanger listing to attach a completely different product to it, allowing the two items to share the same reviews. To bolster product visibility and trick more customers into buying, the hijacker could have also added more glowing feedback to the hijacked listing.
An alternative, though unproven, theory is that Amazon themselves may have gamed the system to artificially inflate their product's overall rating and drum up sales with false positive reviews. An analysis by the eComm consulting firm, Pattern, shows that improving one's review rating by just one star can lead to a sales boost of up to 26%.
Even if Amazon's hands are clean as far as positive reviews, that doesn't discount the possibility of removing some authentic low-star reviews which would achieve the same results.
This abusive behavior likely wouldn't surprise sellers who have already seen how the retail giant can allegedly break its own rules to stay ahead.
How do bad actors abuse Amazon's review system?
There are several ways that bad actors can cheat Amazon's review system. These include:
Astroturfing. Bad actors or bots can create fake accounts or pay others to create fake accounts to leave positive reviews for their products. While this can increase a product's rating and sales, this can also mislead customers into purchasing a product that may not meet their expectations.
Review stacking. Some sellers will add reviews from other (often dead or abandoned) products to their own listings to increase their review count. This may also help boost the listing's total star rating from 3.4 to 4 stars, for instance. 
Review manipulation. This involves offering incentives or discounts to customers in exchange for leaving positive reviews. This can lead to biased or fake reviews.
Product swapping. Some sellers will send customers a different product than what was advertised, and then ask for a positive review in exchange for a refund. This can lead to deceptive top reviews for a product that is not the one being advertised.
What could be the reason behind Amazon's review purge?
Amazon possibly deleting false positive reviews may be an attempt to remove traces of anti-competitive behavior that could potentially not bode lightly for its own antitrust probes and the financial penalties for its sellers.
Just last month, the Federal Trade Commission (FTC) levied a $600,000 fine against supplements maker, The Bountiful Company, for review hijacking on Amazon.com.
Aside from potentially trying to get antitrust watchdogs off its back, Amazon is also well within its rights to remove fake negative reviews from its own and others' listings. For instance, competitors can buy an Amazon Basics product and then fraudulently leave a bad review or report the product as defective or counterfeit. This can hurt Amazon's reputation and sales, even if the product is legitimate.
The Fight Doesn't End Here
Whatever the reason behind the purge, Amazon cleaning up its own backyard is still a step in the right direction. But with more than 2 billion listings to monitor, the fight is far from over.
In fact, our data just further proves that Amazon's fake review problem continues to run rampant in the marketplace despite their years-long effort to eliminate it. This ruins not only Amazon's own credibility but also third-party sellers' selling on the platform, which ultimately impacts sales.
With a lot at stake, it's crucial to take an active role in keeping bad actors from hijacking or sinking your product rating with fake negative reviews. Be sure to follow Amazon's Product Review Policy and report any potential review violation.
It's also best to check your competitors' listings for fake positive reviews every once in a while. Some reviews are clearly written for other products entirely, such as a posture corrector with reviews on books and dog leashes.

Also, pay attention to the text (a few reviews may have similar wording or photos) and the number of good reviews that happened within a few days of each other. 
For example, if a listing received more than 6 verified or unverified reviews in a day, that could mean fraudsters made a push for those to occur on a certain timeline. As a result, Amazon may indefinitely block the listing from receiving additional reviews, but you can't always rely on that happening, so keep an eye out. 👀
Related: Amazon Highlights 'Frequently Returned' Products You Should Think Twice Before Buying
Try For Free
1,000+ Customers. Free Data Migration. 1-on-1 Onboarding.
Need more information?
Send Message: We typically reply within 2 hours during office hours.
Schedule Demo: Dive deeper into the nuances of our software with Chelsea.
Join Live Upcoming Webinar: New to Amazon inventory management? Learn three inventory techniques you can implement right away.