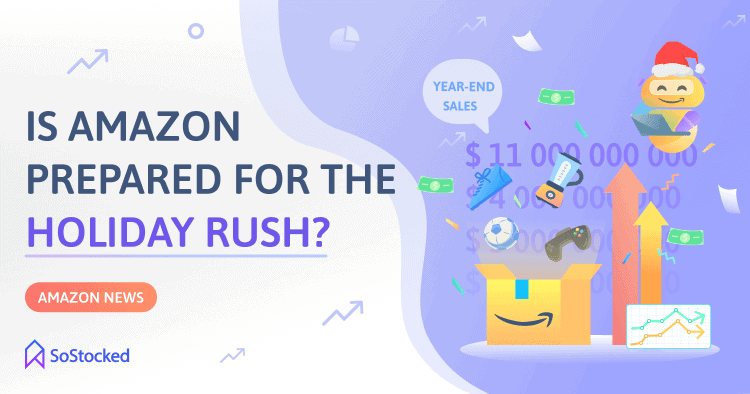 Is Amazon Prepared for the Holiday Rush?
Labor issues, rising costs, facility closures, bad actors rigging inbound FBA delivery systems, and persistent supply chain challenges grip Amazon, leaving many sellers wondering whether the eComm giant is really prepared for the holiday rush. 🤔
It's Not All Doom and Gloom
Amazon's record-breaking BFCM sales are a beacon of hope amid all the doom and gloom. 
The retailer said on Wednesday that this year's Thanksgiving-BFCM shopping weekend, aka Turkey 5, was its "biggest ever," with shoppers ordering hundreds of millions of products during the sales period. 💰
Amazon did not disclose the sales figure for its Turkey 5 weekend, but data from Adobe Analytics show customers shelled out $9.12 billion online on Black Friday, a 2.3% increase from last year, while Cyber Monday sales grew 5.8% to $11.3 billion.
This suggests people are ready to splurge again and comb through Amazon for deals, thanks to deep discounts from sellers. In addition, this shopping trend may continue through December as customers are still not done with holiday shopping, according to the National Retail Federation (NRF). This indicates more purchases in the weeks ahead – all the more reason to be extra prepared for the rest of the holiday season.
Months-Long Preparation
For Amazon, the holidays may be short, but preparation begins a few months in advance.
Amazon has been preparing for Q4 since August when it brought back restock limits. With this change, sellers can only send up to four months' worth of inventory, allowing the company to ease pressure on its warehouses ahead of the holiday rush.
In October, Amazon announced it's hiring 150,000 US workers to "help deliver great holiday experiences" (and possibly to replace the 80,000 employees the company lost to attrition). The jobs include stowing, picking, packing, sorting, and shipping customer orders, among others.
The mass hiring began as the eComm giant geared up for major Q4 events, such as Prime Early Access Sale in October, Turkey 5 in November, and Christmas/Year-End Sales in December.
Amazon distribution centers typically see a significant increase in their deliveries during this period. For instance, a new facility in Ashland only delivers about 15,000 packages in Missouri during off-peak, but that number could rise to more than 23,000 packages per day during the holidays. Therefore, hiring additional workers is a crucial part of the company's holiday preparations.
"We have spent the last couple of months preparing for this time," Aaron Pondrom, owner of Frontline Logistics, told Komu, a local TV station in Missouri.
"We've been actively hiring within our community to hire good drivers in order to deliver for this time of the year,"
Although Amazon is looking to employ 150,000 warehouse associates for Q4, it also plans to lay off 10,000 corporate employees to cut costs starting in December. This may sound concerning given that they're doing it during such a crucial time of year, but holiday orders will not be affected, according to Ofori Agboka, Amazon's VP of People, Experience & Technology, Global Operations.
"In our operations, we are prepared, and we believe we're gonna deliver on behalf of our customers in the timeframe that they need," Agboka told CBS News.
Aside from ramping up its workforce, the tech giant also continues to develop its drone delivery fleet and increase warehouse automation efforts to streamline its fulfillment process despite getting flak from workers and union leaders.
While automation makes labor a lot less intensive, it also reduces the need for Amazon to hire more employees, which also means less unionization activity.
Amazon's Black Friday event in particular kicked off with protests from warehouse workers around the world. Led by Make Amazon Pay, an assembly of 70 trade unions and organizations, protesters are demanding higher pay, safer working conditions, and lower carbon emissions.
Strikes were held in over 30 countries, including the US, UK, France, Germany, and Japan, according to the coalition. In the US, protests took place in more than 10 cities, including Amazon's corporate headquarters in Seattle, Jeff Bezos' penthouse in NYC, Whole Foods stores, and FBA fulfillment centers.
Amazon spokesperson Kelly Nantel recently told Insider that the retail company is working to address workers' concerns, including carbon emissions.
So far, there has been no report from news outlets of any disruption to operations.
Interestingly, if you're in California, there's a greater chance of experiencing disruption from a group of malicious sellers and truckers than protestors.
According to Brandon Young, CEO of Data Drive & Seller Systems, inbound delivery dates to warehouses in Southern California are unavailable until the end of December because bad actors have hijacked Amazon's delivery appointment system and booked up a lot of those dates to either hurt competitors or sell them to desperate sellers for up to $2,000.
In his updated LinkedIn post, Young mentioned that Amazon has acknowledged "things need to change to ensure all sellers have the ability to send goods in a timely fashion."
Seeing that Amazon is still trying to resolve this issue, make sure you have a contingency plan to avoid giving in to these extortionists.
Talk with your 3PL or preferred Amazon-partnered carrier to figure out the best way to get your inventory checked in for Christmas. See if switching over to FBM is a feasible option for you during this period in case that becomes necessary. You may also have to resort to sending in small parcels, but only do so on an as-needed basis to keep costs under control.
Related: Amazon Tweaks Logistics Strategy to Streamline Operations
Try For Free
1,000+ Customers. Free Data Migration. 1-on-1 Onboarding.
Need more information?
Send Message: We typically reply within 2 hours during office hours.
Schedule Demo: Dive deeper into the nuances of our software with Chelsea.
Join Live Upcoming Webinar: New to Amazon inventory management? Learn three inventory techniques you can implement right away.