How FTC's Historic Monopoly Case vs. Amazon Might Impact Sellers
As recently announced, Amazon faces an upcoming legal showdown against the Federal Trade Commission (FTC) and 17 state attorneys general who sued the company on Tuesday over alleged abusive practices that harm competition, raise prices, and hinder innovation.
Making the Case
The agency takes action against anticompetitive practices as violations of Section 5 of the FTC Act, which prohibits use of "unfair methods of competition" and "unfair or deceptive acts" to acquire or maintain monopoly power.
Monopoly power is a single or a small group of companies' ability to set higher prices due to little or no competition from other firms. While gaining a sizeable market share through superior product or service, business acumen, or innovation is not illegal in the US, power acquired or maintained by using unreasonable methods is considered a violation.
FTC's suit against Amazon seeks to punish the eComm giant for wielding "its vast power, size, and control over multiple business units to implement an interrelated and exclusionary course of conduct" and "restore the lost promise of free and fair competition," FTC Chairperson Lina Khan said in a statement.
By making it extremely difficult for rivals like Shopify and Walmart to compete, Amazon has presumably managed to:
Charge high seller fees, which then get passed on to shoppers. Per FTC, Amazon takes roughly $1 out of every $2 of sales from sellers who use its fulfillment network, many of whom are small businesses with razor-thin margins.
Strong-arm sellers to use FBA, which offers Prime benefits like fast and free delivery. Otherwise without Prime eligibility, sellers may "disappear from Amazon's storefront," or Buy Box, the FTC states. This also forces some sellers to pay more for ads, which further eats into their profits. And as a result, they've had to raise their prices to stay profitable.
Penalize sellers for offering lower prices on other sales channels like Walmart, eBay, or Shopify. Amazon may remove them from the Buy Box, suppress their offers, suspend the ship option, or worse, restrict their selling privileges. The company does so "to prevent rivals from gaining business by offering shoppers or sellers lower prices."
Sellers told the Commission that because they rely so much on Amazon (after practically decimating competition), they effectively have no choice but to succumb to the company's increasing demands.
Amazon's Antitrust Violations
Below are some of the anticompetitive methods that Amazon allegedly uses to maintain market power illegally.
Multiple "Anti-Discounting" Tactics
The FTC finds that the tech giant employs a series of strategies aimed at stunting competing retailers' growth through discounted pricing.
For example, Amazon uses advanced web crawlers that actively monitor and scour the internet for potential price drops that could pose a threat to the company's dominant presence. When a web crawler spots that an item is cheaper on Walmart than a seller's offer for the same item on Amazon.com, Amazon penalizes that seller.
To avoid punishment, many sellers hike their prices off Amazon, while others never tried to offer discounts in the first place or simply refused to start selling on other channels.
Within the platform, Amazon also uses the same tactic to make it hard for third-party sellers to set their own prices that would allow them compete better with the company's first-party (1P) retail arm, which accounted for 40% of its total sales in Q2 of 2023.
"Ultimately, this conduct is meant to deter rivals from attempting to compete on price altogether – competition that could bring lower prices to tens of millions of American households."
Project Nessie
Certain sections of the complaint concerning the retailer's "anti-discounting" tactics contain extensive redactions, particularly the ones about a secret algorithm named "Project Nessie."
The complaint alleges, "Amazon's Project Nessie has already collected over [redacted] from American households."
Although the exact function of Project Nessie remains elusive, Amazon previously stated in a 2018 blog post that Nessie is "a system used to monitor spikes or trends on Amazon.com." as well as the name of one of its buildings.
TechCrunch speculates that Amazon could be using Project Nessie to manipulate prices and search results "based on the immense amount of sales data" it has access to. This data may provide insights into the price a customer is willing to pay, which for Amazon, "would be both highly profitable and fit the description of belying the customer-first narrative." However, this could also price sellers with overvalued products out of the market.
Rigging Search Results
The FTC claims that Amazon manipulated search results to promote its in-house brands by showcasing them within the "expert recommendation" widget.
"Rather than competing to secure recommendations based on quality, Amazon intentionally warped its own algorithms to hide helpful, objective, expert reviews from its shoppers," the agency explained.
Amazon search and product pages have also become increasingly filled with ads, overshadowing what used to be a focus on providing pertinent organic search results. According to the agency, the prime real estate in search results now prominently features "Sponsored Brand" and "Sponsored Product" ads, "making relevant products harder to find and less likely to be clicked."
Abusing the Featured Merchant Algorithm
This algorithm allows Amazon to select one offer to display in its highly coveted Buy Box or "Featured Offer." Being the Featured Offer can lead to substantial sales, as a large number of purchases on the platform are made using the "Add to Cart" and "Buy Now" buttons in the Buy Box.
The FTC asserts that Amazon purposely drives customers away from the sellers not featured in the Buy Box by displaying additional offers on the product detail page.
Suppose you're using a desktop to view an offer from a seller who is not featured in the Buy Box. In that case, you must either click a link that takes you to the "All Offer Display," or scroll down the page to view "Other Sellers on Amazon," which conveniently includes a list of offers from sellers selected by Amazon.
Favoring Prime Sellers Over Non-Prime
The case also delves into a significant facet of Amazon's operations, focusing on its expansive fulfillment network. It scrutinizes how the retailer's product ranking algorithm exhibits a preference for items that qualify for Prime status, a designation contingent upon utilizing Amazon FBA.
What's Not Included in the Lawsuit
The suit does not cover Amazon's potential data exploitation tactics to find out what items it should sell under its own private label brand, allowing them to directly compete with (and undercut) sellers.
Additionally, there are accusations of Amazon engaging in predatory pricing strategies to weaken competitors, potentially leading to their acquisition, and assertions of the retailer wielding significant influence within labor markets to squash unionization activity.
Many of these assertions were documented in a comprehensive 450-page congressional report, co-authored by Lina Khan during her tenure as a House Judiciary Committee staffer before her FTC appointment.
Amazon Strikes Back at FTC
In a press statement dated September 27, David Zaplosky, Amazon's Senior VP of Global Public Policy and General Counsel, refuted these charges.
Key points from Zaplosky's response include:
Consumer pricing. Zaplosky argued that Amazon strives to match the low prices of other retailers, both online and offline, for its own products. Third-party sellers independently set their prices on the platform, but Amazon provides tools and education to help them maintain competitive pricing. Amazon does not promote non-competitive prices, but the FTC's case suggests that this approach leads to higher prices, a view Amazon disputes.
Managed fulfillment and advertising. The FTC lawsuit contends that Amazon forces sellers to use FBA to qualify for Prime sales, which includes product storage, packaging, shipping, returns, and customer service. Zaplosky clarified that FBA is an optional, competitively priced service, and sellers are not compelled to use Amazon's fulfillment or advertising services for Prime eligibility.
Retail competition. Amazon challenged what it termed as the FTC's "gross mischaracterization" of the retail industry, emphasizing that over 80% of consumer product purchases occur in physical stores, highlighting the competitive landscape. Zaplosky stressed that consumers have numerous options for shopping, from brick-and-mortar stores to online and hybrid models, fostering price competition and choices for consumers.
Should Sellers Be Worried?
During Khan's 2022 testimony to a Senate committee, she said that the FTC would not accept any concessions from Amazon to settle the lawsuit, suggesting a possible break up of the company. This means divesting major parts of its business, such as FBA and Amazon Ads, to address the government's antitrust concerns.
However, Khan told NPR Tuesday that at this point, the complaint is not about breaking up Amazon, but rather the complaint is "focused on establishing liability."
But if Amazon is liable, a court order seeking to stop the illegal tactics could include "structural relief," a legal term referring to a potential breakup of the retail giant.
When it does happen, "there will be honest and fair competition in the marketplace and the public will benefit. The public will benefit through lower prices, higher quality, greater selection, more innovation. And both shoppers and sellers will have more opportunity, right?" Khan said.
Structural relief as legal remedy might be enough to put pressure on Amazon to make meaningful changes right now.
Multiple sellers interviewed by Modern Retail shared the sentiment that "one positive thing that could come out of the FTC lawsuit is if it persuades Amazon to make changes to its Buy Box."
For many sellers, achieving success on Amazon heavily relies on winning the Buy Box, which they find to be exceedingly challenging. Meanwhile, some sellers perceive certain aspects of the FTC lawsuit, such as attempts to portray Amazon as a monopoly or critiques of its fulfillment service, as exaggerated.
They hold hope that the FTC lawsuit might pave the way for constructive improvements, but there is also concern among them about potential excessive government intervention.
In a Facebook post, Paul Rafelson, seller advocacy lawyer and the most cited resource in the antitrust investigation, provided insights into how the case would likely unfold in the coming years, saying drastic changes are not likely to occur soon.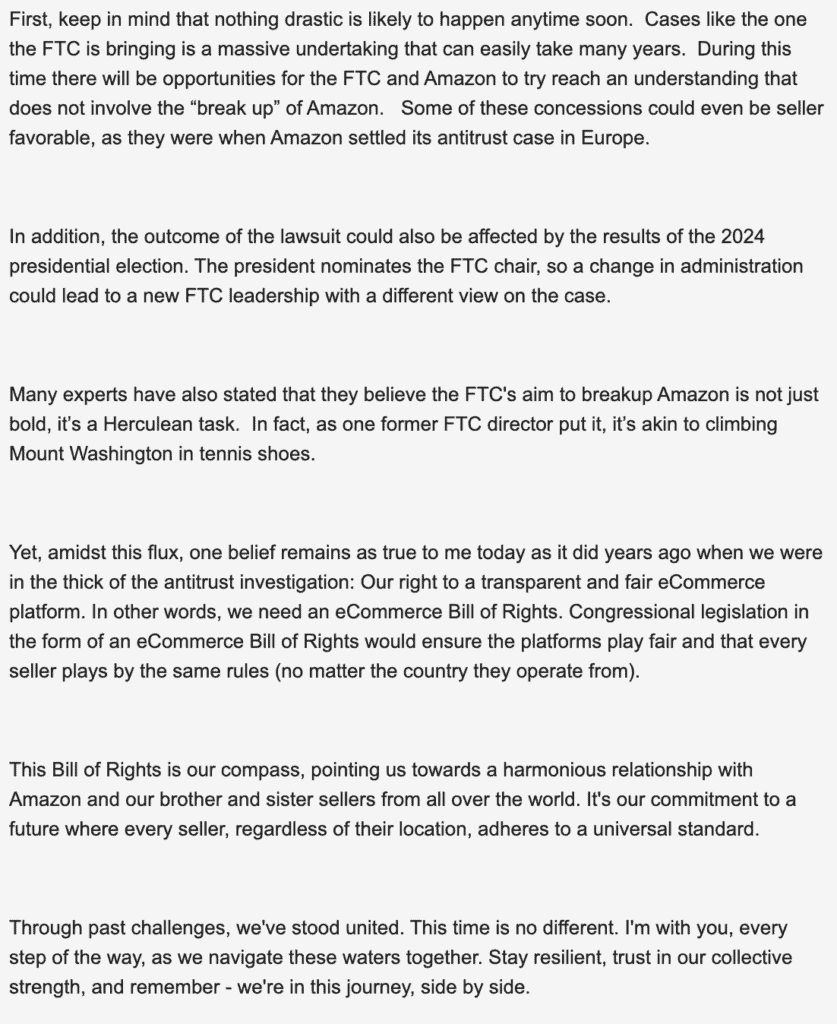 Such a landmark monopoly case is, as Rafelson puts it, "a Herculean task" and can take years to resolve. A further point highlighted is that the outcome of the lawsuit might also hinge on the 2024 Presidential election's results. Since the president appoints the FTC chair, a shift in administration could usher in a new leadership at the FTC with a different perspective on the case. The possibility of an amicable resolution between the FTC and Amazon is also mentioned, as previously seen in the recent EU Commission deal.
So, sellers should not be worried about losing Amazon as a sales channel, at least not while the case is still in its early stages. It may be best to continue advocating for their "right to a transparent and fair eCommerce platform" to "ensure the platforms play fair and that every seller plays by the same rules (no matter the country they operate from)," Rafelson wrote.
FTC's latest lawsuit vs. Amazon is part of the ongoing scrutiny of major tech companies under the leadership of Lina Khan.
Amazon has faced increasing regulatory scrutiny, with antitrust concerns dating back to 2019, when the FTC began investigating the company. The agency's actions are part of a broader conversation about the market power and practices of tech giants, echoing calls from politicians like US Senator Elizabeth Warren to address what she termed as the "monopolies" of companies like Amazon, Google, and Facebook.
Additionally, the FTC is reviewing Amazon's acquisition of One Medical and its planned purchase of iRobot, highlighting ongoing regulatory attention on the company.
Related: FTC Proposes a New Rule to Rein in Fake Reviews, FTC Lawsuit Alleges Amazon of Tricking and Trapping Customers into Recurring Prime Subscriptions, Why Amazon Wants you to Lobby Congress, AMZ Faces Tougher Scrutiny Under EU's Digital Services Act
Try For Free
1,000+ Customers. Free Data Migration. 1-on-1 Onboarding.
Need more information?
Send Message: We typically reply within 2 hours during office hours.
Schedule Demo: Dive deeper into the nuances of our software with Chelsea.
Join Live Upcoming Webinar: New to Amazon inventory management? Learn three inventory techniques you can implement right away.