4 Major Changes Coming to Amazon
Stay in the know! Amazon has recently announced the following changes that sellers should prepare for.
1.INFORM Consumers Act: Amazon Threatens Non-Compliant Sellers with Account Deactivation
What is the INFORM Consumers Act and why should you care?
In the Consolidated Appropriations Act of 2023, an extensive bill governing federal government expenditures for the upcoming year, an important addition called the Integrity, Notification, and Fairness in Online Retail Marketplaces for Consumers Act, also known as the INFORM Consumers Act, was included.
On December 29, 2022, this Act was officially enacted into law. Its primary objective is to eradicate organized retail crime syndicates from online marketplaces through the authentication of seller identities. The Act additionally seeks to establish the responsibility of eComm platforms in preventing the sale of fake goods.
In accordance with the INFORM Consumers Act, online marketplaces like Amazon are now obligated to collect, verify, and divulge specific identification details relating to "high-volume third-party sellers."
These sellers are classified as individuals who have completed more than 200 transactions and generated revenues exceeding $5,000 within a span of 12 months. If you're eligible, you will be required to provide Amazon with your:
Personal Information (name and phone number)
Government ID
Tax ID
Business Address
Bank Information
Severe consequences await those who fail to adhere to this legislation. The Act empowers the FTC to impose hefty fines of $46,517 per violation, applied to each instance where an online marketplace neglects to gather, verify, or disclose the necessary information. Moreover, state attorneys general are granted the authority to initiate legal proceedings against non-compliant online marketplaces if their respective state suffers adverse consequences.
In order to adhere to the INFORM Consumers Act, online marketplaces must establish and implement policies, procedures, and controls by June 27, 2023.
With the deadline fast approaching, Amazon is intensifying their efforts, much to the dismay of sellers, to provide the required information within a short period of time.
The company has sent out an email blast to sellers who are at risk of account deactivation because they have some missing information. To ensure compliance ASAP, sellers are advised to click on and execute the action items enumerated in the email.
Things can get complicated if your information is fraudulent, outdated, or simply does match with Seller Central's records. If outdated, promptly update your details in Seller Central.
It is unclear whether Amazon will let sellers who rely on a blend of personal information or personal bank accounts for their business operations to continue without encountering potential issues down the line. Be sure to check your Account Health Dashboard for verification status updates or contact an Amazon representative to learn more.
After June 27, sellers who neglect to comply might encounter a temporary suspension of their payments and potentially face account deactivation. 
Related: A Purge Could be Coming for Fake Reviews on Amazon, Amazon Faces Tougher Scrutiny Under EU's Digital Services Act, What is S.2992?
2. Amazon Replaces Inventory Overview Page with FBA Dashboard
In a Seller Info email, Amazon revealed that the trusty Inventory Overview Page, aka Planning Page, will bid farewell on June 5, 2023, making room for the brand new FBA Dashboard.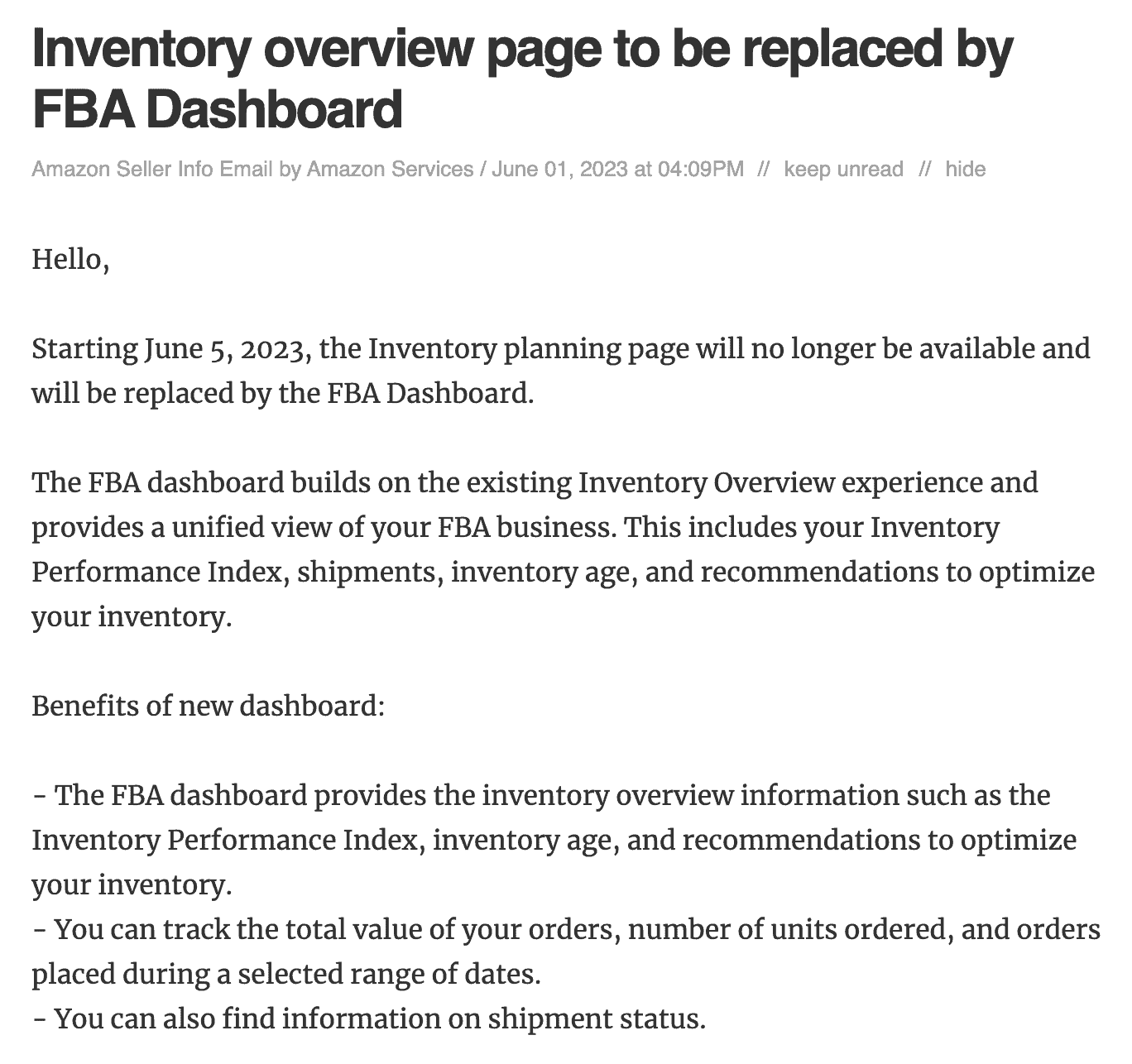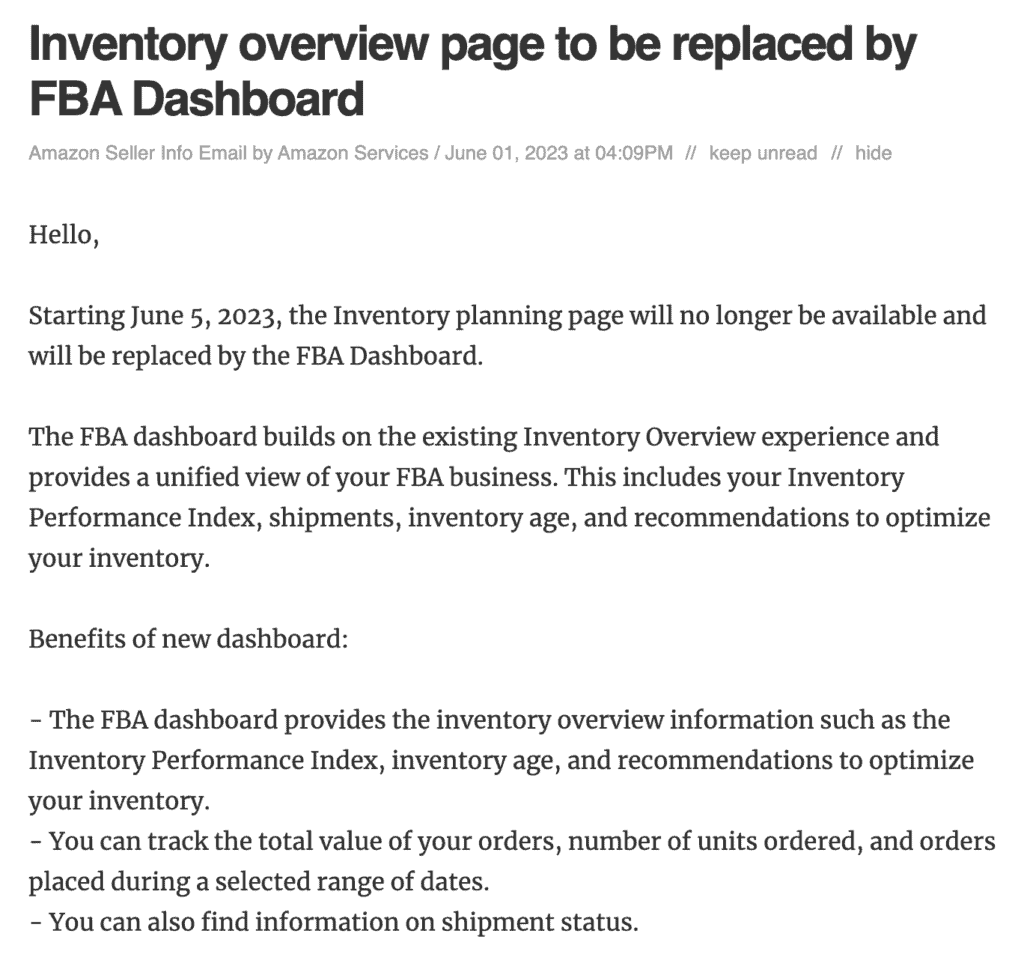 Embracing innovation, the FBA Dashboard takes the foundation laid by Inventory Overview and enhances it further. It presents a comprehensive and "unified view of your FBA business," encompassing vital data such as the Inventory Performance Index score, inventory age, shipment information, and expert inventory management recommendations.
Head over to FBA Dashboard for more details.
3. Marketplace Web Service Migrating to Selling Partner-API 
UK/EU Announcement: Sellers who have utilized Amazon's legacy Marketplace Web Service (MWS) API program to develop tools to interact with the marketplace are required to switch over to Selling Partner (SP) API by August 31st in order to avoid any disruptions to their business automation.
Previously, through MWS, sellers were able to build apps for their own or others' seller accounts. These applications facilitated various tasks such as searching for products to sell, retrieving orders for fulfillment, confirming shipments, and generating reports.
However, starting from August 31st, 2023, sellers must transition from MWS to SP-API. Alternatively, they can opt to replace their current application with a 3rd party app that supports sections that will soon be discontinued, namely Merchant Fulfillment, Orders, and Reports API sections.
In addition, effective April 1, 2024, Amazon will shutdown all other remaining MWS API sections.
In their recent announcement, Amazon emphasized the benefits of using SP-API, which includes a more streamlined and consolidated authorization process, more granular data access controls, and the ability to access information for both seller and vendor accounts.
To assist sellers in this transition, Amazon recommended reading this migration guide or exploring the Selling Partner Appstore, where they can find reputable 3rd party apps that have been vetted and deemed of high quality, serving as suitable replacements for the company's existing MWS integrations.
Sellers who have never developed their own applications using Amazon APIs to exchange data between their systems and Amazon's systems need not be concerned about these changes.
4. Heavy and Bulky Items No Longer Eligible for Amazon Vine
This announcement is for Amazon Vine users in the UK.
Effective immediately, the option to create new Amazon Vine enrollments for heavy and bulky items will be unavailable in an effort to enhance FBA's fulfillment process. However, if you have already enrolled such an item, it will remain eligible for reviews until the end of your enrollment period.
Amazon considers products weighing more than 30 kg (66 lbs) or 1.5m in length as heavy and bulky. This might be yet another cost-cutting move given that these oversized items take up more space and usually have special handling or delivery requirements (e.g., using larger trucks). Therefore, they cost a lot to ship, which not only eats into Amazon's profits but also sellers'.
Try For Free
1,000+ Customers. Free Data Migration. 1-on-1 Onboarding.
Need more information?
Send Message: We typically reply within 2 hours during office hours.
Schedule Demo: Dive deeper into the nuances of our software with Chelsea.
Join Live Upcoming Webinar: New to Amazon inventory management? Learn three inventory techniques you can implement right away.