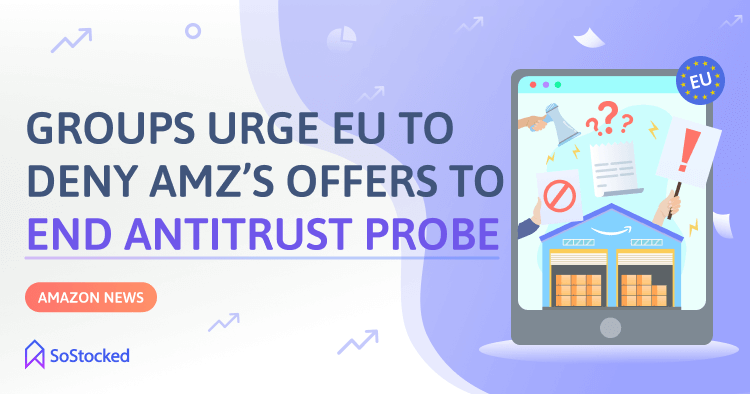 Updated: EU Advised by NGOs to Refuse Amazon's Flawed Proposal for Antitrust Settlement
Update 12/06/2022: 🙌 Three years after Brussels launched an investigation into whether or not Amazon uses seller data to conduct anti-competitive practices. The EU Commission has reportedly reached a final deal with the eCommerce company, according to the Financial Times (FT).
👌 Amazon has agreed to:
Boosting the visibility of competing products by giving them equal treatment on the platform's Buy Box.
Creating an alternative featured offer for shoppers where the speed of delivery is less important. This means customers, including Prime members, will no longer be locked into Amazon Logistics.
These commitments show how other tech giants Alphabet, Apple, and Meta will have to comply with the EU's Digital Markets Act, a pan-EU legislation that aims to ensure that platforms behave in a fair way online.
The EU Commission plans to make an official announcement on the 20th of December, noting that the date could still be changed, FT said.
I'm sure this will be a win for many sellers but time will tell as to how significantly the impact will be felt in the end. The Buy Box victory could be a big one in theory but we had hoped to see something around prohibiting the use of seller data for Amazon's own branded product development.
After three years, the results seem a little lackluster but I don't think we expected anything too mindblowing here. However, the EU seems to always be several steps ahead of the US in terms of fair practices towards sellers so we'll give kudos there and wait to see how it all actually rolls out in the marketplace.
🇪🇺 Twelve civil groups called for the European Commission to reject "outright and in full" Amazon's proposed changes to its business practices in Europe in order to resolve the two antitrust investigations formally opened by the Commission against the eCommerce giant.
The commitments that Amazon offered including their use of third-party seller data and non-discriminatory access to Buy Box and Prime have been criticized as "weak, vague and full of loopholes" by a dozen civil and digital rights associations, non-governmental organizations and labor unions.
These organizations include:
Austrian Federal Chamber of Labour (AK Europa)
Balanced Economy Project
Digitale Gesellschaft e.V.
European Public Services Union (EPSU)
Foxglove
Goliathwatch
FairVote UK
LobbyControl
Simply Secure
Center for Research on Multinational Corporations (SOMO)
UNI Europa
WEED (Weltwiommitmertschaft, Ökologie & Entwicklung e.V.)
How it All Began
In a press release dated 17 July 2019, the Commission announced its first antitrust investigation against Amazon to examine if its use of data from the independent sellers on their platform have violated the bloc's competition rules.
Commissioner Margrethe Vestager, who handles competition policy, said she will closely examine the company's business practices and its "dual role as a marketplace and retailer", to guarantee healthy retail competition levels, diverse product choices, and competitive prices for consumers in the European market.
Sixteen months later, the Commission announced in another press release that it has sent a Statement of Objections to Amazon after its initial findings revealed the company had violated the EU's competition rules by using the private business data of its marketplace sellers to drive Amazon's own business decisions, resulting in unhealthy, distorted competition.
Vestager said Amazon utilized big data to "illegally distort" competition in eCommerce markets and take advantage of its market position in France and Germany, its two biggest EU markets.
The Commission also announced it is opening a second investigation into the company's potentially biased practices regarding their own product offers and those of sellers who choose Amazon's shipping services.
The first antitrust investigation stemmed from a sectoral eCommerce review conducted by the EU's competition division way back in 2015. The Commission itself started probing on whether Amazon sellers were being placed in an unfavorable position by the company in 2018 – given its ability to access their business data.
Amazon's Response
Amazon came up with a list of voluntary commitments to adjust its business practices in the EU and address the Commission's antitrust concerns.
These commitments show Amazon's determination to end the ongoing antitrust investigations by the European Commission while it is facing increasing criticism and pressure from different law-making bodies all over the world, mostly about the misuse of its independent sellers' business data for its own profit.
Should the Commission accept Amazon's offer, the proposed commitments will be effective for a five-year period and enacted across the bloc except for Italy, which has already fined Amazon over $1 billion for exploiting its position in the market.
Any breach of the commitments will result in the eCommerce giant paying up to 10% of its worldwide revenue as penalty.
Dated July 7, 2022, the commitment proposal includes changes to:
Amazon's use of marketplace seller data. Amazon will not use the data linked to, or sourced from, the business operations of the sellers on its marketplace for Amazon's own retail business that is in competition with said sellers.
Amazon's Buy Box winner selection and competition. Amazon will be fair to all sellers in evaluating their Buy Box offers; the company will also put a second competing offer to the Buy Box winner that is significantly different from the winner in terms of cost and/or shipping.
Amazon's Prime qualifications and shipping. Amazon will establish fair requirements for sellers and products to qualify for the program. Prime sellers will also have the freedom to choose their own courier and discuss matters directly with their chosen logistics provider. The company will also not use any data regarding external logistics providers' terms and activities derived from Prime.
The Commission sought feedback from the public regarding these commitments from July 14 to September 8.
Reasons for Rejection
In a statement, the twelve organizations pointed out that the commitments Amazon offered are susceptible to avoidance and abuse by the company.
They argued that most of the commitments Amazon offered will be included in the Digital Markets Act (DMA), an upcoming pan-European legislation, that will change the EU's strategy related to ensuring competition in Big Tech.
DMA will impose certain regulations for "gatekeepers" who are oftentimes accused of misusing data and showing preferential treatment.
Comparing the DMA and Amazon's offer, the group said the new law – which is expected to take effect next year – is more comprehensive and will be imposed by the Commission instead of Amazon itself. The signatories do not agree that a private company should propose voluntary commitments that resemble the stipulations from an upcoming European law.
Amazon's suggested five-year validity period or any time period at all is also deemed "unjustifiable."
The fact that it is Amazon itself defining the terms of their proposed commitments ultimately undermines the European Commission's authority, which, clearly, the civil groups have picked up on and are rallying against.
The group collectively urged the Commission to persist in pursuing its antitrust investigations against the company and enforce the necessary resolutions and sanctions on its own terms. They also requested the Commision to demand from Amazon a separation of its marketplace, retail, and delivery operations to tackle issues relating to its superior position and influence in interconnected services.
Impact on Amazon's Future Operations
The ongoing EU probe, not to mention the impending US antitrust law called the American Innovation and Choice Online (AICO) Act (S.2992), could have significant repercussions on Amazon's operations worldwide. ⚠️
These issues could force Amazon to rethink their use and level of access to the private data of their marketplace sellers in the bloc, US, and other regions that may follow suit.
Should US lawmakers pass the AICO, for example, Amazon could be penalized by the US government and antitrust bodies if found to have used their marketplace seller's data to produce a similar product to intentionally compete with their third-party sellers.
Amazon already previously announced the reduction of their private label (PL) catalog items earlier this year due to low sales and possibly to avoid penalties under AICO.
Since its launch in 2009, Amazon's PL business has been criticized for giving the company an opportunity to compete and highlight their own products over the independent sellers' on their platform through a manipulation of their own search algorithms.
As a data-driven company, these laws will compel Amazon to rethink its current business model if it wishes to remain a trusted, relevant leader in the eCommerce environment.
Try For Free
1,000+ Customers. Free Data Migration. 1-on-1 Onboarding.
Need more information?
Send Message: We typically reply within 2 hours during office hours.
Schedule Demo: Dive deeper into the nuances of our software with Chelsea.
Join Live Upcoming Webinar: New to Amazon inventory management? Learn three inventory techniques you can implement right away.