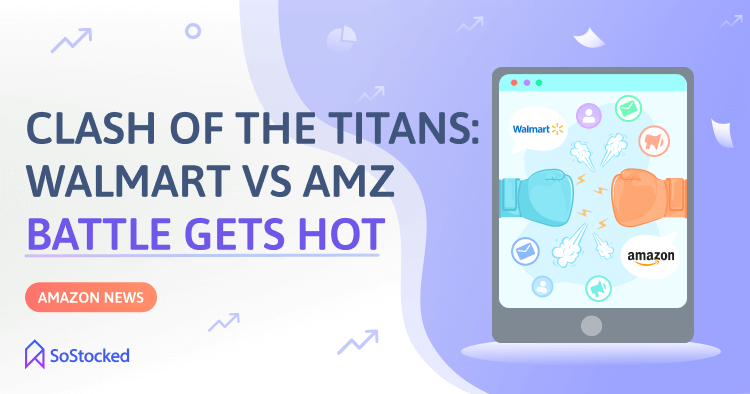 Clash of the Titans: Walmart and Amazon Battle for Dominance Intensifies
Update 06/21/2023: Following in on Amazon's footsteps, Walmart just launched an inventory distribution program called Inventory Transfer Services (ITS). 
"Our new solution allows for the seamless and efficient transfer of inventory to Walmart fulfillment centers, optimizing supply chain logistics and enabling faster delivery to customers," said Jaré Buckley-Cox, VP of Walmart Fulfillment Services, in a LinkedIn post.
According to Buckley-Cox, ITS aims to enhance the availability of sellers' inventory across Walmart fulfillment centers, cut down on inbound shipping costs by consolidating goods at a central hub, and provide faster shipping options.
The launch comes after the retailer announced they're building small warehouses within their existing supercenters and four next-gen fulfillment centers (FCs) over the next few years. These high-tech FCs will be equipped with "a powerful combination of people, robotics, and machine learning," allowing Walmart to take their 12-step fulfillment process down to just five.
With improved fulfillment speed and capacity, these next-gen FCs "could provide 75% of the US population with next- or two-day shipping on millions of items, including Marketplace items shipped by Walmart Fulfillment Services."
When combined with traditional Walmart FCs and store locations, the retailer can reach 95% of US shoppers with 1 to 2-day shipping and 80% of the population with same-day shipping.
By contrast, Amazon has FCs within one hour of 77% of the US population. And given how both of these retail giants have many products with similar prices, customers will likely prefer the one with the fastest delivery.
No wonder Walmart is making huge strides in setting their stores and FCs up to fulfill online orders. Not only will these upgrades allow them to keep up with increasing demand for same-day shipping but also potentially to outdeliver Amazon.
🆚 For years, Amazon and Walmart have been pulling out all the stops to win customers and sellers. Both retail giants are offering a wide range of products at low prices and ramping up free, 1- to 2-day shipping and return services to maintain dominance.
While Amazon leads US eCommerce, Walmart rules over brick-and-mortar stores. But the battle for dominance intensifies as Walmart encroaches more deeply into eCommerce territory after:
With Walmart going after Amazon's market share, it's not surprising to see Amazon unveil new marketing capabilities for sellers during the recently concluded Accelerate event in an attempt to stay dominant.
On September 14, 2022, Amazon announced a new lineup of marketing tools to attract more e-commerce businesses to its marketplace. These include:
Interestingly, shortly after Amazon made these announcements, Walmart responded by introducing the updates to its display ad services, Search Brand Amplifier. 🔥
In a press release, Mike Greenberg, Head of Marketplace Walmart Connect, reveals that SBA is coming to sellers in October to help them reach more customers, especially this holiday season.
New sellers or brands with new products that may not yet have high organic search rankings will benefit greatly from SBA, as it offers them the opportunity to showcase their products in prominent places within search results similar to Amazon's Sponsored Brand ads.
Brand-registered sellers are eligible for the ad program. You can also take advantage of the following features to help scale your business:
Faster enrollment with automated onboarding at the Walmart Ad Center
Additional application programming interface (API) partners to support sellers in China, Canada, UK, India and other countries
New resources to help sellers optimize Sponsored Search campaigns
Walmart's Booming Ad Business
The move to open SBA to marketplace sellers also came after Walmart made $2.1 billion in ad revenue in 2021, which represents an important growth area for the company.
According to Doug McMillon, Walmart's president and CEO, the ad business played a crucial role in elevating customer experience on the site by highlighting better deals and the right products.
Therefore, "the relationship between digital growth, marketplace growth and advertising is something that we're trying to take advantage of," said McMillon.
Aside from generating revenue, the ad business will also provide Walmart with valuable insights into the way customers shop on the site.
In fact, Walmart has recently added Innovation Partners to its ad network to connect advertisers with potential customers on TikTok, Snapchat, and Roku. Through this new program, you can:
Serve ads on popular social media platforms, including TV streaming site Roku
Create engaging shoppable videos via Firework and TalkShopLive
Measure your advertising campaign's impact on your sales
Innovation Partners seeks to help sellers connect with Gen Z shoppers. But for Walmart, it allows them to take a crack at the elusive US live commerce market, which no other retail company, even Amazon, has figured out yet. For instance, Shopify's attempt found them partnering with YouTube while Amazon released Amazon Live.
If Walmart succeeds, it would give them a huge competitive advantage over their rivals.
Amazon's $31 billion ad business may be far up there with behemoths like Google and Meta, but with Walmart's growing ad network, the competition will only get tougher in the future, especially as the lines continue to blur between in-store and online shopping. 💪
Try For Free
1,000+ Customers. Free Data Migration. 1-on-1 Onboarding.
Need more information?
Send Message: We typically reply within 2 hours during office hours.
Schedule Demo: Dive deeper into the nuances of our software with Chelsea.
Join Live Upcoming Webinar: New to Amazon inventory management? Learn three inventory techniques you can implement right away.