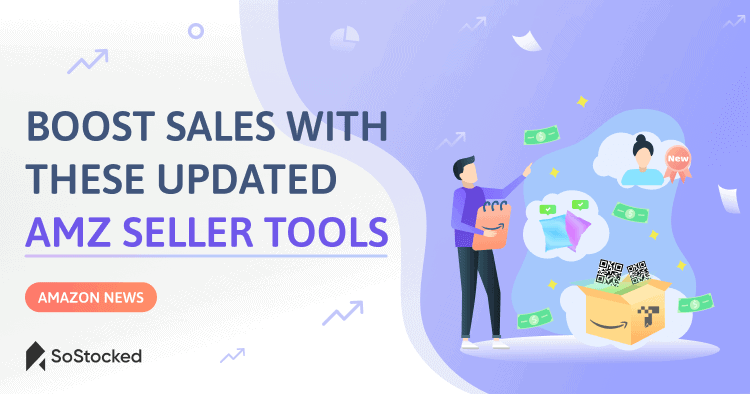 Boost Sales with These New Amazon Seller Tools
With FBA getting more expensive, finding new ways to increase sales is even more crucial to your success on Amazon.
💰 That's why we have put together this list of new Amazon tools and features that you can use to generate more revenue for your business.
Case Pack Recommendations
Use this tool to identify which products to bundle as case packs or add offers on your existing case packs.
A case pack contains multiple single units of the same product for individual sale, allowing you to quickly move your inventory. It also simplifies bulk purchases and offers customers savings with case discounts and consolidated delivery.
This packing configuration is ideal for high-volume sellers. Amazon offers two types of recommendations based on your product catalog and sales:
Create new case packs. This section features items you currently sell as single units and are not yet listed in Amazon as case packs by you or other sellers. Amazon looks at the number of multi-unit orders of your single products to see if there is demand for any of these items to be sold as a case pack. If a product is eligible, you will then be provided with a suggested size for a case pack based on the number of units that customers have frequently bought from you.

When adding a new case pack, Amazon recommends creating a consolidated listing that shows both your product as a single unit and as a case pack. This makes it easier for customers to compare and buy goods in different quantities and packing configurations.
Add offers on existing case packs. This section shows case packs that are already listed in Amazon by other brand-registered sellers. Products in case packs are ranked based on sales in the last 12 months. Amazon provides a suggested price for each case pack on this list. If you wish to match Amazon's suggested price for an existing case pack, you may add an offer on that listing by clicking the "Add an Offer" button and entering your price and quantity details into the Offer Page.
To get started, go to Case Pack Recommendations.
Transparency Badge
Product authenticity is important to customers. When people find out they purchased a fake product from a brand, most would not trust and buy from that brand again according to DigitMarc.
In a marketplace flooded with knockoffs, demonstrating product authenticity through Transparency Badge are be critical to protecting your business from fake sellers, especially if you have a trademark on your product or selling items highly susceptible to counterfeiting like electronic gadgets.
You must be registered with Amazon Brand Registry and enrolled in Transparency to be able to receive a badge for your eligible products.
Participating FBA products are given a unique "Transparency" code that cannot be duplicated by counterfeiters. However, that means you will have to take extra steps to carry out this process. Before sending your inventory into FBA, you will have to apply the individual Transparency labels to every unit yourself or hire someone else to do it.
A listing with a Transparency Badge indicates that the featured product has been verified authentic by Amazon and customers themselves.
Customers who have purchased the product can use an app to scan the code to verify its authenticity. This offers another benefit to the Transparency program: the ability to shareproduct information, videos and promotions that your customers can view upon scanning the code.

If customers face any authenticity issues with a product, they can reach out to Amazon's Transparency team to file a counterfeit complaint.
Visit the Transparency page to get started.
New Seller Incentives
This program entices new brands to sell on Amazon or existing brands to expand to other country sites by offering them:
5% new brand bonus on their first £800,000 in branded sales
£160 off fulfilment fees using Amazon Global Logistics for out-of-country sellers
120 days free storage plus 180 days free removals for 100 units with FBA
£40 credit for Sponsored Products CPC ads
£160 in Vine credits for free access to trusted reviewers
According to Amazon, you can enjoy more than £40,000 in potential benefits, which you can use to promote your products and scale your business. However, these benefits are only valid for 90 days, reduced from one full year, so you'll have to act quickly.
Go to New Seller Incentives to check your eligibility.
Related: Attack of the Fee Stack White Paper, Prepare for these 6 Major Changes to 2023 Amazon UK and EU FBA Fees, 4 New Amazon Seller Tools to Accelerate Business Growth
Try For Free
1,000+ Customers. Free Data Migration. 1-on-1 Onboarding.
Need more information?
Send Message: We typically reply within 2 hours during office hours.
Schedule Demo: Dive deeper into the nuances of our software with Chelsea.
Join Live Upcoming Webinar: New to Amazon inventory management? Learn three inventory techniques you can implement right away.