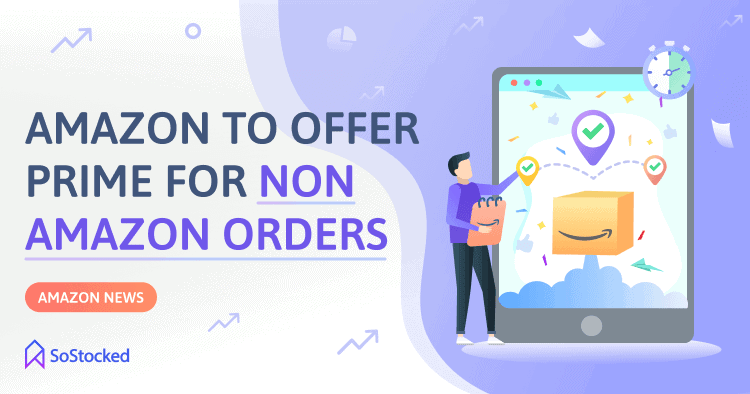 Amazon Makes Play Toward Offering Prime for Non-Amazon Orders
Update 01/10/2023: Took Amazon a while, but the eComm giant is finally extending Buy with Prime (BWP) to all US direct-to-consumer (DTC) merchants on January 31, 2023. The service was previously available to some select sellers only.
With BWP, retailers not selling on Amazon.com can now offer Amazon checkout and fulfillment services on their own site, essentially allowing Prime users to shop anywhere online using their saved Amazon Pay checkout details and at the same time, receive free 1 to 2-day shipping and returns. 
To help drive traffic, build consumer trust, and boost sales, the company also released a few marketing solutions back in September 2022, and recently, Reviews from Amazon, which lets BWP users show reviews from their AMZ listings on their own sites.
Amazon's new fulfillment revenue stream has been reportedly shown to increase conversion by 25% on average.
"We've been working closely with merchants since the launch of Buy with Prime and have been thrilled to hear the results it's helped drive for them so far," said Peter Larsen, VP of BWP.
The retail giant did not disclose how many sellers have joined BWP so far or estimates on how many will be willing to adopt it. But if we had to guess, the program may make more sense for sellers without fulfillment capabilities or small brands with less than $5M gross merchandise volume, which is about 16% of US DTC merchants, according to PipeCandy.
However, issues around the company's rising fulfillment fees, data grabbing history (more on this below), or Shopify warning merchants against BWP may be viewed as the dealbreaker.
As of this writing, BigCommerce is the first eComm service provider to roll out a self-service integration into Buy with Prime.
In the past two years, Amazon has ramped up its fulfillment capacity to meet high customer demand. Reports show that the eComm giant's global fulfillment network and data centers grew from 272 million square feet in 2019 to 532 million square feet in 2022. Most of these facilities are located near metropolitan areas so that Amazon can deliver customer orders in one day or less, allowing them to compete with UPS and FedEx.
This unprecedented growth is much in response to what happened in 2020 and 2021. In the last two years, sellers had been subject to strict restock limits due to capacity constraints at Amazon (tough times!). Now, the pendulum is swinging the other direction and this kind of paints a picture of what we've been hoping for–that restock limits really may have eased up for a lot of people.
On an earnings call with analysts in November 2021, Amazon CFO Brian Olsavksy stated that Amazon hasn't had capacity restrictions for the first time in a while. But the commitment to build out a larger network of facilities to store, sort and ship products at breakneck speed came at a cost.
Amazon Grapples With Excess Capacity
Amazon ended up with excess labor, storage space, and transportation capacity amid rising costs and eCommerce growth decelerating after a huge spike in 2020. This has resulted in $2 billion in incremental costs, according to Amazon Q1 Earnings Report for 2022.
To mitigate these costs, the online retail giant is expected to spend less on fulfillment centers this year than last.
Amazon will also try to generate more money from its vast fulfillment network by offering Buy with Prime to non-Amazon sellers, aka direct-to-consumer (DTC) merchants. This new service allows merchants to use Prime's free two-day and next-day shipping and returns.
So, we went from Amazon turning away huge amounts of our inventory because it only had room for essential goods, which forced us to outsource storage to 3PLs, to now using its empire to fulfill orders for other retail sites.
While these are good profit-recovery measures for Amazon, could there be other reasons they're doing this? What's in it for them?
Data Grab
Not only is Amazon using Buy with Prime to potentially boost their revenue and offset some of their expenses, but we might as well say the quiet part out loud here, that this initiative has the added benefit of grabbing customer data, such as consumer names and addresses and potentially even phone numbers and emails as a requirement of shipment handling.
This information would be everything that Amazon would need to launch massive remarketing and retargeting campaigns to your non-Amazon customers if they chose to do so.
Beyond this, Amazon could also gain more insights into what products are successfully selling on other platforms which could act as an additional R&D source beyond the extensive Amazon data that is currently available to it. This scenario would not be out of the realm of possibility based on past history.
Were they to go this route with Buy with Prime, it wouldn't be Amazon's first attempt at (allegedly) violating user data privacy. In 2020, the Wall Street Journal reported that Amazon employees used third-party sellers' data to launch competing products for their own Private Label (PL) business to boost their sales. Although an Amazon spokesperson denied this, and even launched an internal investigation of its PL division, the retail giant failed to provide a copy of its report. This has prompted the House Judiciary Committee to ask the Justice Department to conduct another investigation into Amazon over a possible criminal obstruction.
With that in mind, could this be an under the sleeve motivation for Amazon to attract DTC merchants who otherwise would have no Amazon relationship outside of Buy with Prime? If so, this would allow Amazon to surveil their data, such as sales velocity per SKU and customer details, and possibly use those to their advantage, i.e., fight for more market share.
Related: How a Seller Doubled Their Amazon Restock Limits
Potential Fulfillment Issues
Since Amazon didn't have enough capacity to fulfill FBA orders for Amazon sellers and now they're trying to fulfill for others, what headaches are we going to deal with?
On the one hand, it could be a welcome sign that restock limits are gone for good. On the other though, it could not. In July 2021, we discovered that, while Amazon was slashing restock limits for sellers, they were at the same time doubling restock limits for sellers who fulfilled their non-Amazon sales through Amazon.
At the same time they were telling us there was no space for our FBA-fulfilled inventory, they were incentivizing sellers to use their fulfillment network for other sales channels. The only sense it made was from a data grab perspective. Perhaps this was the initial testing ground for Buy with Prime and why so much focus was put into it in a time when FBA warehouse space was supposed to be at a minimum.
With that in mind, it could go either way but it's worth posing the question:
Is this actually going to backfire and make it more difficult for Amazon to fulfill deliveries to our customers? 🤔
Buy with Prime could be beneficial to multi-channel sellers fulfilling Shopify orders through Amazon, as it might help them maintain or improve their restock limits if that remains relevant in coming months. Sales from multi-channel orders actually contribute to your Amazon sales velocity. So, the more you use multi-channel fulfillment (MCF) for your off-Amazon business needs, the higher your restock limits will be.
However, Buy with Prime is currently invite-only. Amazon could be reaching out to sellers who are currently selling on their retail site as well as selling on Amazon, or they could be focused only on sellers who are not selling on Amazon at all, including people interested in starting to sell on the platform who just haven't made the move yet. So, again, all of this may partially be a play to try to get them into Amazon itself.
Expect a slow roll out from Amazon, as they're still trying to see how it goes.
Participating merchants will be able to display the Prime logo and expected delivery date for eligible products on their online retail sites.
Other benefits include:
No fixed subscription fee
All fees except storage fees are charged only after you make a sale
Pricing includes service fee, payment processing fee, and fulfillment and storage fees per unit
The payment processing fee likely means that Amazon's going to be running payment processes through Amazon Pay, a service that gives your customers the ability to pay with Amazon payment methods rather than entering their credit card on your website.
Upside to Buy with Prime
Not to be a complete doomsday predictor, there are also many benefits to consider with Buy with Prime. Amazon's Prime shipping program has set up an expectation in the mind of the online shopper that few other businesses can even hope to meet. Buyers expect free, fast shipping and 25% of cart abandonment is due unexpected shipping costs, while lack of express shipping option is another one at the top of the list.
For this reason, Amazon making their fast, free shipping network available is kind of a big deal. A note of caution is that, as opposed to your standard inventory on hand in your single outside fulfillment center, you'll likely want to have much more inventory on hand in order to meet one or two-day shipping demands as Amazon meets these targets based on the spread of their inventory across the selling region.
The other benefit is borrowing the trust that Amazon has built around its shipping and payment processing. Your buyer does not need to enter his credit card information on your website because it is processed directly from Amazon's site. This helps to safeguard against another cart abandonment issue which is concerns about payment security.
All of these factors, both the above warnings and benefits, should be weighed so an eyes-wide-open decision can be made on what you feel is best for your business if you are interested in exploring the Buy with Prime service for your off-Amazon fulfillment.
Final Thoughts
Now that its infrastructure has been built out to such a massive degree, Amazon is definitely looking to try to make Prime more of a concrete revenue generation system. While they have been previously focused on the "investment in the future" side of the operation by capturing buyer market share and adjusting consumer expectations regarding shipping cost and time, they seem now to be pivoting towards making it work for them on both the financial and data side of things.
And with the recent additions of dimensional weight calculations and 5% fuel and inflation surcharge, fulfillment fees just got a heck of a lot more profitable for them, all while sellers' wallets unfortunately take the hit.
It seems like they're flipping a switch and figuring out a way to make Prime an even more lucrative program for them. Amazon done a great job over the years in focusing on getting those delivery timetables right so that potential merchants and customers change their perspective on what is expected in the market, such as free shipping and fast handling and delivery times – from 2 days to same day, while keeping any other intention behind the strategy a bit more ambiguous.
Try For Free
1,000+ Customers. Free Data Migration. 1-on-1 Onboarding.
Need more information?
Send Message: We typically reply within 2 hours during office hours.
Schedule Demo: Dive deeper into the nuances of our software with Chelsea.
Join Live Upcoming Webinar: New to Amazon inventory management? Learn three inventory techniques you can implement right away.