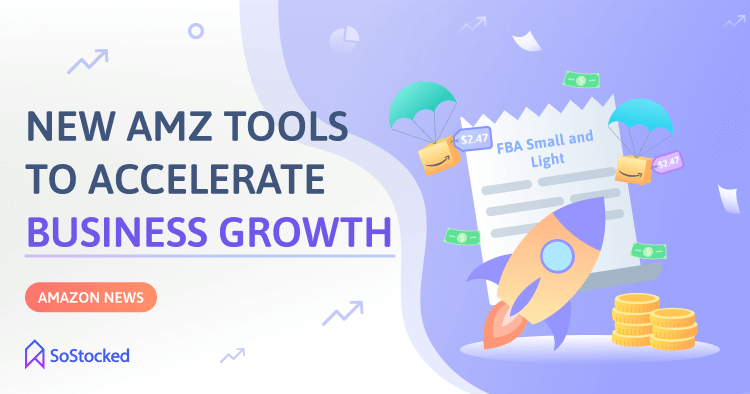 4 New Amazon Seller Tools to Accelerate Business Growth
In case you missed it, Amazon recently introduced multiple seller tools designed to aid you in growing your business quickly. 🚀
FBA Small and Light Recommendations
Amazon's Growth Opportunities program continues to expand with indications of eligibility for Small and Light (SNL), an FBA program that offers fulfillment discounts on eligible compact and low-cost products. Based on current eligibility requirements, items weighing up to 3 lbs and priced under $12 may be qualified for the program.
With FBA Small and Light Recommendations, you can now:
Discover and review products that are eligible for enrollment in SNL so you don't miss out on potential savings. For instance, if you're selling a 4 oz product that's qualified for SNL, you will only pay $2.47 fulfillment fee per unit, $0.75 less than Amazon's rate for non-SNL items weighing 4 oz or less.
Use sales metrics to figure out which SNL products will deliver the best return on investment possible.
View Amazon's recommendations for your business in the Explore Selling Programs page.
This could be a quick win for sellers giving them an easy way to identify products that are eligible for SNL. Qualifying for the program could also give them more room to adjust their prices, especially after Amazon recently announced they will be raising FBA fulfillment fees again next year.
To get started, go to Product Recommendations > Top 50 Opportunities > Enroll in FBA Small and Light.
Account Health Assurance
Launched on November 16th, Account Health Assurance (AHA) helps sellers who maintain a high Account Health Rating (AHR) avoid automatic account deactivation when they encounter an issue. This new benefit basically allows them to keep their selling privileges while working on getting any issues resolved with Amazon.
Sellers who maintain an AHR of 250 for at least 6 months (except seasonal businesses) are automatically enrolled in the program. Suppose your account is at risk of deactivation due to policy violations, an Amazon rep will reach out by phone or email and provide you with recommendations for addressing the problem within 72 hours.
While AHA can be a helpful account deactivation risk alert tool, meeting or exceeding the 250 AHR threshold to be eligible may be quite steep for budding micro businesses that nevertheless have a good track record.
According to some sellers on the Forums page, one would need around 14 orders each day without any violations for 6 months to reach the 250 AHR cap, essentially putting smaller sellers at a disadvantage. So, either they have to significantly increase their daily order volume to hit (and maintain) the target or Amazon has to update its metrics to account for these micro brands.
As of this writing, the AHR formula only tracks order volume and violation count and type. For example:
200 is base AHR score with no infractions
Assuming no infractions, to increase your score, you would have to fulfill 50 orders to gain 1 point. Simply put, 1 point for every 50 orders in 6 months.
204 AHR = 200 orders in 6 months
250 AHR = 2,500 orders in 6 months
1,000 = 40,000 or more orders in 6 months
In sum, AHA seems like a great tool for those who at least have 250 AHR, although its limitations may exclude some micro sellers who don't want to go big or those that otherwise may have qualified if the AHR formula also takes the type of product (large appliances, luxury goods, among other niche items that are less likely to get sold 14x a day but enough to turn a profit) into account.
Related: How Does Amazon's Account Health Assurance Work – And Is There A Catch?
Group Buyer-Seller Messages into Cases (UK Sellers)
Keep your interactions with the same buyer organized!
Group buyer-seller messages into cases instead of forming an ongoing thread.
For instance, once a buyer's issue or question is solved, you can mark the "case" as resolved so that when that same buyer communicates with you again in the future, the interaction will start as a new case.
This new feature also allows you to sort messages by order and topic, making it easier for you to address concerns, which is essential in keeping shoppers satisfied with your customer service.
You can opt-in to this new feature by clicking the Messages Inbox banner.
Related: Amazon Now Allowing Email Marketing Campaigns to Repeat Buyers
Express Payout
Announced at Amazon Accelerate 2022, Express Payout is a new payment service that lets you receive deposits within one day (even on Sundays) rather than waiting 3 to 5 days on Automated Clearing House (ACH) transfers.
This is a huge deal for small and medium-size sellers that need to access their funds quickly to be able to buy additional inventory or fulfill any financial obligations owed to suppliers, aka inventory payments.
Who is Eligible for Express Payout?
US sellers must have the following to be eligible for the payment service:
An in-network US bank account
A primary address in one of the 50 states. Those in US territories are not eligible.
Transactions of $1 million or below at the time of payment initiation
Service Fees
Express Payment is available to US sellers for free until September 2023. After the promo ends, Amazon will charge a $0.50 flat fee per transaction. 
Visit the FAQ page for more details.
Bonus: Make last-minute changes to your product descriptions and brand story features to boost product visibility and sales this Q4 with A+ Content Practices Best Guide.
Try For Free
1,000+ Customers. Free Data Migration. 1-on-1 Onboarding.
Need more information?
Send Message: We typically reply within 2 hours during office hours.
Schedule Demo: Dive deeper into the nuances of our software with Chelsea.
Join Live Upcoming Webinar: New to Amazon inventory management? Learn three inventory techniques you can implement right away.