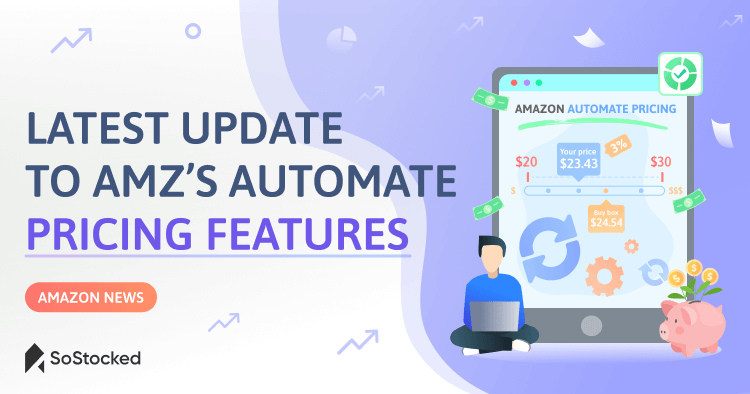 The Latest Update to Amazon's Automate Pricing Features
Update 01/24/2023: Amazon has added a new Automate Pricing feature that will help you to match or beat prices from competitors outside of Amazon.com. 💪
Here's how the new feature works:
Enroll your product in Competitive Featured rule or Competitive Lowest Price rule on the Automated Pricing page.
Set your off-Amazon pricing rules (higher or lower than competing sellers)
Once set, Automate Pricing may automatically increase or decrease your price when offers from competitors outside of Amazon change.
At best, the automatic price increase may help you make money at higher prices. At worst, however, your competitors may purposely lower or keep their offers low to attract more customers, and at the same time, drive your prices to the bottom.
To protect your margins, consider tracking and updating your offers manually or setting your rules modestly.
Go to Automate Pricing or continue reading to learn more about this tool.
Automate Pricing tool finally has a bulk upload option! 🎉
Yes, that's right. Some sellers may say, it's about time.
Instead of adding each product and setting its minimum and maximum price one by one, which is a pain in the neck, Amazon now allows you to apply the following pricing rules to multiple listings at once. 🚀
Select a single listing or a number of listings
Set the minimum and maximum prices for your listings
For sales-based pricing rules, assign a specific number of units you want to sell during a given period to test the right price for your new product or to simply manage your inventory levels. If sales are less than 10 units, you can set to reduce the price by 10%, for example.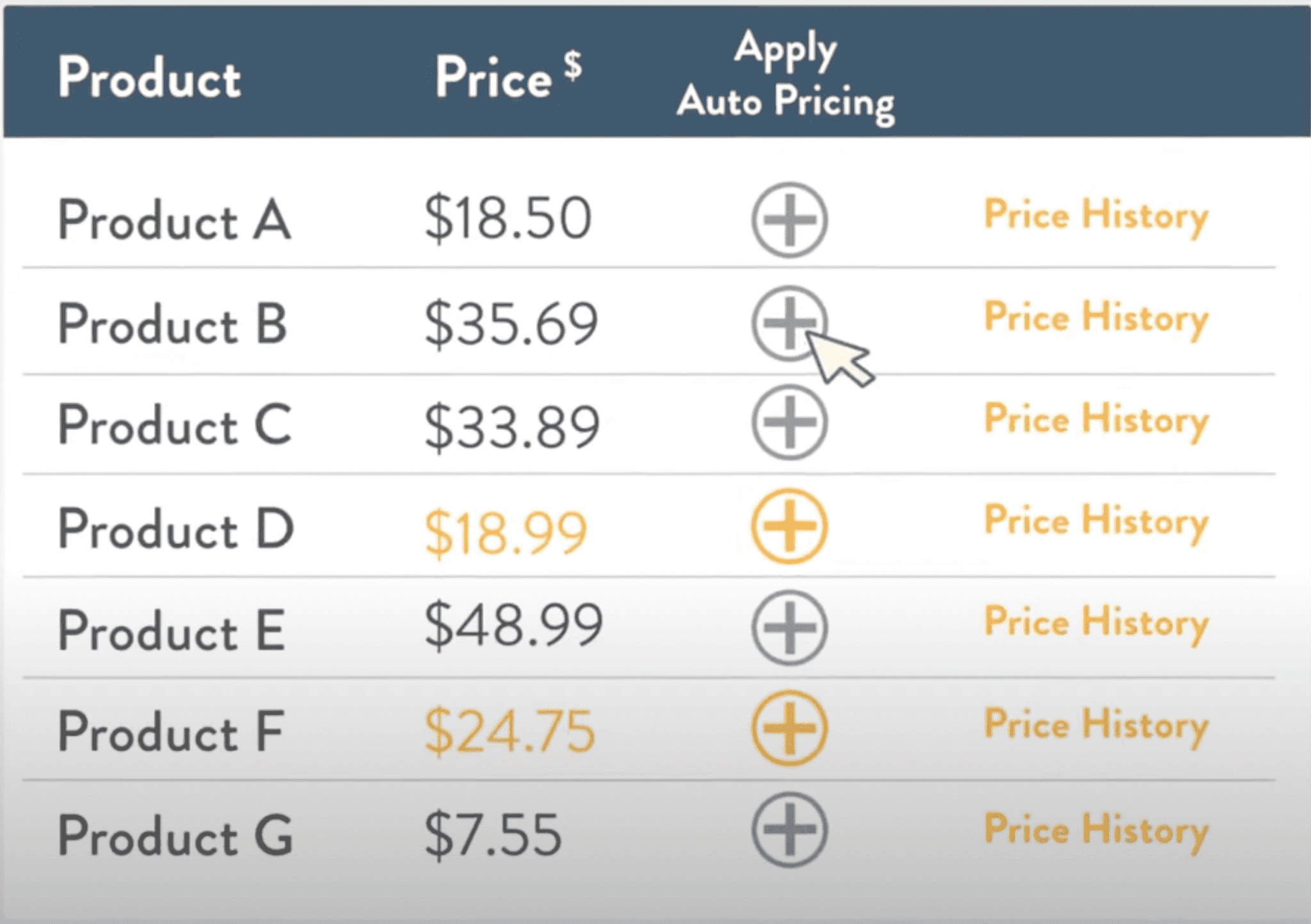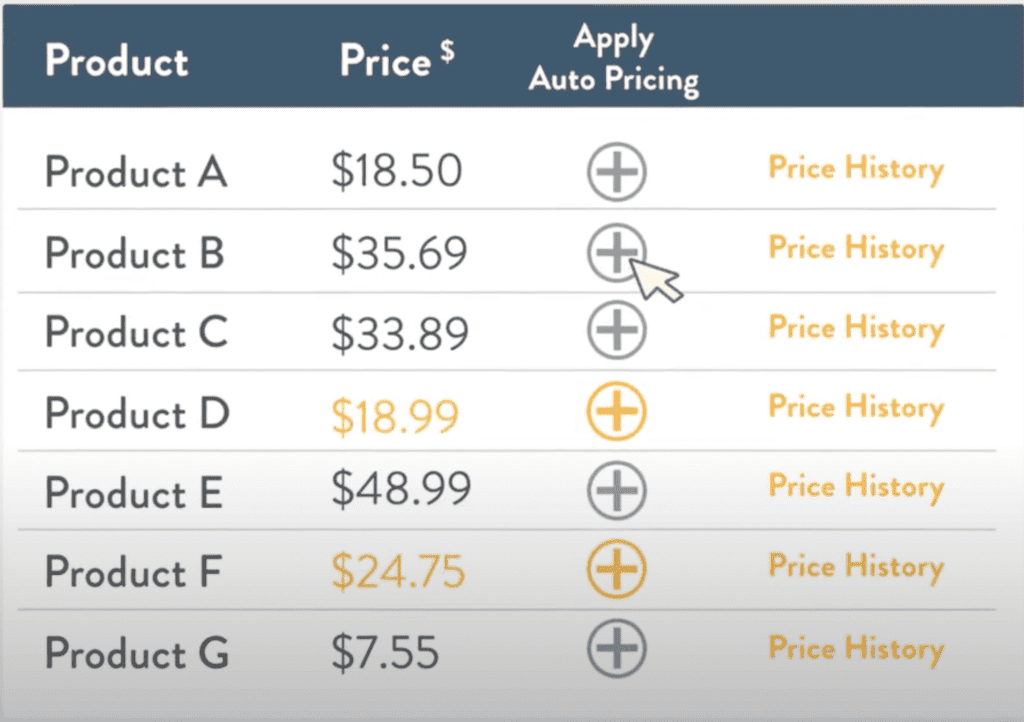 Once applied, Automate Pricing will automatically update your prices in accordance to your preset rules.
You can set the min/max offer for your product around the Buy Box price or your competitors' so that when it changes, the tool will match, exceed, or beat that price by a certain amount or percentage – yours could be automatically set 5 cents or 3% lower than the prevailing offer to stay competitive, for instance.
⚠️ However, there's a negative aspect to this competitive lowest-price rule.
On the one hand, if you suddenly become the only seller, your (low) price may stay the same. This could prevent you from making sales at higher prices unless you were to manually track and update this.
That is one of the cons of using Automate Pricing tool because many repricers will update your offer to the max price automatically if all your competitors ran out of stock, leaving you as the only seller.
And because you're selling at a more affordable price, you could sell out more quickly than anticipated, which is probably fine if you're trying to eliminate slow sellers or products with a limited shelf life.
On the other though, offering the lowest price out there increases your chances of becoming the Featured Offer. And when you do get featured, it boosts your visibility on Amazon, which could then help drive more traffic and sales. 💰
For a smarter repricing strategy, Amazon also lets you review your pricing history for any SKU enrolled in Automate Pricing to track price changes and use business reports to measure success.
In addition, if you're selling globally, you can adjust the prices of your exports for currency conversion, price increases, and discounts.
Overall, Amazon's Automate Pricing can be an excellent alternative to paid repricer apps. It's free for Amazon sellers, and with its new bulk pricing feature, it reduces the time it takes to enroll multiple SKUs to the system and implement pricing rules, making it as efficient as third-party repricer tools.
However, constantly keeping your prices lower than the Buy Box can hurt your profit per unit and increase your stockout risk due to higher demand. Therefore, you may still have to disable pricing rules to manually adjust your prices from time to time.
👆 So don't cancel your current repricers just yet. Try Amazon's tool on for size to see if it will actually work well for you. And consider testing Automate Pricing with 5 to 10 listings first to see if it's for you before applying pricing rules to the rest of your inventory.
Go to Automate Pricing to get started.
Try For Free
1,000+ Customers. Free Data Migration. 1-on-1 Onboarding.
Need more information?
Send Message: We typically reply within 2 hours during office hours.
Schedule Demo: Dive deeper into the nuances of our software with Chelsea.
Join Live Upcoming Webinar: New to Amazon inventory management? Learn three inventory techniques you can implement right away.