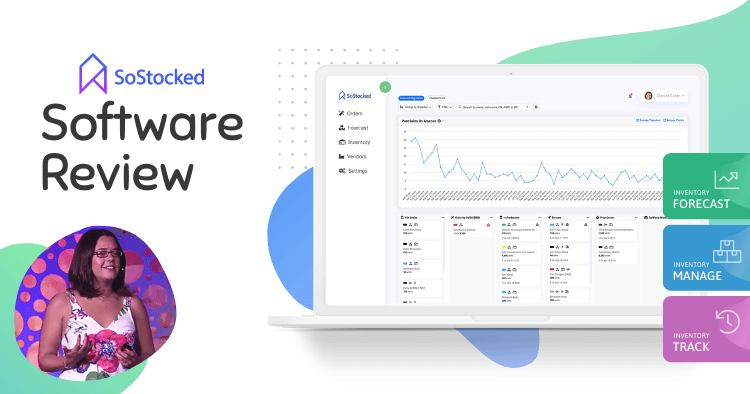 SoStocked Review 2021: An In-Depth Look + Demo
Updated: January 2021
Hey, Chelsea here. I'm the co-founder of SoStocked.com and have been successfully selling on Amazon since 2014. I've been featured on stages and podcasts, teaching people how to significantly increase their traffic and conversions with Amazon-specific copywriting techniques.
But in 2018, the one recurring challenge I kept experiencing in my business wasn't marketing. It was inventory management.
The most costly mistakes I'd made in my Amazon businesses had been over-ordering inventory, under-ordering inventory, and ordering/transferring too late. Not to mention it was a nightmare to manage with spreadsheets and software that just didn't work.
I knew that if I didn't solve this problem quickly, I'd find myself snowed under. That's why I created SoStocked.com.
So let's dive in and take an in-depth look at SoStocked, an Amazon inventory management software that forecasts and tracks inventory.
In this SoStocked Review, we'll take a look at:
SoStocked Review Highlights
In a hurry? Let's breeze through some noteworthy SoStocked review highlights first. Then we'll get into the meaty stuff like how SoStocked works, who it's designed for (and who it's not), SoStocked reviews from other Amazon sellers, pros/cons, alternatives, integrations, FAQs, and a deep dive into the core features. Here's a quick highlight reel:
FACTORS IPI LIMITS: SoStocked pulls in restock limits daily so sellers can automatically factor them into their forecasts and FBA shipments.
FACTORS SALES SPIKES & STOCK OUTS: Automatically factor key variables to prevent over-ordering and under-ordering.
FACTORS SEASONALITY: Use last year's seasonal sales data or build custom seasonal spikes and dips into your forecasting.
FACTORS FUTURE GROWTH: Add growth trends to account for changing sales patterns or planned increases such as PPC campaign sales lift.
KPI DASHBOARDS: Build fully customizable dashboards to show you everything you need to see and nothing you don't.
PAN-EU & NARF FRIENDLY: Group and segment your SKUs to behave the same way the PAN-EU and NARF program does to simplify your reordering process.
REORDER ALERTS: Get notified to place orders and transfers so you can take action before you run out of stock.
INVENTORY TRACKING: Never lose track of Purchase Orders, transfers, and payments so you can know where your inventory is at all times.
FREE DATA MIGRATION: Let our team help you to move your data into our system, whether it's current POs, warehouse levels, or anything in between.
1-ON-1 ONBOARDING: Get a private one-on-one onboarding call with an inventory expert to ensure everything is set up correctly for your specific business and to showcase any features that would benefit your processes.
Who Is SoStocked.com Best For?
In its current state of development, SoStocked works for sellers with various inventory challenges and Amazon seller models.
Private label sellers have found the tool to be amazingly helpful and intuitive to their needs. It is particularly helpful due to most PL sellers having long or complicated lead times and the need for order prediction well into the future.
The software is also extremely valuable in that it has built-in marketing factors that Private Labelers can use to test their inventory availability against planned marketing strategies.
Further, anyone affected by IPI limitations or general restock limitations at Amazon FBA will find our IPI/Restock Limiter a game-changer in solving a restocking challenge that has a huge effect on staying in stock.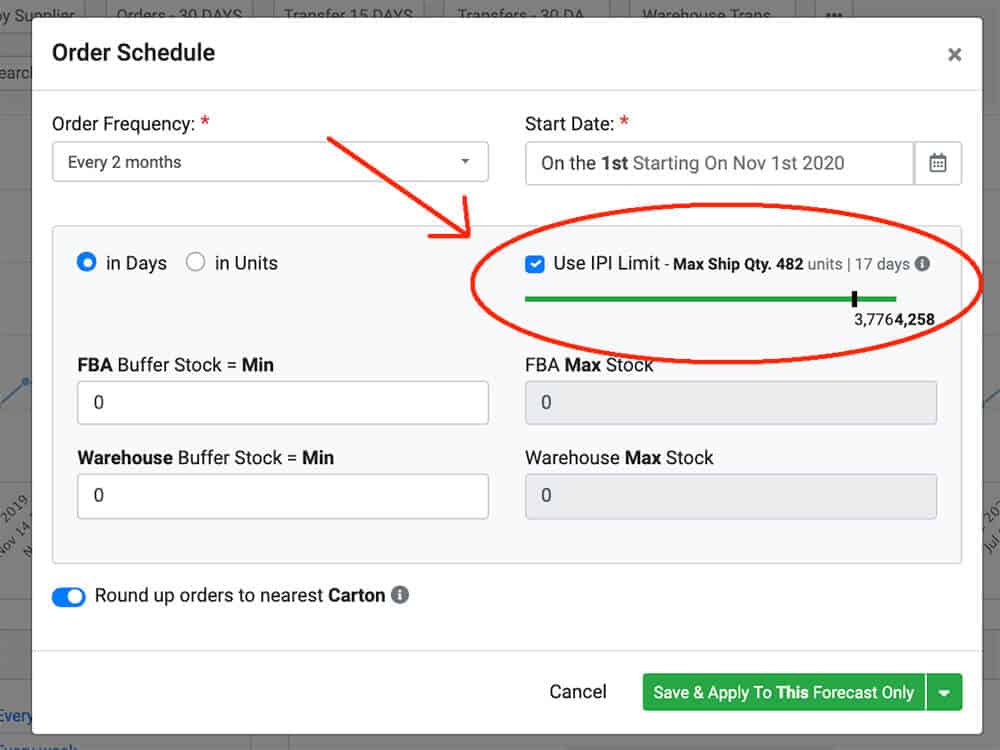 By pulling daily restock limits directly from Amazon's API, this tool helps to calculate a schedule for FBA transfers that stay within your Max Ship Quantity while avoiding stock outs as much as possible within Amazon's guidelines.
SoStocked is also great for sellers with seasonal products as our forecasting system allows sellers to easily switch from adjusted average velocities to last year's sales data quickly.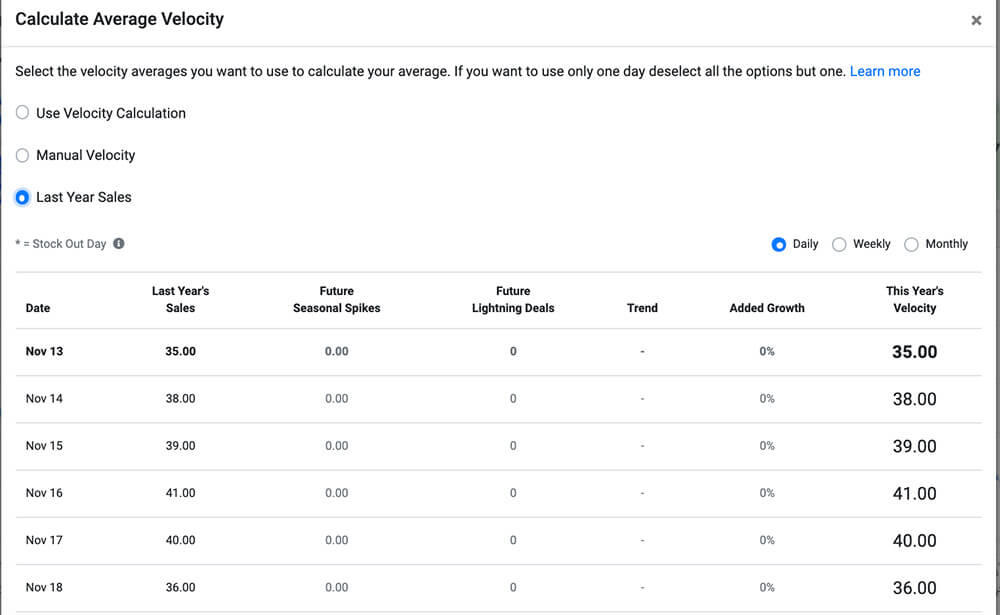 Adding additional trends or growth factors is just another few clicks away.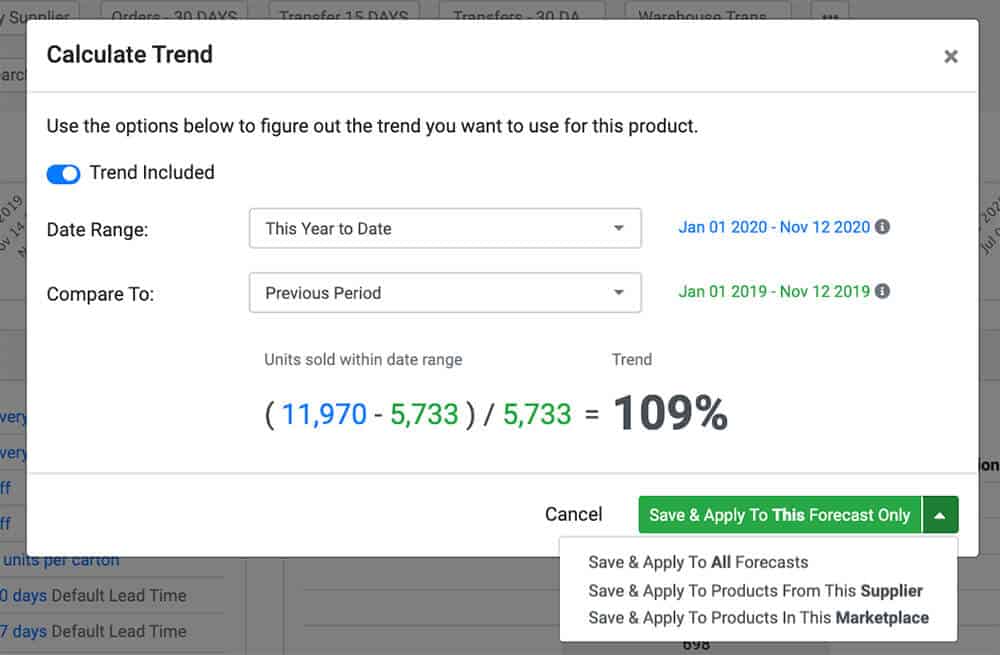 Wholesale Sellers do really well with SoStocked as well as their unique challenge is usually a high number of SKUs that all need to be managed. All forecasts can be reviewed and purchase orders initiated directly from the software.
While there are a couple of limitations to the software currently in regards to some bulk actions and data sets specific to this business model, we have additional plans to make SoStocked even better for wholesalers in the near future.
This would include profit filtering to filter out any product that is not currently profitable and additional import/export features to improve the handling of a high volume of SKUs.
SoStocked is also proving helpful to Brand Managers and PPC Agencies. Often a Brand Manager or PPC Agent can control a lot of factors but where things tend to break down is in their clients not successfully controlling their inventory. We have Brand Managers and PPC Agencies who use SoStocked with all of their clients to model out all of their marketing plans before they execute to ensure a successful marketing campaign does not take a foul turn towards stock out.
Who Is SoStocked.com Not Best For?
Retail Arbitrage is one segment of Amazon sellers that our system is not specifically geared towards. We do have sellers who make it work for this purpose, especially when retail arbitrage is just a portion of the business, but the framework and features really weren't designed to accommodate this type of business model.
While we do have a bundling/kitting feature, there are some limitations for Bundlers that make the process more difficult to manage at this current time in our development.
SoStocked does a great job in forecasting the final product and can build multiple POs for the various components needed for the number of units needed for each SKU, but for those who order and store components in bulk or use the same components across multiple SKUs, managing this amount of complexity can be challenging.
We do have bundlers who have been able to make the software work for them and we do plan on building out the necessary features to accommodate Bundlers better in the future. We just haven't gotten there yet to make it work expertly for complex bundling.
SoStocked also has not yet integrated with other sales platforms outside of FBA USA and EU. It is perfect for those who have only a nominal amount of sales on these other platforms or who fulfill these orders through the Amazon FBA system. But for those who have a complex network of high volume sales on other marketplaces, while we have plans to launch integrations as a high priority, we are not there quite yet.
FBM sellers similarly do not currently fit within our SoStocked model as we are only set up to work with FBA forecasting. Once our integrations are in place, FBM forecasting will be rolled out as well.
Lastly, those looking for cash flow projections and an entire Amazon marketing suite will not find that in SoStocked. We do plan to have an extremely robust cash flow modeling and projection module in the future but are working to nail as many aspects of the inventory management platform as possible before moving on to that next phase.
As for being a full-service suite like other software tend to be, we have no aspirations to attempt that. We believe that any inventory management system, with the amount of innate complexity it possesses, will never do well playing second fiddle to other software tools. We'd rather do inventory management really right than get distracted trying to do it all. We'll leave those tools to others.
SoStocked Reviews: What are others saying?
Our success has come because we listen to customers. Seriously. Here's what a few of them had to say about it:
"SoStocked has solved 99% of these challenges and they push out new features continuously. "
"They love feedback and take on board all comments and suggestions. Feature updates are implemented fast and furiously."
"The team is super responsive to new ideas and feedback. Very impressed so far…"
And it's not just that we listen to our customers, we actually turn their feedback into features that pack a punch. For example, one of our customer mentioned that after several months of using SoStocked, she had her inventory management in a condition that she didn't have to always resort to emergency air freight. This had the effect of her per unit shipping cost going from $1.20 per unit to just $0.45 per unit! Talk about a game-changer.
From lowering average shipping costs, to streamlining systems in preparation for selling the business, to breaking the stock out cycle, customers have found SoStocked to be a profitable investment. The ROI includes saving money on air shipments, recovering precious time, and avoiding stock outs just to name a few. If that's not enough, checkout a bunch more reasons in the following SoStocked reviews left by our customers:
SoStocked and customization around forecasting is hands down the most accurate I've come across in the 7 years we have been selling on Amazon. They really have nailed this thing and I'm blown away it doesn't cost 5x the price, truly."
~Southern Sass, Amazon Sellers Since 2013
I've been selling on Amazon since 2015 and seen many apps come and go. My partner and I stumbled along with spreadsheets as none of the other systems out there really work for our Amazon business model. SoStocked has solved 99% of these challenges and they push out new features continuously.
~Persona Creations Inc, Amazon Sellers Since 2015
SoStocked helped me to streamline the process and get a real-time visibility, helping me to minimize stock-outs and forecast demand, which in turn helped me with cash flow management (no more expensive air shipments!).
~Our Moments, Amazon Sellers With SKUs Across Multiple Global Marketplace
Before Sostocked I was spending about 4-5 hours per week forecasting and managing inventory manually in spreadsheets. I tested so many other programs and found them all to have limitations, especially in dynamic velocity, seasonal projections, managing 3PL stock across multiple warehouses…
~Youphoria, Amazon Sellers Managing 200+ SKUs
The SoStocked app is phenomenal: so comprehensive when it comes to tracking ALL different phases of your inventory, from source to Amazon warehouse and all points in-between. I can't believe I used spreadsheets for so long and, after using this app, so glad to be rid of spreadsheets forever!
~Bakku Backgrounds, Amazon Sellers
I've tried so many inventory management and forecasting apps, this is by far the best. The interface is clean, understandable and easier than all those expensive ones. It has so many useful features to help you prevent going out of stock. The moment I tried it out, I was hooked! I moved all my stores into it.
~KickFire Classics, Amazon Sellers
Up till now no one has cracked inventory tracking for Amazon. This app has huge potential, it already addresses problems no one else has fixed (e.g. handling stock ineligible for Pan EU) and the team is super responsive to new ideas and feedback. Very impressed so far…
~Baby Uma, Pan-European Amazon Sellers
I'm a tough customer. Very critical of apps in general and hard to please. However, SoStocked won me over. Its intuitive UX and great usability (coupled with top-notch support) made transitioning over a no-brainer.
~Luxano, Amazon Sellers
Ease of Use
Making SoStocked fully understandable was really important in the build process. If we couldn't understand it or easily explain it to sellers, we cut it out.
At the end of the day, you as a seller should know exactly what went into the recommendations SoStocked gives you. That is why we made all of our formulas and calculations fully transparent, breaking down the math line by line.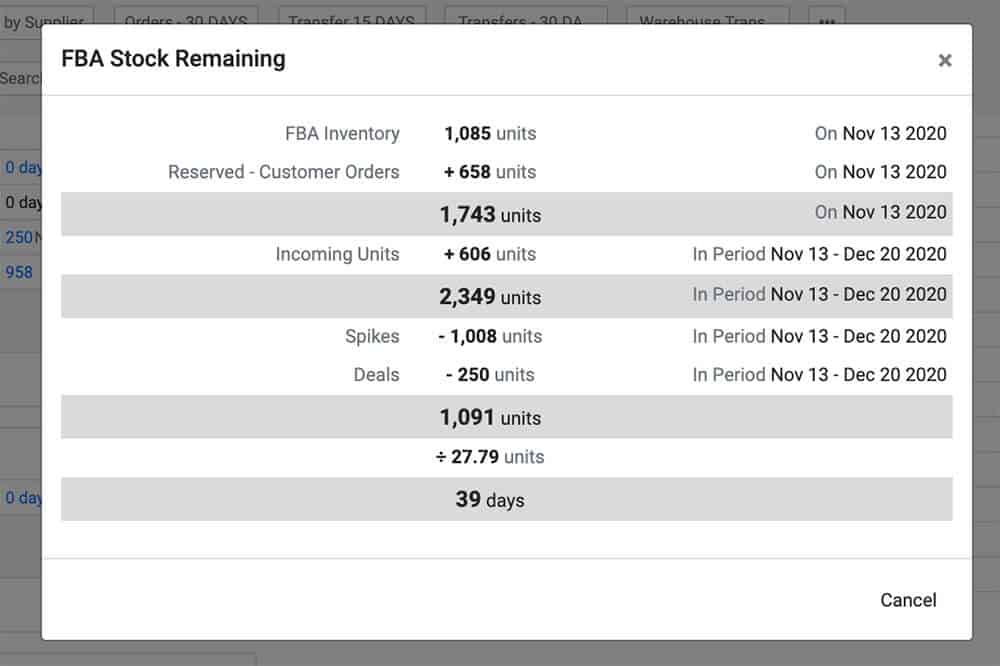 There are no secret, proprietary algorithms here. Just your data working for you.
Beyond this, we understood that to truly scale, the system had to be something that your VAs could learn, understand, and run themselves.
With Team Roles, you can invite your VAs and easily keep an eye on their actions with our Activity Logs.
Send them through our mini-course and even have us walk them through a personalized onboarding call on your behalf to make sure they've got everything set up correctly and all their questions answered.
If you have multiple Amazon stores, they can easily be connected so that all of them are accessible through one log-in. Toggle back and forth with a few mouse clicks.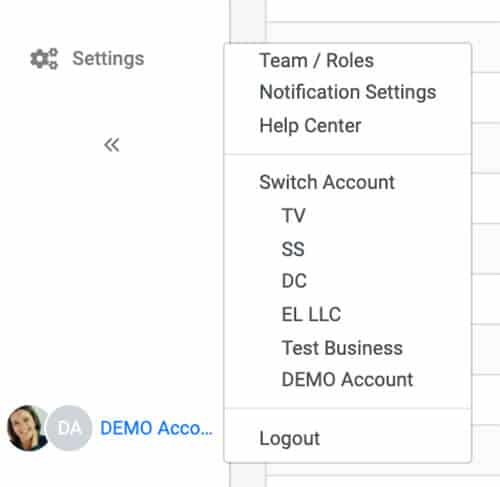 When your workflow is more complex, with FBA and third-party warehousing, we help to simplify it by providing you with two simultaneous forecasts, one for supplier orders and one for warehouse transfers.
And with your IPI/Restock threshold limits being pull directly and daily from Amazon, SoStocked will calculate your transfers to stay within Amazon's Max Ship Quantity limits so you're always ordering and sending the right amount of inventory to keep in stock.
Customer Support
We believe a huge part of the Software as a Service business should be, well, service! That's why we work hard to help users have the best possible experience.
During set up, if there is anything you need to be updated, imported, you name it, just our email support team and we will take care of it for you. You shouldn't be wasting your time with data entry and bulk updates. Think of it like the Ritz Carlton of support. Need something? Just ask.
Our average response time is under 2 hours during business hours (M-F 8am-4pm CST) and just over 7 hours off business hours.
Then, as most are visual learners, especially when it comes to software, instead of writing a novel to explain what needs to be done, our support team will film personalized videos to help each user individually.
Most importantly, we are passionate about staying in touch with our users. We believe that we've gotten to where we are today by having an open line with our users. Our software wouldn't have developed to this stage without them.
That's why we always keep ourselves open to suggestions and will do our best to provide clever workarounds while our development team works to build tools and features into the software to make your life easier.
Pros: SoStocked Review
There are several things that set us apart from and make SoStocked the right choice for so many Amazon businesses.
IPI Integration
The ability to set your FBA transfer schedule and quantities based on the Max Ship Quantity that Amazon allows per their Inventory Performance Index (IPI) or Restocking Guidelines. This was added almost immediately after the IPI threshold increase bomb dropped by Amazon in July 2020 and was not integrated into any other software that we know of.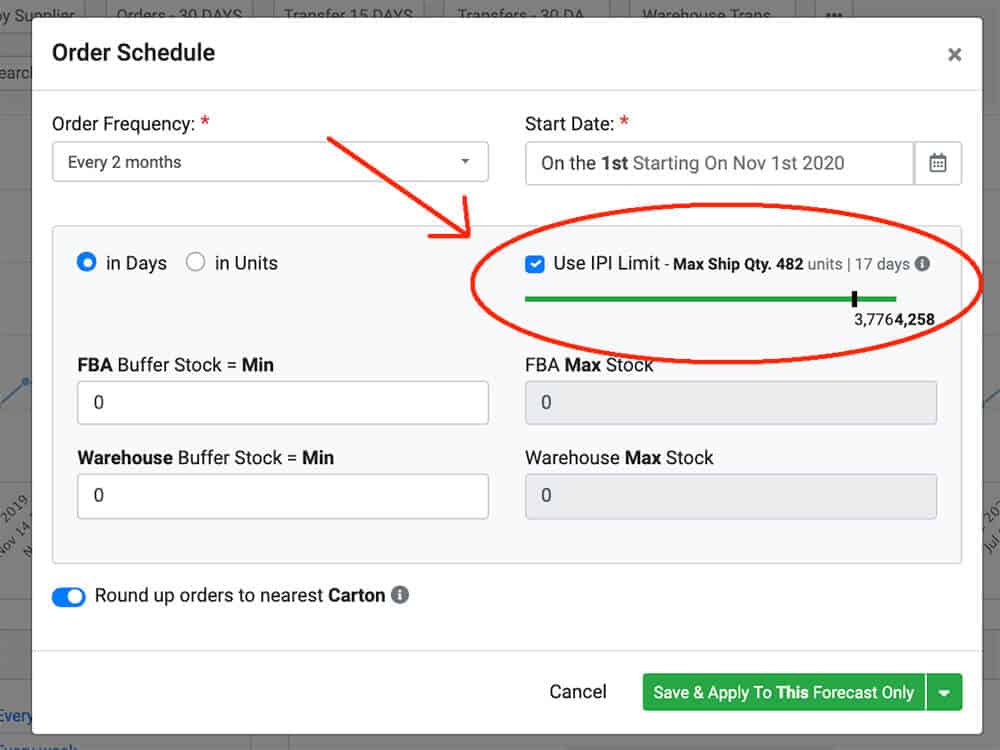 Warehouse Tracking and Transfers
It is surprising how many software do not include third party warehousing in their arsenal. SoStocked creates simultaneous tracking and transfers for your warehouse stock, not just your FBA stock.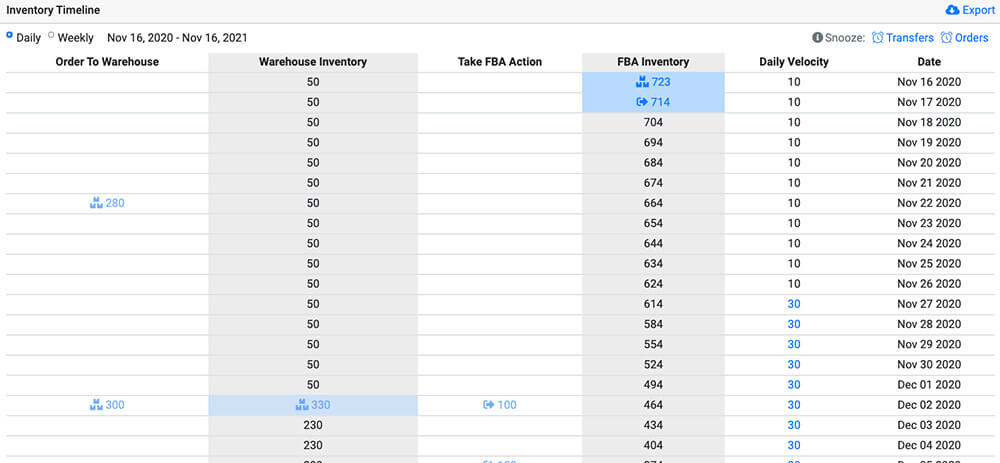 Fully Customizable Forecasting
Incorporate forecasting calculation variables such as removing sales spikes, deep discounts, and stock outs and adding growth trends, seasonality, and planned sales events such as Lightning Deals and email sales campaigns.
Advanced Stock Out Calculations
Our stock outs are not based solely on whether you had inventory at Amazon. This, of course, is included. However, if this was all that our stock out calculation was based on, it would be a fallible calculation. Our stock out calculation also features the ability to assess sales patterns to determine Major decreases in your average sales velocity. In this way, it can catch the slow sales days before and after a stock out, as well as things such as listing suspensions.
PAN-EU and NARF Compatible
Group your marketplaces by region to combine inventory levels and velocities to streamline your inventory calculations. The new update will allow for a split grouping to accommodate Brexit changes.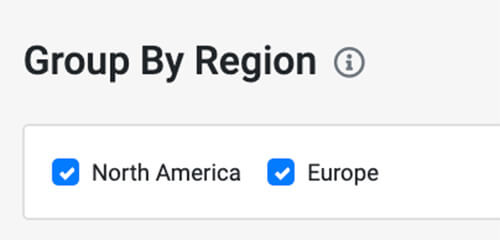 12 Months of Forecast Modeling
Unlike some systems that only provide your next month's projected order, SoStocked offers 12 full months of forecasting so you can visualize your order and transfer demand for a full year in advance.
Express Shipping Calculation
Not only will you have simultaneous forecasting for orders and transfers but SoStocked will also calculate a third forecast to predict Express shipping to ensure you stay in stock during emergency situations. You'll know how much to ship by Express and how much to ship by regular freight.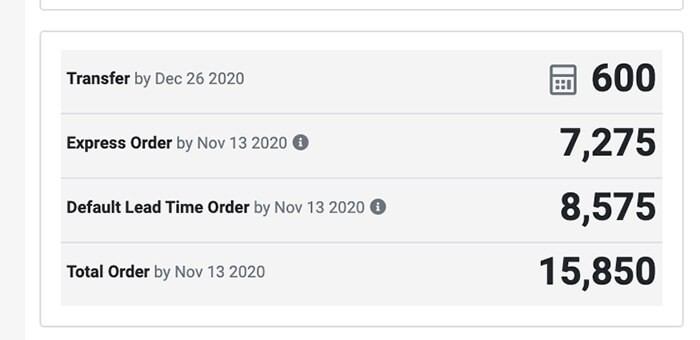 PO Creation and Tracking
Our one-click PO creation feature allows sellers to build out full Purchase Orders quickly and easily.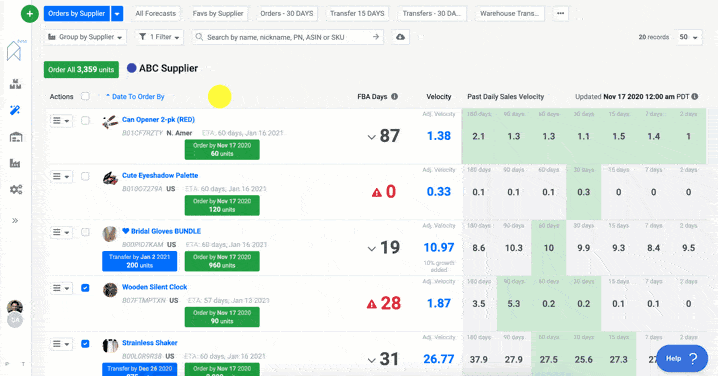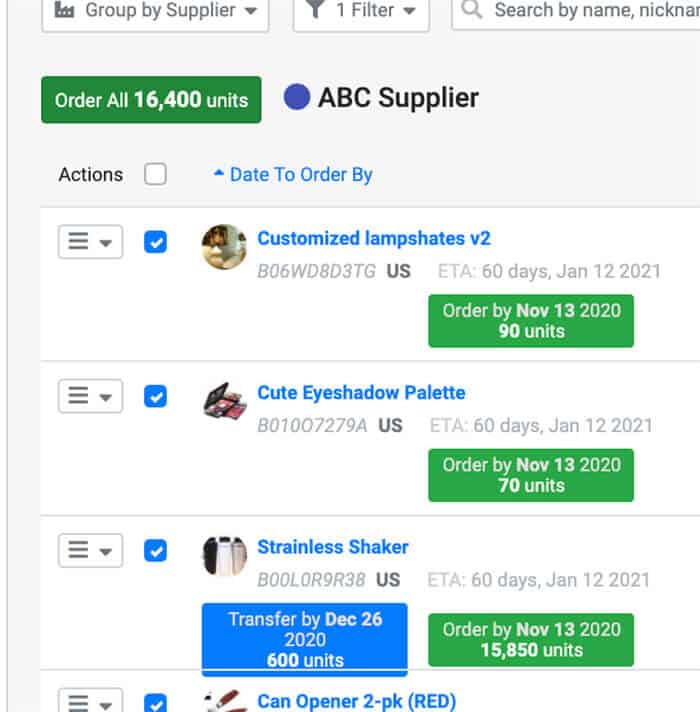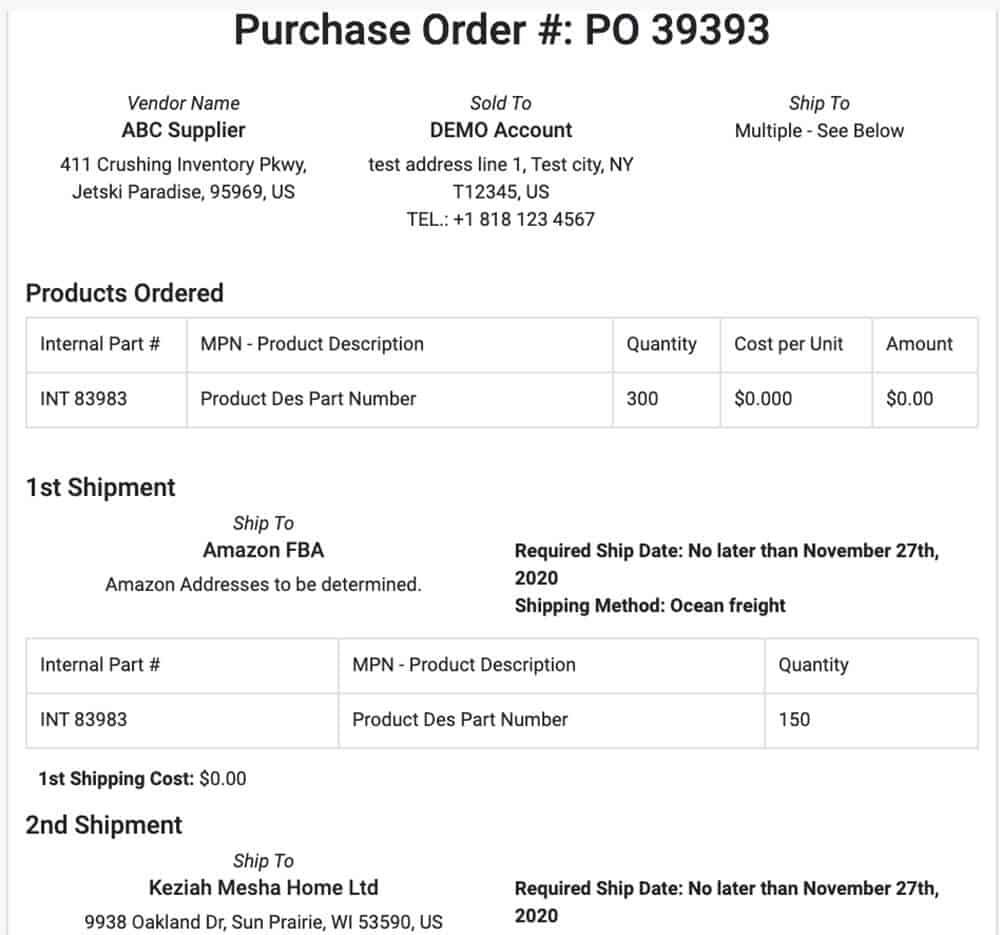 Then hop over to the Order Tracker to track orders from production through delivery.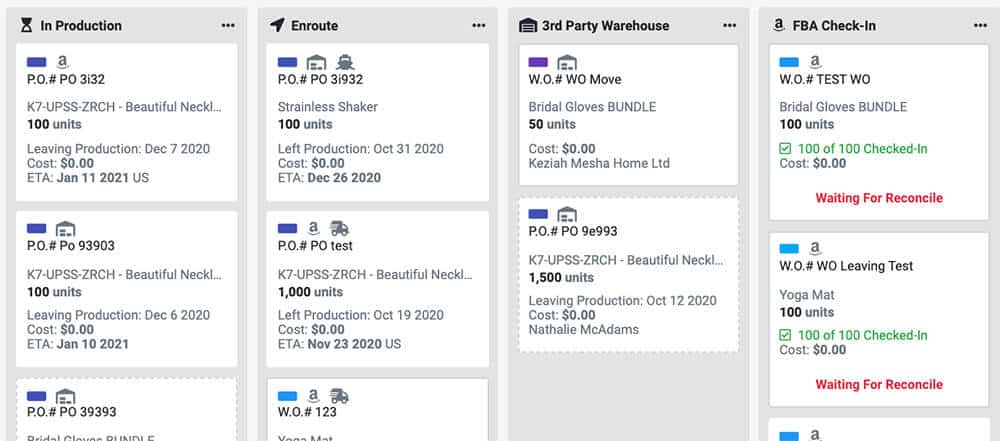 Split Shipments within POs
Need to send shipments to different locations or at different times? Our split shipment feature within each Purchase Order has you covered.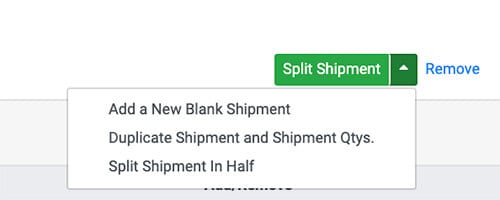 Custom Inventory Dashboards for Specialized Reporting
With AirTable-like functionality, use filtering, grouping, and column organizing to build out custom dashboards for inventory reports available at the click of a button.

Cons: SoStocked Review
While our aspirations are sky high and we are continually making updates and improvements to the system, there are a few things that we have yet to cross off our to-do list.
PO Bulk Upload and Spreadsheet Export
While there are many bulk features in SoStocked, we are still working on updating our interface to be able to do more bulk import/export of Purchase Orders.
Automatic FBA Shipment Creation
The creation of automatic FBA shipments is on our short term punch list but is a short ways off. Our next step will be to create downloadable flat files. Currently, we pull FBA shipments into SoStocked which can then be matched up against PO shipments or warehouse transfers.
FBM Forecasting and Tracking
Currently, our system only works well with FBA. While we can still forecast demand for FBM sales, we cannot easily forecast or track units that are shipped from a third party warehouse to your customers.
Warehouse Receiving
Currently, the system does not have a streamlined system to indicate which SKUs arrived at the warehouse with missing or defective units and would have to be adjusted on a PO level.
Advanced Bundling
For Bundlers who need components tracked in bulk, SoStocked is not quite up to par. But if sellers only order components for the precise amount of units they are going to bundle and sell, SoStocked has you covered.
Cash Flow and Sales Reporting
Cash flow projections and sales and profitability reporting are not currently part of the SoStocked system, though we have plans to roll this out in 2021.
SoStocked Pricing
SoStocked's pricing is simple and designed to scale with your business. That's why our price is calculated based on your number of orders each month.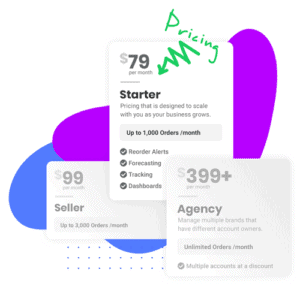 For example, the price is $79/month for up to 1,000 orders per month, $89 for up to 2,000 orders per month, $99 for up to 3,000, and so on.
As your orders scale the price scales with you. Even though the plan costs more, you're actually paying less per order.
For instance, the "Up to 21,000 Orders" base plan is $79/per month, which works out to be about $.08 per order. A higher volume plan like the "Up to 21,000 Orders" plan is $222/per month, which works out to be about $.01 per order.
To get started, you'll pay only $79 for the first month, no matter which plans you decide to choose. Visit the SoStocked pricing to learn more.
SoStocked Demo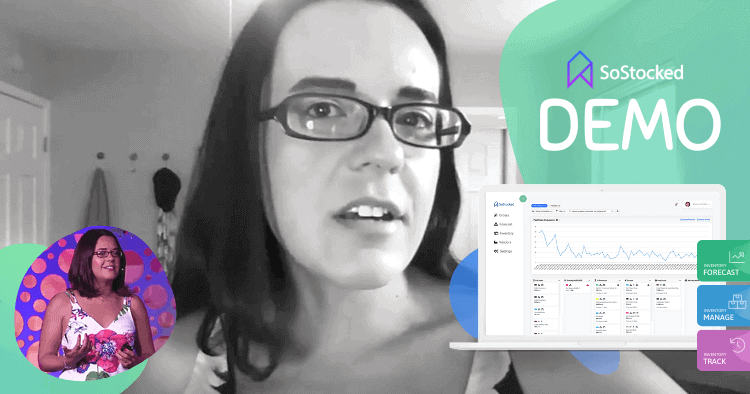 Watch an on-demand SoStocked Amazon inventory software demo, or book a live demo with Chelsea. Demos are available twice a week on Tuesdays at 11am CST and Thursdays at 7am CST. We review all features and answer any questions you may have.
Features Overview: SoStocked Review
Before we take a more detailed look at the powerful tools within the SoStocked system, we'll paint a broad stroke of some of the key features that make the software so user-friendly.
North America and EU Markets
SoStocked works with ALL Amazon marketplaces, including North America and EU marketplaces, by integrating with the Amazon API.
Pan-EU and NARF Compatible
If enrolled in the Pan-EU or NARF program, you can adjust inventory and sales velocities to match how you handle your inventory in actuality so you are not double-counting inventory and so that your shipments are more streamlined.
Customizable Forecast Calculations
Your forecasting can be customized based on your business and marketing plans on a per SKU basis. Because your business deserves more than a cookie-cutter algorithm.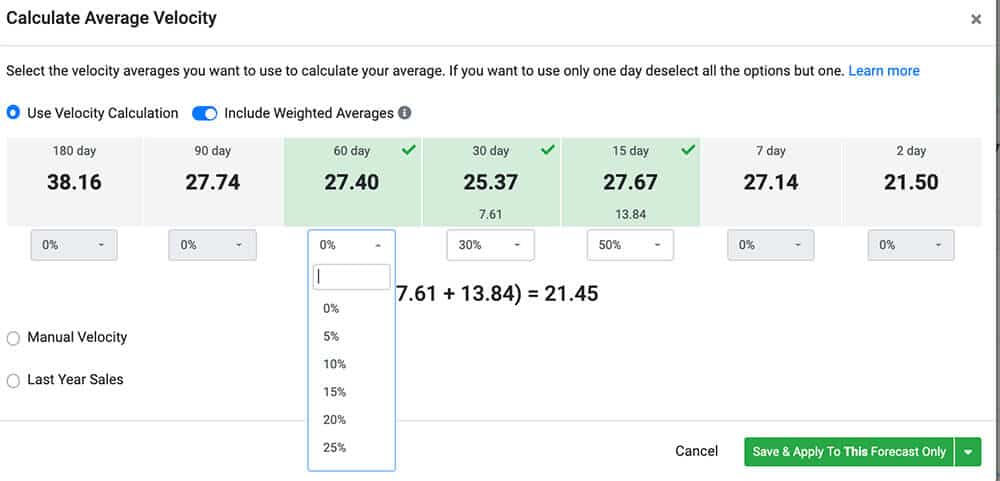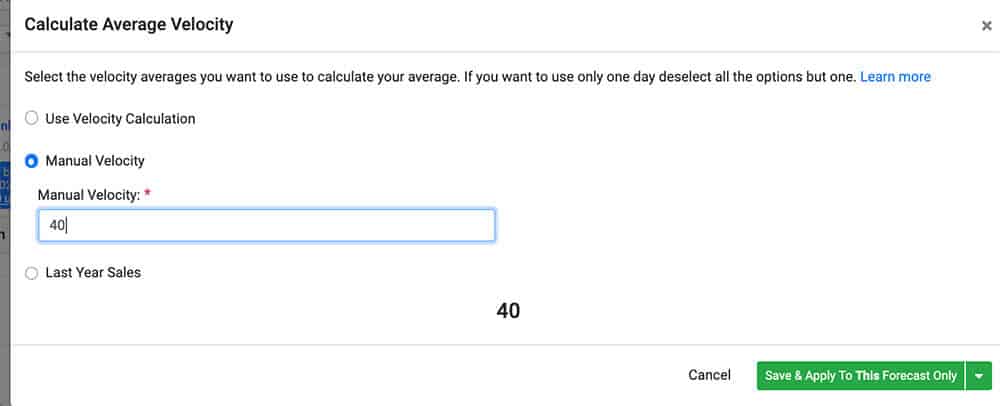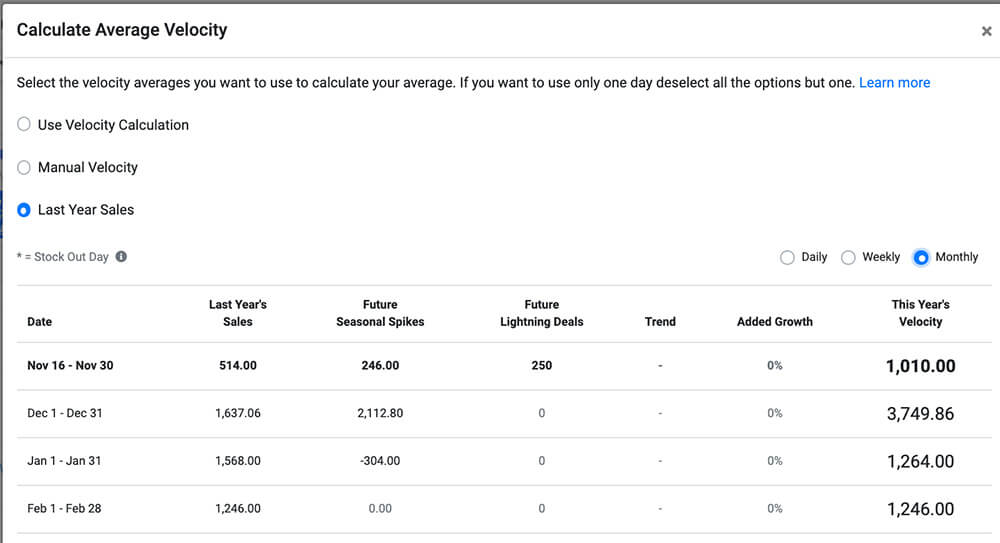 Forecasting Customization
Sales spikes, deep discounts, stock outs, growth trends, seasonality and planned sales events such as Lightning Deals can all be included in your custom forecasting calculations on a per SKU level.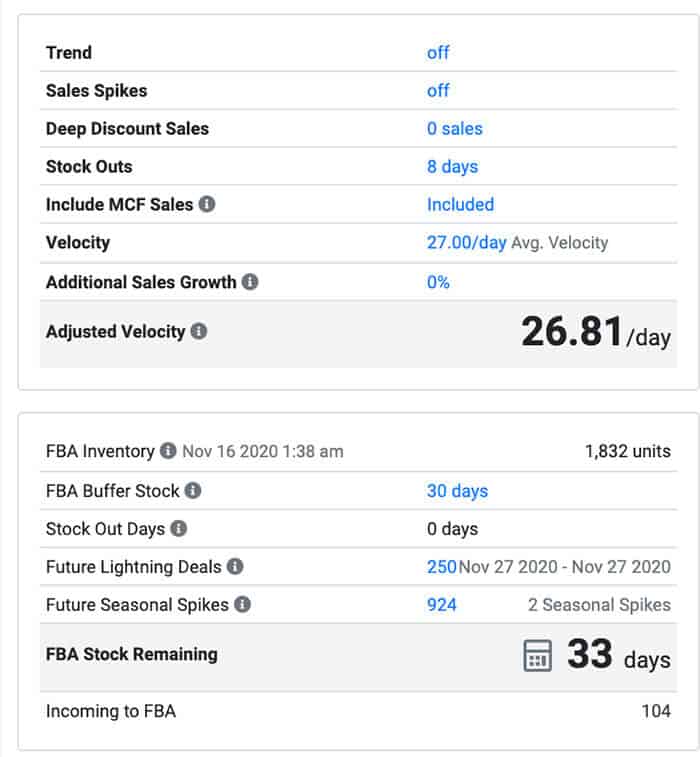 Min/Max Restocking
Set minimums (buffer or safety stock) and maximums on both your FBA stock and third party warehouse stock to simplify your order and transfer schedules.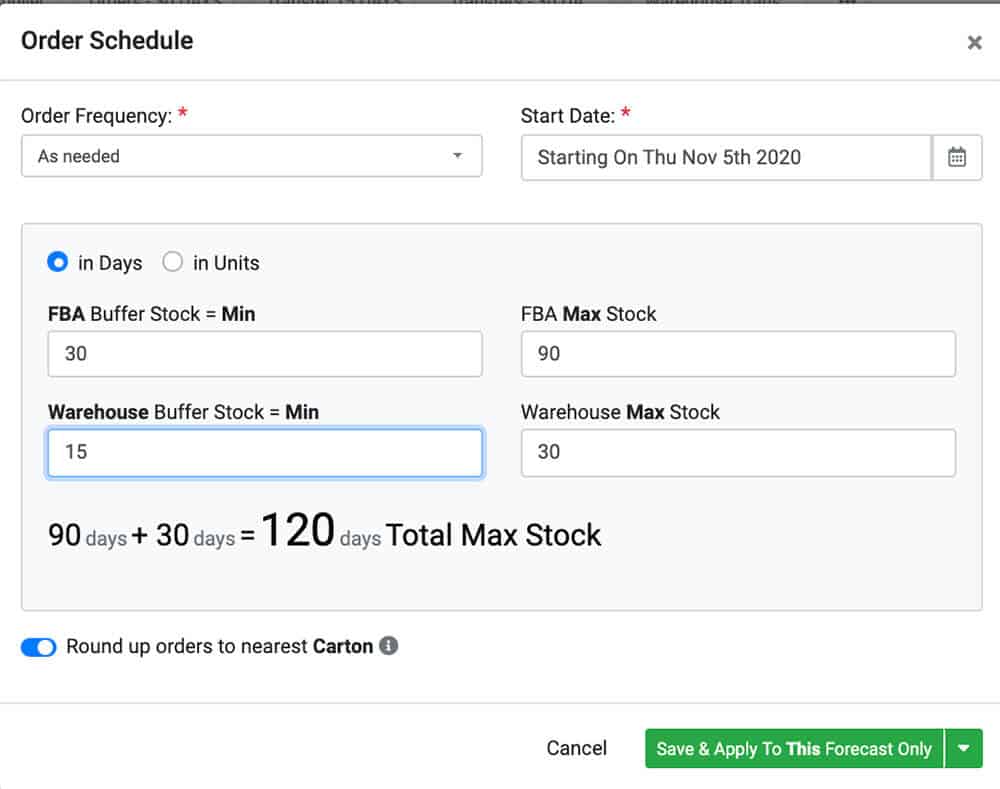 Calculate Transfers Based on Restock Limits
For SKUs with restock or IPI restrictions, set your transfers to meet your Max Ship Quantity without going over it so you are creating a transfer schedule that will comply with Amazon's requirements.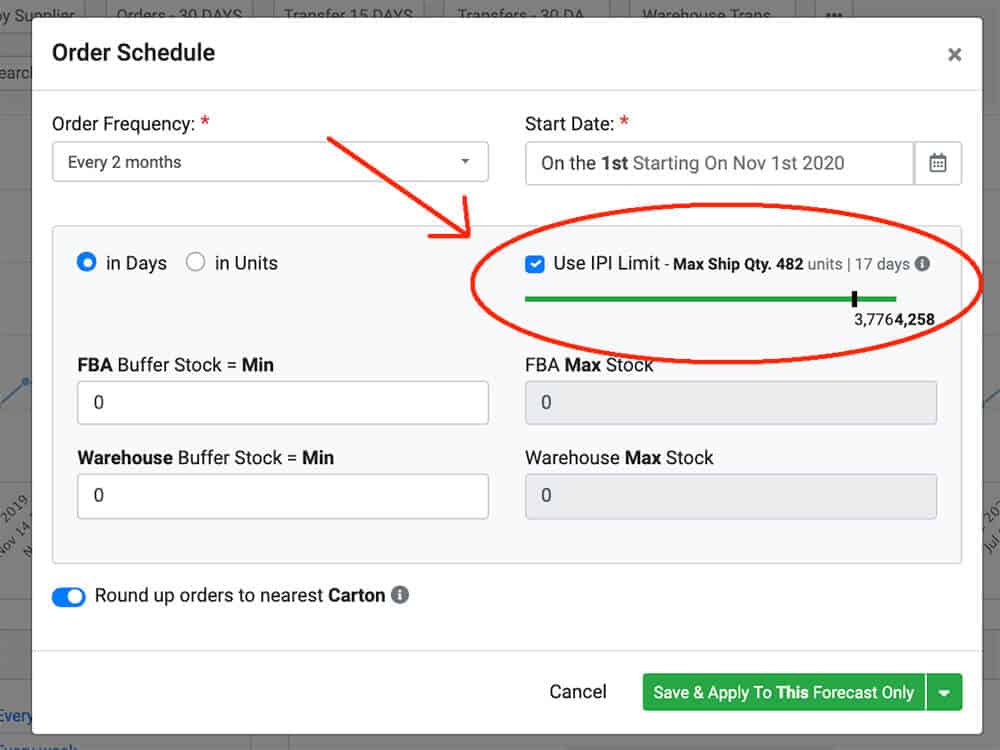 Build POs Based On Forecasts
With the click of your mouse, quickly create Purchase Orders based on forecast recommendations.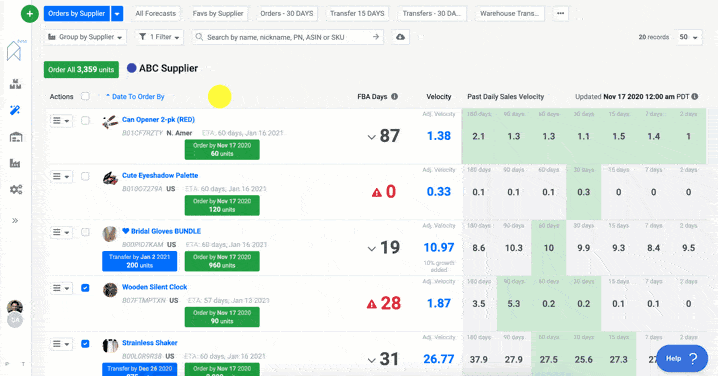 Inventory Timeline
Visualize changes to your inventory across time with the inventory timeline. Plan out marketing and seasonality and see how it affects your stock levels.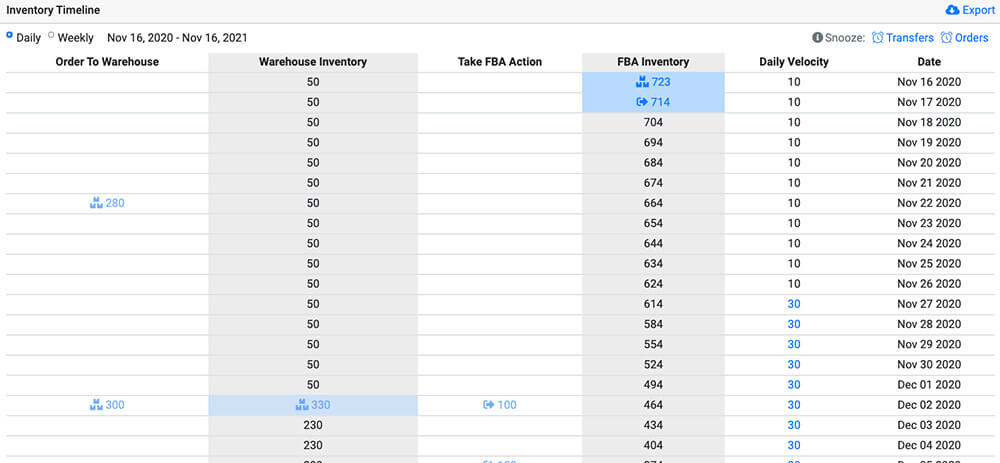 Order Tracking
Track all orders and transfers at every stage of your lead times.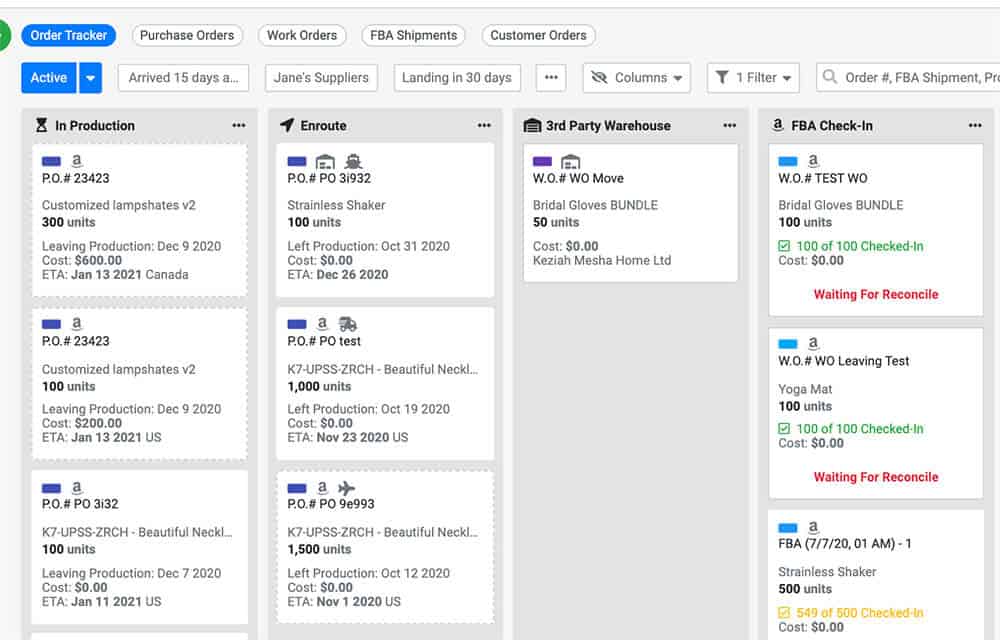 Track Missing FBA Units
Track all of your Closed FBA Shipments with Missing Units. Make note of any cases you open with Amazon for reimbursement and note when you are reimbursed.

Build Custom Dashboards for Custom Reporting
Customize reporting dashboards by reordering or toggling columns on and off, grouping and filtering similar to Airtable. Save custom dashboards for quick access whenever you need them. Export current reports or past reports as needed.

Inventory Forecasting Features
Forecast Modeling
Our unique approach to forecasting is called forecast modeling and allows you to plan out a year's worth of orders in advance based on customized models set on a per marketplace and even a per SKU basis.
Modeling is highly beneficial as it allows you to make changes on the fly, such as changes to your marketing plans, and to see how those changes will impact your inventory levels.
Express Order Calculations
If an emergency arises and you need to create an express shipment (i.e. air shipment) to avoid stocking out, SoStocked can automatically calculate how much inventory needs to be shipped by express and how much to send by your standard freight shipping. This is extremely helpful as you'll then send the right amount of inventory while avoiding sending too much or too little.

Customized Velocity Calculations
SoStocked features multiple approaches to calculating sales velocities depending on your unique needs: from daily averages to weighted averages, manual overrides, and even using last year's sales numbers.
Use these different calculations based on seasonality and the way your product is selling on Amazon. Velocities form the foundation of your forecasting upon which you can build growth trends, spikes, decreases, and even planned sales promotions.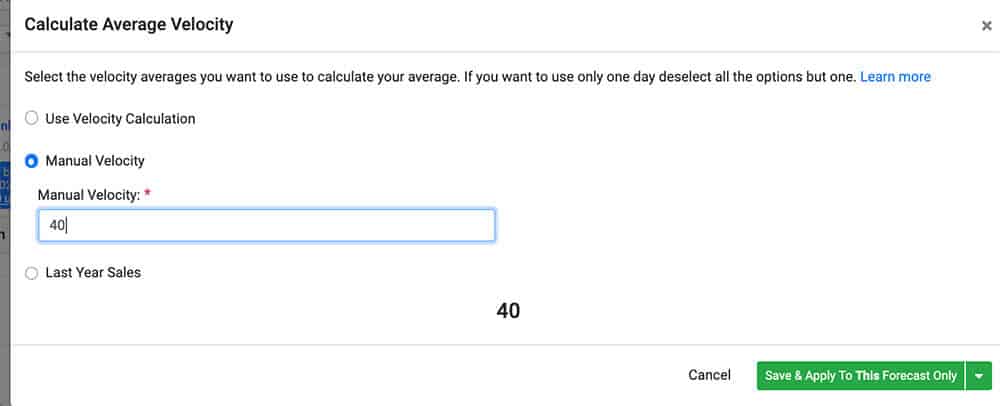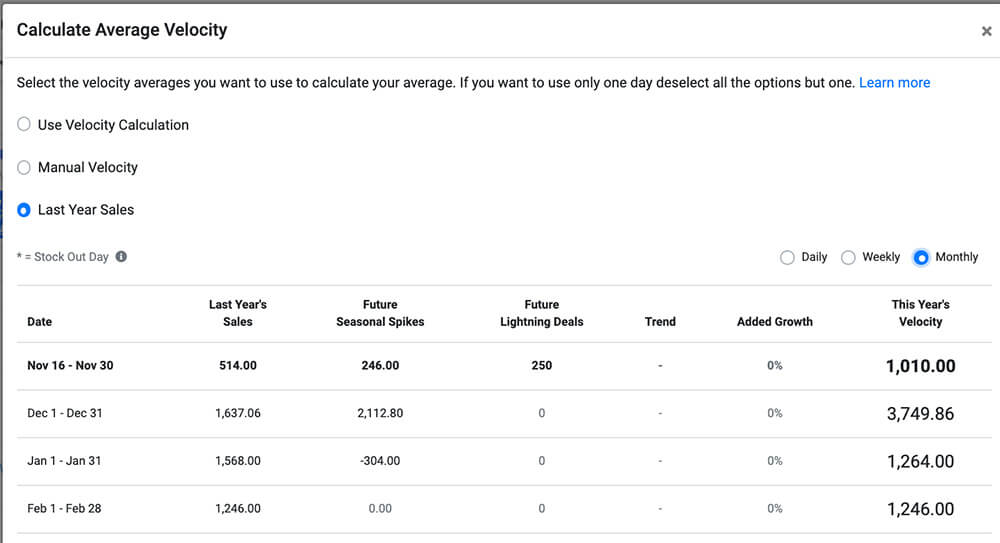 Advanced Stock Out Calculations
This is a big one. SoStocked calculates stock outs based not only on whether you had inventory at Amazon, but also analyses extreme drops in your sales velocity. This means we are able to catch the low sales days before and after stock outs as well as those days when you're stocked out and Amazon finds a single unit to sell.
Apart from that, using this advanced stock out method, we are also able to identify listing suspensions as those too should be factored out of your daily velocity calculation.
Seasonality
Beyond using last year's sales as your sales velocity setting (See Customized Velocity Calculations), sellers can customize sales patterns for SKUs with seasonal high and low periods using our Seasonality feature which works for both positive and negative changes.

Sync Your Marketing Campaigns
Build your marketing campaigns into your inventory planning such as adding Lightning Deals and other email marketing plans to your forecast to predict the total amount of units you'll need to execute your desired marketing strategies without stocking out. Then track it on the Inventory Timeline.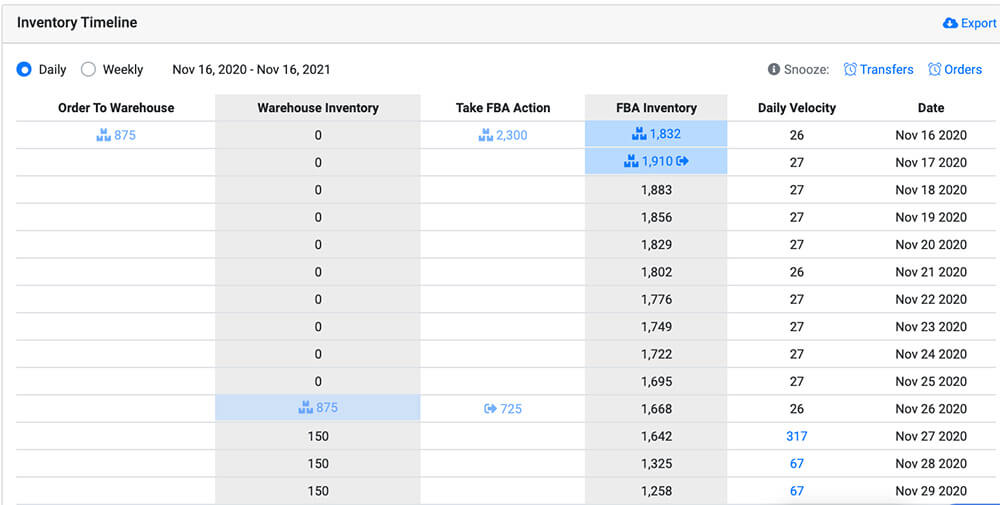 Set MOQs, Minimum Transfers, and Order and Transfer Frequencies
Customize additional calculation variables such as Minimum Order Quantity (MOQ), Minimum Transfer Quantity (MTQ), Order Schedule, and Transfer Schedule to fine-tune your forecasting to work exactly how you need it to.

Assign Warehouses per Marketplace
Select which marketplaces each warehouse is allowed to transfer to so that, for example, inventory warehoused in Europe does not show up as available to the USA.

Min/Max Restocking
Set minimums (buffer or safety stock) and maximums on both your FBA stock and third party warehouse stock to simplify your order and transfer schedules.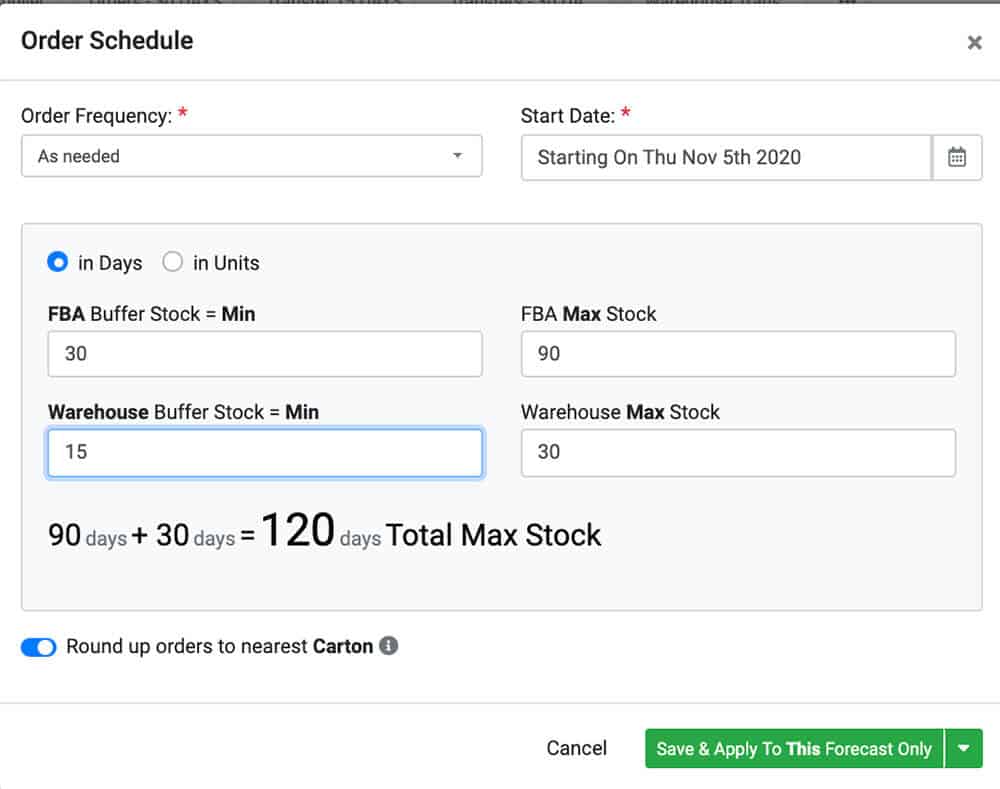 Restock/IPI Limits and Max Ship Quantities
SoStocked pulls Restock Limits and Max Ship Quantities daily from Amazon. Using the IPI/Restock Limits setting will allow you to only order or transfer the amount of inventory Amazon will allow you to send into FBA.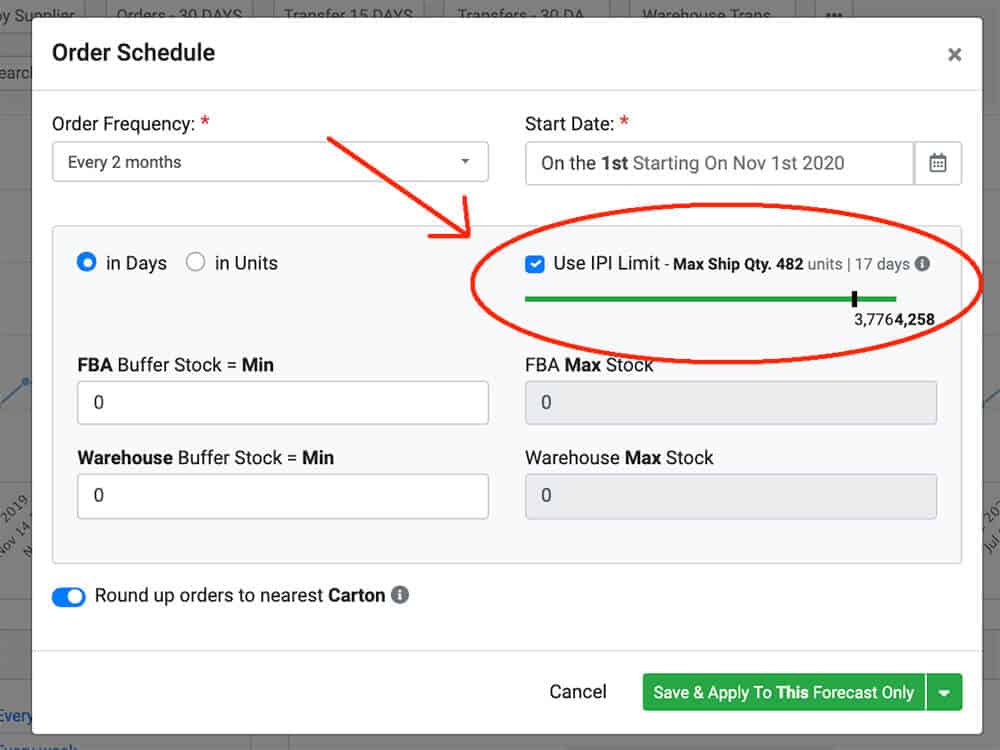 Additional Custom Forecast Settings
Add trends to your velocity settings to predict future growth based on past growth.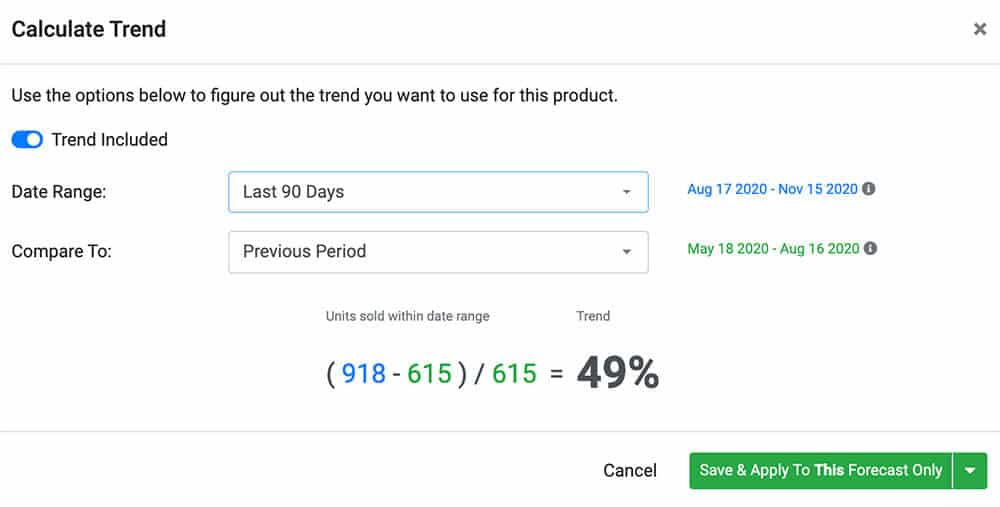 Or add a manual growth increase based on upcoming marketing plans.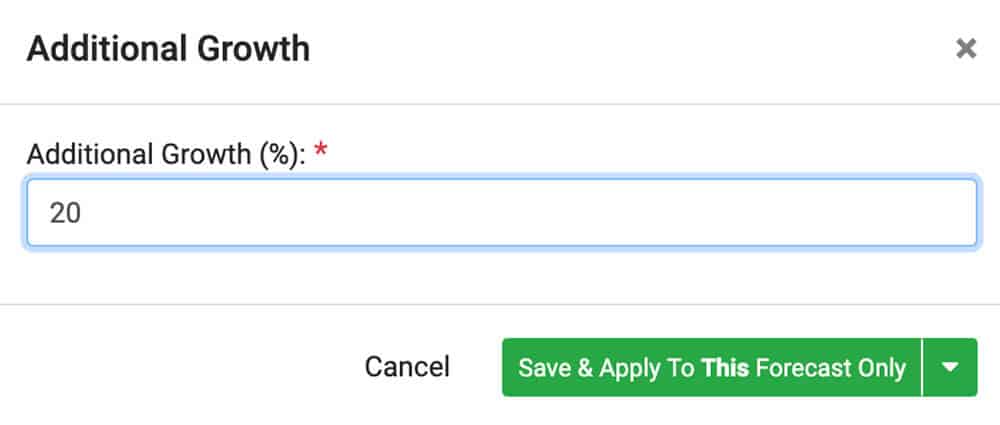 Include Multi-Channel Fulfillment Sales for other sales platforms such as Shopify if fulfill using FBA.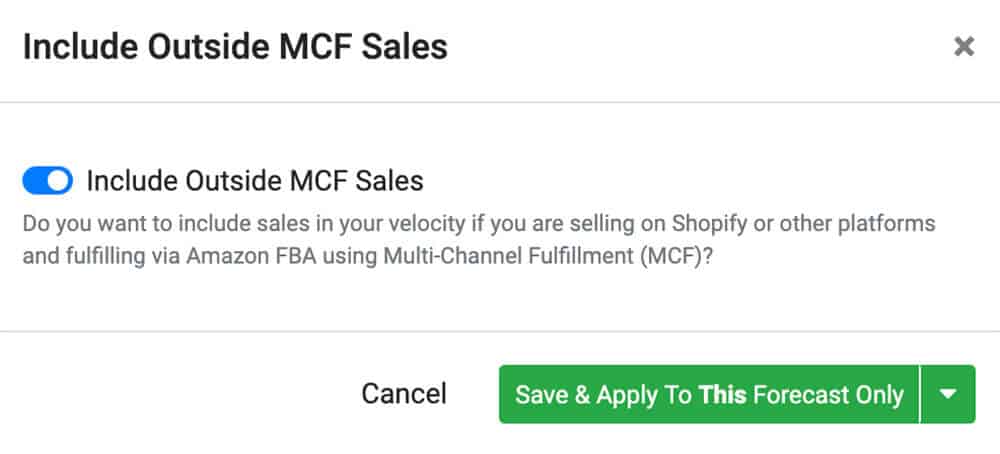 Custom Forecasting Dashboards
Use filtering, grouping, and column organizing to build and save custom dashboards designed to help to streamline your forecasting, transferring, and reordering process.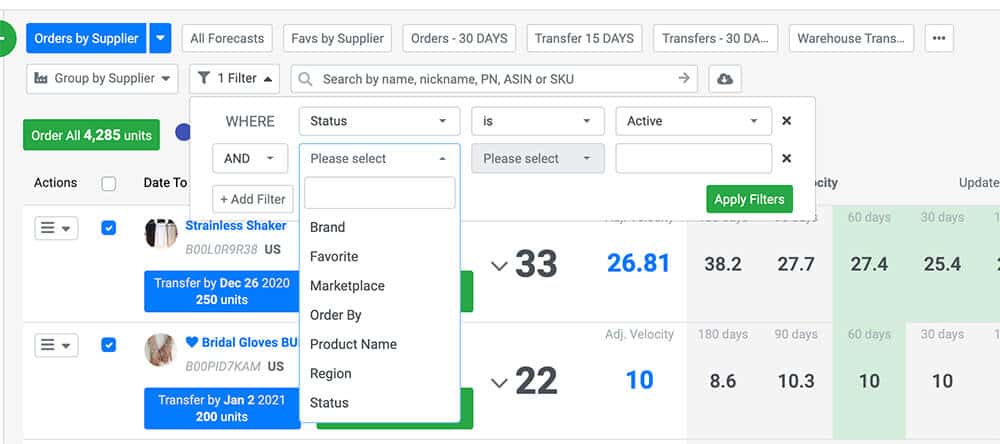 Export consolidated forecast reports to a spreadsheet.

Inventory Management Features
With our unique, AirTable-like flexible inventory dashboards, inventory management becomes a lot more simple and crystal clear in a few quick button clicks.
See everything you want to see and nothing you don't. All in the order that best suits you.
Design and save as many reports as you need and export them to spreadsheets in their current view or by using our historical inventory snapshot feature.

Learn more about our customizable inventory dashboards in our detailed help desk article.
Track detailed inventory changes using our Activity Logs for SKUs, Vendors, Purchase Orders, and transfers.

Inventory Tracking Features
Our Order Tracker lays out the exact status of each Purchase Order and shipment in a well-organized Kanban board. In Production, En Route, 3PL or FBA, know where each shipment is at a glance along with key details clearly in view.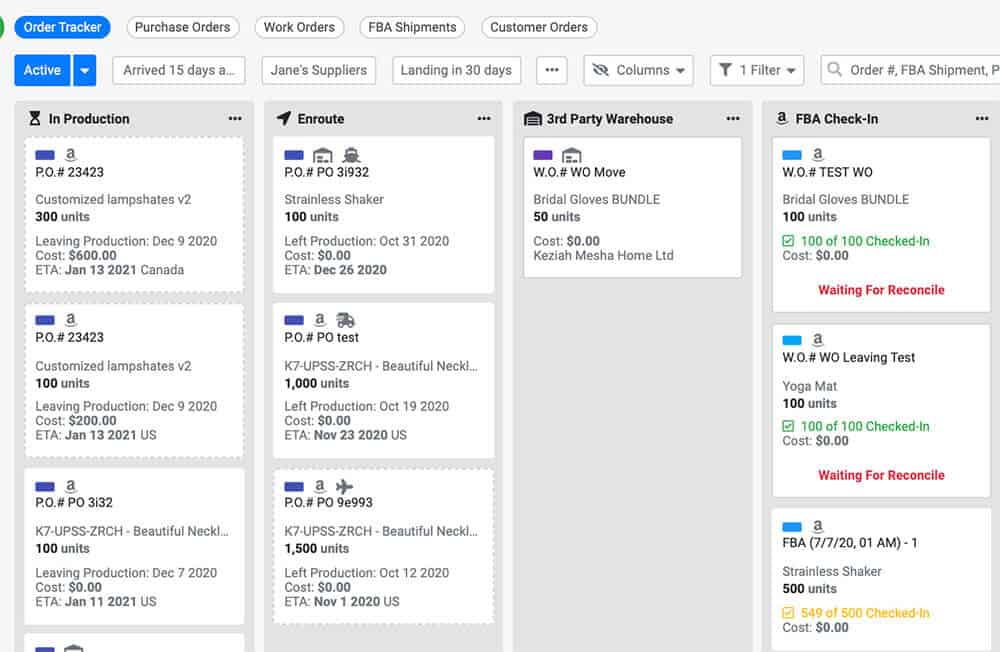 Build custom dashboards to hone in on what's arriving soon as well as what has already arrived so you can be sure to stay on top of your business.

Keep an eye on missing units from Amazon and make notes throughout the process of getting Amazon to reimburse you.

Use color coding and helpful icons to track whether inventory is arriving by sea, air, ground, what vendor it is originating from, and where the final destination is.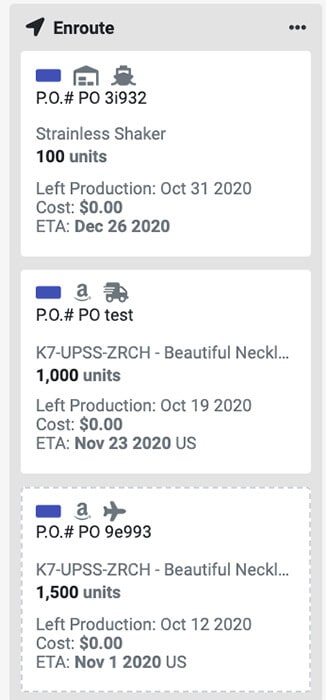 Create and save custom dashboards to show only the orders you want to see in order to simplify your processes.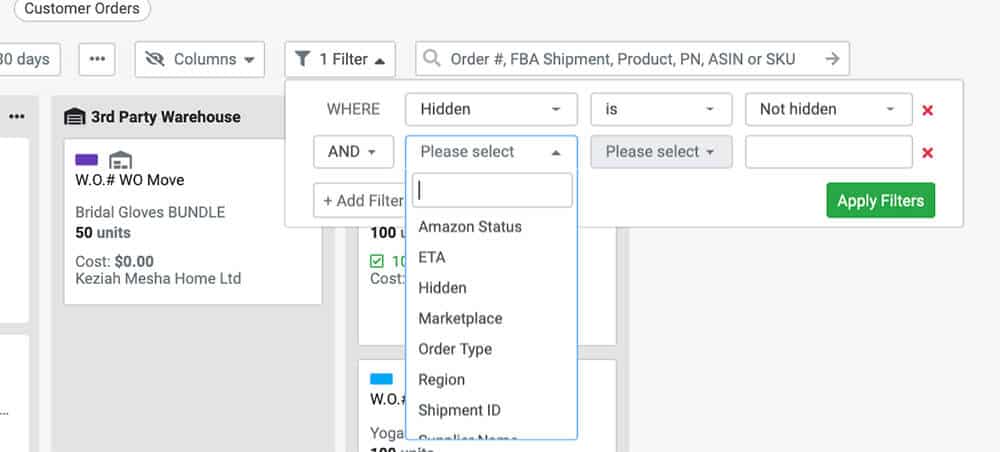 SoStocked Integrations
SoStocked integrates with ALL Amazon marketplaces so that you can track inventory across all your stores.
If you sell on Shopify or other platforms but fulfill through Amazon FBA, we can track your sales velocities and inventory needs for these platforms as Multi-Channel Fulfillment (MCF) sales.
Platforms set for integrations in 2022-2223 include Shopify, Walmart, ShipStation, Deliverr, QuickBooks, and Xero.
Frequently Asked Questions
Visit the Frequently Asked Questions section on our SoStocked pricing page for answers to common questions. We tried to read your mind and come up with the answers we thought you would be looking for. You can also click the Contact Us bubble in the bottom right corner to ask us anything. We typically reply back within 1 hour during weekdays.
SoStocked Alternatives
The most popular alternative to SoStocked is a complex web of custom-designed and managed spreadsheets. Most sellers have tried other software but resorted to going back to spreadsheets. If you only have one SKU or two, this may work for the time being, with a couple of notes of caution. Spreadsheets tend to be prone to human error and some of those errors can prove quite costly.
Further, the amount of time that must be spent on maintaining inventory management and forecasting on spreadsheets becomes quite difficult to scale as your product catalog increases.
But the benefits of spreadsheets, like what we've done with SoStocked, is that it is fully customizable and fully understandable.
What Features Are Coming Soon?
At SoStocked, we are continually updating and innovating how sellers handle their inventory management. Below are just a few of the upcoming features we have in our pipeline.
1-Click Rerouting
If the Estimated Time of Arrival (ETA) or Destination changes for a Purchase Order or Shipment initiate that change in SoStocked in a single click for rapid adjustments that work to keep pace with your fast-moving business.
Automated FBA Shipment Creation
Create FBA shipments directly from your Purchase Orders or warehouse transfer requests (known as Work Orders) which will automatically link FBA shipments to these POs and transfers for more streamlined shipment tracking.
Cash Flow Modeling
Create cash flow projections based on inventory orders and projected sales to understand your cash flow timelines and to identify areas of cash surplus and shortages so you can be financially prepared. SoStocked will also integrate with QuickBooks and Xero for more seamless accounting.
Buy Box Calculation
We will utilize Cost of Goods, Buy Box pricing, and Amazon fees to predict wholesale profitability calculations and to allow for filtering and ordering of only SKUs that currently fall within your profitability parameters.
Next Steps
Inventory management and forecasting can be a complex and time-consuming business. But shooting from the hip is a dangerous endeavor, and the more you scale up your business, the more vital inventory management and thus cash flow becomes to your business both in the short and the long term.
Getting your inventory management systems locked in as soon as possible will save you a lot of heartache down the road.
SoStocked has all the features you'll need and is geared towards continued development and growth as the most comprehensive inventory management solution available for Amazon sellers.
Sign up for SoStocked today and avoid over-order, under-ordering, and stocking out for good.
Try For Free
1,000+ Customers. Free Data Migration. 1-on-1 Onboarding.
Need more information?
Send Message: We typically reply within 2 hours during office hours.
Schedule Demo: Dive deeper into the nuances of our software with Chelsea.
Join Live Upcoming Webinar: New to Amazon inventory management? Learn three inventory techniques you can implement right away.