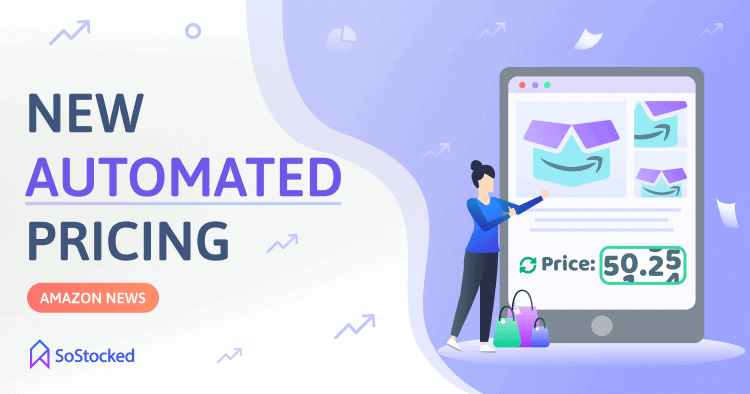 Amazon's New Automated Pricing Tool
Amazon is now instituting automated pricing. If you are a retail arbitrage or wholesale seller, this could potentially be excellent news for you.
Some sellers use external repricing tools, which raise or lower your price based on the prices of others selling the same product, usually someone you're sharing the BuyBox with, as well as other parameters you've pre-set. A repricer are a beneficial tool and can help to:
Increase your sales by increasing your price competitiveness
Earn you the BuyBox more often
Increase your conversion rates
Amazon has now built its own tool, potentially allowing you to stop using and paying for your current Repricers, canceling some of those software fees. I recommend testing it out first. You want to make sure that it works the way you think it's going to work before you cancel those services.
For those who don't know, here's a little primer on how reprices generally work: you will start by building out "rules" around how high or low you are willing to go with your pricing and what your sales objective is, such as whether you want to focus on higher profit, for example, or more sales with lower profit, etc. If you're using pricing tools, you're familiar with pricing rules.
One of the benefits of this tool is that if you're using the Build International Listing tool, it will allow you to create pricing rules across multiple marketplaces. For example, if you sell in Mexico, Canada, and the US, and your pricing needs to be different for each country based on your profitability, you can create rules for each individual marketplace.
Again, test it out. Amazon's tools have tended to show bugs or faulty logic in the past, especially during early stages, so I'll emphasize again that you want to make sure that Amazon's automated pricing tool is working the way that you think it should work before you convert over. I would recommend doing a test to compare Amazon's repricer tool to your current repricer tool and see if it's working to your standards.
Try For Free
1,000+ Customers. Free Data Migration. 1-on-1 Onboarding.
Need more information?
Send Message: We typically reply within 2 hours during office hours.
Schedule Demo: Dive deeper into the nuances of our software with Chelsea.
Join Live Upcoming Webinar: New to Amazon inventory management? Learn three inventory techniques you can implement right away.