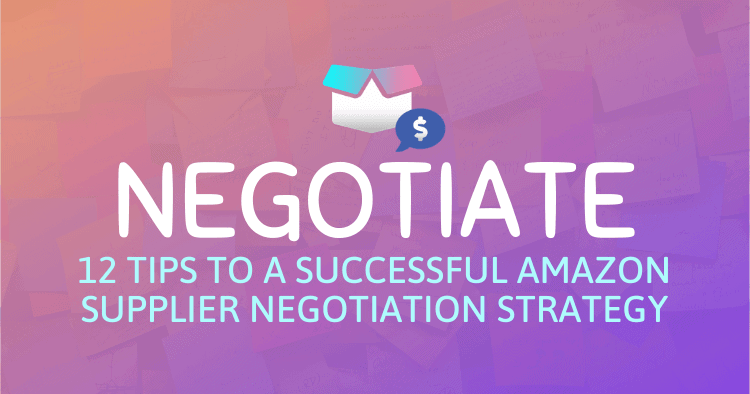 Amazon Supplier Negotiation Strategy
12 Tips to Successful Supplier Negotiations
When it comes to sourcing products to sell on Amazon, one of the trickiest parts of the process is negotiating and settling on a price. If you can't bargain well with an Amazon supplier negotiation strategy, you'll find yourself paying thousands of dollars more than you need to.
By learning the art of negotiation, you get three benefits.
You cut down on the cost of goods. Money saved is money earned.
As a result of lower expenditure, your profit margins rise.
It helps you control your cash flow.
In today's blog, we'll talk about the 12 tips you can adopt to ensure you always have an edge when discussing terms with your Amazon supplier.
Masterclass: We've partnered with our friends at Titan Network to bring you the FREE Supplier Negotiation Masterclass so that you can stop relying on traditional financing and start leveraging suppliers to fund your growth.
2 Amazon Supplier Negotiation Types
When it comes to purchasing goods from an Amazon supplier, negotiations are of two kinds:
Price Negotiations: These revolve around settling the price of the goods you're sourcing from a factory.
Trade & Payment Terms Negotiations: These involve settling the terms of the purchase of goods. These terms include areas such as the payment schedules and the specifics of the trade.
Even if you can't reach an arrangement to get a lower price, you can save a lot of money by negotiating favorable terms for the purchase.
For example, if you're using money from a loan to pay your Amazon supplier, you can save money on interest by settling on a more advantageous schedule for payments.
Let's discuss tips for both kinds of negotiations that will save you money by settling on a better price and/or getting you better supplier terms.
Tip #1: The lowest price is not always the best price in supplier negotiations.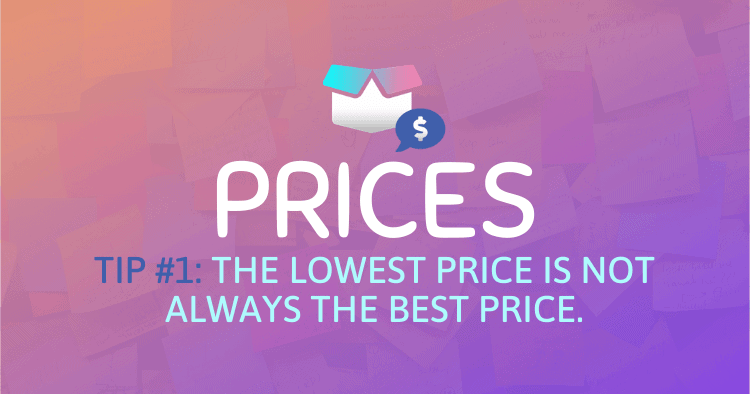 Understand one thing – Chinese suppliers will generally be willing to give you a lower price if you ask for it. However, this can come at a cost.
They'll often just decrease the cost of production by providing you with an inferior product. You may have reduced your expenditure on sourcing, but you'll now have to suffer bad ratings and reviews.
When dealing with a supplier, remember that your goal isn't to get the cheapest product. Your target is to have a well-priced offering that does not compromise on quality.
Exercise caution if a supplier keeps giving in to your requests for a lower price. Make sure you're buying items that live up to your standards.
Tip #2: Negotiate with your Amazon suppliers like you're Chinese.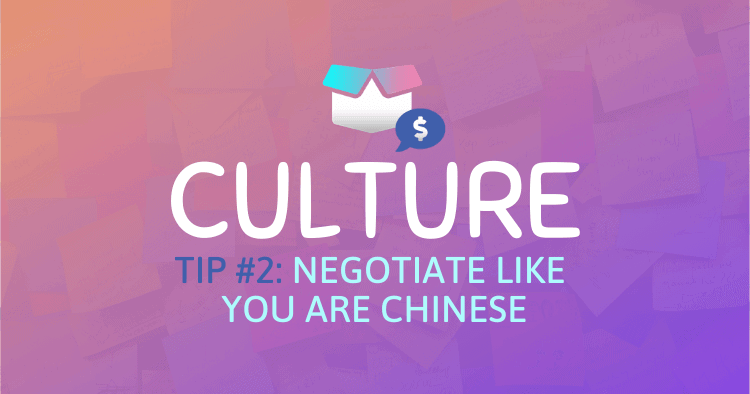 Negotiation is all about psychology, and culture plays a massive role in the process.
If Amazon Chinese suppliers see you as a foreigner who is clueless about the product or pricing, they will charge you higher rates and use different tactics to extract the highest price from you.
Thus, you have to negotiate and think as a Chinese local would.
There are six price tiers that Amazon Chinese suppliers charge buyers. These depend on your level of knowledge about the market. Tier 1 is the highest price, and Tier 6 is the lowest.
Tier 1: "How much is this product?" – The price quoted to seemingly naive foreigners who express interest in purchasing a product.
Tier 2: "I need a discount." – The nominally reduced price quoted when a foreigner asks for a discount or a lower price.
Tier 3: "Difficult cheap customer." – The price quoted to people who are insistent on getting a considerable discount.
Tier 4: "Very knowledgeable about the market." – The price quoted when a supplier senses that the buyer is highly aware of market conditions.
Tier 5: "They know the currency game." – The price quoted to buyers who want to negotiate in the local currency, indicating that the buyer is well-informed.
Tier 6: "They have other options." – The price quoted to fully aware buyers who have alternatives for getting their goods. This price is the lowest.
Understanding this will help your Amazon supplier negotiation strategy. You'll ensure that you always get low rates from your Amazon suppliers.
Tip #3: Never negotiate prices at the beginning of the sourcing process.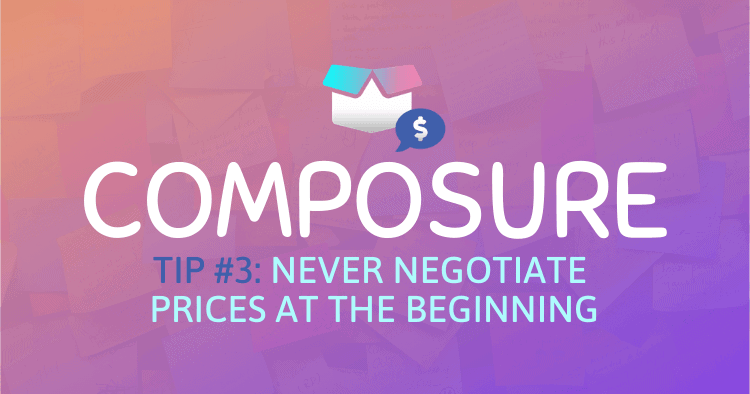 When you first start talking to an Amazon supplier, they aren't sure whether you're a serious customer. Until they're confident that you're a potential buyer, negotiating will be very unproductive.
It can be tempting to start bargaining as soon as you receive a price quotation but don't do it. Instead, move on to the next step of the Amazon product sourcing process – asking for samples.
Doing so will indicate to the supplier that you're a serious buyer. Thus, they will try to have an actual conversation with you, and they won't just dismiss your negotiations at face value.
Leverage your suppliers to fund your growth and stop relying on traditional financing by checking out the FREE Supplier Negotiation Masterclass, which we've partnered with our friends over at Titan Network, to bring you.
Tip #4: Project high; then buy low in Amazon supplier negotiations.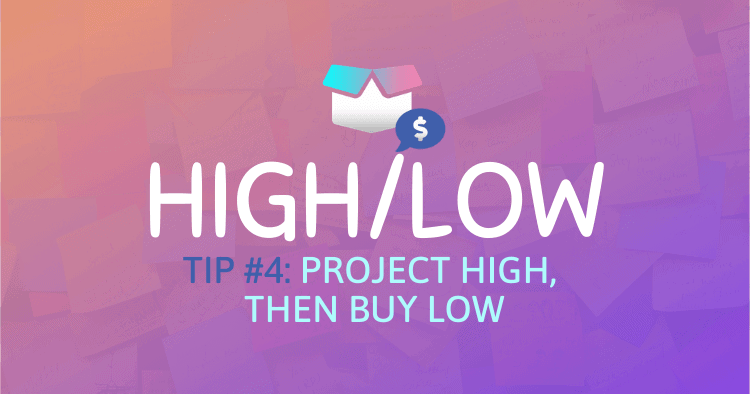 Naturally, all factories covet large orders. The bigger the order, the more they earn. If a factory thinks that you could potentially make a massive purchase, they would be more open to lowering their rates for you.
If you're interested in purchasing 500 units, approach an Amazon supplier claiming that you want 10,000 units. Doing this will pique their interest, and they will give you a good deal, given your order's size.
Once you get a competitive rate for your goods, inform them that your company policy is to place a trial order when working with a new factory and that you want a trial order of 500 units. Do not do this until the end of the process once you have an actual quote.
This way, you get the 500 units you wanted at a rate you couldn't have received otherwise.
Tip #5: Be caring and friendly with your sales rep during negotiations.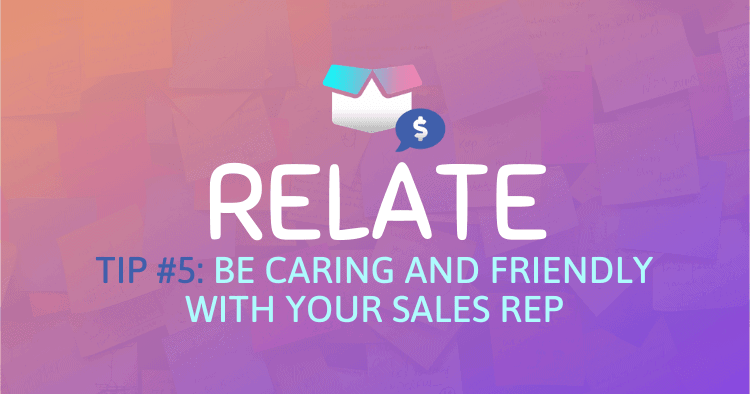 Your sales representative holds all the cards, and they know the lowest price they can give you. Most representatives get paid a commission based on the amount of money they bring in. Their primary objective is to extract as much money out of you as possible.
If you want to get a low rate, try and make friends with the sales rep. Ask them about their family, how they're doing, and always be cheerful. Be nice to them and express an interest in their life.
By getting on their right side, you might make them sympathize with you and give you a lower rate.
Tip #6: Defer small details until the end of your supplier negotiation strategy.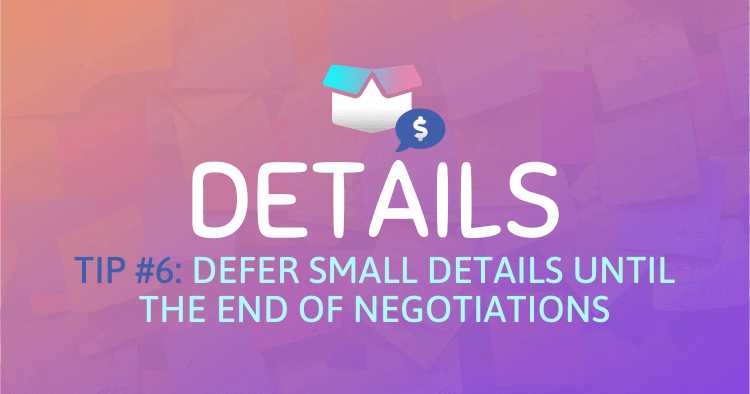 If you're making a product with small intricacies such as inserts, labels, stickers, or any minute additions, do not reveal that during negotiations. Wait until the end, when you have settled everything else.
The reason behind doing so is that telling your supplier about the small details in advance might make them increase their prices. They will see every little thing you want as an extra service, and they will charge you more for it.
Once you get a final price, inform them about the minutiae of the product. Tell them about the small inserts you want on the product as if they're no big deal. Now, they won't charge you extra for it, and you've saved yourself a considerable sum of money.
Tip #7: Don't fall for the Minimum Order Quantity trap during negotiations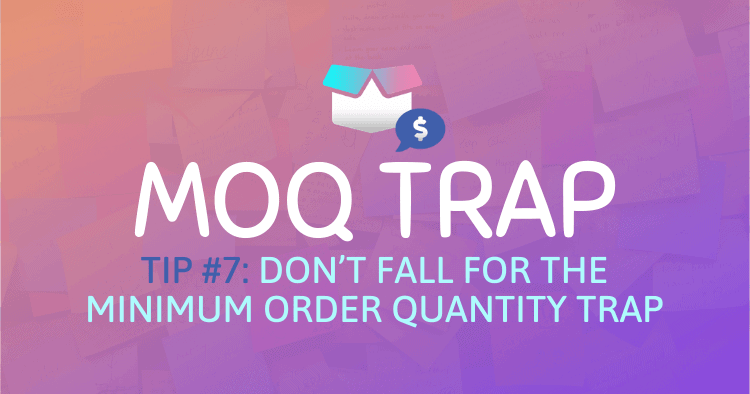 Many Amazon suppliers will tell you that they're willing to give you very low rates, but these rates will come with a Minimum Order Quantity (MOQ). The MOQ will be a massive number of units that may be more than what you need at the time.
There is a trick with which you can get the MOQ price without buying that many units at once. Simply tell your suppliers that you can commit to the MOQ, but due to restraints such as storage capacity, you need to divide into 3-5 shipments and that you'll pay as you go.
Thus, you save a lot of money by buying your goods at the MOQ price without having to buy a large quantity all at once.
Take your Amazon supplier negotiation strategy to the next level. Learn the art of successful supplier negotiations in this FREE Supplier Negotiation Masterclass by our friends over at the Titan Network.
Tip #8: Set up a monthly or bi-weekly payment plan in your Amazon Supplier negotiation strategy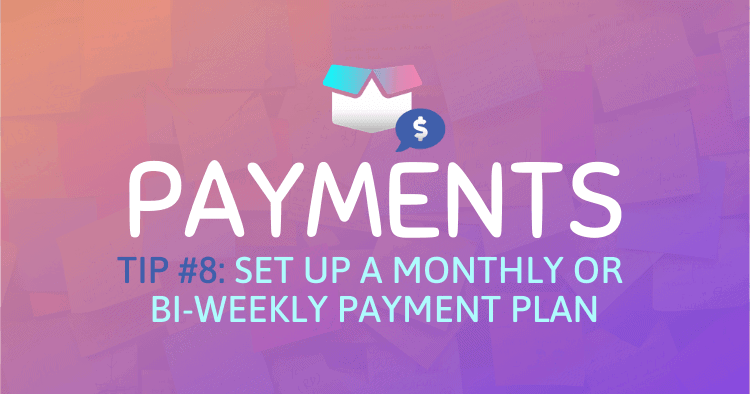 Most retail businesses have problems with cash flow. These problems arise because income is tied directly to inventory, and money only comes in after products move out.
The good news is that most Amazon Chinese suppliers accept payments in installments. Suppliers that you have a good pre-existing relationship with will be open to accommodating your payment schedules.
Simply inform them of your situation and ask if you can have a bi-weekly or monthly credit limit on a rolling basis. This way, you can ease the stress of payments and have more flexibility with your finances.
Chinese businesses place a significant value on relationships. If you're on good terms with your supplier, they will be far more likely to accept your request.
However, be mindful of this strategy as it can stab you in the back if you're not careful. If you get a massive credit line and spend it all faster than your inventory is selling, you might end up with more financial troubles than when you started.
Only use this method if you have a stable velocity of sales, and if you know your limits.
Tip #9: The most strategic time to negotiate with Amazon suppliers is right before placing your first order.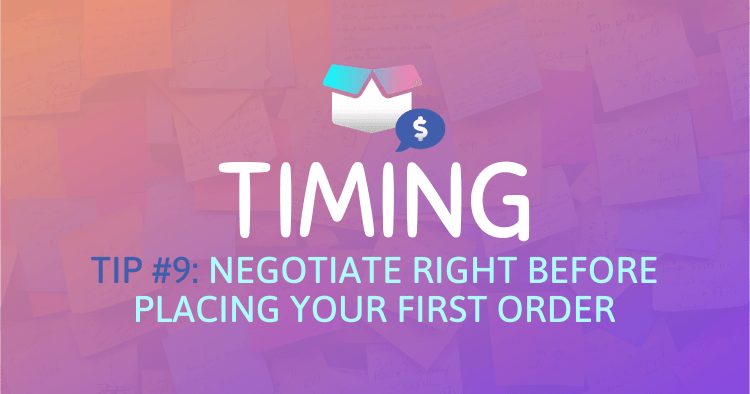 The most favorable time to bargain with your supplier is just before you confirm your first order.
By the time you're ready to confirm your order, your supplier has already put in a lot of time and effort. They have paid their sales representative for the time spent working with you. They have made samples and have spent time discussing details with you.
Thus, if you tell them that you need a lower price just before you confirm the order, they'll be more likely to cave in and agree.
Tip #10: Use repricing in your Amazon supplier negotiation strategy to get a better price.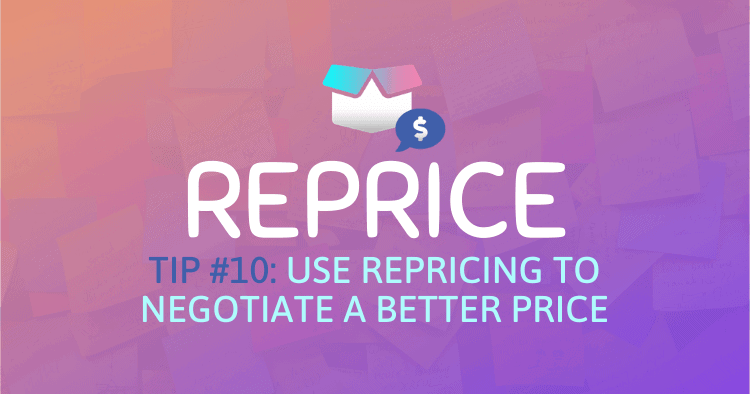 An excellent way to get a lower price is to find another cheaper supplier who can make the same product with the same quality. After finalizing a proforma invoice with this supplier, take it back to your existing supplier and show them that you're getting a lower rate.
Using this method, you can get a far better rate than what you currently have. You may find you can get savings of 20-25% without much effort.
However, use this method cautiously. Your supplier might reduce the price but compromise on quality, which would be counterproductive. Conduct inspections to ensure that the quality does not worsen.
Tip #11: Set up a bidding war between Amazon suppliers.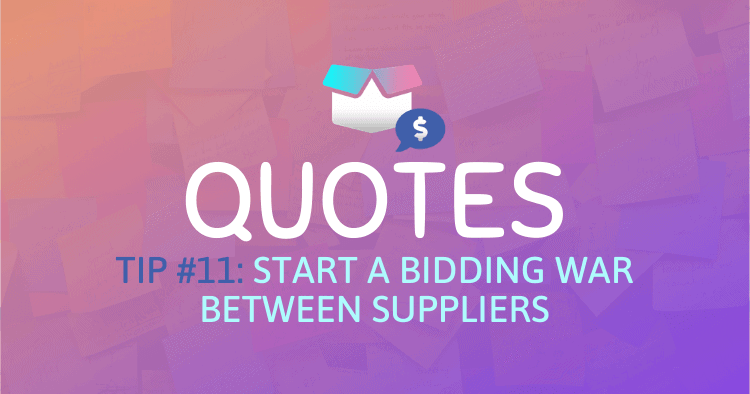 Another way you can get a better price just before confirming the order is to set up a bidding war between suppliers. Get quotes from top suppliers in the area and get them to compete with each other.
Once you have a lower quote from one supplier, take it to the supplier whose order you were about to confirm. Ask them to match the price, saying that if they reduce their rate, you can transfer the money to them the very next day.
The supplier will focus on the fact that they could potentially get paid immediately, and they'll be more likely to agree to your request.
At worst, they'll either refuse or they'll quote you a new number. In this case, Tip #12 will help.
Tip #12: Use the silent treatment as a strategy during negotiations
If all else fails, the most powerful tool in your arsenal is silence.
If the supplier does not receive any communication from you for a while, they start to panic. They will give in and email you a lower price. If this price is acceptable, then you've already won. If it isn't, stay silent.
Doing so will make them negotiate against themselves. The supplier will keep emailing you, and eventually, they'll lower their price to a level you can accept.
The reason this happens is that by this point, the seller has put in so much effort and money into your project that they would lose money if they don't confirm your order.
This strategy is practically foolproof – all it requires is patience. Stay silent for as long as it takes, and you'll get the price you want.
What's Your Next Move?
A successful Amazon supplier negotiation strategy is a tricky part of business, especially because it usually involves dealing with companies in different countries and cultures.
By keeping the tips mentioned above in mind, you can be an effective negotiator and save your business thousands of dollars. The next time you're dealing with a supplier, you will have the knowledge you need to avoid overpaying.
What's next? Consider these three big moves to optimize your Amazon business:
Enroll in the FREE Supplier Negotiation Masterclass.
Try our Amazon inventory management software.