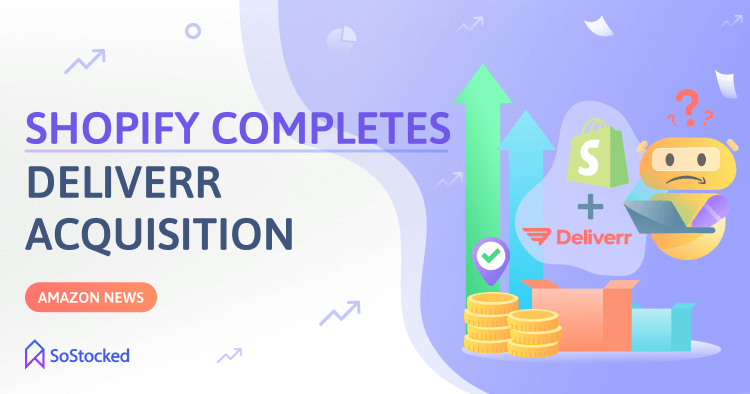 Shopify Acquires Deliverr and Takes Aim at Amazon's Buy with Prime
Update 02/10/2023: Shopify continues to battle Amazon for dominance as it expands its logistics and fulfillment network. 🚀
The Canadian eComm company recently:
Teamed up with Flexport to offer end-to-end import solutions to sellers, from requesting shipping estimates (for ocean and domestic freight) to booking shipments to tracking inventory orders (from supplier to fulfillment center). Smaller sellers can also use the company's growing fulfillment network to import "as little as one pallet or 30 units of inventory," according to Shopify Logistics CEO Aaron Brown.
Rolled out Shop Promise badge that allows sellers to communicate custom expected delivery dates to customers. Sellers can use the badge to feature the standard next-day and two-day delivery options or their own shipping dates as long as they deliver in five calendar days or less. 
Launched Shopify Magic, a new tool equipped with AI to help sellers generate product descriptions.
These latest moves are also likely done in response to Amazon announcing a nationwide roll out of Buy with Prime in January, which means increased competition for businesses that use Shopify.
Introducing these new logistics features will help Shopify merchants directly compete with Buy with Prime sellers.
"If we can level the playing field and give any merchant in the world before they've had their first sale all the benefits of a large retailer, we think that's just giving pure magic to merchants," Brown told Wall Street Journal.
As we know, Shopify and Amazon have been sparring in the ring for some time, but with Shopify's recent acquisition of Deliverr, now the gloves are off. 🥊
Deliverr Acquisition Heats Up Competition Between Shopify and Amazon
Amazon has been going after Shopify's customers and customer data for some time with their Multi-Channel Fulfillment (MCF) program. They even incentivized sellers last year into the program by handing out restock limit increases.
In case you missed it, we reported back in July 2021 that while Amazon was slashing restock limits for sellers due to capacity constraints, they were at the same time doubling restock limits for sellers who fulfilled their non-Amazon sales through Amazon.
You would think that they would implement more restrictions to further limit the influx of inventory into their already-strained warehouses, but they didn't. 🤔
What could be the reason behind this?
Data grab
Amazon counts your MCF sales toward your sales velocity, which has a direct impact on your restock limits, something that was hugely important to leverage last year. The added benefit to Amazon is that each time you fulfill orders from Shopify and other channels through MCF, they gain access to velocity and customer data from other platforms, which allows them to size up their competition and to remarket to their customer base. Amazon could also acquire more valuable insights into what products are trending on other marketplaces and use them as additional sources to develop and improve their own private label brands.
Boost fulfillment revenue
Amazon most likely took a profit hit and more importantly, lost access to significant amounts of competitor data when sellers opted out of their fulfillment network due to inventory restrictions. Perhaps, they tried to soften the blow by incentivizing MCF sellers with higher restock limits so that they would keep using Amazon to fulfill and thus increase storage and fulfillment revenue.
Fast forward to April 2022, Amazon announced that they were making moves to go after even non-Amazon sellers, offering to fulfill for Direct-to-Consumer (DTC) merchants via Buy with Prime.
Shots fired. And now, Shopify is shooting back. 🔥
Shopify's acquisition of Deliverr and plans toward 1- and 2-day delivery hit at the heart of Amazon's Buy with Prime program.
With Deliverr, "Shopify Fulfillment Network (SFN) will allow all merchants to better align the supply of their inventory with buyer demand as we remove complexity for merchants in one of the most challenging areas they face today: logistics. And soon, we will roll out another powerful feature of SFN called Shop Promise, which will offer reliable two- and next-day delivery options across the US," said Shopify Logistics Group CEO, Aaron Brown, in a press statement.
💯 Smart move toward Shopify working at offering alternative fast and easy fulfillment for sellers and protecting their data!
I wouldn't be surprised if they eventually went the way of Walmart and stopped allowing Amazon to fulfill Shopify orders, or, at the very least, pulled API connections to such services.
But will these be enough to loosen Amazon's grip on the eComm industry? 🤔
As of October 2021, Amazon leads US eCommerce with 41% market share, followed by Shopify at 10.3%, Walmart at 6.6%, and eBay at 4.2%.
Looks like it's going to be a steep climb for Shopify! But with the addition of Deliverr into their fulfillment network, hopefully it will be enough to spark a change and even the playing field a bit.
Try For Free
1,000+ Customers. Free Data Migration. 1-on-1 Onboarding.
Need more information?
Send Message: We typically reply within 2 hours during office hours.
Schedule Demo: Dive deeper into the nuances of our software with Chelsea.
Join Live Upcoming Webinar: New to Amazon inventory management? Learn three inventory techniques you can implement right away.