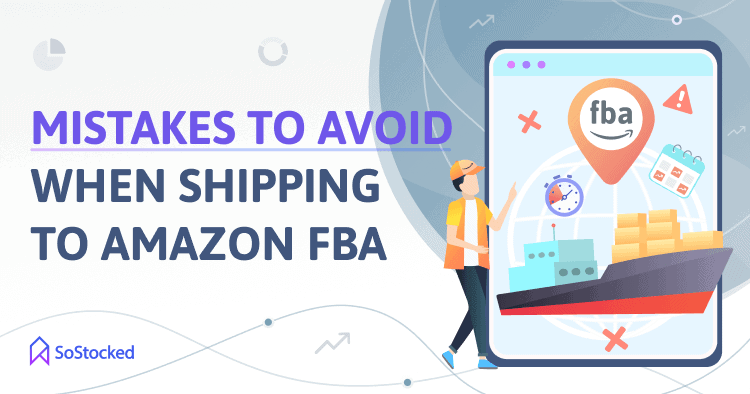 14 Mistakes Sellers Make When Shipping to Amazon FBA
FBA Shipping Errors and How to Fix Them
Ever shipped to the wrong Amazon fulfillment center? Or used standard air freight instead of express shipping, and it eventually drove you into a stockout?
Shipping to Amazon FBA can be daunting. Many things can go wrong, from choosing the wrong freight forwarding company to shipments not being received on time to challenges staying compliant with Amazon's shipping policies.
When shipping mistakes happen, it can lead to delivery or check-in delays or canceled shipping plans and even stockouts, and resolving those issues can take a significant bite out of your profits.
That's why understanding FBA shipping problems is important. It can help you to improve your shipping strategy and propel your Amazon business toward long-term success.
Here are the critical mistakes you must avoid when shipping to Amazon FBA.
In this Shipping To Amazon FBA guide, we'll take a look at:
14 Pitfalls To Avoid When Shipping to Amazon
Choosing the Wrong Freight Forwarder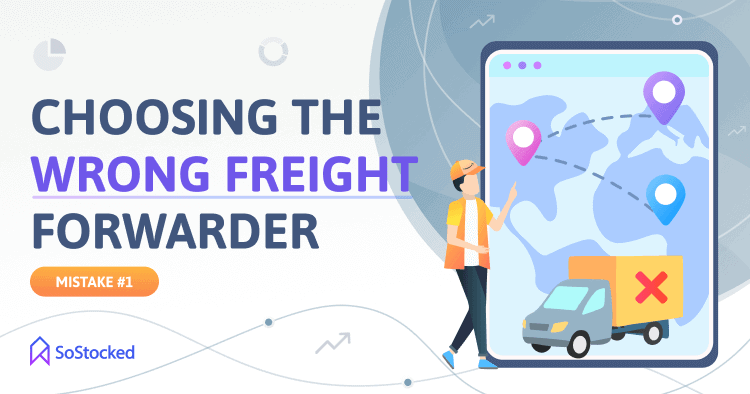 Amazon's fulfillment centers operate under strict shipping and routing guidelines.
If your freight forwarder isn't knowledgeable about these requirements, such as scheduling delivery appointments and delivering all shipments in perfect condition, Amazon may refuse to accept your inventory.
Non-compliance may also result in hefty fees, disposal of your inventory, or worse, blocking future shipments to Amazon FBA.
It's also not good practice to let your suppliers take care of the shipping and logistics of your shipments. A supplier's primary responsibility is to procure raw materials and manufacture goods for you — not to keep up to date with Amazon's packaging, labeling, shipping, and documentation requirements.
Further, unlike a good freight forwarder, they are not trained in the proper export codes and shipment reporting and methods to both reduce costs and avoid getting you into legal hot water. Good advice will find you as many legal savings as possible. Bad advice could wind you up in a lot of trouble. If you use the wrong codes or methods to save money by skirting regulations, that money-saving "advice" could cost you a lot in the long run.
Arranging all shipment and logistics work yourself can also make shipping from China to Amazon FBA extra tedious and complicated. Not to mention, this "DIY" process involves dealing with a lot of people at each stage of the supply chain, from manufacturing, international shipping and customs clearance, to prepping your inventory and delivery to FBA.
That being the case, it's essential to work with the right freight forwarder or third-party logistics company who will:
Take a unique approach to fulfill your unique inventory and timeline requirements, including customs clearance, FBA prep, and FBA shipping.
Ensure your inventory arrives on time and in good condition.
Related: 3PL Logistics Backup for Amazon
Using the Wrong Method of Shipping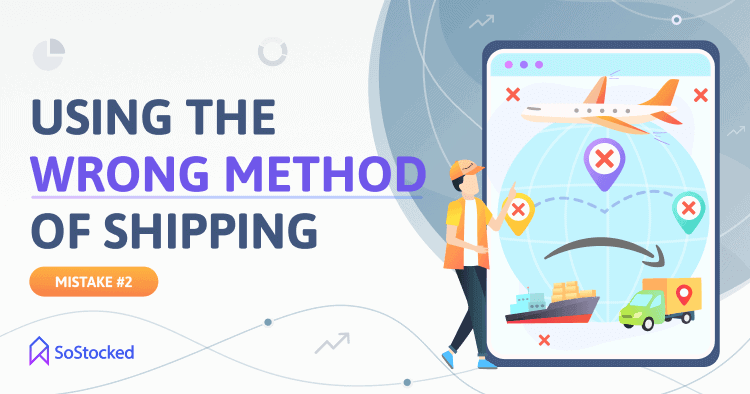 When importing from China, you have to think about the best shipping methods and lead times for your inventory to avoid delays and stockouts.
Your top sellers need to stay in stock at all times to maintain excellent inventory performance at Amazon FBA. Otherwise, your sell-through rate will suffer, so will your IPI score and restock limit.
Below are the top three shipping methods sellers use, and learn how each can make a massive difference in fees and transit times.
Air Freight. This option is ideal for shipments that weigh more than two cubic meters (1.7 freight tons) and between 150-500 kilograms (330-1102 lbs). It's generally a very quick way to get your inventory delivered to Amazon FBA. Standard air freight between China and the US usually takes around 8 to 10 days. However, the shorter shipping time frame comes with a hefty price tag. Currently, the average cost of air transport for general China-to-US cargo ranges between $4 and $8 per kilogram. However, it is always a good idea to check rates and transit times with your freight forwarder, as fluctuations can occur, as we have seen in 2020/2021.Air freight can be considerably more costly than other methods but is sometimes a better option if it will get your goods to Amazon in time to avoid a stockout and restock limits crash.
Ocean Freight. The best option for goods that weigh at least two cubic meters (1.7 freight tons) or 500 kilograms (1102 lbs). Unlike air freight, though, ocean freight offers more flexible shipping options. You can choose to share container space with other shippers, also known as Less than Container Load (LCL), or use an entire container, aka Full Load Container (FLC). Sea freight is generally less expensive than air freight – up to $3,900 per container and higher in times of container shortage and high demand – but requires a longer shipping timeframe.
Express Shipping. If you want to receive your goods within five days, express shipping is the best way to go. It's also ideal for shipments that weigh less than one cubic meter (.88 freight ton) or 150 kilograms (330 lbs) but may cost you $5 to $9 per kg in fees.
Overall, shipping goods by air seems to be the ideal option when speed is your primary concern. While it's more expensive than ocean freight, it's faster and more convenient, especially when you're facing a potential stockout.
But to improve your bottom line, especially when you are moving large volume, ocean shipping is the more profitable option if you can afford to wait 30+ days for your goods to arrive. It can also be an excellent alternative to shipments that you cannot ship by plane due to certain load restrictions.
During heavy export seasons such as the months leading up to Q4, that 30-day shipping time can increase significantly. Being flexible, working with your freight forwarder, and planning ahead with smart inventory management systems are a recipe for success during these times.
Pro tip: If you're using sea freight, I recommend setting aside some buffer stock in your warehouse to avoid any disruption in your supply chain in the event of unexpected delays. To try to prevent potential stockouts, utilize SoStocked's Express Lead Time feature to set up alternative express shipping times in addition to your standard ones. This way, you can either add or split shipments when a stockout is unavoidable.
Longer Lead Times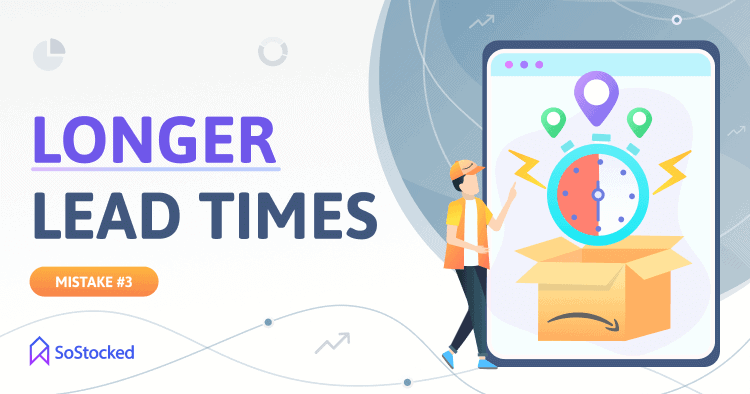 Whatever shipping method you end up using, it's crucial to know your supplier's lead time so you can track both your orders and inventory levels accurately.
The longer it takes your supplier to fulfill your orders, the more units you'll need to hold in inventory.
Be sure not to be too wishful about your lead times, shortening them so unrealistically that you don't plan for any possible delays. Tight lead times are not ideal when you're shipping from natural disaster-prone areas of the world like China. These events can strike anytime, and thus, can affect your shipments. Plus, longer lead times can make cash flow and inventory planning more difficult when you have seasonal products or want to take advantage of hot new marketing strategies that could lead to massive sales increases.
Suppose your supplier can't meet your timeline requirements. In that case, you may need to book an express shipping service to expedite the delivery of some or all of your inventory.
So be sure to have some buffer stock to account for these potential delays and stockouts.
Use the formula below to determine your optimal lead time:
Production Time + Shipping Time + Check-in Time = Lead Time
Once you've figured out your lead time, do your best to reduce it. But if that's not an option, consider negotiating better payment terms with your supplier to better control your cash flow.
Related: Lead Time in Inventory Management
Not Calculating Your Total Estimated Cost of Shipping Before Placing Purchase Orders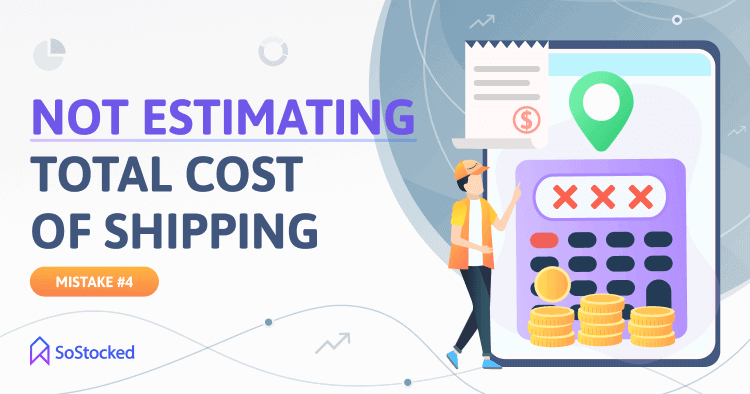 Is your cash flow already drying up even before your inventory has reached FBA?
Make sure to calculate all the costs involved in shipping your goods from China to the US because there are several! Only then can you plan for those additional overhead expenses to ensure profitability.
Additional fees you shouldn't overlook are:
Shipping to multiple Amazon warehouses. Amazon uses an algorithm to assign random fulfillment centers for your FBA shipping plans. The algorithm uses your existing inventory data, including similar products, to identify which warehouses you should send your shipments to. So there may be instances where Amazon distributes your items across the country to get them closer to customers, thereby increasing your shipping costs.
Shipping costs during peak seasons. Your product may be profitable during non-peak seasons when the shipping costs tend to be lower, but during peak season, rates can go up. If your margins are razor thin, peak season shipping may be the death blow to your profitability. Make sure you have healthy margins and consider asking your freight forwarder what the historical increase in shipping costs have been so you can run all the numbers to determine you'll be profitable year-round.
Customs exam fees. The US Customs and Border Protection may randomly select your shipment for inspection. It can undergo an X-Ray exam or a thorough examination by the Contraband Enforcement Team. Warehousing your cargo for a random customs exam typically comes with storage and labor expenses that you, the owner, will shoulder. Check with the US CBP to determine these costs.
Avoid losing money on your shipments by knowing the total potential shipping costs to Amazon FBA before placing a purchase order with your supplier.
Poor Inventory Visibility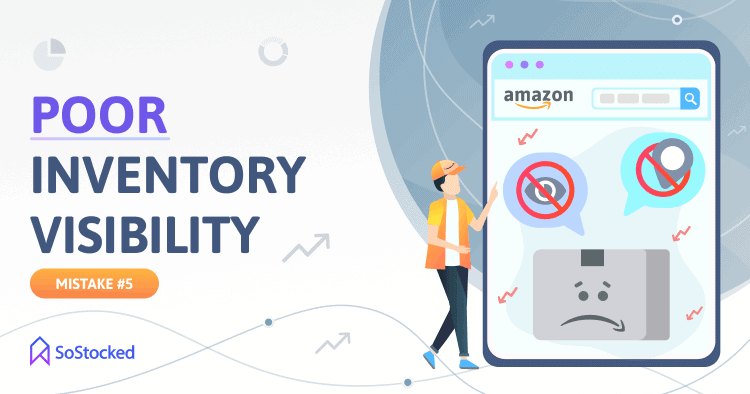 Shipping mistakes can happen when you don't have eyes on your shipments. Imagine not knowing what's in production, what's en route, who has your inventory, or where it's going. If you don't track your inventory, you're also risking not knowing when and how much to reorder and which warehouse needs restocking ASAP. You could end up missing out on significant sales events, which ultimately means lost revenue!
For this reason, consider investing in an inventory management system with a built-in inventory tracker to gain better control over your stock levels. Additionally, a more advanced tracking tool lets you arrange your shipping plans by stages: in production, en route, and arrival to destination. That way, you can conveniently track the progress of your shipments and detect common supply chain problems early.
Related: 11 Ways Amazon Inventory Trackers Improve Inventory Management
Under-Ordering or Over-Ordering
Using erroneous data can throw off your forecasting calculations, which can either lead to ordering too much or too little stock, and both of these can reap chaos.
Under-ordering can lead to stockouts, while over-ordering can create an excess inventory situation with accompanying storage fees. Either way, they can impact your inventory performance, resulting in reduced restock limits and IPI scores and, in the case of stockouts, potential lost ranking. This means less opportunity to make money and more reasons to spend cash on regaining your lost rankings and getting rid of excess inventory.
Pay close attention to your inventory planning and forecasting processes. If juggling multiple spreadsheets is making you more prone to error, consider automating your Amazon inventory forecasting with software for more accurate and efficient reordering.
Once you set up an accurate system of extracting and organizing your data, you can quickly identify your stockout patterns (or extremely low sales days) and sales spikes so you can remove them from your future calculations. If you continue factoring in, say, the days you're out of stock, then you're just going to make the same mistake – under-ordering.
Pro tip: Customizable forecasting systems like SoStocked also allows you to include additional sales growth, future Lightning Deals, seasonality, and restock limits into your calculations. Yes, you read that right! In SoStocked, you can now factor Amazon restock limits by storage type into your forecasts. Click here to see how it works!
Not Planning for Chinese Blackout Days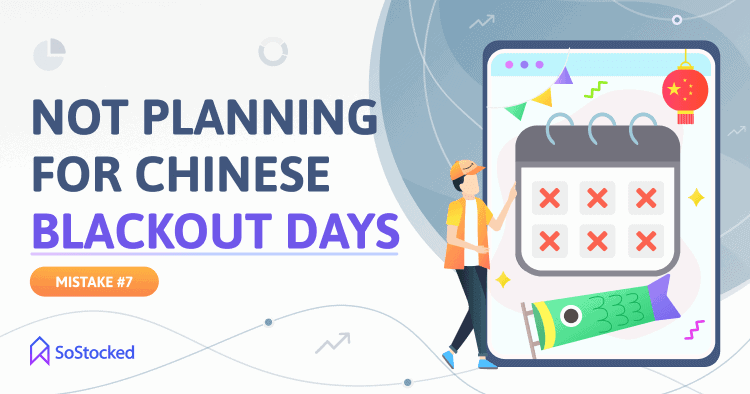 Chinese holidays like Chinese New Year and Golden Week can interrupt production schedules, shipping plans, and lead times, but it can also:
Raise shipping costs
Increase the price of goods
May result in reduced product quality due to factories working double time to finish all pending orders before the holiday break
Given that China has long holiday breaks, it's wise to know when these events occur and adjust your timelines to avoid delays in production or shipments.
Pro tip: Download our Supplier Blackout Dates Calendar to plan for Chinese national holidays.
Failure to Get Insurance for Your Cargo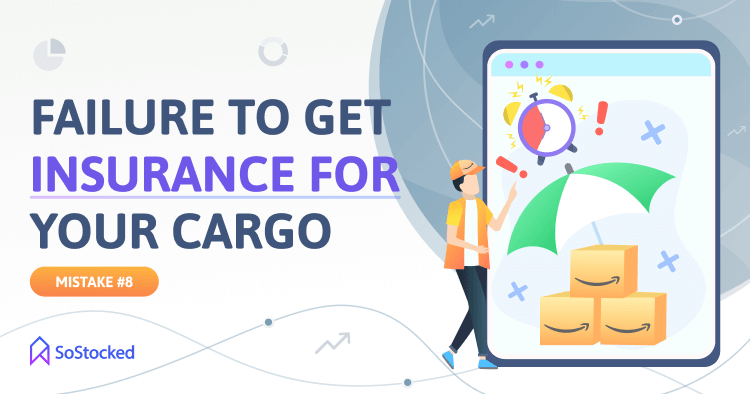 In light of the infamous Suez Canal incident and other supply chain chaos, cargo insurance has become more important to sellers. Having a month's worth of inventory stuck halfway around the world is pretty tragic.
So in cases like this, you'd want to get compensated and reimbursed quickly, and one way to achieve that is by insuring your shipments. In order to be covered for these types of incidents, it is important to make sure that your insurance has a delay clause which covers you for shipping delays. It offers an additional layer of protection than your typical Carrier Liability which generally only covers you when your goods are lost or damaged by your carrier.
However, it comes at a cost, so talk to a third-party logistics company or marine insurance agent to help you get your shipment insured at an affordable rate.
Bonus: Want to know the different types of insurance products for Amazon sellers? Read my "Amazon Seller Insurance Tips" post.
Deleting Shipments From Your Approved Shipment Plan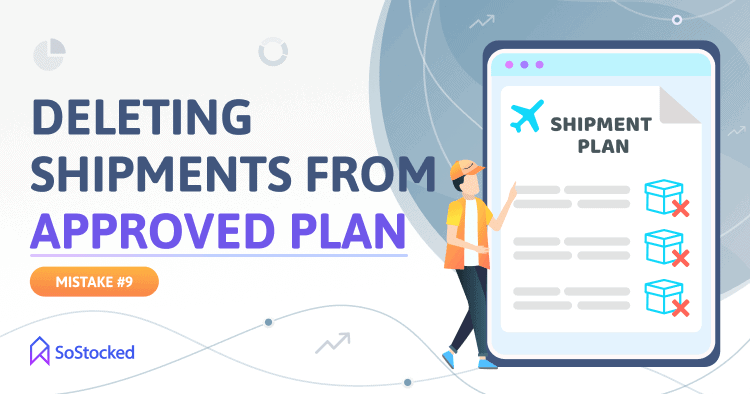 Amazon relies on your shipment plan to coordinate their warehouses to hold your FBA inventory.
So when certain items from your approved shipment plan are missing or not shipped, and Amazon doesn't receive them within 30 days, it leads to additional processing and rerouting of your FBA inventory to other warehouses across the region. These extra steps can increase processing times and delay your products' availability for sale.
"What happens when I delete some shipments of my multi-destination shipping plan or Amazon doesn't receive all items stated in the plan?"
Amazon will send you a warning message about your non-compliance with their shipping policies.
Non-compliance with Amazon's shipping policies could lead to a freezing of your shipping privileges or even account suspension. If your shipping privileges are revoked, you won't be able to send any more shipments until you fall in line with Amazon's requirements. It's also essential to provide Amazon with a good plan of action to guarantee that you will be compliant moving forward.
It's also best practice to plan out your inventory correctly to help you to stay compliant with Amazon. Make an inventory plan that shows you:
How much stock is needed and when you need to transfer it to FBA
When and how much to reorder to stay in stock at all times without overstocking
Inventory performance KPIs
Where your inventory should be at every stage of the shipping process
Factors that might impact your inventory levels
If you want to change your approved shipping plan, Amazon recommends removing all of your shipments from that plan and creating a new one before sending anything to FBA.
Pro tip: I've put together a comprehensive guide to Amazon Inventory Planning. Learn why it's important and discover the top inventory planning challenges and how to overcome them, plus the steps to creating a solid inventory plan.
Shipping Items Not Eligible for FBA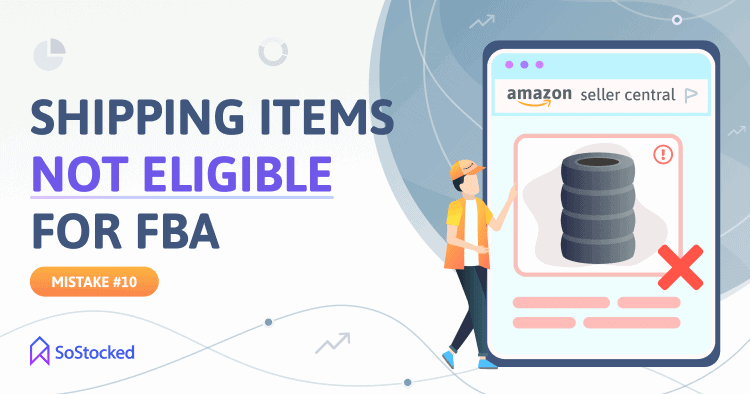 Certain items can be sold on Amazon's retail channel but are not eligible for FBA!
Suppose you don't acknowledge this policy and keep on sending restricted products to FBA. In that case, Amazon may penalize you heavily or, worse, ban you from selling on the site.
For example, Amazon prohibits sellers from sending or selling alcoholic beverages, car tires, or gift cards on Seller Central.
Damaged goods are also a big no-no. Amazon isn't going to sell products that arrived broken at their fulfillment centers. In other words, they will return them to you at your own cost.
Wrong Shipping Address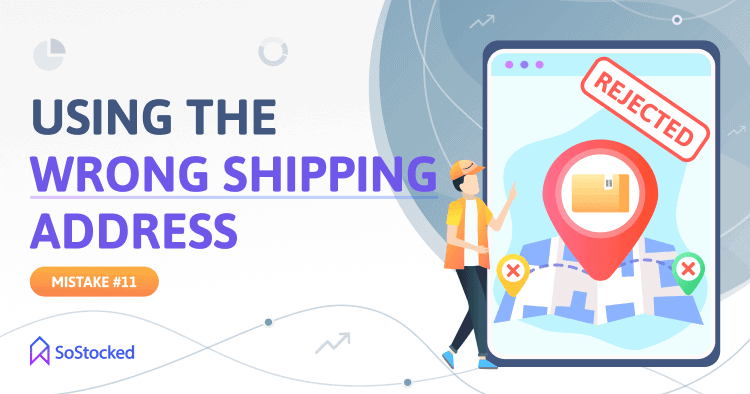 Amazon rejects any shipment that landed at a different FBA warehouse than the one planned. That also means you'll have to find a third-party logistics company that can help you get your rejected products back.
Before shipping to Amazon FBA, add a few validation steps, such as having the warehouse team review the shipments and shipping plan and double check everything before shipping. If you don't run your own warehouse, arrange a call with the foreman or your sales rep to discuss their shipping processes and what safeguards can be put in place to improve the process so that these mistakes don't repeat themselves.
Incorrect Packaging Labels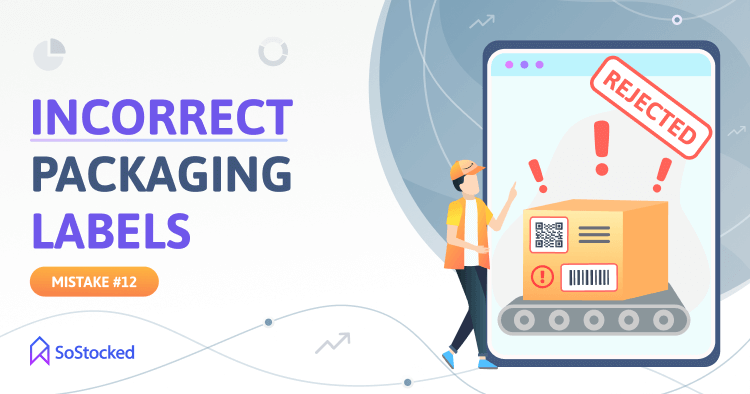 Incorrect packaging labels can cause check-in delays or rejections as well as customer returns and potential listing suspension due to customers getting the wrong product. So be sure that your FBA prep for your inventory is correctly done before shipping it to Amazon.
Below are a couple of tips:
FBA Shipping Label. Individual cartons must have their own unique shipping label, which Amazon automatically generates after you approve your shipment plan.
FNSKU. Amazon requires each unit packaging to have its own unique barcode, which you can get after creating the listing for that product through your Seller account. Each production variation will have its own FNSKU, so label all of your units correctly to ensure they are scanned in quickly and accurately.
Incorrect Weight or Classification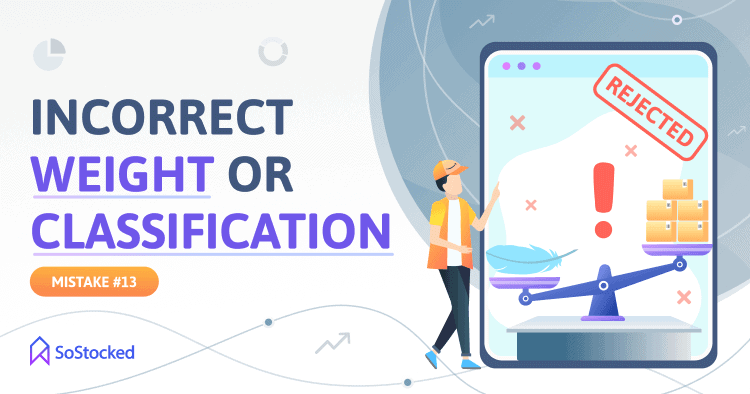 If you're not using a third-party logistics company, make sure to weigh your shipments and classify them correctly for uninterrupted shipping.
Classifying a single product isn't exactly a huge concern, but multiple inaccuracies across multiple products can quickly turn things into a nightmare. Some sellers classify products into incorrect weight ranges to reduce shipping costs. However, if Amazon or your carrier rejects those products, the seller would have to shoulder the return fees anyway. So it'll only cost them more in the long run.
Additionally, with ground freight, ensuring correct weight distribution and maintaining optimal payload capacity help prevent overloading. If possible, keep your boxes under 23 kilograms and use durable boxes and bubble wrap to ensure the safety of your packages. Amazon has shipping requirements and may also reject shipments that violate these requirements, which, again, will cost you.
Not Leveraging Cutting-Edge Technologies
Despite the increasing complexity of shipping inventory, many sellers and freight forwarders continue to utilize manual processes. Keeping track of things in a single spreadsheet without the ability to filter and analyze the data adds time and complexity and is prone to errors. This method takes up time versus organizing and viewing all your purchase orders, transfers and inventory at a glance from an easily-accessed, customizable and full-synced dashboard.
Invest in tools that give you real-time access to data to efficiently manage your inventory and track inbound shipments as they move through the global supply chain. Greater visibility over your shipments can also help you examine your rerouting options faster in the event of production or shipping problems or delays.
Overall, data from inventory management and tracking software can help you:
Take the guesswork out of inventory plans
Provide a full view of inbound shipping to inform your shipping decisions
Increase overall efficiency and profitability
Want to give our inventory management software a try? Book a demo or read an in-depth review to dive deeper into the nuances of SoStocked.
Enhance Your Shipping Processes with SoStocked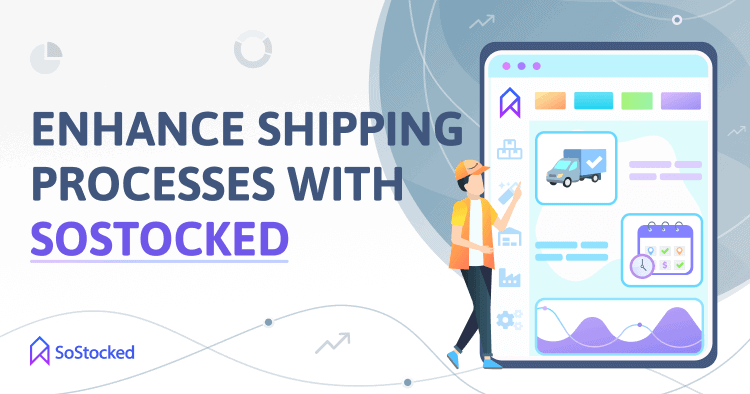 Customizable Inventory Forecasting Software
Accurately generate inventory forecasts and reports by:
Removing stockouts, sales spikes, and blackout dates
Factoring in restock limits, marketing plans, and future sales growth
Min/Max Restocking
Set your Min/Max in units or in days to automate your restocking process. Automation also makes it easier to know when to send in shipments in advance to avoid stockouts. Note: I recommend calculating your Min/Max in days to account for seasonality or fluctuations in your daily sales velocity.
Customizable Inventory Dashboards
Create and monitor vital inventory KPIs through SoStocked's inventory dashboards!
Inbound Shipment shows all your Purchase Orders (POs) or Transfers/Work Orders (WOs) that are going to Amazon or your third-party warehouses.
Inventory On-Hand lets you view all FBA Available, FBA Reserved and any inventory in your third-party warehouses, as well as any inventory inbound or on-order to give you the full picture of your inventory.
Future Stockout helps you anticipate any potential stock outs so you can create a sound plan to avoid them.
Order Tracking Dashboards. Use the "Landing in 30 Days" and "Arrived 15 Days Ago" dashboards to pull up information on shipments that are due to arrive at their final destination in the next four weeks or those that have landed recently. These dashboards help to increase the visibility of your inventory as it moves from production through shipping to arrival. This way, you can follow up on any shipment that didn't arrive or adjust arrival dates to a later date for anything that's running behind.
Express Lead Time Feature
Avoid costly stock outs by sending all or a portion of your shipments from a particular supplier or marketplace via express shipping. The purpose of this feature is to help you calculate how much stock you need to send by expedited shipping to avoid a stockout without sending more than is necessary.
Overstock Report
Carrying plenty of slow-moving products can affect your Inventory Performance Index score, which Amazon uses to determine whether to restrict your storage volume limits. Track and organize slow sellers by tagging and grouping them into specific categories, such as "Disposal," "Removal," or "Liquidation," so you'll know what products to eliminate quickly.
Bonus: Join me in my upcoming Inventory Secrets Webinar to learn more about Amazon inventory management and pick up new strategies to maximize your profits and improve your restock limits!
Minimize the Impact of FBA Shipping Policy Violations and Oversights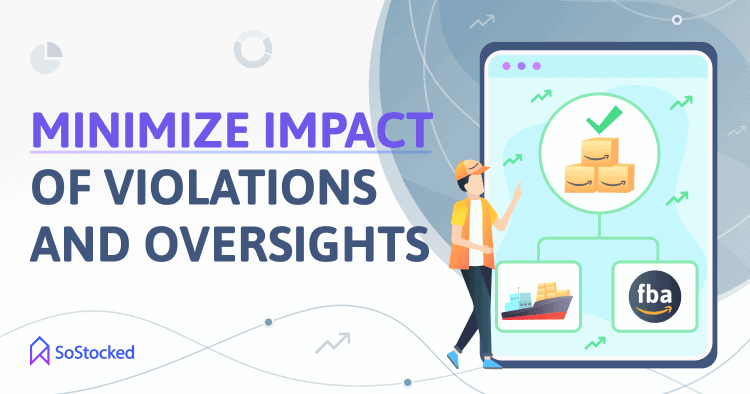 Amazon shipping policies are put in place to ensure you don't transfer shipments to the wrong warehouse or send damaged and prohibited products into FBA, which is good because these guidelines help you stay in stock while keeping costs low.
But mistakes happen, and sometimes the causes are out of your control, such as shipping accidents. Regardless, it's imperative to stay updated with Amazon's shipping policies and follow them accordingly. It's also vital to keep a firm eye on your China-to-US cargo to know where it is precisely in the supply chain so you can quickly communicate your concerns with your supplier or freight forwarder and avoid unnecessary delays.
Lastly, the recent changes in Amazon's restock limits have made good inventory management more critical than ever. Aside from stockouts, sellers now also need to pay close attention to their excess or slow-moving inventory. If you over-order, you could end up with potential excess units that you will need to put on sale or liquidate quickly to free up storage space and keep your excess inventory percentage low, which is an influencing factor for calculating your IPI score.
Fortunately, you can minimize your risk for errors like over-ordering, stocking out and poor inventory visibility by having access to real-time data and accurate calculations. Inventory management software like SoStocked automatically pulls up the data needed for calculating demand accurately, tracking inventory, or building data-driven inventory plans. If used correctly, it can significantly reduce the errors associated with shipping to Amazon FBA.
Try For Free
1,000+ Customers. Free Data Migration. 1-on-1 Onboarding.
Need more information?
Send Message: We typically reply within 2 hours during office hours.
Schedule Demo: Dive deeper into the nuances of our software with Chelsea.
Join Live Upcoming Webinar: New to Amazon inventory management? Learn three inventory techniques you can implement right away.