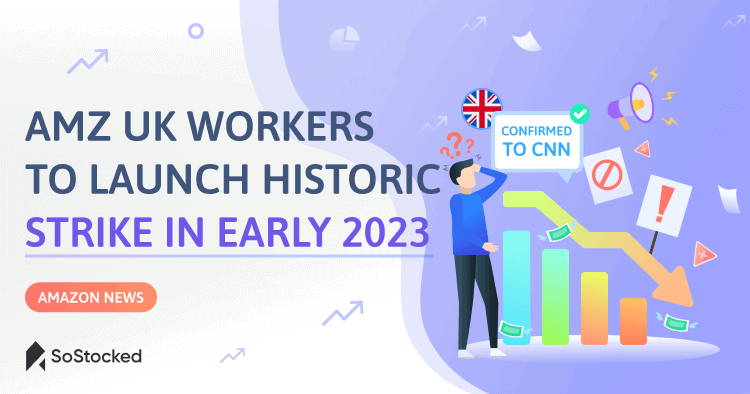 Updated: Amazon UK Workers to Launch Historic Strike in Early 2023
Update 03/31/2023: Unionized Amazon workers in Coventry, England continue to fight for better pay with 6 more protest dates, bringing the total days at the UK site to 14:
April 16th to 18th
April 21st to 23rd
Union representative, GMB, also reveals it has started ballots for industrial action at five different fulfillment centers in the Midlands.
Mansfield in Nottinghamshire
Coalville in Leicestershire
Kegworth in Leicestershire
Rugeley in Staffordshire
Rugby in Warwickshire
Members are asked to vote whether to go on strike over Amazon's meager 50 pence pay increase.
As previously reported, the labor group is pushing for a  £10.5 to £15/hour pay hike to ensure workers have a living wage amid rising prices.
Amazon has so far refused to give in to the union's demand, but the additional 6 protest dates, ballots at five FCs, and over £2 million revenue loss from these multi-day strikes may force the company to "get serious and talk pay with GMB now," said GMB Senior Organizer, Amanda Gearing.
Update 02/17/2023: 🚨 More than 350 unionized workers at an Amazon warehouse in Coventry have announced they will go on strike for seven more days.
February 28th
March 2nd
March 13th to 17th
Represented by GMB Union, the workers are fighting for a pay increase from £10.50 to £15 per hour to help them keep up with the rising cost of living.
The protest continues as Amazon refused to have any negotiations with GMB, arguing that they had already raised worker pay by 29% and benefits since 2018.
An Amazon rep said the unionized workers represented less than 1% of the company's workforce in the UK, a tiny fraction that is less likely to cause any significant service disruption.
Normal operations will also continue at Coventry and across the UK, the Amazon rep added.
Update 01/04/2023: 📢 Amazon associates in a Coventry warehouse are set to strike on January 25, the GMB union revealed on Wednesday. The union also said that further dates will be announced "in the coming weeks."
Read on to learn how to prepare your business for potential delays in delivery across Central England.
🇬🇧 A first in Amazon UK, hundreds of workers at a facility in Coventry, England have voted to strike over the eComm giant's 50 pence an hour pay offer, the General, Municipal, Boilermakers, and Allied Trade (GMB) union said on December 16th.
The mass walkout is expected to happen in January 2023. 🪧
"Amazon workers in Coventry have made history – they will be the first ever in the UK to take part in a formal strike," GMB Senior Organiser Amanda Gearing said in a statement.
"They should be applauded for their grit and determination – fighting for what's right in the face of an appallingly hostile environment. The fact that they are being forced to go on strike to win a decent rate of pay from one of the world's most valuable companies should be a badge of shame for Amazon," Gearing added.
When asked to comment on the issue, an Amazon spokesperson said that the company:
"We appreciate the great work our teams do throughout the year, and we're proud to offer competitive pay which starts at a minimum of between £10.50 and £11.45 per hour, depending on location. This represents a 29% increase in the minimum hourly wage paid to Amazon employees since 2018."
⚠️ However, inflation in the UK is at an all-time high as food and energy prices soar. This means inflation is eating into pay increases, forcing workers to demand more money.
The planned industrial action is the latest in a series of union protests happening in the UK since Q2. In August, 115,000 Royal Mail workers went on a strike in a dispute over pay, disrupting deliveries and collections across the country.
Just last month, some warehouse workers joined the "Make Amazon Pay" campaign, a coordinated protest led by an international assembly of trade unions who demand higher pay, better working conditions, and lower carbon footprint.
Major rail and transport strikes in December have also brought UK's transport services to a standstill, causing reduced foot traffic in retail stores.
Make Contingency Plans to Mitigate Delays
Seeing that these labor actions will likely hit supply chain and logistics sectors, it would be best to create contingency plans to reduce shipping delays that they may cause and to avoid stockouts.
For instance, recent strikes at Felixstowe, UK's largest container port, reportedly threatened to put $4.7 billion in trade on hold. Many shippers had diverted their goods from Felixstowe to other ports to make sure they hit the store shelves in time for the holidays. As a result, the unrest had not caused "any real significant impact" on supply chains, according to Paul Davey, Head of Corporate Affairs at Hutchison Ports (UK).
While there is no current port strike danger in UK, there is in the US, so it's still important to be prepared.
Since May 2022, negotiations have been ongoing between The International Longshore & Warehouse Union (a group that represents over 22,000 West Coast port workers) and Pacific Maritime Association (port terminals and ocean carriers). If unsuccessful, serious disruptions to port operations in the West Coast may occur, prompting some shippers to reroute their US-bound containers from the west to the east.
So, if you're shipping goods to the US, your best move would be to work with your 3PLs and freight forwarders to figure out alternative arrangements that can be made for any container that may get stuck at sea due to industrial action.
A good logistics company should be able to provide you with excellent supply chain visibility to see where all your inventory is located and keep you informed on any potential disruption danger, so you can quickly respond to any supply chain blockages. From that vantage point, decide whether to reroute some shipments through other ports or to use alternative transport (e.g., send buffer stock from your supplier or other warehouses into Amazon by air or express shipping).
Until these UK labor groups get the pay that they deserve, expect to see more protests in 2023. Luckily, you can reduce the impact of disruptions by making contingency plans with your logistics partners.
Related: How to Ship to Amazon FBA (And Speed Up Check-In Times), Amazon Inventory Risks + 5 Tips to Mitigate Them, Bad Actors Book Multiple Inbound Amazon Delivery Dates to Create Scarcity
Try For Free
1,000+ Customers. Free Data Migration. 1-on-1 Onboarding.
Need more information?
Send Message: We typically reply within 2 hours during office hours.
Schedule Demo: Dive deeper into the nuances of our software with Chelsea.
Join Live Upcoming Webinar: New to Amazon inventory management? Learn three inventory techniques you can implement right away.