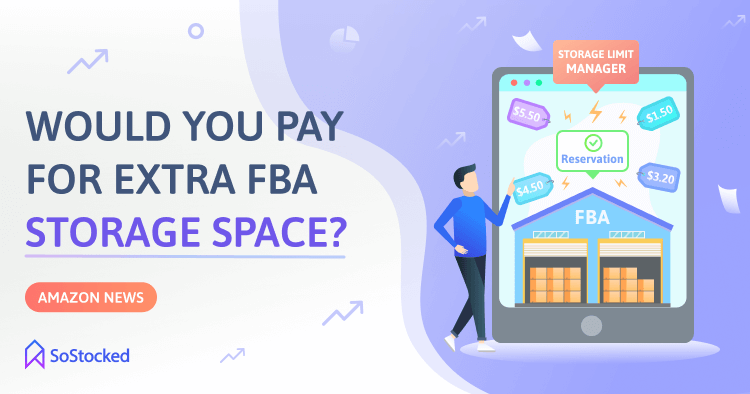 Amazon Storage Limit Manager: Would You Pay for Extra Storage Space?
Sellers can now buy more FBA storage space, but is it worth it? 🤔
What is Storage Limit Manager?
Introduced in February 2022, Storage Limit Manager (SLM) is a program that offers sellers with Inventory Performance Index (IPI) storage volume constraints a way to request for extra storage at potentially no additional cost.
Note: IPI storage volume limits must not be confused with restock limits, which is an Amazon inventory restriction based on storage units (e.g., 4 months' worth of inventory), not storage space (e.g., 2,000 cubic feet).
When Amazon lowered the IPI threshold from 450 to 400 in January, we knew a service like SLM was imminent.
There are already sellers paying for Vine reviews and other Amazon programs. Around 10% of FBA sellers would be subjected to storage volume limitations with the recent IPI change. Thus, there was an opportunity to offer a pay-to-play service that lets eligible sellers bid for additional space.
Is Storage Limit Manager an example of Amazon making rules so they can create programs to allow you to pay to break those rules? 🤦‍♀️
While you could benefit from extra storage, you need to have the right processes and systems in place to efficiently use that space and minimize storage fees. Otherwise, it would just be an added expense.
⚠️ So, before pulling the trigger, consider the facts below.
How It Works
As of December 2022, the service is only available by invitation to US sellers with an IPI score ranging from 350 to 400. We don't know if "by invitation" means Amazon is sending out invites to everyone within the required IPI score range or to some pre-selected sellers within that range.

In order to apply for a storage limit increase, go to the Storage Limit Manager in your seller account and see if you have the ability to submit storage limit increase requests through their portal.

If you do not but you believe you are qualified, it would be best to contact Amazon to try to gain access to this program. But before you do that, be sure to read the rest of this article to know what you're getting yourself into.

When creating a request, you can specify how much additional space you need (up to 20% of the original limit) for a specific quarter and the maximum reservation fee you're willing to pay to reserve it. You may request additional storage increases for standard-size, apparel, oversize, or footwear storage types.

Amazon reviews their fulfillment capacity weekly and grants requests until all available space has been allocated. Seller(s) with higher bids are likely to get approved for storage increase more quickly.

If granted, you will then be committed to the reservation fee specified in your request. However, depending on your inventory performance over that time, some or even all of that fee may be waived. More on that below.
Now, let's look at the pros and cons of Storage Limit Manager.
Pros
May help improve IPI score. If you're eligible, you can use the additional storage space to boost sales. And as your sales increase, so will your IPI score, taking you closer to unlimited storage in the succeeding quarters.
Only pay what you can afford. Again, you have complete control over how much you're willing to pay for the additional space you need.
Lowest reservation fee guarantee. Your fee may be lower or equal to the amount indicated in your request. For sellers whose storage increase requests are approved in the same week they applied, similar to how PPC bids work, Amazon could apply a lower reservation fee than your suggested reservation bid.
Qualify for performance credits to reduce fees. These are monetary credits earned from sales made using the additional storage space. You'll earn $0.15 per dollar of sales and they will be used to lower your reservation fee.
No upfront payment required. Only pay the reservation fee (if there's any remaining) after your target selling period.
Cons
Amazon grants requests starting with the highest bidder. You may need to gamble a good amount of your working capital to increase your chances of getting approved, especially if you're on a tight deadline. Otherwise, you may have to wait for weeks before getting the storage increase you need.
Under pressure to move inventory as quickly as possible. You only have a quarter to sell through inventory and earn enough performance credits to reduce or eliminate your reservation fee. To achieve that, you may need to run flash sales, buy more ads, or generally have a solid marketing plan. If not, you will be "responsible for the remaining balance (reservation fee minus performance credits)" at the end of your target selling period.
Not for everyone. You may be eligible for the program, but if you're not confident that you can utilize the additional storage space efficiently and offset your fee with performance credits, it may be wise to not proceed and to instead explore other options.
If gaining additional storage space will really help your business, but you're anxious about the cost, consider doing some math first.
IPI Storage Limit Increase Calculator
Thankfully, Amazon has provided sellers with a downloadable calculator that allows you to estimate performance credits and payments based on performance credits earned.
Estimate Performance Credits
Inside the spreadsheet, enter your storage and sales information, such as storage type, initial FBA storage limit (cubic ft), and desired storage limit increase to calculate your estimated sales for the target period in your selected storage type. Amazon recommends keeping your storage increase request within 20% of your initial limit. This is perhaps to ensure efficient use of the added storage space.

Based on the information above, Amazon automatically calculates your:

Increase ratio (up to 20%)
Sales qualified for performance credits (increase ratio x total estimated sales)
Estimated performance credits ($0.15 x sales qualified for performance credits)
Estimated performance credits per cubic foot (performance credits / storage limit increase)
Estimate Payments Based on Performance Credits Earned
There are three different sales scenarios that show the amount of performance credits you should earn to offset a portion or 100% of your reservation fee.
Sales 20% below estimate – Sales below this percentage will result in fees.
Sales equal to estimate – You'll pay no reservation fee.
Sales 20% above estimate – You'll pay no reservation fee.
Ideally, you need to keep your sales right on or above 20% of the estimate to be able to fully offset the reservation fee.
Run multiple calculations so you can find the best possible scenario for you. Don't forget to factor in the other expenses that will go into moving that additional inventory like marketing, logistics, and fulfillment fees. Then, compare the estimated total cost with alternatives like Fulfilled by Merchant (instead of FBA) or Amazon Warehousing and Distribution to figure out which path is best to pursue for your business.
Try For Free
1,000+ Customers. Free Data Migration. 1-on-1 Onboarding.
Need more information?
Send Message: We typically reply within 2 hours during office hours.
Schedule Demo: Dive deeper into the nuances of our software with Chelsea.
Join Live Upcoming Webinar: New to Amazon inventory management? Learn three inventory techniques you can implement right away.