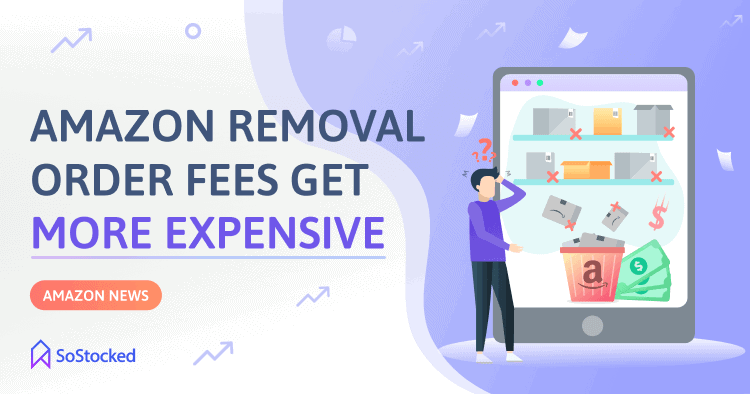 Amazon Removal Order Fees Get More Expensive
In case you missed it, Amazon recently adjusted its Removal and Disposal Order Fee Structure in response to the rising costs. 😩 The price increase took effect on January 18, 2022, but it kind of slipped through the crack for some, as sellers were all up in arms over the impacts of the new FBA dimensional weight fulfillment fees on profit margins. So, that gave a really good distraction to the removal and disposal order fee adjustment.
💡 Let's shed some light on the significant changes we've seen in the new removal order fee structure, which actually go hand-in-hand with the new FBA fulfillment fees changes.
First, let's take a quick look at this side-by-side comparison of the old and new removal order fees.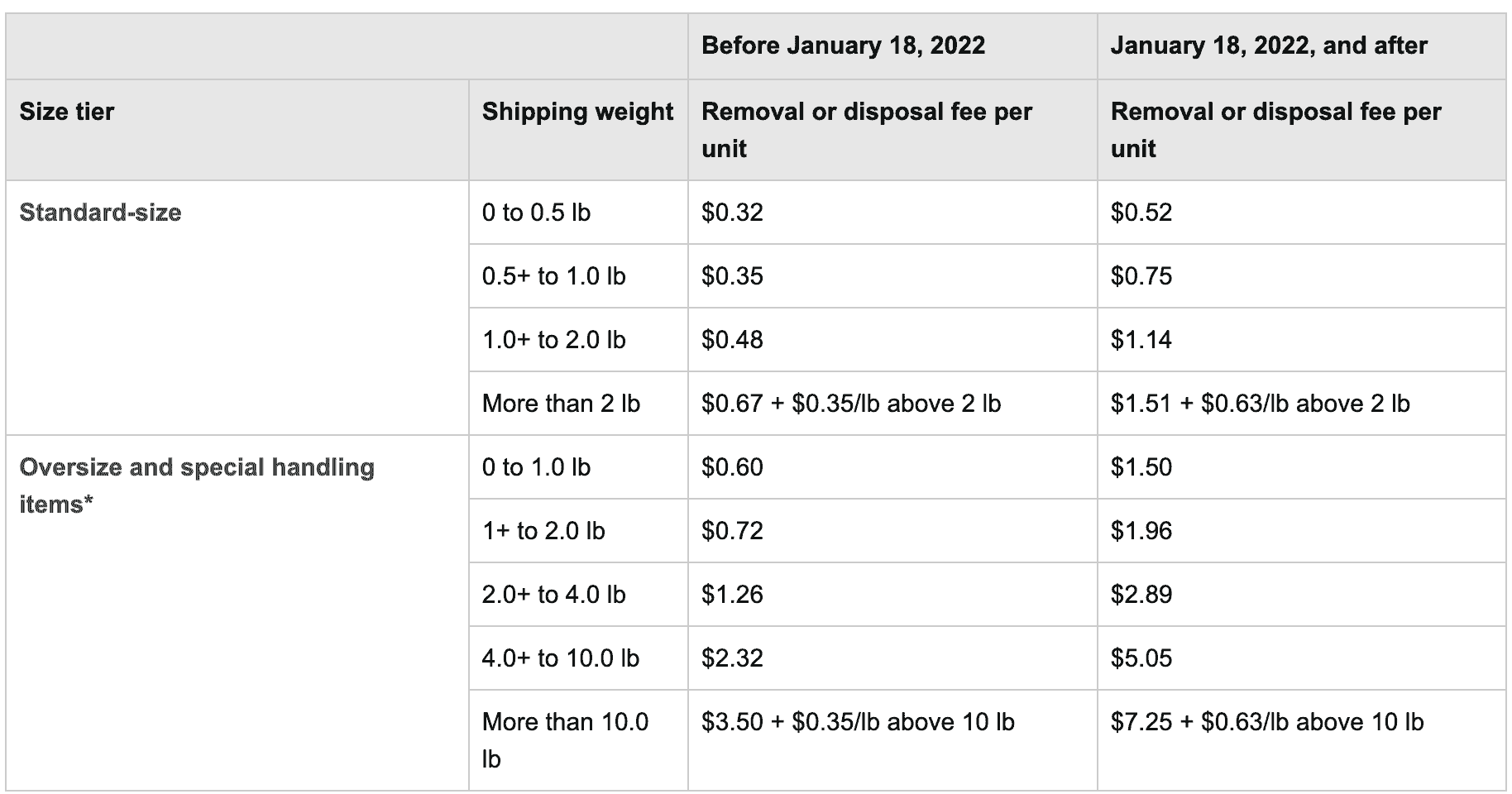 As you can see, the updated fee structure is fairly straightforward. There's a column for size tier, shipping weight, and the corresponding rates – the same details we've had years before, except prices have obviously increased at the rate of between 44%-61%. Still, you can come into the page and easily understand the costs associated with removing your inventory from FBA, right? Not so fast!
We wanted to take a closer look because we had a suspicion all wasn't as it seemed, and, sadly, we were right.
According to the FBA Removal Order Fees page, Amazon uses your product's Size Tier to calculate your removal or disposal fee per unit.
For removal orders, there are only two product size tiers – Standard Size and Oversize/Special Handling Items.
Here's where it gets a bit sneaky. Each tier is based on unit weight, product dimensions, and, you guessed it, the dimensional weight of your packaged item. Amazon now factors dimensional weight (DIM weight) into its product measurement categories, a change that directly impacts your removal order fees, which is quite a big deal. And unfortunately, disposal fees are also charged in the same way.
DIM weight pricing is applied when the product's DIM weight is greater than the unit weight. Packaged items with larger dimensions occupy more trailer space, which carriers could use to fit in more boxes, so they wanted to be compensated for that. That means you're essentially paying for the amount of space your package takes up when the DIM weight is greater than the actual unit weight.
Suppose your standard-size product weighs 3 lbs, but the DIM weight is 6 lbs. In that case, you're going to be charged $1.51 + $0.63 per lb above 2 lbs (x4) based on the new fee structure. 😦
Here's a quick calculation:
$1.51 + ($0.63 per lb x 4) = $4.03 per unit removed
With dimensional weight in this example, you're paying $1.89/unit more than you would pay just using unit weight.
Indeed, removal fees are getting much more expensive!
Before the price increase, it would have only cost you $0.67 + $0.35 per lb or $1.02 to remove a standard-size item based on unit weight. That is an almost 300% increase in removal fee costs!
The fact that they rolled this out at the same time as releasing the new DIM weight fulfillment fee structure that made so many products unprofitable and then made it so painful to remove that inventory is pretty mind-boggling!
Another thought is that they may be pushing sellers to use liquidation versus removal as the fee structure certainly incentivized that course of action. More on that below.
This is also another reason for sellers not to send all of your new product inventory to FBA immediately. If you are not confident that you will be able to sell through that inventory, holding the bulk of it at a 3PL may be the best move for you. Perhaps that's exactly what Amazon had in mind with this policy change, making it unbelievably uncomfortable for you to hold dud inventory at FBA. Restructuring your inventory strategy just got that much more vital.
Bottom line is, being charged based on DIM weight could lead to a considerable cost increase for some sellers.
Within the SoStocked community, for instance, some sellers have reported seeing their FBA fulfillment fees increase by $1 per unit. One seller even reported a 94% increase in fulfillment fees. These types of increases are quite substantial for sellers with slim margins.
Think Twice Before Removing Your Inventory
If you have enabled automatic removal of your aging inventory, you might not be aware of the new rates that Amazon is charging you. Interesting that around the same time Amazon increases the removal order fees structure, they also implement more stringent automatic removals. 🤔
Amazon is just whittling away at our profit every way they can. First, these dimensional weight changes. Then, they hit sellers with a 5% fuel and inflation surcharge in April. A few weeks later, they implemented a surcharge on aged inventory. ⚠️
These fee increases are getting out of control. Unfortunately, it's these tiny little things that will end up really taking a bite out of your profits and making some products unprofitable.
So, before going through removal orders or automating your inventory removals, make sure you're aware of these new fees so you can run some numbers first. Sometimes, it makes more business sense to try to recover some profit by liquidating your dead stock rather than just shipping it back to you.
Profit Recovery Strategies
If your excess units or slow sellers are still in sellable condition, consider the following profit recovery options:
Running a flash sale such as Amazon Lightning Deals or Amazon Outlet Deals
Liquidating slow sellers through the FBA Liquidations Program, which only charges $0.25 to $1.90 (+ $0.20 per lb above first 2 lbs) processing fee per unit, plus 15% referral fee.
However, if none of these options are worth the effort, then your next best move is to create a removal or disposal order for your excess inventory.
Other Ways to Keep Costs Low 💰
If you need to cut costs to offset the added Amazon fees, try to rethink your packaging and shipping practices. It would be best to keep your product packaging compact by downsizing your jar sizes, vacuum sealing to size-down bulky items or in other ways reducing packaging size in order to achieve the smallest dimensions possible.
Then, use our Master Carton Calculator to find your optimal carton and pallet load capacity per order to reduce shipping costs across several different facets of your supply chain.
And if you're planning to replace your slow sellers with new, more lucrative products, use our FBA Calculator to determine their profit potential. This calculator includes the 2022 Amazon Fulfillment Fees Policy to calculate DIM weight and select the greater of unit weight or dimensional weight, thereby ensuring the accuracy of your fee calculations based on the latest Amazon policies.
Related: Inventory-Minded Marketing for Amazon Sellers, Amazon Restock Limits Tips and Updates, 6 Causes of Amazon Unfulfillable Inventory and How to Fix Them
Try For Free
1,000+ Customers. Free Data Migration. 1-on-1 Onboarding.
Need more information?
Send Message: We typically reply within 2 hours during office hours.
Schedule Demo: Dive deeper into the nuances of our software with Chelsea.
Join Live Upcoming Webinar: New to Amazon inventory management? Learn three inventory techniques you can implement right away.