Amazon is Testing A New Way to Show Product Reviews
Amazon is currently overhauling its product reviews system amid FTC's pending rule on fake reviews.
In a recent blog post, top-100 Amazon seller and Zulay Kitchen Co-Founder Aaron Cordovez calls to attention the new review formats that Amazon is A/B testing to possibly find a better way to display key customer reviews stats like review count (number of reviews, e.g., 1,000) and overall product star rating (ranging from 1 to 5 stars) on its search engine results pages (SERP).
As Cordovez lays out, these are the major changes being seen by some customers on Amazon's platform.
Test #1: Removing Review Count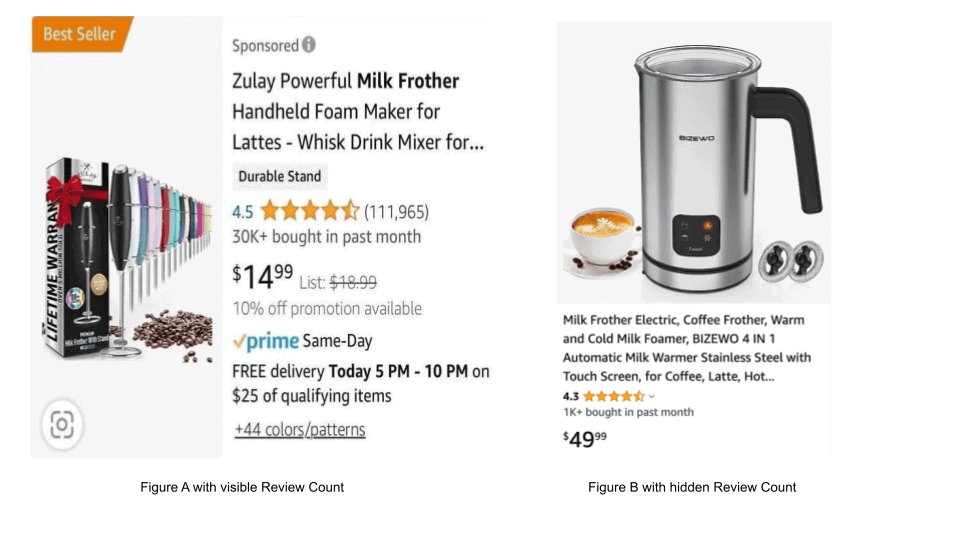 Amazon has always featured product review count typically expressed in complete format (2,000; 20,000; 200,000) on search. However, in one of its A/B tests, review volume was hidden, which may not be a smart move.
A high review count is an essential metric that helps paint a picture of a product's quality and size of customer base, thereby increasing the likelihood of shoppers to purchase.
A PowerReviews survey shows 80% of customers are less likely to purchase a given product if it has zero reviews. This impression most likely impacts new (though not necessarily inferior) products on the market, possibly giving Amazon a reason to hide review count to somehow level the playing field. 
Cordovez himself believes that "Amazon wants to test if there is a better way for new products to be discovered. This is a bullish sign for innovative products and more creative minds re-imagining the E-commerce space with better products."
Removing review count may also help shift customers' attention to "total units bought in past month," which would be another way to create a positive first impression of your product.
Cordovez speculates that if a product with thousands of reviews from several years ago has gone stale, then letting customers rely on review count when making purchase decisions may not be a good idea.
"Number of units purchased last month gives much stronger social proof. It is taking away stale products from Amazon's catalog," Cordovez explained.
In terms of its impact on combating fake reviews on Amazon, there's an upside and downside to hiding review count. On the upside, customers will be less likely to make purchase decisions based on this metric that can be easily inflated with fake reviews and review hijacking, essentially weakening the influence of these black hat tactics on consumer behavior.
On the contrary, Amazon could use this approach to make it difficult for ASIN alert tools and perhaps even antitrust watchdogs to track changes in review count during a particular period.
As previously reported, we noticed in April that on some of Amazon's own Basics line products, hundreds of thousands of reviews were removed overnight. It remains unclear whether the reviews purge included authentic low-star reviews or false positive reviews or was in any way motivated by a desire to avoid possible pending violations and penalties in the face of the potential FTC rule change on reviews.
Test #2: Changing the Review Count Format
Perhaps seeing how removing review volume altogether may negatively impact long-term sellers' conversion rates, Amazon seems to be considering another alternative:
Changing the unabridged review count format to % of 4 or 5-star customer reviews
Replacing 5 review stars rating format with a single star icon while an inconspicuous drop-down menu button is provided to enable full view of a product's customer star ratings.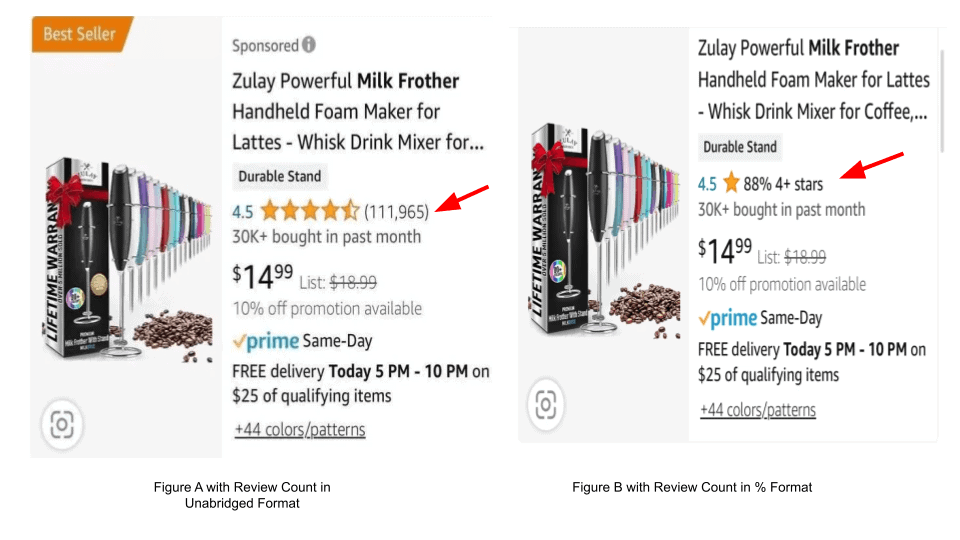 The initial version displayed products with a percentage of 4+-star customer reviews, but as currently seen on Amazon search results pages, the reviews system now shows products with a percentage of 5-star reviews instead, irrespective of product type, total units bought in past month, and overall star rating. See example below.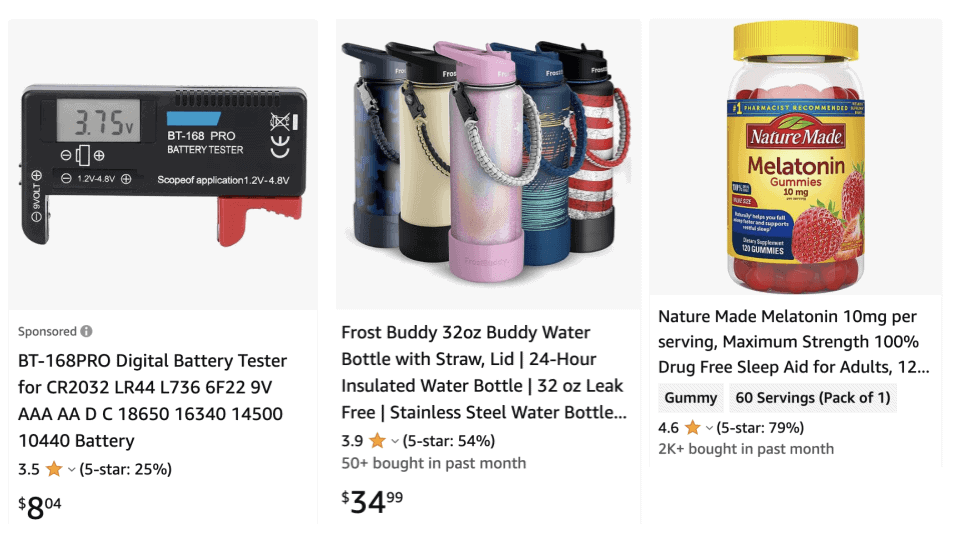 On the one hand, this new format gives more weight to positive customer reviews, which could potentially help you generate more clicks.
On the other, less discerning customers or those that don't have time to read online reviews and just rely on initial information presented may be misled to think they're buying a high-quality product with that 5-star review percentage. They may overlook the actual lower star reviews and simply focus on the 5-star %. If the new format makes some customers less likely to spend time reading online reviews, it also increases their chances of falling victim to products with fake positive reviews or falsely inflated overall star ratings.
In contrast, other customers may think that a product that has a high 5-star review % may be too good to be true, forcing them to seek out negative reviews.
Additionally, Amazon has also replaced the legacy 5 review stars format with a single star icon. At first glance, it appears you're looking at one-star products, which some customers may find off putting.
To fully view a product's customer star ratings (and facilitate smarter buying decisions), customers will have to hover their cursor over the small drop-down menu button next to the single star icon.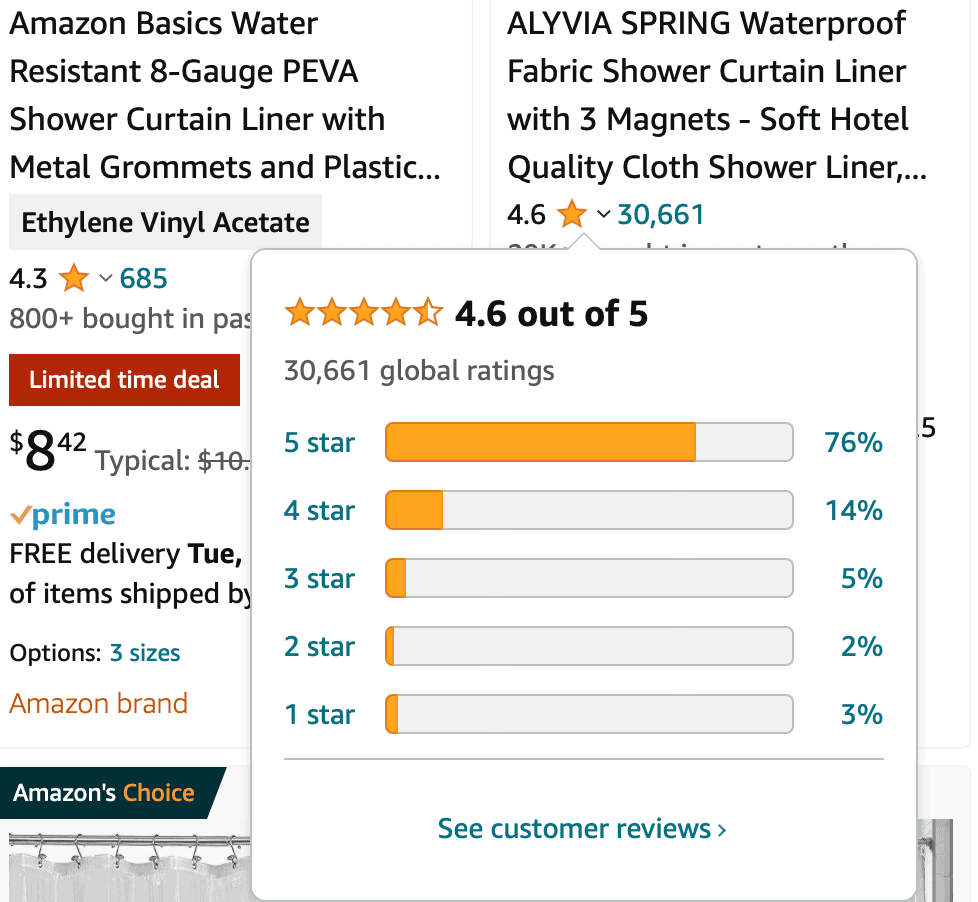 Test #3: Hiding Product Star Ratings
Product Review Rating number is hidden but the star visual presentation is retained to still provide some form of social proof.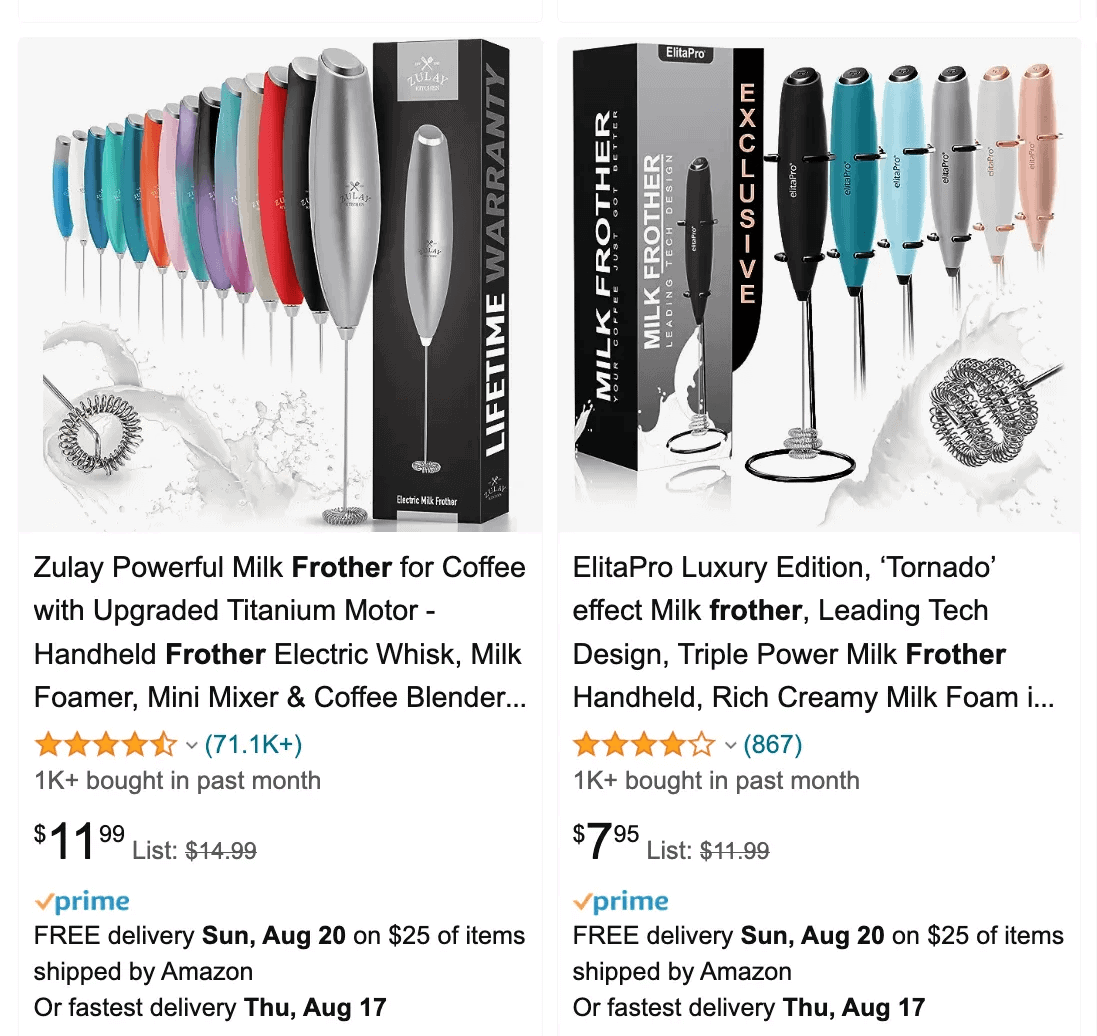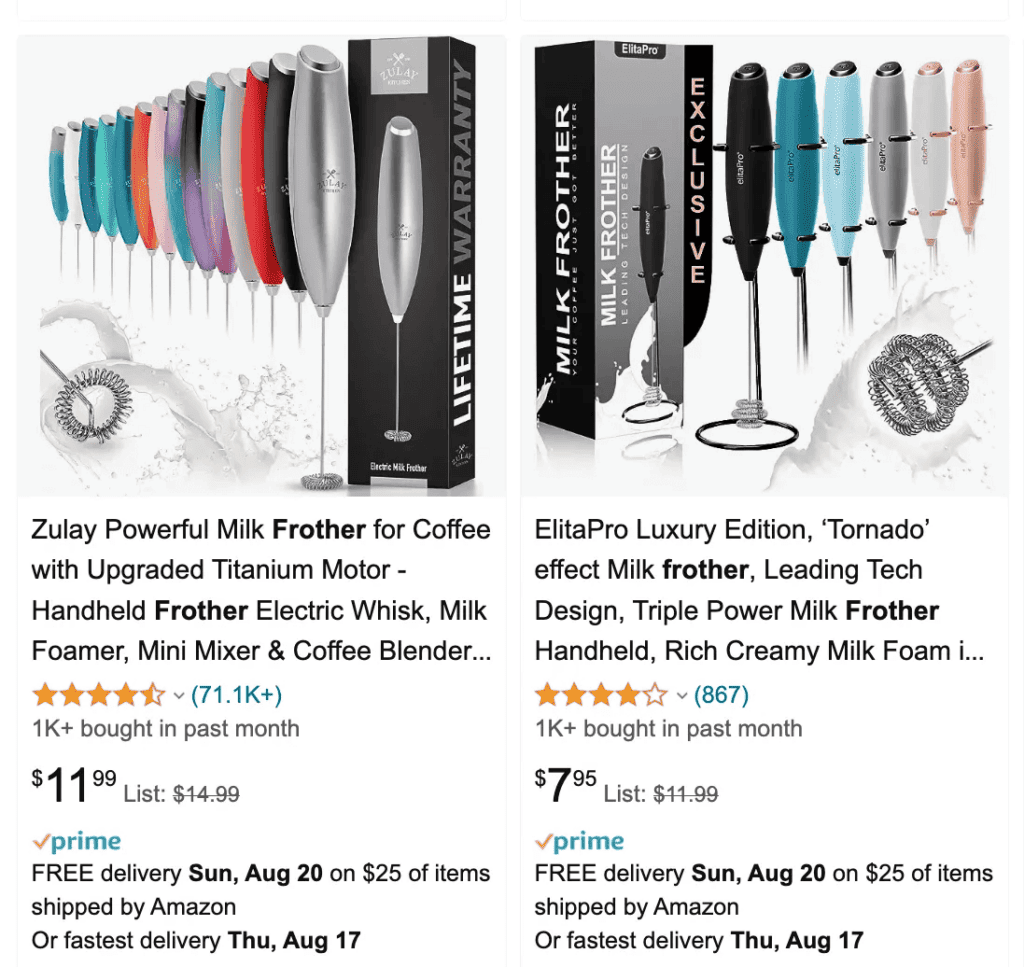 Amazon may be testing how the star rating format (full or half stars icon) versus rating numbers (2.5, 3.7, or 4.8 out of 5) influence product preference.
This paper suggests that when looking at star ratings with a half star representing a decimal point, "consumers perceptually fill in the missing fragment by extending the yellow retained area to cover the grey cutout area."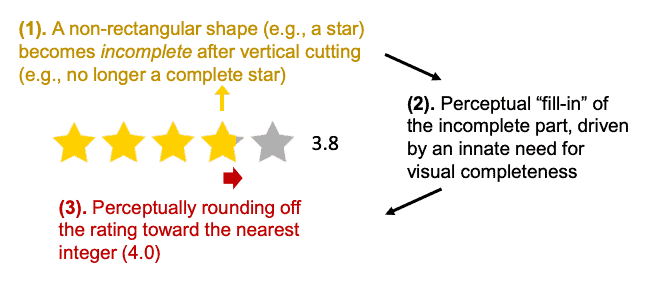 Interestingly, the "perceptual fill-in of the missing part of the rating unit will upwardly extend the decimal to the nearest integer [whole number, e.g., 4.0] and result in a visual rounding-up of the rating. Consequently, the non-rectangular (star) rating format will make the focal product seem more favorable."
Test #4: Changing the Review Counter to Estimated Number of Thousands (27.2K instead of 27,220)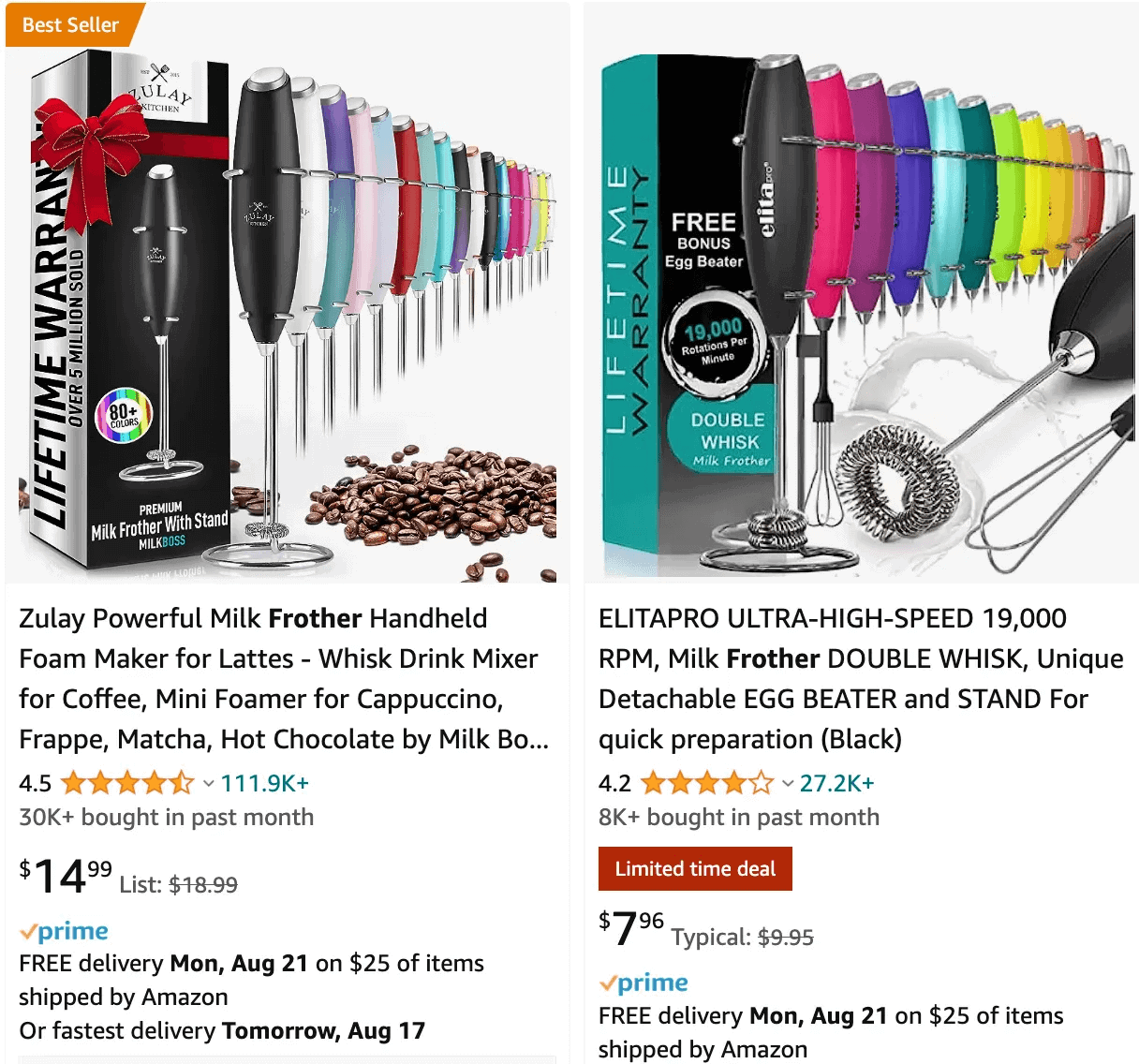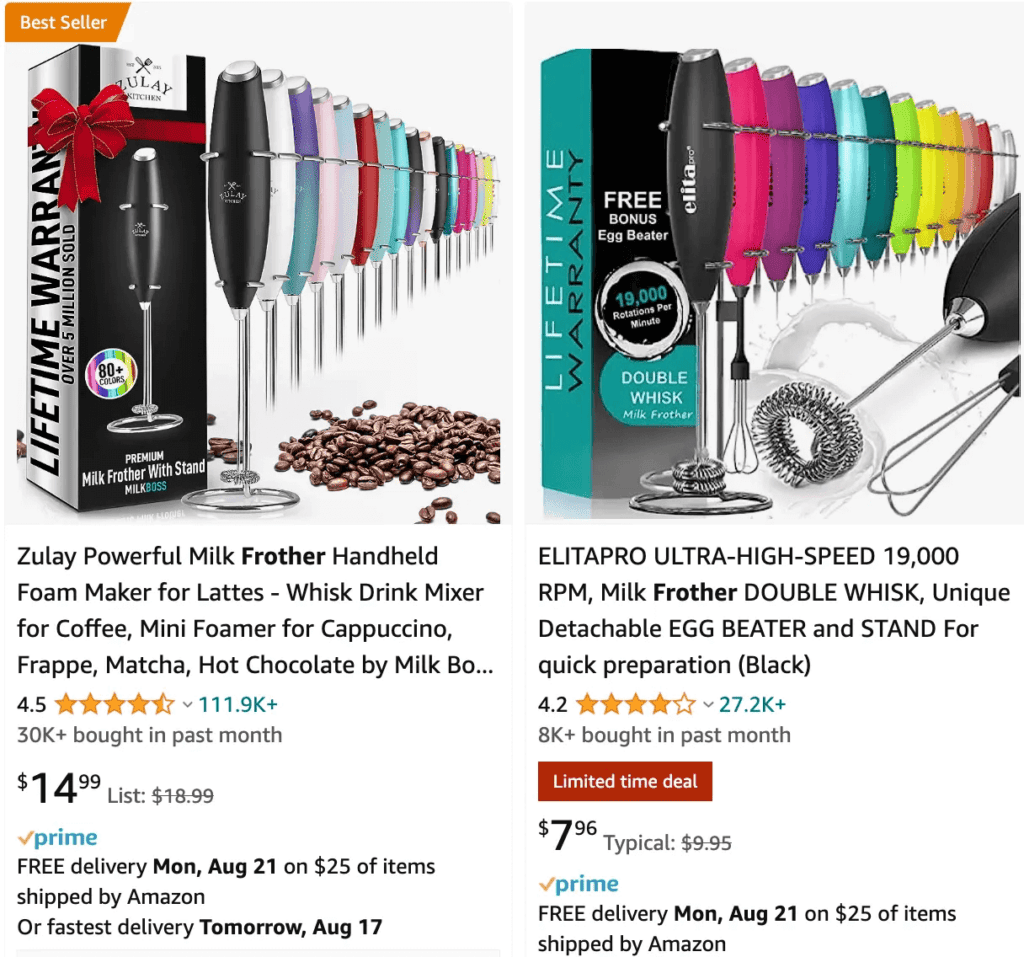 The review system appears largely unchanged, except for the review counter, which now displays estimates with a "K" plus indicator which means thousand(s) instead of the exact review number. One seller in this discussion board believes this downplays the significance of presenting the review count in full. 
This change may again have something to do with how certain visual presentations influence customer buying decisions or simply optimizing the review stats section for improved user experience.
Sellers Weigh in on the Issue
In the comment section of Cordovez's Facebook post regarding the matter, one seller summarizes this whole A/B testing best, "the new test version gives all the advantage to new sellers, and removes all advantages of being a long term, relevant player in your niche." 
Another seller who has products that have more than 3,000 reviews also expressed concerns about increasing competition. Someone with three 5-star reviews (which, therefore, may appear as 100% 5-star review score on search) could have a better chance of selling or landing on prominent sections of search results pages than seasoned sellers with 88% 5-star review percentage, for example.
In this Reddit post, most sellers expressed dislike toward the new formats, with some saying "conversions will drop" and they "will only benefit products with fake reviews more than others."
One seller offers a cautiously optimistic view on the anticipated reviews shakeup, saying it is "good for new brands, but limits older brands. But if your product is good, it doesn't matter."
When all is said and done, according to Cordovez, Amazon could re-adopt the traditional reviews system, or perhaps just modify the review count to reflect the number of thousands. Alternatively, the company might completely revamp the system, concealing either the review count or the overall product star rating. Many sellers are sure to be well-engaged in observing how all of this unfolds.
Try For Free
1,000+ Customers. Free Data Migration. 1-on-1 Onboarding.
Need more information?
Send Message: We typically reply within 2 hours during office hours.
Schedule Demo: Dive deeper into the nuances of our software with Chelsea.
Join Live Upcoming Webinar: New to Amazon inventory management? Learn three inventory techniques you can implement right away.