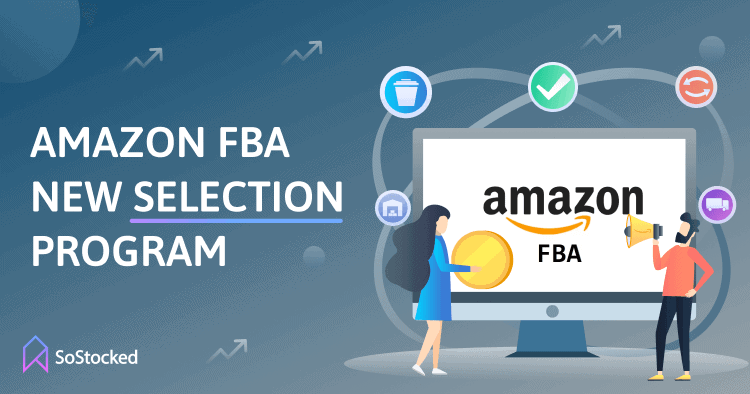 Amazon FBA New Selection Program 2021
Updated April 1st, 2021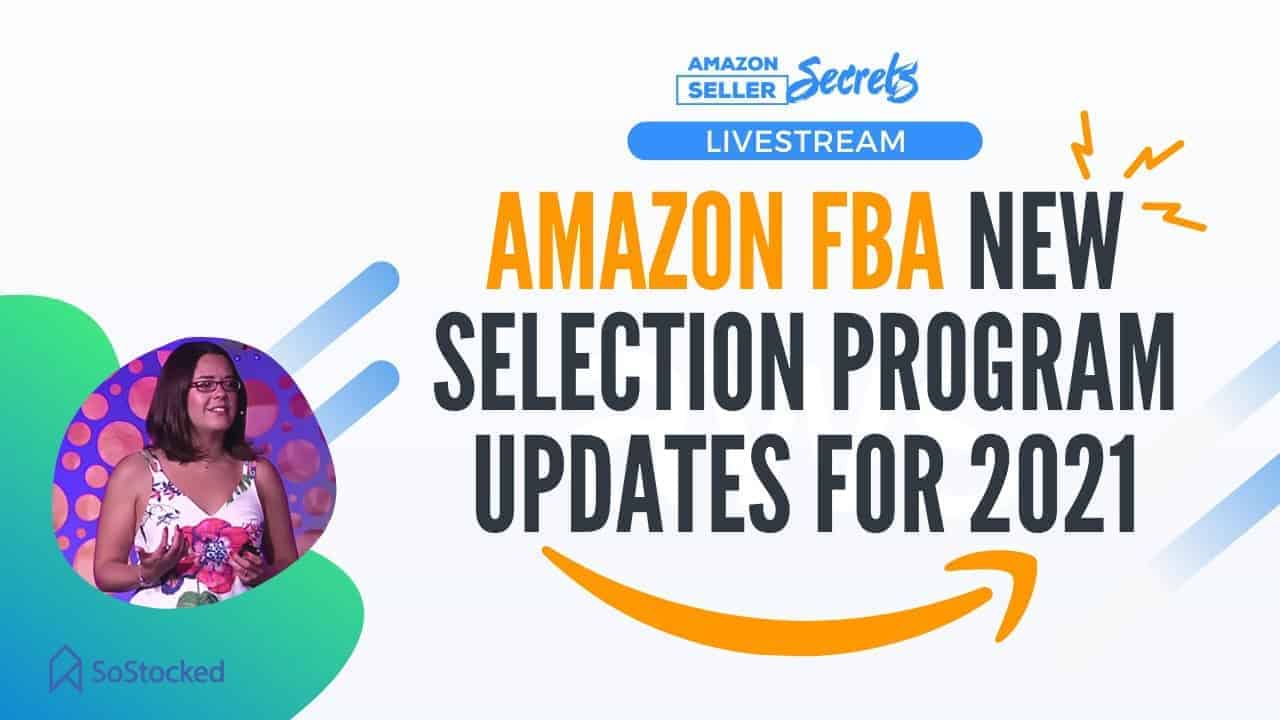 I recently learned about a surprising new Amazon program, and I can't wait to share the details with you! The Amazon FBA New Selection Program is related to inventory and could SAVE YOU MONEY!
Let's begin with a quick introduction to what this new program is all about! Amazon launched the FBA New Selection Program in April of 2020 when everything was going crazy. If you haven't heard of it yet (like I hadn't!), it's most likely because you were trying to either: stay stocked because your sales were going crazy or trying to get back in stock because the shipping and supply chain was going crazy. So if you missed this, it's not surprising! It seemed to slip under the radar in the chaos of 2020.
This program is called the Amazon FBA New Selection Program. Although its confusing name could sound like it is only available to new people, it's actually open to any Professional Seller who has a New-to-FBA ASIN. I'll go over a few details regarding how this program will be expanding in 2021 and the additional benefits it could offer to you.
Any ASIN that you are not currently selling on Amazon, any ASIN that is new (perhaps you have exclusives on your website or you're launching new products), could qualify for the FBA New Selection Program and potentially earn you:
Free storage
Free removals
Free returns
$200 in free Sponsored Advertising credits
There are specific qualifications to unlock these benefits that I'll go over here briefly, and I'll also post a link at the end of this post if you'd like more information about this program. It's worth looking into!
In this Amazon FBA New Selection Program guide, we'll take a look at:
Who Qualifies For The Amazon FBA New Selection Program?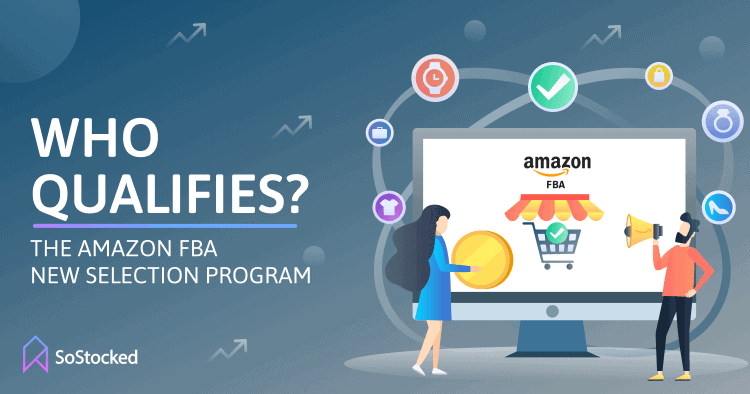 There are currently 60,000 sellers enrolled in this program and, since April of 2020, and over 680,000 New-to-FBA ASINS have been sent to fulfillment centers and qualified and enrolled in this program.
So who is this for? This program is for existing and new professional sellers. You have to have a professional seller's account; the only additional benefit to new sellers we were able to identify is a free shipping credit into the fulfillment center of up to $100. Amazon is trying to attract new sellers, but they're also trying to attract new SKUs for existing sellers.
This is good news for anyone interested in launching new products or who has some new products in their lineup. With this program, you might even be able to qualify for a bit of savings. It's not a huge saving, but any little bit helps, especially if you're going to be launching a lot of products this year.
I feel like this should be called the "FBA New Product Program" instead of "New Selection Program." I don't think the name tells us what the program is, and it's something you might pay little attention to, assuming that it's for new sellers. I don't think it was well marketed.
New to FBA ASINs and professional sellers can enroll and be accepted. If you are confused about whether a product or a SKU is new to Amazon, you can use the FBA product search tool to search the product to see if it is new to the marketplace. This tool is valuable for those selling wholesale who are trying to get some of their SKUs or ASINS onto the Amazon platform and may not be sure if their ASIN qualifies.
As a note, ASIN eligibility is not tied to when the SKU was created; it's related to when the inventory is first received. If you're launching a new product and you've made a SKU and are still waiting for it to arrive at Amazon, you could still try to enroll in this program before the inventory is received. If you qualify, you can take advantage of that SKU and any other SKUs you plan to add.
On top of the SKU being submitted for approval, you need to be enrolled in the program itself before the inventory is received, but the ASIN does not have to exist before the enrollment period.
Another qualification for this program is your IPI score. Your IPI score needs to be at least 400 or higher. If you have an IPI score of lower than 400, you would not be eligible for the program; and if you don't have an IPI score (maybe you're a new seller), you can still enroll in the program as long as you sign up for a professional selling account. Currently, the Media category and Oversize categories are not eligible but will be in the future.
To be eligible for free returns at this time, your ASIN must be in the Apparel category, which is anything that includes:
Apparel
Shoes
Handbags
Accessories
Jewelry
Luggage
Watches
Amazon recently launched the Prime wardrobe, allowing a customer to try clothes for seven days and send anything back with free returns. I assume they're trying to compete with some of the monthly wardrobe and personal shopper subscription companies as they also recently launched a personal shopper program that pairs up with this model. I believe that they are trying to attract more sellers in the Apparel category to pump up that side of their business, and compete with these other clothing companies such as StitchFix.
How Does The Amazon FBA New Selection Program Work?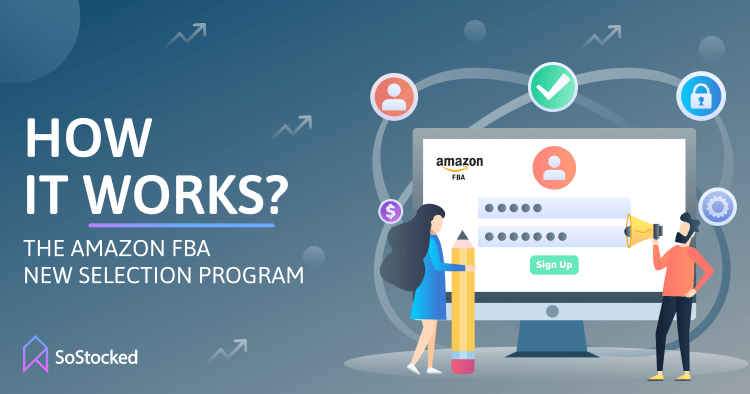 Let's go over a couple of points briefly.
If you're a new seller, you will have to register a Professional Seller account for a fee of $39.99. Most sellers are already paying that fee, so it shouldn't matter for most of us.
Next, you will enroll in the FBA New Selection Program. In the link provided below, you can simply scroll down and click where it says "enroll."
Again, you need to have an IPI score of 400 or better, and then you can select the "Fulfillment by Amazon" option when you list your product or switch existing listings to FBA. I believe you can take existing FMB listings that you haven't sold on FBA, make them FBA listings, and sell them as FBA. You can either create your listing for the first time or switch your listing to FBA, and then as Amazon says, "enjoy the benefits of the program while reaching your customers."
Recent Updates:
Starting April 1st of 2021, the program's going to be expanding. Oversized items are going to be eligible. This could be a big deal.

This means that up to 30 units of each oversized ASINs could be eligible for savings. If you sell oversized products, this could be significant savings. The fees attached to oversized products can be fairly substantial, so getting free storage for up to 90 days and free removals for up to 180 days could be a good deal of savings. If you have some oversized products that you don't currently sell through Amazon because of the fees, this may not be significant enough to enroll but if you're on the fence, it may be worth a look.

Sponsored Advertising credits are also being added. $200 in promotional credits for Sponsored Ads will be offered for new-to-FBA sellers and the free creation of advertising campaigns. There isn't a lot of detail around this, but we should know more as they release the program in the next couple of months.
The 500 ASIN limit for what is eligible for the new FBA ASINs is being removed. So for companies that have hundreds of ASINs, you don't have to worry about the ASIN limit anymore!
For those selling apparel and shoes, you now have extended free storage from 90 to 120 days. This benefit is for up to 100 units per parent ASIN. Regarding extended customer returns, the fee will be waived for some time, and again, I think that's because Amazon is gearing up to move aggressively into the Apparel space, we say similar hints in Grocery years back and now Amazon owns Whole Foods. If you are working with or have a clothing or apparel brand, it might be a good idea to get into this program.
What's The Catch?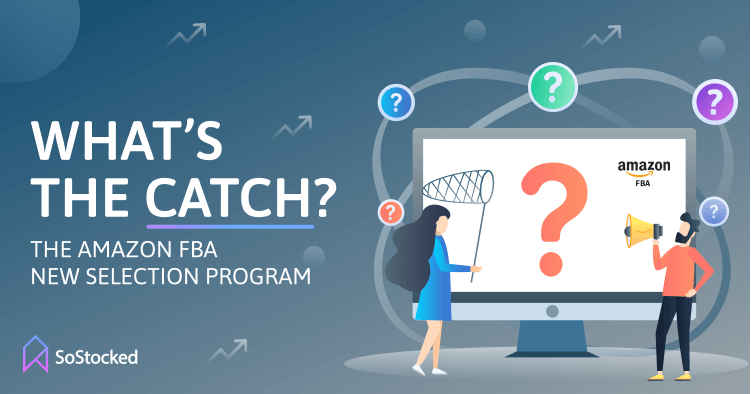 As soon as my team found this program and started telling me about it, I immediately wanted to know, "What's the catch?" We all know that Amazon does things for a reason; they don't just altruistically give fees back or waive fees. I wanted to know why this is happening and what the incentive on their end could be.
Here's what I've come up with. One incentive for Amazon, though slight, would be the Professional Seller's fee. Perhaps they're hoping that some sellers who were not paying the $40 a month would start. That's not much, but it is something.
More likely, Amazon is trying to incentivize people to put more products on Amazon. They want to have the largest selection and continue to be the biggest in the world, and they know that companies like Walmart are coming after them, so they're doing whatever they can to incentivize expansion. They are trying to overcome challenges such as seller's selling exclusively on Shopify and Etsy by trying to attract some of those sellers to Amazon.
Some people do well in Shopify and don't convert over to Amazon. For the first time, Amazon is trying to go after Shopify and Etsy, take more of that market, and bring some of those products into their catalog. Amazon wants more SKUs, so they're trying to incentivize that to happen by waiving some fees.
The fees they're waiving aren't that much. Once your inventory moves into Amazon, they should be able to easily make up for the lost fee revenue with the referral and pick & pack fees.
Also, as I mentioned above, in a few months, they are adding advertising and promotional credits. Once they roll out the promotional credits, they'll get you hooked on the advertising, and then they'll make a bunch of money that way too. This very well could be what's in it for Amazon, as well as wanting to be the biggest in the world.
I also wondered if Amazon would make these ASINs exclusive to Amazon, but I haven't been able to find anything about that. In the past, they've required exclusivity for other offers, but from what I can tell, that's not happening at this time. Overall, this is something that I recommend you take advantage of. If you're selling on Amazon anyway, you might as well waive some of those fees and get some of that money back through free removals and storage. I don't see any downside at this point.
Summary Of The Amazon FBA New Selection Program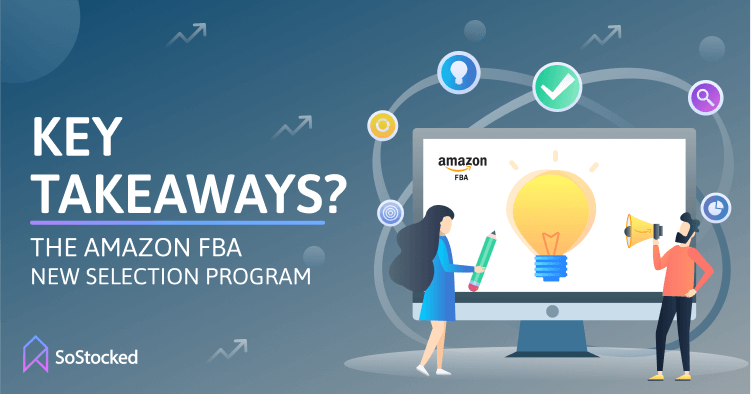 I'd be very interested to know if you are enrolled in this program and have some experience to share below. I'd love to hear your thoughts on the upsides and downsides you've encountered. Here are a few key takeaways:
The New Selection Program is available for new and current sellers
You may qualify for free storage, returns, and removals
The ASIN limit has been removed
Oversized items are going to be eligible as of April 1st, 2021
$200 in Sponsored Advertising credits are also going to be added
Sign up. Every little bit helps. I don't see any downside at this point.
Looking for other ways to save? Sign up for SoStocked's Amazon inventory management software. Or learn how one Amazon seller saved $150,000 by taking control of their Amazon inventory.
P.S. If you'd like to learn more about the Amazon FBA New Selection program, here are some additional resources:
Try For Free
1,000+ Customers. Free Data Migration. 1-on-1 Onboarding.
Need more information?
Send Message: We typically reply within 2 hours during office hours.
Schedule Demo: Dive deeper into the nuances of our software with Chelsea.
Join Live Upcoming Webinar: New to Amazon inventory management? Learn three inventory techniques you can implement right away.