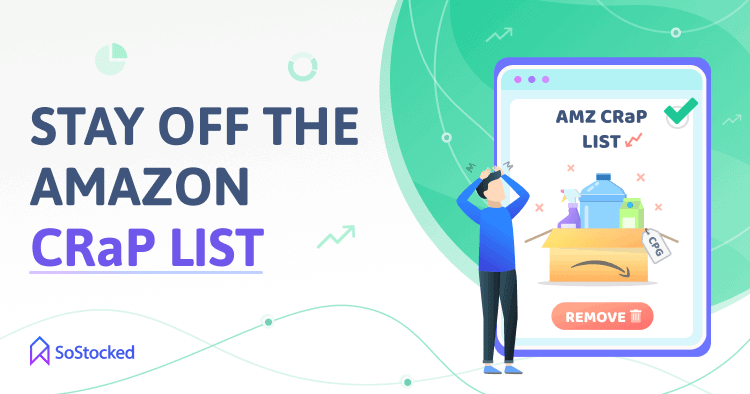 Stay Off The Amazon CRaP List
How To Manage Unprofitable Amazon Products
Ever heard of the Amazon CRaP inventory list? It's not a list that you want your products on.
The products on that list are candidates for removal from Amazon.com because they are unprofitable, hence the acronym: CRaP (Can't Realize any Profit).
For example, if a $4 bottle of soda costs Amazon that same amount of money to store and ship, the brand owner won't be allowed to sell or advertise it until the issue is resolved, i.e., change how they sell (from per piece to per pack of 24) and package the product to increase profit margins.
Amazon clearly wants to be more profitable than they were in the past. And removing CRaP is one way to achieve that.
So, if you carry a lot of consumer packaged goods, it's crucial to stay off the dreaded CRaP inventory list to continue selling on Amazon.
In this Amazon CRaP inventory guide, we'll take a look at:
What is Amazon CRaP?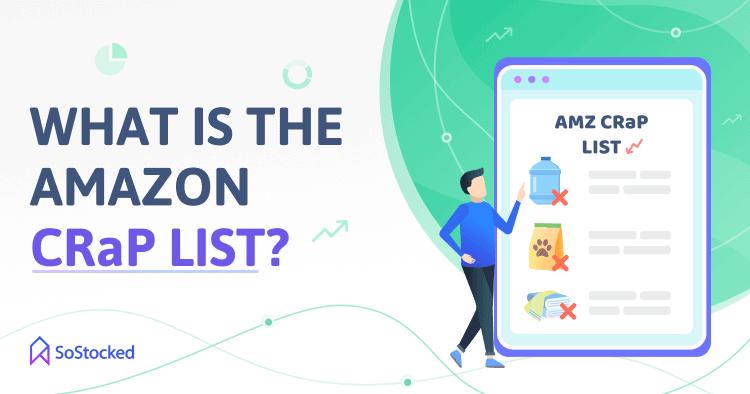 Coined by Amazon's Finance Department, CRaP stands for Can't Realize a Profit.
CRaP refers to products that are unprofitable for Amazon. These products are typically Consumer Packaged Goods (CPG) like bottled drinks, towels, pet food, and other consumables that sell for less than $15, but could go up to $100 if they're heavy and expensive to pack and ship.
In other words, CRaP products have a low value to weight ratio, which means although inexpensive, they are heavy/bulky and therefore it costs Amazon a lot to store and ship them, leaving little or no profit margins.
And unlike physical grocery stores, customers are less likely to fill their online carts to the brim which usually allows CRaP goods to be balanced out with profitable products. That's why Amazon doesn't want to grow the sales of these items.
What Causes Amazon Not to Be Able to Realize a Profit?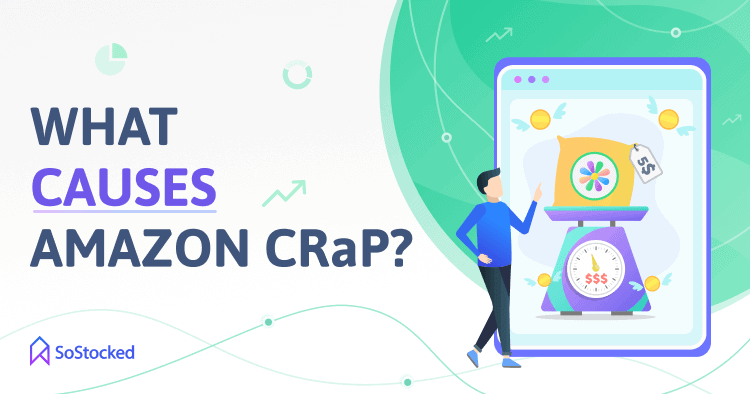 Inconsistent pricing across online retail channels
Amazon uses an automated pricing system that can detect pricing movements across online marketplaces. Suppose one of your CPG items is available for a lower price on another retail site like Walmart; the bots will find that price and match it (if Amazon is the seller). Unfortunately, selling your product for cheaper than on a competitor site could trigger a CRaP alert. If you are using a repricer or decide to drop your price to compete with competitors, this also could move your product into this CRaP category.
Try to make your product unique from what is on the other retail sites by offering Amazon different feature variations or pack sizes. This strategy may trick Amazon's price matching algorithm into identifying your product as different from those on the other retail channels and avoid it triggering a CRaP warning for Amazon. It could also allow you to reprice it more profitably.
Low retail price point/weight ratio
Products like dog food, potting soil, or a 6-pack soda with a price point lower than $10 is unprofitable for Amazon. These products are bulky and so it costs a lot to store and ship them.
A simple fix is to pack your product differently to lower the shipping or pick and pack cost without sacrificing your profit margins.
Overstock inventory
If you're a Vendor on Amazon rather than a 3rd party seller, you probably already know that Amazon operates with an automated reordering system for increased efficiency. Products that have a higher minimum order than their sales velocity can cause the system to over-order, leaving Amazon overstocked.
If that inventory doesn't get sold for four to six weeks, Amazon will likely lower its retail price to encourage people to buy it and increase sell-through. However, there's a downside to this: frequent markdowns mean CRaP.
That's why accurate forecasting is key to predicting and meeting customer demand. Your sales velocity typically fluctuates based on the seasons so don't forget to remove sales spikes from your next order's calculation to prevent excess inventory from being ordered.
Pro tip: Excess inventory is typically caused by inaccurate forecasting. Use customizable inventory forecasting software that allows you to factor out anomalies like stockouts and sales spikes.
Short shelf life
Amazon typically disposes of expired or obsolete products. This can happen when the demand collapses and the items end up collecting dust in a warehouse instead of the seller promoting them to encourage sales.
Heavy or bulky
Bulky items like large domestic appliances are heavy and costly to ship. These can cost Amazon more to pack and deliver than the product is worth.
High customer returns
Retail distribution channels like Amazon risk financial loss every time customers return their orders. In 2018, 10% or approximately $369 billion of retail sales were returned, making customer returns a costly retail problem. Naturally, Amazon will want to keep the cost of handling returns low. And one way to do that is by eliminating items that have high customer returns and recalls.
5 Impacts of Amazon CRaP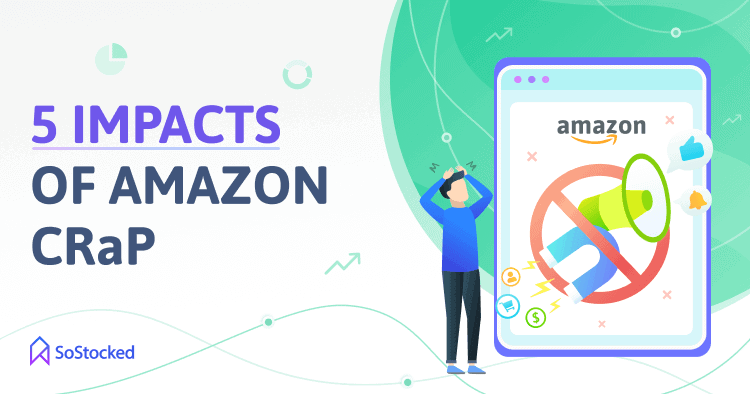 No more free marketing
The point of CRaP is to encourage you to change the way you price, package, and ship your products to make them profitable for Amazon. Why would Amazon give unprofitable products any more exposure than necessary?
Lose access to Subscribe & Save
Amazon blocks CRaP items from their Subscribe & Save program as a way to prevent their growth. Without access to this program, it can be more challenging to have consistent orders and long-term customers, both of which are keys to building a solid growth path.
You can't take part in Amazon Marketing Services
If you have CRaP, Amazon will make sure you have no way of getting it on top of its search results, meaning you can't join its PPC platform to create and run ads for your listings, resulting in lost sales and product revenue.
No chance of getting into the top tier
At Amazon, many categories operate with a Levels of Service (LOS) model. Each level or category of product tends to get a certain number of "perks" such as rankings boosts, free off-Amazon promotions, etc. to help push or move those products that will benefit Amazon most.
To increase their bottom line, Amazon focuses on their top-tier LOS products, helping to drive more traffic and sales by giving them better marketing services, perks and benefits, and premium support. On the other hand, sellers with plenty of CRaP may not be eligible for LOS.
Orders will stop coming in
Not dealing with CRaP inventory is a disaster waiting to happen. When it does happen, expect to see a great deal of profit loss that may be hard to recover from, especially once Amazon decides to stop ordering from you or removes the affected listing from the platform.
But it's not all doom and gloom! Below are some critical strategies for staying off the dreaded Amazon CRaP inventory list.
7 Tips to Avoid the Amazon CRaP Inventory List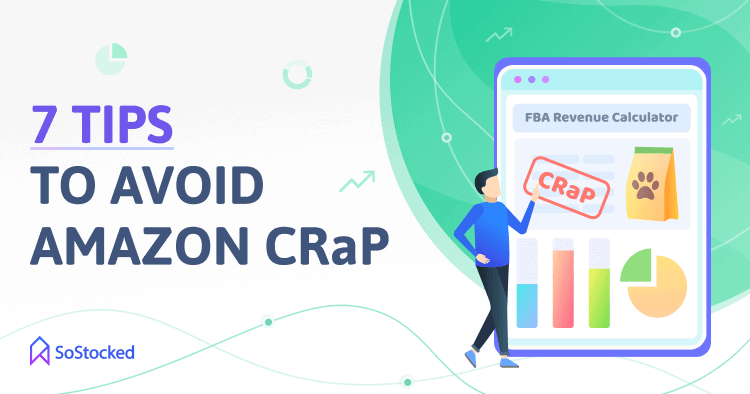 Switch over to Amazon FBA if Selling Vendor Central
Go over your inventory and decide which items you should sell to Amazon via the Vendor Program and which ones you should remove. If you remove specific products from Vendor Central, consider moving them to Amazon FBA or working with a third-party merchant to sell the selected items on your behalf.
Use the online FBA Revenue Calculator
Before you launch a new product, check if it will be CRaP using the FBA revenue calculator on Seller Central.
Simply plug in the required data, such as product name, package dimensions, and package category, to get cost estimates. You may also be asked to put actual marketplace prices for more accurate cost comparisons between your own merchant-fulfillment and FBA fulfillment orders.
See if your new product would be more profitable if it were in FBA. If yes, then it'll likely be profitable in Vendor Central, too.
Ship from Third-Party Warehouses
If you don't have a backup warehouse for Amazon and your inventory gets CRaPped out, it increases your stockout risk. Using a third-party logistics backup for Amazon ensures you have another warehouse to send your CRaP to. And then ship your CRaP items from there so you can continue selling them, giving you more control and flexibility as a 1P and 3P seller.
Consider using an inventory management system that gives reorder alerts, helps you generate purchase orders quickly, and track order transfers (from your warehouse to FBA) efficiently. This way, you can avoid stocking out due to late order transfers.
Related: 3PL Logistics Backup for Amazon
Implement Minimum Advertised Price (MAP)
If implemented successfully, MAP agreements can be a fix for CRaP as they don't allow you to advertise your products for less than what suppliers or manufacturers say. Thus, enforcing MAPs can help you create and maintain a good profit margin. However, note that this option typically increases prices for customers, which can hurt your sales growth.
Reduce customer return rate
If your inventory has a high customer returns rate, immediately find out why. The reason might not be as complicated as you think and may only require a simple solution. For example, product detail pages with incomplete data or low-quality images can contribute to customer frustrations.
But if your rates still don't improve after making the necessary adjustments, consider reaching out to your customers for feedback.
Design products for eCommerce
Figure out a way to reduce a potential CRaP's weight and bulk and avoid over-boxing to lower Amazon costs. Also, try to meet the retail site's "sortable" product size standards and make sure your items can be delivered via Small Parcel to avoid special handling requirements, which can be pretty expensive.
Track slow-moving Items
Amazon doesn't want hundreds of slow-moving products stuck in its fulfillment center. So keep an eye on any inventory that's taking more than 60 days to sell through, as it's likely to age faster than you realize. When these items don't get sold within 90 days, they become potentially excess and incur additional holding costs.
Try putting your excess inventory on sale or bundling them with your top sellers to improve your sell-through rate. Alternatively, get rid of excess inventory by liquidating them through Amazon's own liquidations program or third-party liquidators.
Related: Learn how to create a report to track slow-moving ASINs.
How SoStocked Can Help You Minimize CRaP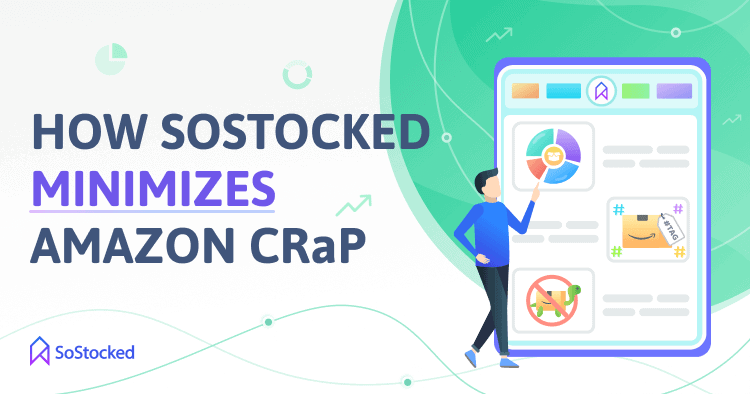 SoStocked is a customizable inventory management software that lets you do:
Inventory Forecasting
SoStocked has multiple inventory forecasting tools that can help you improve your forecasting accuracy, so you don't end up with excess inventory.
Forecast Modeling – Develop a 12-month inventory plan based on customized models set per marketplace and SKU.
Customized Velocity Calculations – SoStocked utilizes multiple approaches to calculate future forecasts, such as Velocity Calculation, Manual Velocity, and Last Year's Sales. You can also add additional features for enhanced forecasting accuracy, such as future growth, trends, and Lightning Deals.
Seasonality – Include seasonal spikes when calculating reorders and forecasts for your seasonal products to prevent under-ordering.
Product Tagging
SoStocked comes with a built-in inventory tagging tool. It offers a simple way to tag products based on how you want to organize and track them, such as "Potential CRaP", "Christmas sale", "Prime Day", "Overstock", "Liquidate", and so on. This tool helps you create reports, apply settings or changes to tagged inventory, or otherwise filter them, thereby minimizing inventory management errors.
Slow-Moving Products Reporting Tool
Manage your Amazon excess inventory risk by creating a report for slow-moving items. SoStocked allows you to create a customized Slow-Selling ASINs report to provide you with insights into your slow sellers so you can manage them better, whether that means liquidating them or improving their sell-through rate to make them more profitable.
Overstock Dashboard
Stay on top of your warehouse levels with an Overstock Dashboard. It provides information about which products are holding too much inventory so you can get rid of any excess stock before they start carrying increased holding costs.
Sync to Scale/Inventory-Minded Marketing
To improve your inventory management and forecasting, your Marketing and Inventory teams should work together to successfully boost your Amazon CRaP inventory sales in a coordinated way to ensure excess inventory is sold through and stockouts are avoided.
SoStocked has several reporting tools and dashboards that you can customize to suit your needs. For example, your Inventory team can help your Marketing team keep in step with any changes to your inventory levels using our Inventory Dashboards. This strategy will help your marketers decide whether to ease their PPC efforts or continue to push.
Bonus: Download our free Inventory-Minded Marketing Planner Template to start syncing your inventory and marketing strategies.
Manage Amazon CRaP Inventory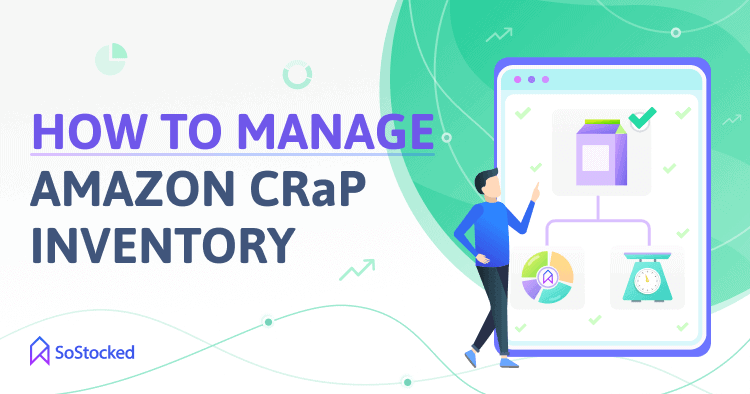 Spot CRaP before Amazon does by reviewing your items before listing them.
Use the online FBA calculator trick to find out if they're profitable for FBA. If they are, that means they're likely profitable for Amazon's Vendor platform as well if you decide to go the Vendor Central route. However, ensure that you take out any extra weight and bulk in your product packaging to keep your costs low. Consider enforcing a MAP policy, if necessary.
Additionally, avoid clogging your inventory with slow-moving products and excess units, as this can lead to frequent markdowns. Track these slow sellers and get rid of them quickly by taking part in flash sales or liquidating them.
If you are on Vendor Central and have several CRaP items to get rid of, consider selling them through FBA or direct fulfillment. That way, you can stay competitive and profitable.
Try For Free
1,000+ Customers. Free Data Migration. 1-on-1 Onboarding.
Need more information?
Send Message: We typically reply within 2 hours during office hours.
Schedule Demo: Dive deeper into the nuances of our software with Chelsea.
Join Live Upcoming Webinar: New to Amazon inventory management? Learn three inventory techniques you can implement right away.